Top 100 Service Business Ideas
Service businesses sell services directly to consumers or other businesses. They are active around the world, and many people interact with them every day.
Also, companies can have departments that specialize in providing services; for instance, a computer company might have a service arm that gives its users support.
The idea of starting a successful business is very appealing to people who want more control over their lives. However, many people do not start small businesses because they do not think they will succeed.
We have compiled a list of the top 100 unique service business ideas you can use to start your own business.
Service Industry Business Ideas to Start with No-Money

1. At-Home Child Care
The lack of quality, affordable child care can be a challenge for parents. If you have the skills, opening a daycare in an office space or in your home can be a solid service-based business. If you plan to run your own daycare, you'll need to get special insurance, licenses, and permits.
2. Flooring and Carpet Installer
A service business idea list that includes flooring and carpet installation can prove to be very profitable if you consider these options. In spite of the fact that many homeowners attempt to do their own flooring, it is a labour-intensive process, so most homeowners hire a professional to do this important task.
3. Garden Designer
The majority of people are willing to do the dirty work in their backyards, but few have the know-how to complete the first part of this process – that of planning and designing the backyard space – which is where the real work begins. Prepare a design for your clients' outdoor spaces and let them do the work of digging them up themselves.
4. Lawn Care
It's safe to assume that you have what it takes when it comes to making some green. All you have to do is roll up your sleeves and start mowing, clipping, and fertilizing the lawns for office complexes as well as private residences.
Pro Tip: Business plan is essential to start a lawn care business, check this free lawn care business plan template to build a business plan yourself. 
5. Copy Writing and Proofreading Service
The world is looking for a creative writer who has a knack for spotting typos and mistakes… er, mistakes. Writers who aid clients in creating catchy and fault-free advertising copy will likely not win a Pulitzer Prize, but they will take home some money.
6. Golf-Club Cleaning
With a golf club cleaning service, you will not only offer golfers a clean edge, but you will protect their investment from rusting, pitting, and discoloration.
7. Children's Fitness
There is one resource that never seems to run out. Take advantage of that resource with a fitness program for children. Put your knowledge of children's education and physical fitness to the test by renting a location and coordinating activities such as tumbling, dancing, gymnastics, and karate, and then put that knowledge to the test with a fitness program for children.
8. Miniblind Cleaning
It's time to put an end to dusty miniblinds in offices, homes, and other buildings with your miniblind cleaning service. Immerse blinds in tanks filled with gentle, yet effective, cleaning solutions… and give your clients a squeaky-clean look at the world around them.
9. Travel Planner
People are still looking for nontraditional travel coordinators, even though the time of the travel agent may be passing. Considering advertising your services as a more modern approach to travel planning if you always plan the perfect vacations with beautiful hotels, a great location, and delicious restaurants lined up for every evening, might be a better option.
10. House Cleaner
It's easy to get started with house cleaning because there are low barriers to entry. Getting more bang for your buck by attracting a few small businesses as clients is a great way to earn a higher income for a similar amount of work. Consider advertising to homes in your neighbourhood.
After its content went viral during the pandemic, this small business cleaning service grew virtually overnight on Instagram.
11. House Painter
You can make quite a bit of money painting the interiors and exteriors of homes. As you optimize your process, you will be able to book multiple clients a week for high-priced projects.
12. Elder Care
If you are looking for an idea for a service business for seniors, you might be able to help local seniors by becoming an at-home caregiver during their day. There are a number of requirements that will vary depending on the client, including bathing and dressing, meal preparation, and transport to doctor's appointments.
Recommended Resources: 
13. Massage Therapist
You can help your clients with massage therapy treatments if you have the right training. Make sure your licenses and permits are in order before you start your business. Making house calls can help you stand out from the crowd.
14. Technical Writer
Is it true that you are an excellent writer AND that you have a technical background? That's great! Technical writers write articles, instruction manuals, and more in simple and straightforward language. They explain complex technical topics in a way that is easy to understand.
15. Home- and Pet-Sitting
A lot of vacationers and professionals will need their homes maintained during their absence from the office. You can earn money by picking up the mail, watering plants, and taking care of pets while they are away from the office.
16. Pool Cleaner
There is no doubt that maintaining a clean pool takes a lot of time, effort, and commitment. However, with the right equipment and manpower, you can clean more than one pool in a day and bring in a lot of revenue.
17. Test Preparation
When it comes to taking standardized tests such as the SAT or ACT, there is always a need for test preparation services, and starting a business based on these services can be extremely lucrative because there is always a demand for help when it comes to taking such tests.
18. Personal Trainer
As people strive to stay in good physical shape, "personal trainer" will always be included in our service based business ideas list. By working with your clients, you will develop and maintain a fitness regimen, keep in touch with them and guide them during in-person and, sometimes, video sessions.
19. Tour Guide
Are you passionate about the local history of your city or state? Are you interested in taking people on tours of the local sites? If so, consider becoming a tour guide. You'll need to conduct plenty of research before you start your tours, but that's half the fun. Pick a niche in your community's history to focus on and set yourself apart.
There are some tour guides, such as those at Freedom Trail in Boston, who offer historical walking tours of the most haunted spots in their cities, while there are other tour guides who offer guided foodie tours for guests to come and get a true taste of the city.
20. Porcelain Repair
A porcelain-repair entrepreneur can make his or her living by fixing unsightly chips or cracks in tubs and other porcelain accessories like sinks. In just a few minutes, a porcelain-repair kit can rejuvenate sinks and tubs to look like new again.
21. Google Ads Consultant
If you have experience in search engine marketing, you may be able to build a successful business using Google AdWords if you know how to get clicks on your ads.
22. Nonprofit Owner
You might find a nonprofit organization to be the best way for you to devote yourself to a cause that you truly care about. The payoff is making a meaningful impact on a cause you believe in once you incorporate your business and file for 501(c)(3) tax-exempt status — as well as meeting ongoing compliance requirements.
Pro Tip: If you are looking to start a non profit business, Hire a nonprofit business plan writer for creating a winning nonprofit business plan.
23. Home-Inspection Service
If you have a keen eye for structural detail, you will be able to be successful in your home-inspection business. After assessing clients' homes for structural problems and foundation abnormalities, you will be able to refer them to contractors who can ensure their homes are in good condition.
24. Personal Chef
It is possible for you to work as a personal chef with accreditation and prepare fresh, delicious meals for people on the move in their own homes.
25. Virtual Assistant
It is possible to work from the comfort of your home to perform clerical duties, such as data entry, document creation, and calendar management, even when you don't have an office. 
Service Business Ideas to Start Under $500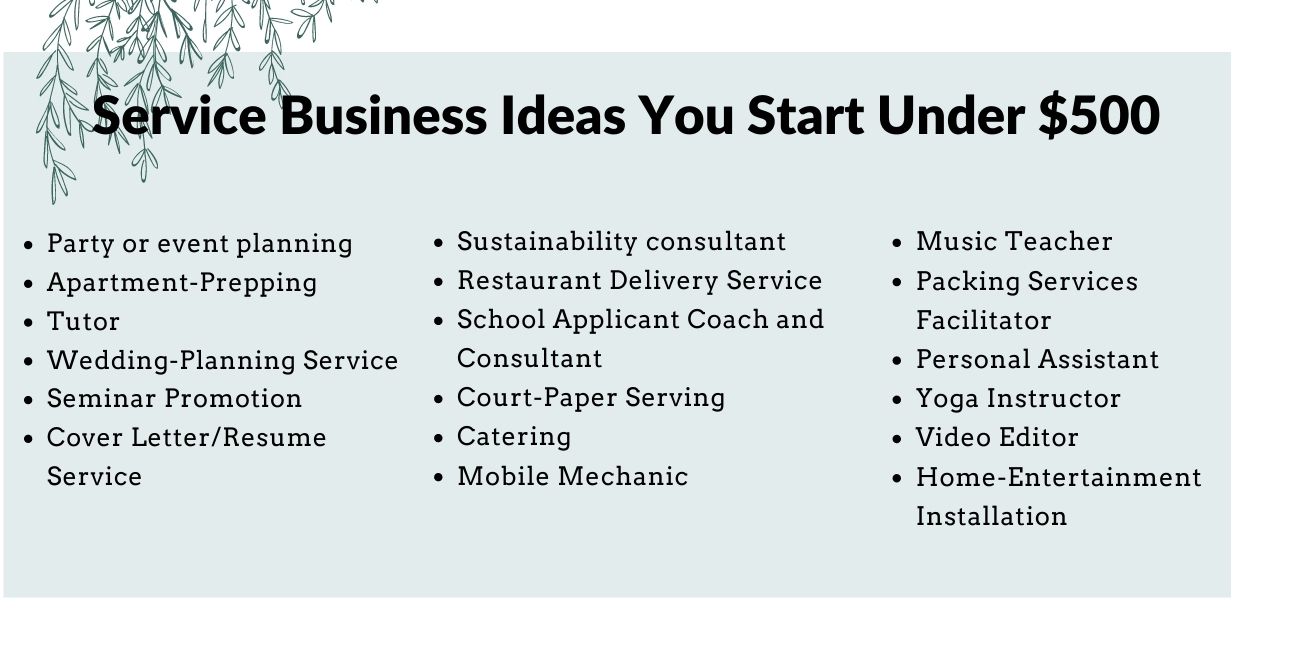 1. Party or event planning
As a party planner, you don't need to have a lot of experience, but you do need to have top-notch organizational skills and excellent communication abilities. As a party planner, you don't need a bunch of experience, but you do need to do a very good job communicating with others.
2. Apartment-Prepping
Make some handy profits repairing vacated units for your clients' new tenants with some basic plumbing, painting, caulking, and scrubbing skills. Busy landlords and leasing offices will both benefit from your handyman skills.
3. Tutor
Whether it's SAT or ACT prep, college prep or just helping out with a challenging subject, use your knowledge to start this service-based business to earn money while helping students achieve their goals.
Your area of expertise may be math, piano, or Shakespeare, but someone needs to hire you and is willing to pay for it. Build a customer base by advertising your services through local schools, community colleges, community centres, and even social media.
4. Wedding-Planning Service
The process of getting married isn't as simple as saying, "I do." There are caterers and venues to be rented, and flowers and cakes to be ordered. Therefore, when it comes to creating a more harmonious event for a bride and groom and their families, wedding planners are the best choice.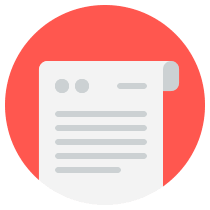 Looking for a business plan?
Make your business plan stand out by hiring our Award-Winning business plan writers. We provide the highest quality services in the industry at lower rates.
5. Seminar Promotion
Whenever you plan an informational seminar, you can give them something to learn about. If there's one thing consumers will never be able to get enough of, it's information. Schedule the speakers, reserve the venue, promote the event, and then get ready to collect the profits at the door; you don't have to be an expert yourself.
6. Cover Letter/Resume Service
Everyone doesn't know how to look good on paper. With your editing and basic layout skills, a laser printer, and some high-quality stationery, you're ready to start showing your clients how to put their best foot forward in their resumes and cover letters–and how to get their foot in the door for an interview with potential employers.
7. Sustainability consultant
You can set up your own sustainability consultancy business if you are passionate about sustainability. You can help businesses become greener or help individuals live more sustainable lives if you have the experience.
8. Restaurant Delivery Service
The restaurant delivery service makes it easy for busy professionals to order their meals from local restaurants when "Let's do lunch" means eating at the office. Operators get a taste of entrepreneurial success by collecting delivery charges and tips.
9. School Applicant Coach and Consultant
It is possible that you have been fortunate enough to get into a great school, or even perhaps you have helped someone else, such as your child, achieve this. You could become a school applicant coach or consultant and help students improve their applications so that they get into the schools of their dreams.
10. Court-Paper Serving
You can't beat the legal system as a great resource for business, that is. Private attorneys, who barely have time to do their own invoicing and none for serving summonses to elusive people, often turn to registered court-paper processors. Come judgment day, you'll be courting success.
11. Catering
Your business can be kept busy and generate consistent revenue by providing catering services for corporate outings, parties, and other events.
A business plan is essential to start a catering business, download this free catering business plan template to create a plan yourself.
12. Mobile Mechanic
If you are a mobile mechanic, you can boost your sales by having a solid knowledge of automobile repair techniques and a list of referrals. Put your business in the fast lane by bringing your mobile mechanic services directly to your client's homes or places of business.
13. Music Teacher
If you have a talent for playing a musical instrument, parents will pay top dollar to get their kids quality music training if you have musical talent. This service business could also have a long list of potential clients if adults are interested in learning a new instrument or improving skills they already have.
14. Packing Services Facilitator
As moving is always a hassle, many people will hire a moving company to handle the entire packing process for them. Want to have a steady stream of clients? Join forces with a local moving company that will refer new clients to you.
15. Personal Assistant
There are lots of things to consider when choosing a career as a personal assistant. If you are an organized, highly-detailed person, you might enjoy the life of a personal assistant. If you do not want to be tied to one place or office all day, every day, you might consider becoming a virtual assistant.
16. Yoga Instructor
Finally, you can become a yoga instructor if you are a passionate yogi. If so, then this might be the business for you. What does it take to become a yoga instructor? You should have the skills to practice a particular type of yoga. To build on your existing skills, there are several courses and training that you can take.
17. Video Editor
If you are good at editing videos, you can start a video editing business in order to help businesses create better videos. For instance, helping businesses edit explainer videos, YouTube videos, and advertisements can be a great way to get started.
18. Home-Entertainment Installation
If you watch a novice attempt to connect the wires, cables, and other components of their new or relocated stereo and television equipment, you'll see consumer impatience in its purest form. In the end, however, with your strong electrical and wiring skills, all systems will be buzzing in no time with your electrical and wiring expertise.
Unique Service Business Ideas to Start Under $1000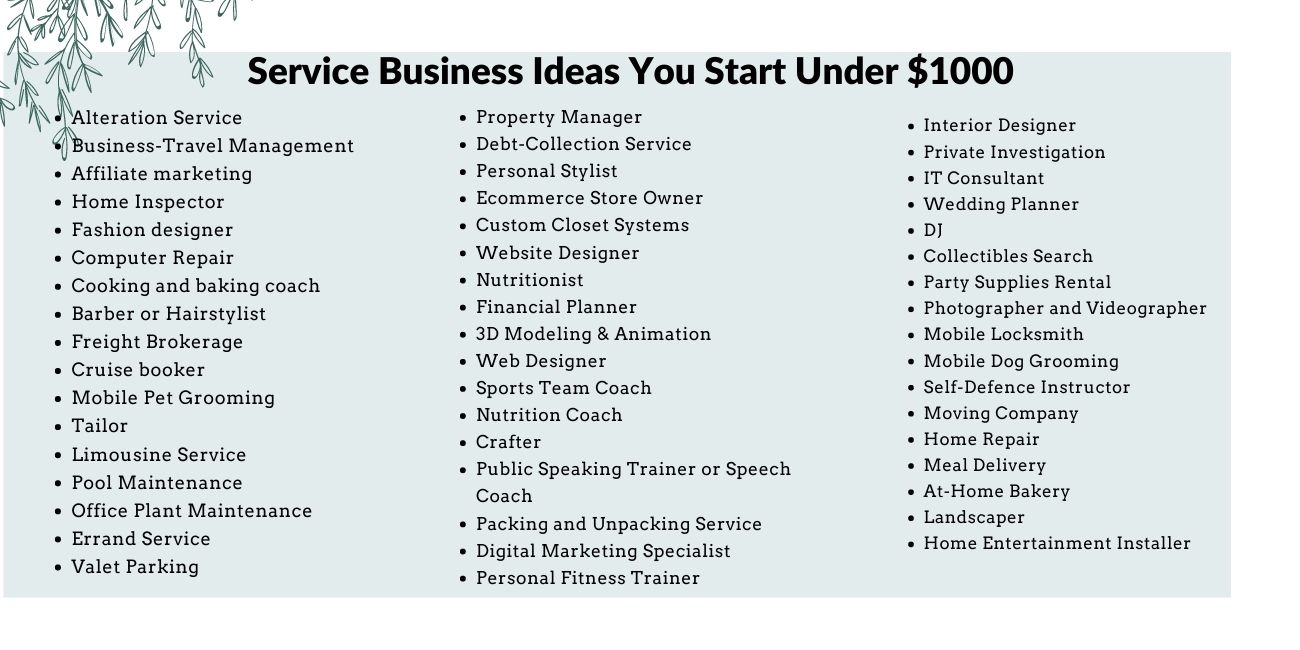 ProTip: A business plan will help you get funding to start a service business. For assistance in writing your own business plan, you may download our business plan pdf.
1. Alteration Service
An alteration service business opportunity requires that you have sewing skills and a creative craft mind in order to be successful. Anyone with low start-up capital can start a business of alteration services from the comfort of their own homes, and it requires minimal investment.
It is also possible to run this business part-time if you wish. As a result of helping others to get the perfect outfit, you will be able to earn handsome money.
2. Business-Travel Management
Your goal as a business travel manager is to make the skies more friendly for business travellers and to make them less expensive for businesses.
In addition to booking low-cost tickets and tracking your expenses, you will also be able to manage frequent flyer miles and enjoy the benefits of being a frequent flyer.
3. Affiliate marketing
The affiliate marketing process involves having your own website and sending your traffic to another website to purchase their products or services. You will earn a percentage of sales commissions resulting from links on your site. One of the best business ideas for women is this.
4. Home Inspector
If you are interested in working as a home inspector, you need to have certifications and a great deal of expertise, but you can also enjoy a flexible schedule and a good income. It is important that you verify the licensing requirements for this type of small business in your state before getting started. In order to ensure that you are providing your clients with the best service possible, you will want to ensure that you have all of your credentials in order.
5. Fashion designer
Is it your passion to design clothes and accessories? Do you have any experience in this area? It is possible for you to sell your services as a fashion designer. If you are interested in designing for other businesses or if you want to set up a shop as a specialized designer, you can do either. Maybe you design wedding dresses for brides.
6. Computer Repair
Today, we live in a computer-dependent society, which makes computer downtime both costly and aggravating for the user. If you are a repair professional with some basic diagnostic equipment and if you have some technological know-how on your side, you can get clients' computers up and running again in no time at all.
7. Cooking and baking coach
If you are always coming up with new recipes? If you love teaching, you might be interested in setting up a business as a cooking and baking coach. You can teach others how you create those delicious dishes so they can create them as well.
Recommended Resources: 
8. Barber or Hairstylist
Salons and barbershops may be the best service business to start if you are hoping for longevity. Customers tend to stay loyal to a barber or hairstylist they trust. For your shop, you may need to rent or buy a commercial space, or you may need to use an additional room or addition to your house as your workspace.
Suggested Resources:
9. Freight Brokerage
There's no more no-frills, local trade than one sack of flour for a dozen eggs. In their place: a sophisticated global commerce system requiring a thorough understanding of land, sea, air, and rail shipping rates and regulations. This burgeoning market requires expert freight brokers.
Recommended Resources:
10. Cruise booker
There are a lot of people who enjoy taking cruises. However, some prefer not to find the best deals or the best routes themselves. If you know what cruises to book and why you might be able to become a cruise booker and let others know what you know.
11. Mobile Pet Grooming
A pet grooming service on wheels allows you to provide the best dog grooming services to your clients. It can be a great business to start if you are passionate about pets and want to provide top-of-the-line services to your clients.
Recommended Resources:
12. Tailor
As a service business idea, tailoring is another one that you may wish to consider if you have solid sewing skills and would like to have your own business in the comfort of your home. If you have solid sewing skills, you might want to include it at the top of your list of potential business ideas.
13. Limousine Service
If you own a limo and have little insurance, you can start a new business venture. Expand your market by adding more drivers and vehicles to your fleet. Then, once you have established a name for yourself as a reliable limousine service provider, you can start selling limousines.
14. Pool Maintenance
This can be a great business to start if you live in an area with a lot of pools and your neighbours will be more than willing to pay you to remove that burden from them. If you live in an area where there are many pools, this can be a great business to start.
15. Office Plant Maintenance
Establish yourself as an office plant maintenance entrepreneur in a growing field. Regular watering, light pruning, and fertilization are all part of the work. In addition to having a green thumb, some clients may also request that their silk plants be maintained. Either way, you can expect to grow your business.
16. Errand Service
Many people do not have time to run errands in today's fast-paced world. As the COVID-19 pandemic spread in the U.S., some people, such as the elderly and those with health conditions, had more difficulty completing their own tasks. When you run errands for your personal services business, you'll help customers with grocery shopping, dry cleaning pickup, and other tasks – making money while helping them.
17. Valet Parking
It is possible to take the next step into entrepreneurship if you are the owner of a valet parking service. There are many restaurants, hotels and convention centres that can benefit from the services of well-trained, bonded parking staff. The key is that you have your own team of drivers that will make sure your clients' customers–and their cars–are kept moving.
18. Property Manager
There are a lot of people who own and maintain properties that they do not live in, and of course, some of these properties are located in different cities or states. As a property manager, you can ensure the property is well taken care of, handle small repairs as they arise, and serve as a liaison with the tenants.
Pro Tip: Whether your company need a road map for next 5 years or need a business loan, A business plan can help you. Downlead this free property management business plan template to build a winning business plan.
19. Debt-Collection Service
It is known that money makes the world go 'round. Trouble is, when you are working as a debt collector, you make a lot of money when people pay you, which makes you a lot more money. Sounds complicated? Not really: As a debt collector, it pays to track down clients' delinquent debtors in more ways than one.
20. Personal Stylist
There are plenty of non-celebrities who need help getting their wardrobes in order, even if you don't live near Hollywood actors. A personal stylist is often hired by business executives and individuals who are frequently at high-profile events or who have public-facing roles.
 One of the best service business ideas for you is becoming a personal stylist if you are passionate about fashion and helping people look their best.
21. Ecommerce Store Owner
Start an eCommerce store and turn your hobby into a full-time job if you create, collect, or curate anything. Ecommerce stores are a great way to make it financially viable for you to pursue your passion, whether it's selling your pottery or searching for sports memorabilia you've loved finding.
Pro Tip: Whether you need a business loan or a road map for next 5 years, professionally develop business plan can help. Downlead this free ecommerce store business plan sample to build a winning business plan.
22. Custom Closet Systems
Calling all closet-organizing fanatics: It's time to come out and show your stuff! With a few hooks and shelves, and a lot of creativity (but checking any fear of small spaces at the door), you've got the makings of a custom closet systems pro. . . with plenty of room to grow. New homeowners and long-time closet accumulators alike make up your potential clientele.
23. Website Designer
When you are skilled with specialized software, creating websites comes naturally to you; all you need are a few basic technical and graphic skills. Focus on helping businesses create a website; existing clients will require your help to keep their websites up to date as well.
24. Nutritionist
It is possible to start your own personal services business as a nutritionist if you have a background in nutrition or dietetics: nutritionists create menus and meal plans in accordance with their client's needs and health recommendations.
As a nutritionist, you will likely be involved with a variety of clients, including individuals and organizations such as hospitals and schools, as well as providing nutritional advice to them.
25. Financial Planner
It is possible to become a financial planner if you are interested in offering financial plans to people and helping them reach their financial goals. However, depending on where you live, you might need to obtain a license in order to practice as a financial planner in your state.
26. 3D Modeling & Animation
A 3D model is a way to make a product look like it is part of the real world in a digital form.
A service of this type is normally used for architectural modeling and visualization, product modeling and design, characters and clips, e-learning content, mechanical and engineering visualization, and many others.
Pro Tip: Looking to start a 3d modeling business, this guide on how to start a 3D printing business can help you to start a successful business.
27. Data Analyst
A business can make better decisions with data analysis. You don't have to have a professional background in order to become a data analyst. Analyze data and translate it into tangible outcomes. 
In any case, you do need the skills, so if you are not certain of your data analysis skills, then you might consider taking a training course to refresh your skills.
28. Sports Team Coach
You might be able to sell your services as a sports team coach if you enjoy working with teams. For instance, if you have experience coaching sports teams, this might be a good business idea for you to pursue.
29. Nutrition Coach
The goal of nutrition coaches is to help people eat healthier. Depending on your specialty, you may be able to help people eat clean or vegan, plan and prep meals, solve food allergies, lose weight, or clear their skin. Why not become a nutrition coach if you enjoy food and nutrition and are knowledgeable about your gut health?
30. Crafter
If you're thinking of starting your own small business by making novelties, it's a great idea. Whether you make jewellery, knitted comfort items, or even custom wigs, there's no doubt that you'll be able to find a market for your products. With creative marketing on social media and optimizing your website for search engines using keywords that describe your products, you can tap into your audience and tap into their needs.
31. Public Speaking Trainer or Speech Coach
Are you a Toastmasters member? Or maybe you are just great at giving speeches? If so, you could help other people do the same. Whether you are a public speaking trainer or a speech coach, you can help employees create better presentations, startup founders pitch for more funding or speakers prepare for their public speaking engagements.
32. Packing and Unpacking Service
There is nothing more exciting than packing and moving to a new home or office, and then there are the hassles of unpacking at the other end of the move, which can leave one feeling upended. The packing and unpacking entrepreneurs have made moving seem like magic by providing hassle-free and time-saving services that make it feel like magic.
33. Digital Marketing Specialist
The majority of small businesses cannot afford to hire a digital marketing specialist, and many do not have the time or expertise to handle it on their own.
If you specialize in social media, search engine optimization, content marketing, and email marketing, you will be able to charge more as you gain experience.
Related Article: What's in Your Company's Sales Toolbox?
34. Personal Fitness Trainer
Do you enjoy spending time at the gym? If so, you might want to consider becoming a personal fitness trainer. As a personal fitness trainer, you will have the opportunity to help your clients develop exercise plans, teach them proper techniques, and motivate them to achieve their goals.
It is possible for anyone to become a personal trainer. If you have taught others, if you are an expert in fitness, if you are able to get results for people, you could be a good personal trainer.
35. Interior Designer
A lot of people have the ability to purchase the furniture and home decor that they need to fill their rooms, but few of them know where to begin. This is similar to landscape design. You might think that building a portfolio takes time, but documenting your projects and sharing them online can result in creating a fanbase that is far greater than you ever imagined.
Pro Tip: Looking to start a interior design business, this guide on how to start an interior design business can help you to start a successful business.
36. Private Investigation
If you are a private investigator, you can make your mark in the industry by keeping a keen eye on other people's activities, while you blaze your own entrepreneurial trail-literally. Among the clients we serve are lawyers that are seeking information about a significant other in their relationship, or individuals seeking information about their own finances.
37. IT Consultant
A company's information technology (IT) team or staff member is essential for resolving the day-to-day hardware and software issues, updating its operating systems, and maintaining the company's systems.
There are many advantages to this service-based business, such as being able to resolve technical issues from your home, or being able to handle multiple businesses while travelling from one office to another.
38. Wedding Planner
The host of an event, whether it be a bar mitzvah or a wedding, has a lot to do in order to create an unforgettable experience for the guests. This can potentially be one of the most profitable service businesses you can run by creating an efficient process that maximizes entertainment and gives your customers an unforgettable experience.
39. DJ
If you are a music lover and are outgoing, you might want to consider becoming a disc jockey in order to be able to have fun and earn some money at the same time. You may need to invest in basic items in order to begin, but you will be able to have fun and earn some money at the same time.
40. Collectibles Search
A collectables searcher can earn a lot of money locating objets d'art for clients by carefully canvasing swap meets, thrift stores, and garage sales. Advertise your services in hobbyist publications, at collectables stores, in online forums, or on eBay when you find your niche–be it antique lunch boxes or dolls. You'll soon start collecting.
41. Party Supplies Rental
As an outdoor event organizer, you will need structures to keep the focus off the elements and on the party. You will also be able to rent out tables, chairs, inflatables, and other party equipment so that you can meet the needs of your clients.
42. Photographer and Videographer
To be a successful professional photographer, you will first have to master your craft and then invest in the necessary equipment to ensure that you capture the very moment of your clients' parties, weddings, and other events as accurately and efficiently as possible.
Pro Tip: A business plan is essential to start a any business, check this free photography business plan template to build a business plan yourself.
43. Mobile Locksmith
If you are working towards becoming a mobile locksmith, then you have all the keys to success. You will want to be ready for 24-hour action with a cellphone and van, and you will need some basic equipment, as well as a bit of training.
44. Mobile Dog Grooming
The idea of opening a mobile dog grooming business is one of the most convenient options for the customer as well as one of the more unique service business ideas. There may be some overhead costs associated with renting a van or buying equipment.
Recommended Resources:
45. Self-Defence Instructor
The importance of keeping your family and friends safe cannot be overstated. People of all ages and backgrounds can benefit from the self-defence skills that you can teach them. Start your own business by teaching others the disciplines you have learned–Aikido, Karate, or simply basic safety awareness skills.
46. Moving Company
Few enjoy hauling their belongings when they have to move. If you can gain solid online reviews and offer fair prices, you can make a lot of money helping people move. If you decide to pursue this service business idea, check with your insurance company to learn what kind of coverage you'll need.
47. Home Repair
If a homeowner doesn't have the skills or physical ability required for a particular job, such as repairing drywall, unclogging drains or installing lighting, then he or she should hire a professional contractor.
Depending on the job, you may need to work outside a traditional 9-5 schedule. Also, you may want to advertise yourself as an on-call service – available whenever a homeowner has a problem.
48. Meal Delivery
In the age of the growing popularity of meal prepping for fitness-minded consumers, a delivery service business can provide your customers with nutritious, diet-minded meals that are delivered right to their doors.
49. At-Home Bakery
When it comes to owning and operating a brick-and-mortar bakery, can be very expensive, sometimes leading to the failure of even the most talented baker.
At-home bakers have the ability to take orders and fulfil them from the comfort of their own homes, and then ship or deliver their products directly to their customers.
Pro Tip: Looking to start a bakery business? this guide on how to start a bakery business from home can help you to start a successful business.
50. Landscaper
There is no doubt that landscaping can be the best business to start if your own home exterior is pristine. It is likely that you would find seasonal or year-round work helping residential or commercial customers maintain beautiful gardens and lush lawns, depending on your local climate.
51. Home Entertainment Installer
It is becoming increasingly common for homeowners to invest in high-quality surround sound and home theatre systems that are difficult to install. Working knowledge of electrics and some training in the home theatre could make this a very profitable business to run.
ProTip: It's necessary to have a business plan if you want to start a service business. To help you write your own plan, download our free business plan sample pdf.
Explore More Business Ideas
Tags:
service business ideas