Buying a Car With no Credit History
Getting a car loan with no credit is hard. However, you can still get a car by paying a down payment, getting a cosigner, getting in-house financing at a dealership, or getting an auto loan from a credit union.
A no credit score means you have not yet entered the credit market.
Mostly, a no-credit scenario happens with students. If you have not paid attention to building credit and you don't have a credit score, you can start the work now and build your credit score.
When you don't have a credit score, it shows that giving you credit is risky. There is no record to show your payment pattern and the risk factor is unknown.
Auto lenders offer auto loans at a higher interest rate or higher APR for no-credit customers. You'll have few chances of negotiating a better interest rate.
However, there are ways to buy a car with no credit.
Car loans for new graduates or students
Most people without a credit score are new graduates or students who have just entered the credit market.
Many auto financers and lenders offer car loans for students only. You can find promotions or special offerings for a car loan if you are a student.
You can get a car loan as a student with no credit. The affordable car loans for students include trade unions auto loans, auto lenders with special offers and discounts for the students, and getting a cosigner for the loan.
Another option to buy a car with no credit for a student is to use car dealership loans, commonly known as buy-here-pay-here car loans. However, these loans are expensive and your car choices will be limited.
Car Dealership Loans/Buy-here-pay-here Loans
Some auto dealerships offer buy-here-pay-here auto loans.
Since the auto dealership makes money with your purchase as well as with the loan, you are more likely to get a car with no credit from such a dealership.
These dealerships advertise with words like 'we finance' or 'no credit, no problem'.
Buy-here-pay-here loans are expensive and come with a catch.
You'll be buying a used car at more than its value. The car choices are limited. Many cars may depreciate quickly, creating an upside-down car loan scenario for you.
An upside-down auto loan is when you owe more in the car loan than the value of the car. For example, you owe $20,000 on a car loan and your car is worth only $13,000.
Another catch is the inconvenience of paying the loan installment in person at the dealership every month.
Many buy-here-pay-here car dealerships place trackers in the car with no regard for your privacy. They do that to repossess the car if you stop making loan payments.
We recommend you shop around and explore your options before you go for buy-here-pay-here loans.
How To Buy A Car With No Credit?
Buying a car with no credit will take effort and you'll have to shop around and try different options.
We have shortlisted for you some options that will increase your chances of financing a car with no credit.
Pay a down payment
When you can make a down payment on your car loan, you'll borrow less and your monthly loan installment will be small.
Many lenders will be willing to offer you a car when you can give them a down payment. As you increase the down payment for the car loan, your chances of getting an auto loan will grow.
If you are looking for a beater, you may not need a car loan at all. You can save enough money in a few months and buy a used car.
Get a stable income
When you have a stable source of income, lenders will be more comfortable in giving you a loan.
A stable income shows that you have the money coming in and you can make loan installments on your car loan.
As you are new to the credit market and there are no past mistakes in your credit history, a stable income will increase your chances of securing a car loan with no credit.
Get a cosigner
A cosigner is like a guarantor for your car loan.
A cosigner agrees to pay the loan if you fail to make payments.
When you add a cosigner to your loan contract, you apply with both your and the cosigner's credit record.
If the cosigner has a good credit score, you may get an auto loan at a lower interest rate.
Credit Unions
Many credit unions offer car loans with no credit.
Credit unions are convenient lenders and are known for being kind to people with bad credit.
Search for the credit unions in your area. See what type of car loans they are offering. Chose the one suitable for your needs.
Also, you'll need to be a member of the credit union to apply for a car loan with them.
Buy-here-pay-here Dealership Loans
As we discussed above, buy-here-pay-here loans are offered by car dealerships.
These loans are expensive. Your choice of cars is limited and you may have to pay every installment in person every month at the dealership.
If you are looking to buy a car with no credit, we suggest you keep it for last and shop around before you go for a car dealership loan.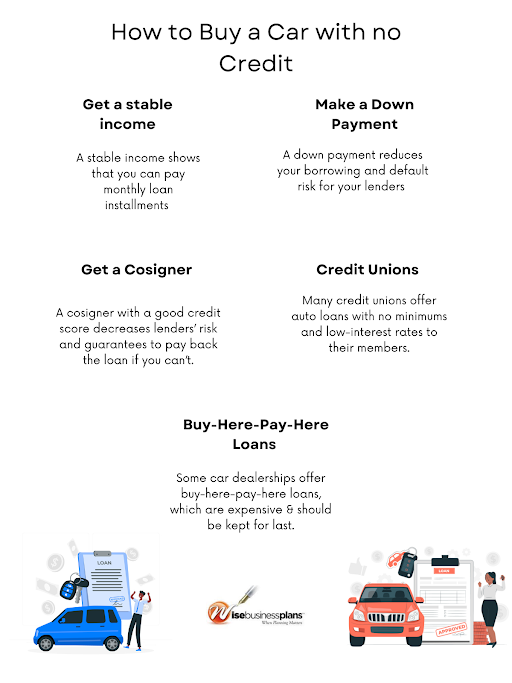 No credit and bad credit are different.
No credit means you are new to the credit market and you don't have any credit history.
Bad credit or bad credit score means you have missed payments or you have been careless about your credit payments.
A no credit is slightly better than bad credit. In the case of a no-credit, lenders don't know the risk. However, a bad credit score shows your mistakes and irresponsible behavior in the past.
An example is the mortgage loan for no credit and bad credit.
Lenders may be willing to offer a loan with no credit but it is almost impossible to get a mortgage loan below the cut-off credit score limit.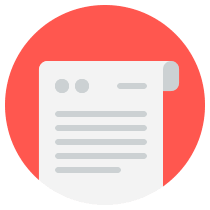 Looking to Build your Credit Fast?