How to Start a Pet Grooming Business
Most dog and cat owners consider their pets a member of the family, and together they will spend an estimated  $5.24 billion in 2021 on grooming and boarding.
Wisebusinessplans is now reaching out to entrepreneurs in the grooming industry to help them serve this growing need with a pet grooming business plan.
How to Start Pet Grooming Business
1. Create a Pet Grooming Business Plan
In order to succeed in business, an entrepreneur needs a detailed plan. It's essential that you write a business plan before you start your business. Obtaining funding requires this comprehensive document that provides important information about your company. The document includes market and financial analyses, as well as organizational structure.
Do You Need a Pet Grooming Business Plan?
Here's the good news: you can minimize the time it takes to write a business plan by hiring Wisebusinessplans who have over a decade of experience writing business plans, spanning over 400 industries.
 Hire a business plan writer now!
2. Get Training and Become Certified
Grooming businesses for pets don't have to follow the same rules as hair salons and barbershops. You must acquire the necessary skills in order to become a successful pet groomer, either through a formal grooming course, shadowing an established professional, or participating in dog shows.
3. Purchasing Pet Grooming Equipment
Equipment purchase is one of the most significant start-up costs for a grooming salon. The basic equipment businesses use to groom pets includes clippers, shears, scissors, brushes, shampoos, conditioners, sprays, dryers, nail clippers, ear cleaning products, bandanas, and bows. A salon usually has a washing machine, dryer, bathtub, professional grooming table, and cage as well.
4. Obtain Licenses and Permits
The types of licenses and permits required for starting a pet grooming business depend on where you live. The failure to obtain required permits and licenses can result in hefty fines or even your business being shut down. It may be necessary to apply for specific permits and licenses in order to operate a pet grooming business.
Do you need a Business License for Pet Grooming Business?
Wisebusinessplans have eased the process to obtain a business license for pet grooming, which is generally needed to operate a pet grooming business.
Get Your Business Licence Now!
5. Choose a Good Location
Realtors are known for saying, "location, location, location." You should remember that where you locate your dog grooming business can have a significant impact on your success. It's a good idea to pick a location where there are many pets. You should choose a community where there are a lot of people walking around.
6. Market your Pet Grooming Business online and offline 
The most important thing you can do to make your dog grooming business successful is to differentiate it from the competition. Ensure the logo design and business name are memorable to help position your business accordingly.
A new business that offers dog grooming can generate buzz with a range of advertising methods. Flyers, catalogs, and postcards can be distributed to potential clients in your local area.
7. Form a Legal Entity for Business
In business, sole proprietorships, partnerships, limited liability companies (LLCs), and corporations are the most common form of business structure. A legal business entity, such as a Limited Liability Company or corporation, will shield you from being held personally liable in case your pet grooming business is issued.
Need to Register a Business Entity for Pet Grooming?
Registered agents at Wisebusinessplans offer you a wide range of business formation services to make it simple for you to incorporate a business and allow you to focus on other important tasks.
Register Your Pet Grooming Business Now
8. Hire Skilled Employees
Entrepreneurs who want to grow their pet grooming business beyond what they can handle on their own will need to hire employees. Recruiting and hiring skilled workers that will maintain the business' reputation and quality of service is one of the keys to ongoing success as more competitors enter the market.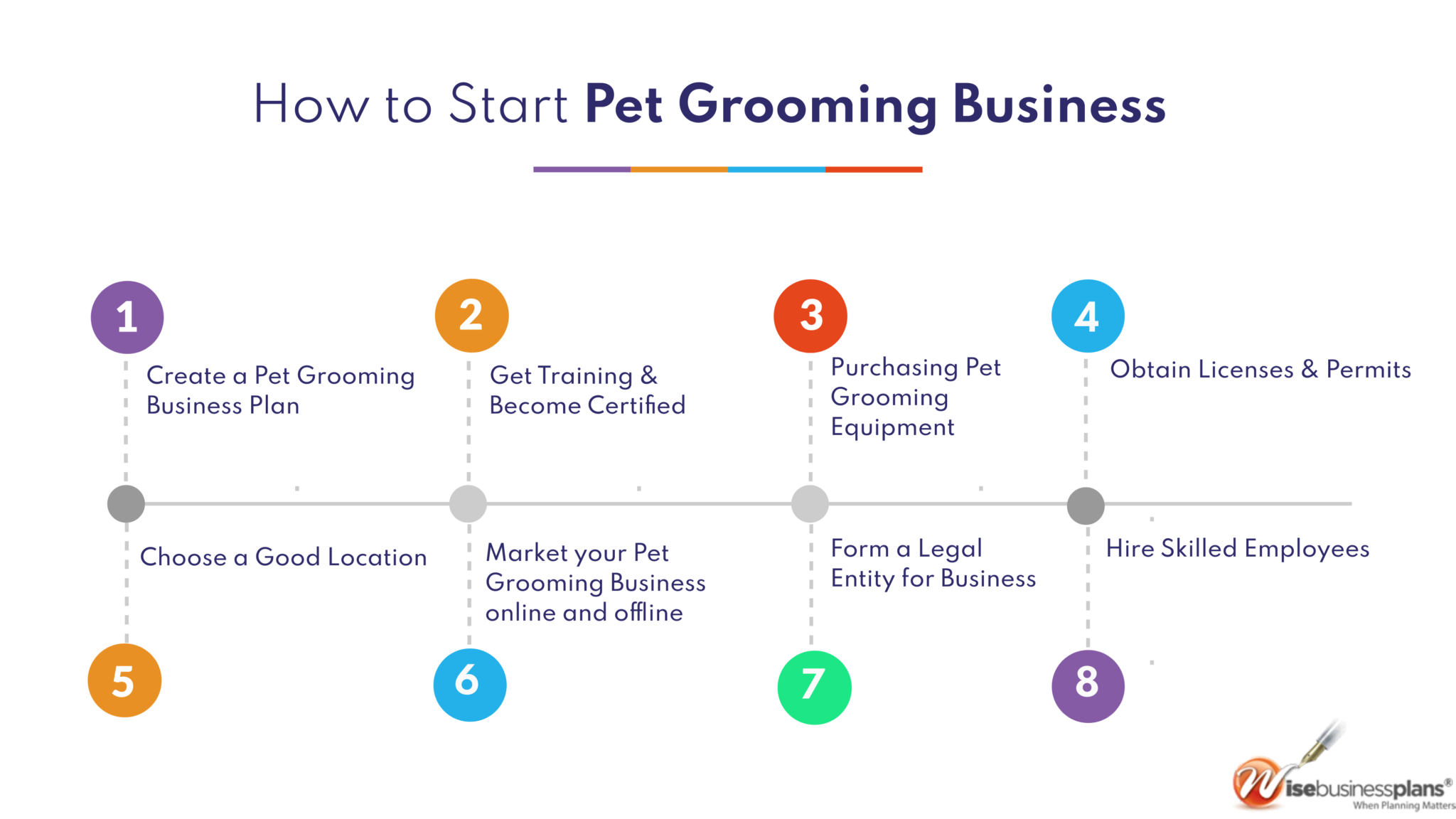 "Wise understands that it takes a special personality to respond to the needs of pet owners," said Joseph Ferriolo, Director of Wisebusinessplans. "We're proud to provide clients with fully customized business plans, including in-depth market profiles and both financial and personnel planning, that can help groomers get back to focusing on the needs of pets."
Visit our business plan sample page to view our real sample business plans related to over 400+ industries.
Wisebusinessplans staffed with professional MBA business plan writers, researchers, and financial experts, is a trusted partner for businesses across a broad spectrum of products and services. Our mission is to empower our clients to make the best possible business decisions, boost company performance and facilitate their funding success by laying the groundwork for strong businesses that excite, inspire and retain talented and exceptional employees.
Other Major Business Services for Pet Grooming
Starting a pet grooming business? With Wisebusinessplans, you will receive a quick and easy guide to starting your pet grooming business, as well as assistance in every step along the way from funding to registering or licensing a business entity, branding, and marketing. Following are our main services
Wisebusinessplans also offer net 30 payment terms. A Net-30 account allows you 30 days to pay the bill in full after you have purchased products. Managing your business finances is also easier with Net 30 accounts. Apply for your net 30 business accounts now
Tags:
Business Ideas
,
Business Starting Tips
,
Form a Business