How to Start Culinary School | Culinary School Business Plan
Making Money By Doing What You Love
As we enter into 2021, restaurant-goers can choose from more than 600,000 restaurants in the U.S. to celebrate birthdays, anniversaries, and other special occasions this year, and additional eateries are constantly being added to accommodate a public that enjoys having their meals prepared for them.
With more than 600,000 restaurants in the U.S. and additional eateries constantly being added, Culinary professional schools are struggling to keep up, working to accommodate a public that enjoys having meals prepared on demand.
Huge Demand for Cooking Classes
Schools, and catering entrepreneurs, and all getting in on the latest trend, cooking classes for children, with many businesses now reporting a need to expand classes and hire additional instructors due to the high level of interest from parents and young people who are looking for the best culinary schools.
How to Start Culinary School
"The sophisticated tastes of today's diners require restaurants to hire ever more creative and knowledgeable professionals, "It takes hard work and confidence to become an innovative chef, much less teach this sophisticated, technical art to others.
Culinary school owners and their graduates can have that same level of confidence when they put their trust in Wisebusinessplans," added Ferriolo.
Wise is planning on how to start a culinary school to provide baking classes for kids and currently working with cooking instruction professionals to provide up to date market analysis, trends research, and state of the art culinary school business plan in order to meet business viability and profit expectations for such consumer dependent ventures.
8 Simple Steps to Start a Culinary School
1. Creating a Culinary School Business Plan
You should write a culinary business plan for your business to help you think about things like startup costs, your target audiences, operational costs, how you plan to advertise your business, how many staff to hire, and other things you will need for success. The business can't be run effectively without a detailed business plan on how it will be managed.
Do You Need Help in Creating a Culinary Business Plan?
Our clients no longer have to worry about the complexities of writing a professional business plan. Our MBA-qualified business plan writers have written over 15000+ business plans for over 400 industries in over a decade.
2. Define who is your Potential Students
Check the areas of potential students after deciding to enter the business. You should focus on promoting your services for this purpose. Give a very simple explanation of your service and cooking scope for this purpose. In order for your culinary school to attract students, you will need to know the strategies to use.
3. Choose the Right Location
If your restaurant is situated far from settlements or potential places, there's no point in preparing delicious food or drink, right? A location survey is important before starting a culinary business. Choose a place which will attract many visitors every day.
4. Take a Good Look at Your Competitors
Most entrepreneurs don't realize how important research is before starting a culinary school business. In this way, you can easily outperform your business competitors. To find the busiest culinary schools around your desired location, you need to visit them.
5. Register your Business
As you all know, it is mandatory that you get your business registered. It is almost like adding your business name to a similar business category. A business gets registered to register the name of the business and the type of business being done in the records. The type of business that is being run is simply about ownership.
Need to Register a Culinary School Business?
Wisebusinessplans provide you with a wide range of business formation services for incorporating a company in a way that makes the process easy and allows you to stay focused on other important tasks. Our business formation services include
Tax ID Number
LLC Formation
NonProfit Business Formation
S Corporation Registration
You can form your business entity in just 4 Simple Steps with Wisebusinessplans
6. Advertise your Culinary School
In order for people to sign up for training at your culinary school, you must advertise it. Take advantage of social media to promote your culinary school. To entice people to join, you can distribute pamphlets and business cards. Posters can be placed in strategic locations such as schools, restaurants, and grocery stores.
7. Obtain Licenses and Permits
Licenses are the next step. You will need more than one license in the culinary school business, unlike other businesses. The additional licenses are,
Catering license
Kitchen Inspection
Food Handler's license
Do You Need a License for Culinary School Business?
There can be a lot of difficulties in obtaining business licenses. A Wisebusinessplans makes it effortless for you to acquire a culinary school business license.
Get Your Business Licence Now!
8. Understand the Govt Regulations to own a Culinary school
Being a professional chef is one of the most important requirements to own a culinary school. If you are certified and regarded as a professional chef, you can clearly direct and monitor the business.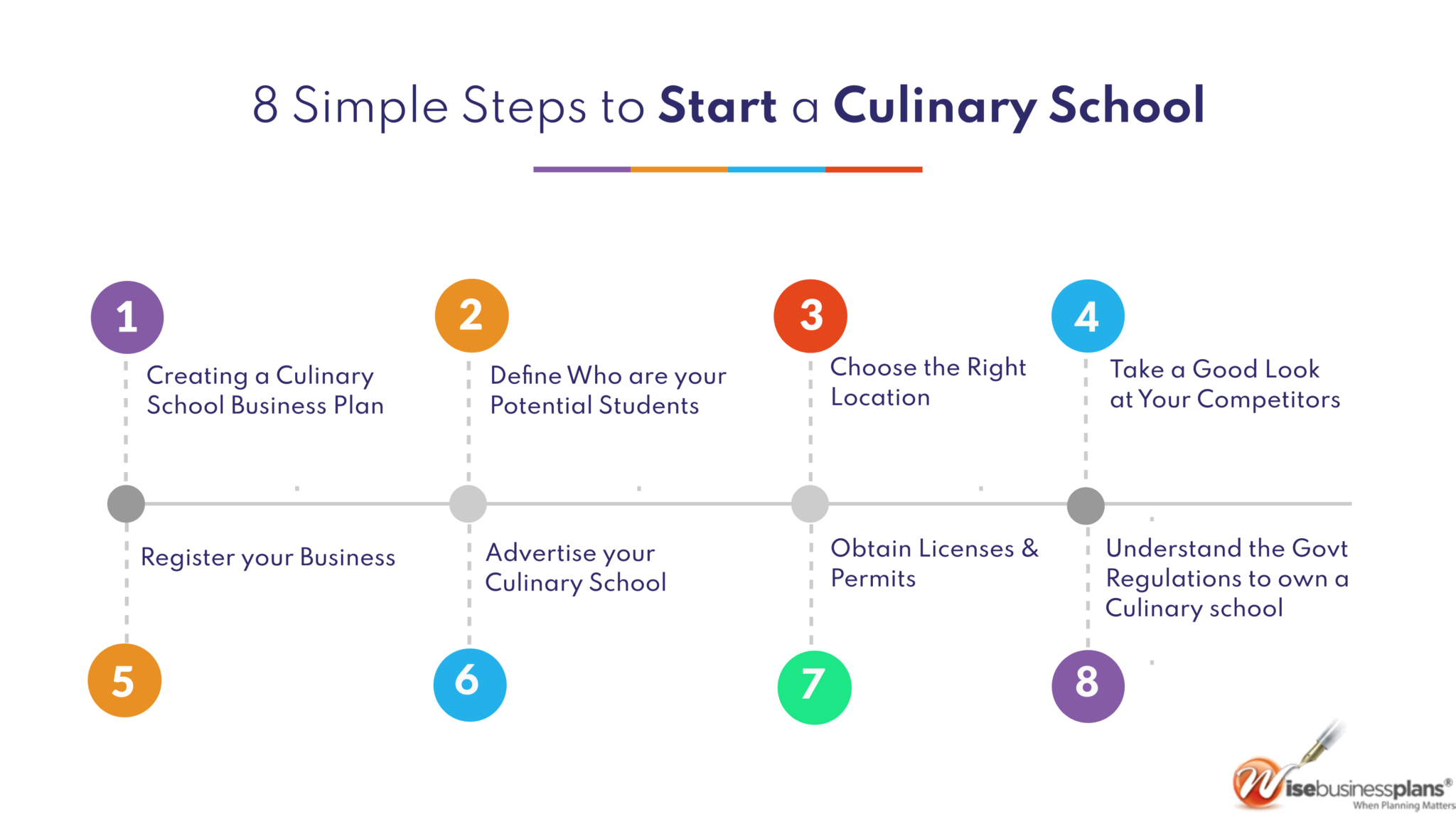 Culinary School Business Plan By Wisebusinessplans
Wisebusinessplans offers quality, one-of-a-kind professional culinary school business plans, including personal and professional financial planning to culinary training facilities, helping these entrepreneurs secure greater profits and future earnings.
Wise presents the facts about each client's business in a clearly written, easy-to-follow culinary school business plan, crafted by MBA qualified writers, that will provide solid financial projections, clearly emphasize the company's qualifications, define business goals, and provide a winning culinary school business plan to raise capital.
View our business plan examples for students to help you write your own business plan or hire a business plan writer now, call us at 1-800-496-1056.
Wisebusinessplans, staffed with professional MBA writers, researchers, and financial experts, is a trusted partner for businesses across a broad spectrum of products and services. Our mission is to empower our clients to make the best possible business decisions, boost company performance and facilitate their funding success by laying the groundwork for strong businesses that excite, inspire and retain talented and exceptional employees.
Other Major Business Services for Culinary School Business
Starting a culinary school business? Wisebusinessplans offer you a quick and easy guide to start your own culinary school business, as well as assistance in every step along the way from funding to registering or licensing a business entity, branding, and marketing. Following are our main services
Wisebusinessplans also offer a net 30 account application. Net-30 accounts allow you 30 days to pay the bill in full after you have purchased products. Net 30 accounts can also make managing your business finances easier. Apply for your net 30 business accounts now
Tags:
Business Ideas
,
Business Starting Tips
,
Form a Business