How To Start A 3D Printing Business
If you're wondering how to start a 3D printing business of your own, this guide on starting a 3D printing business is best for you.
3D printing is no longer a surprise in 2023. Even though it took time for it to be noticed after its start in the 1980s, the next five years should see an average growth of 23.5%.
In one study, 3D artists make an average of $53,000 a year, but these figures include those working for corporations rather than themselves.
The 3D printing industry continues to innovate and grow, providing aspiring entrepreneurs with numerous options to create designs on demand.
The use of 3D printing is known to be environmentally friendly, produces zero waste, and is a more cost-effective option than traditional manufacturing.
The increased market value led to a boom in interest in 3D printing businesses. 3D printing provides a wide variety of niches in which to develop a business.
Even though each type of 3D printing business has its own requirements to get started, there are some general things you can do to make the process of setting up a business easier.
1. Decide what kind of 3D printer you want to be
3D printing can be used in many different ways. Thus, there are many different niches for 3D printing businesses to profit from. Examples include 3D printing prototypes and manufacturing components, setting up a local 3D printing service, and 3D printing toys.
3D printing of prototypes and models
Nearly 65% of the 3D printing market is driven by engineers developing industrial, electrical, or consumer products. Also, industries such as architecture, engineering, technology, and medicine need models of devices, parts, and chemical compounds.
3D printed parts and components not only reduce production time but also lower costs. Therefore, a 3D printing business that assists other businesses with these needs can be quite profitable.
3D printing service
A local 3D printing service might also be a good idea. While several businesses utilize 3D printing in their production process, not every business can afford one. This makes a 3D printing service more efficient than traditional research and manufacturing methods for these businesses.
In addition, 3D printing services can produce work for individuals who need their own 3D printed products. As an example, students may need a 3D printed model for a school project. Artists may use 3D printed models for art projects.
Sell custom 3D printed products
The customization industry is huge. With 3D printing, you can customize anything. Who doesn't like unique and different items?
Even one chooses a mobile cover based on his or her tastes. Considering your target audience will help you determine what you want to print.
Collectibles and figures of athletes, movie stars, singers, and movie avatars would be some of the best choices for kidswear businesses when it comes to 3D printing.
If you want to attract youths, 3D printing custom mobile cases, shoes, jewelry, and many other items are sure to work. You are only limited by your creativity.
If you wish to sell 3D printed customized parts to companies, you can start by selecting a niche.
2. Plan your 3D printing startup costs
Opening such a business is not expensive. The vast majority of shops start in someone's home, so there is no lease, utility, or staff salary to pay every month. 
As long as you are going to be using Shapeways, you do not need a 3D printer. All you have to do is upload your designs to them and start selling them through your own website.
When buying your own 3D printer, you can usually find a commercial model for $6,000 or less, though there are models available at different price points as well.
Other than that, you will have to purchase a professional website (typically about $500) and advertise your services (most advertising will be done online, so you may have a budget of $2,000 or less).
Business Formation Fees
There are a few key costs associated with forming your business entity, such as setting up an LLC and getting trademarks, copyrights, and patents sorted.
Creating an LLC or corporation $70 to $600  (required)
Insurance for small businesses between $300 and $2,000  (recommended)
Fees for permits and licenses $100 to $800 (optional)
Lawyer Fees

$0 to

$1,000 (optional)
Expenses related to inventory
If you sell a physical item, you'll likely need some inventory.
The upfront costs for inventory range from $300 to $5,000
Find out how to form an llc yourself
Learn about llc formation, including information on registered agents, naming rules, business licenses, and more.
Choose Your State to Learn How to Form an LLC There
Or Make your life easier with Wise Business Plans
Get the easiest and fastest LLC formation online with worry-free services and support. 
Before you can open for business, you will have to register for a variety of state and federal taxes. To register for taxes, you will need an EIN.
Your EIN can be obtained for free through the IRS website, via fax, or by mail. Read our article What is an EIN? to learn more about EINs and how they can benefit your LLC.
5. Obtain necessary permits and licenses
Your 3d printing business must adhere to city, state, and federal regulations. To avoid legal snags, make sure you are familiar with the business laws in your area.
The failure to obtain necessary permits and licenses can result in heavy fines or even the closure of your business.
Operating a 3D printing design business may require state permits and licenses. In most states, businesses must collect sales tax on the goods or services they sell.
6. Copyright & Trademark Protection
When developing a unique product or concept, you should register for trademarks and copyrights to protect your rights.
7. Protect your business with insurance
In addition to licenses and permits, your business needs insurance in order to operate legally and safely. A business insurance plan protects your company's financial health in case of a covered loss.
Insurance policies are available for a variety of businesses with a variety of risks. If you're not sure what risks your business may face, begin by purchasing General Liability Insurance.
It's the most common coverage small businesses need, so it's a great place to start.
Workers' Compensation Insurance is another policy many businesses require. If you plan to hire employees, it's quite possible that your state will require that you carry workers' compensation insurance.
8. Make your business website
Creating a website for your business is the next step after defining your brand and creating your logo. The following are the main reasons why you shouldn't delay building your website:
All legitimate businesses have websites. Getting your business online doesn't matter what your business's size or industry is.
Facebook pages and LinkedIn business profiles are not a replacement for a business website you own.
Tools like the GoDaddy Website Builder make it extremely easy to create a basic website.
Recommended: If you want to improve your conversion rates, and maximize your revenue to help grow your business and achieve your goals. It is always best to hire professional web design services to develop your company's website.
4 Key Success Factors Printing Businesses
Despite the challenges of the 3D printing and prototyping businesses, We have identified five factors that can help you boost profitability, efficiency, and ultimately success.
Ability to adopt new technology quickly:
3D printing and rapid prototyping companies must adapt to technological advancements to attract more consumers.
Close monitoring of the competition:
Its low concentration encourages competition among smaller companies seeking to enter a new market. To remain competitive, industry companies must closely follow their competitors.
Having a good understanding of the service:
As this industry caters to a wide range of industries, companies must understand the appropriate processes associated with each industry.
Contracts with key suppliers in place:
It is necessary for companies to source several input materials for the printing process. It is important that companies maintain good relationships with suppliers of these materials.
These 4 factors are essential for the success of printing businesses, resulting ultimately in higher sales and brand awareness, but most importantly, higher profits.
Want to Get Top-Quality 3D Printing Business Plan?
Need help with your business plan? We are the largest and most reputable business plan writing company in the US. Providing high-quality, beautifully designed and highly detailed business plans at reasonable prices is our specialty.
Over 3,000 projects have been completed in almost every industry. Our business plans are used for strategic planning, internal planning, investor fundraising, and bank financing. 
In the past year, we have assisted 3,000+ companies across 150 industries obtain debt and equity funding totaling $1 billion.
The Highlights Of Our Recently Developed 3D Printing Business Plan
Market Analysis Summary: 3D Printing Business Plan
The Custom Screen Printing industry has declined over the five years to 2020. The industry generates most of its revenue from printing on apparel and other nonpaper materials, services it performs for both consumers and businesses.
Since 2015, decreasing corporate profit, despite improving disposable income levels, has weakened both consumer and commercial demand for the industry's custom printing services. 
As a result, the Custom Screen Printing industry has decreased similarly to other printing segments.
Over the five years to 2020, industry revenue fell at an annualized 2.2% to $7.7 billion. In 2020, the COVID-19 (coronavirus) pandemic and an economic slowdown are expected to reduce demand for industry products by reducing consumer spending drastically.
The industry is also affected by social distancing policies preventing large gatherings, such as family reunions, summer camps and fundraisers, which require custom T-shirts. As a result, industry revenue decreased by 18.0% in 2020 alone.

Screen printing on apparel items is the largest segment in the Custom Screen Printing industry, accounting for an estimated 49.4% of revenue in 2020. 
The process of screen printing on apparel items such as T-shirts and sweaters is a multistep process that can be performed by businesses and consumers alike.
While this segment experienced a lower level of demand in 2015 due to slow growth in consumer spending, its share of the industry has expanded significantly over the five years to 2020 as consumer spending has increased overall. 
The apparel printing product segment is expected to be greatly affected by the COVID-19 (coronavirus) pandemic due to social distancing policies.
Many large events, which have now been canceled, sell or require custom T-shirts such as a concert. The cancellation of these large events has negatively affected the product segment in 2020.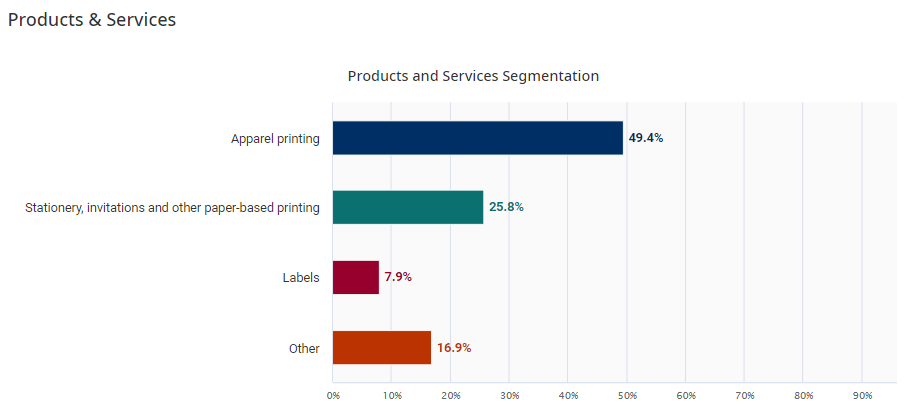 3D Printing Business Plan FAQ's
Are you the right person for this business?
For artists who have previously created physical works (i.e. statues and carvings), this business is ideal. Taking a good idea and using a combination of software and artistic skills to make it into a reality is the most important part of this job.
How much does starting a 3d printing business cost?
Start-up costs for 3D printing businesses depend on the type of focus you choose. However, the setup cost ranges from $5,00 to $20,000 for a 3D printing business. It depends on the type of 3D printer that you choose, utilities, rent (if you do not work from home), software, and marketing.
Should I hire a 3D printing business plan writer instead of doing it myself?
This is possible, but business consultants and writers are experts at this. Using a variety of valuation metrics, they understand what goals you should set for your custom screen printing business. Through them, you can set timelines for reaching those goals. You'll benefit from their expertise in marketing tactics, financials, and customer acquisition strategies while saving time so you can focus on other aspects of your business.
Why you need a 3D printing business plan?
A business plan is essential if you want to start or grow a 3D printing business. Having a business plan can help you secure funding, if necessary, and plan out your growth as a 3D printing company to increase your chances of success. As your 3D printing business grows and changes, your business plan should be updated annually.
Contact Us Today For A Free Consultation