Business Plan
Transportation And Logistics
Transport and logistics business is a vital part of the American infrastructure, keeping the country's economy moving as goods progress from supplier to customer. The transportation industry is made up of companies in providing a variety of transportation services over varying distances, and all are central to our economy.
Types of Transport and Logistics Business
This type of business caters to the need for international shipping services. Airfreight requires less packaging and reduced insurance when compared to ocean travel. That means it can be less expensive to transport when taking time and materials into consideration.
The two most significant benefits of air transport are: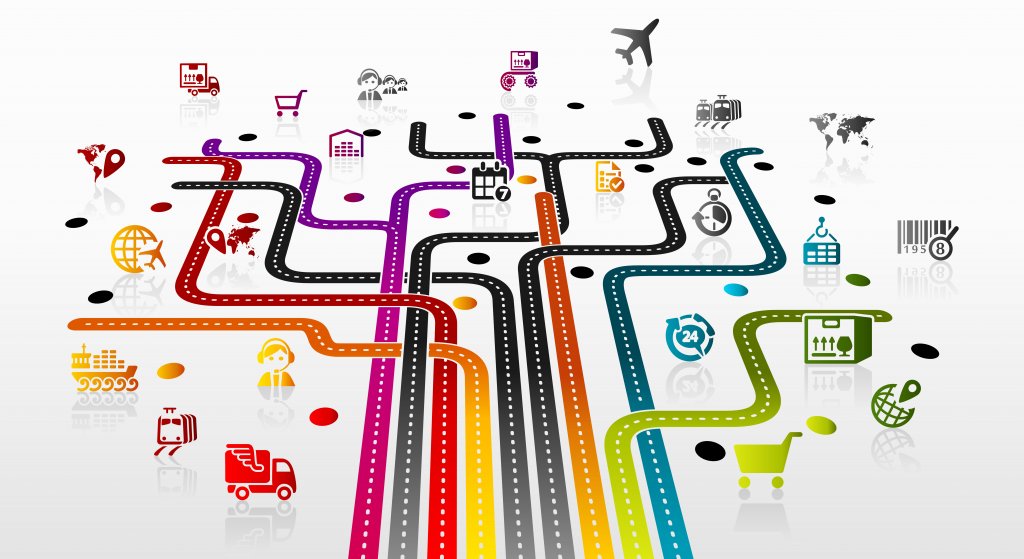 Allows for speedy deliveries: Despite the possibility of occasional flight delays, air transport is significantly faster than ship, truck, or plane delivery under most circumstances. Additionally, airplanes operate on a fixed schedule. This reliability is an asset when arranging shipment, particularly for perishable goods that require prompt — often overnight — delivery.
Offers enhanced security: Planes offer this speed with little to no compromise to the quality of the product, providing optimal protection and safe handling due to rigorous flight checkpoints and little interference during flight.
However, a few disadvantages to consider about air transport are:
Cost: Air transport is more expensive than truck transport due to the higher cost of fuel and additional expenses like tickets, maintenance, checkpoints, special handling fees for certain materials, shipping containers, and more. When ground logistics are an option, and guaranteed quick delivery is not required, trucks are often the more economical decision. For companies who can afford the cost and rely on fast shipments, air transport is ideal.
Limitations: Due to the nature of air transport, there are certain limitations in place that some companies may find difficult to navigate, including size, weight, and product restrictions. Airplanes have a set weight capacity that they cannot exceed, and many materials are too hazardous to transport via flight.
Combined with truckload shipping and aerospace logistics, rail freight is a crucial component of the U.S. logistics system. Managing the rail system is a big task, though, so it's a good idea to hire a freight company that can manage intermodal shipping or multimodal shipping. 
This business segment has been further classified into the following sub-segments:
LTL Freight Services
Oversize Freight Services
Industrial Machinery Transport Services
Expedited Freight Services
Customers look for a Company that can handle a multitude of situations. Customers decide according to their needs, e.g., if they need a full truckload, a less than truckload carrier, delicacy/fragility, and items' sensitivity.
Understanding the Truck Transportation
This subsector includes establishments occupied with the truck transportation of goods. These establishments might be carrying general cargo or specialized freight.
The specialized cargo includes goods that, on account of size, weight, shape, or other inherent characteristics, require particular equipment for transportation. Establishments might be operating locally inside a metropolitan zone and Its hinterland, or over significant distances, that is between metropolitan territories.
General Freight Companies
General freight companies don't need the utilization of particular equipment and handle a wide variety of commodities, Freight is generally palletized and transported in a container or van trailer. General freight companies comprise two types local general freight trucking, long-distance, and General Freight-Trucking.
General Freight Trucking, Local
These companies usually provide trucking within a metropolitan area that may cross state lines. Generally, the trips are same-day returns.
General Freight-Trucking, Long-Distance
These companies primarily engaged in long-distance, general freight trucking,  primarily providing trucking services between metropolitan areas.
Establishments usually provide trucking between metropolitan areas that cross North American countries' borders. The industry includes establishments operating as truckload (TL) or less-than-truckload (LTL) carriers.
Less-than-truckload refers to products and commodities that do not fill up the whole truck. This provides the option for other shippers to join together to save more money for smaller shipments. Full-truckload (FTL) is the Inverse; a whole truck is devoted to one transporter
Auto-shipping is one of a kind transportation business, also known as vehicle shipping or car transport, is a service that helps people in moving their vehicles from one place to another on a trailer designed to ship vehicles by auto shipping companies.
How Does Auto Transport Work
Once you place your order and submit paperwork, the shipping of your vehicle will be booked by the dates on your transportation request.
After a truck has been appointed, you will get a call from the driver to plan the pickup time and date. Want to know about the cost of shipping a car across the states and internationally? this topic might be helpful for you to determine the cost of shipping a car.
Here are 5 Top car shipping companies in the USA
AutoStar Transport Express
Montway Auto Transport
Easy Auto-Ship
Bargain Auto Transport
Sherpa Auto Transport
How to Start a Transportation Business
Jumping into such an economically important trade stream, with literally millions of people relying on your ability to manage your time, takes a lot of planning and a deep understanding of the logistics involved in making your company work.
7 Steps to Launch Your Transport Business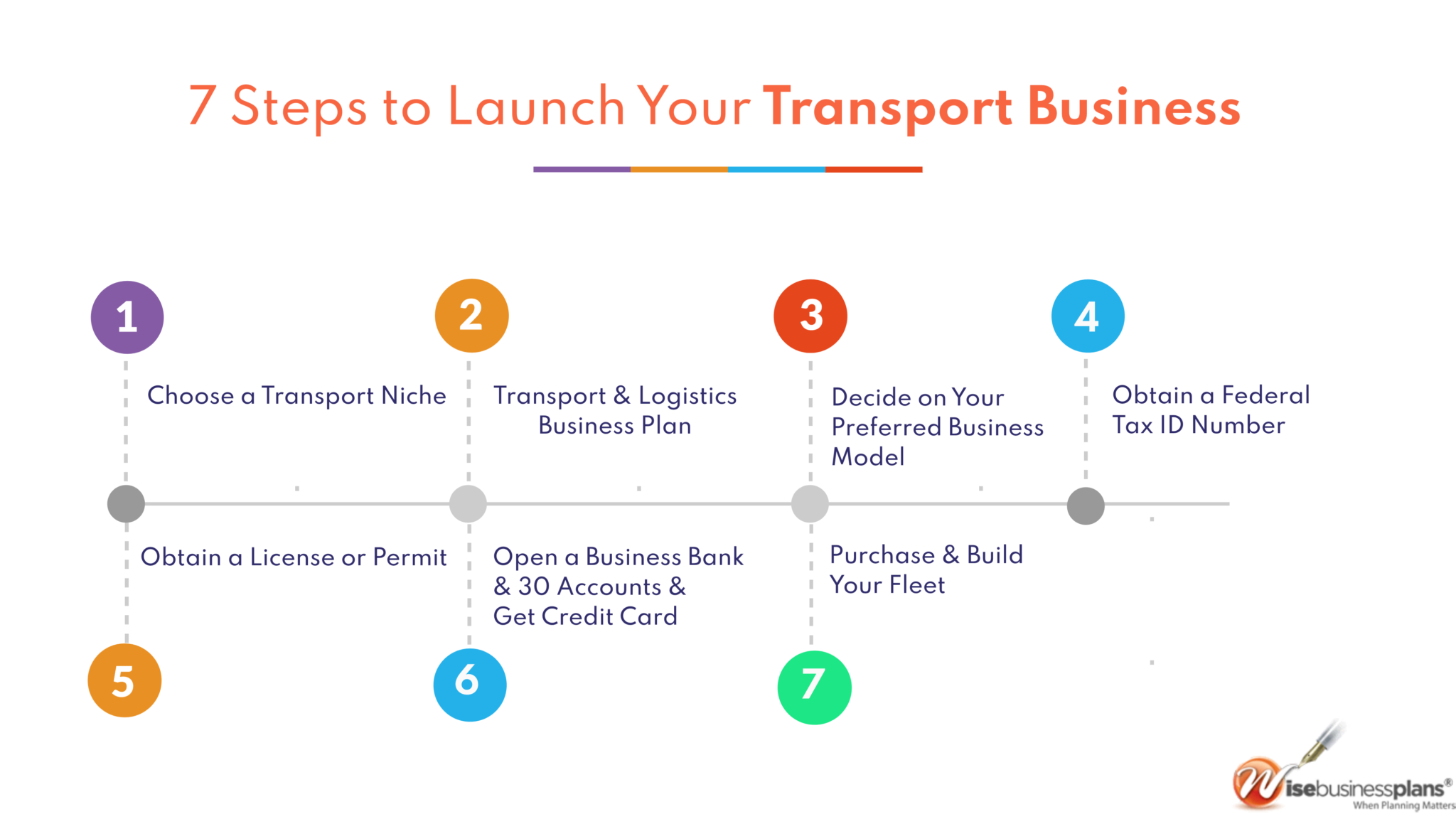 If you're thinking about starting a transport business, you should pay attention to what you'll need to know, study and acquire before you get started.
It's important to prioritize setting a strong foundation now to avoid stress and challenges in the future. The following are 7 steps to starting your own transportation company.
1. Choose a Transport Niche
The first step to starting a transportation business is defining who and what you will serve. The question is, "What niche do I want to enter?". As previously mentioned, there are a variety of transport companies, and only one type is likely to be successful.
If you're not sure what to choose, research the supply and demand in your area. Offering a solution to a specific and relevant need or problem ensures that you'll have a steady client base when you open.
2. Transport and Logistics Business Plan
For a transport and logistics company to succeed, you have to know what your goals are. Prepare a logistics and transport business plan that reflects your vision for your company. Ensure your marketing plan includes the budget and projections for your startup.
Do You Need a Transport Business Plan?
We make writing business plans easy for our clients. Our professional business plan writers have written more than 15000 business plans for over 400 industries in the last decade.
3. Decide on Your Preferred Business Model
As soon as you choose a niche and learn everything you can about it, you will be ready to move on to the business model stage. Here you will set up your business structure and fill in your operational information. You have several options for setting up a specialized business model.
Sole proprietorship- Rather than incorporate a business, you work as an individual or couple. However, the downside of a sole proprietorship is that any business losses may have to be absorbed personally.
Partnerships- With a partnership, you can go into business with others. General and limited liability partnerships differ in the way that each partner assumes risks, debts, or actions on behalf of the business as a whole.
Limited liability company (LLC)- With an LLC, your personal and business information are completely separate. This may change your tax status, but it protects you from personal losses.
Recommended:
Learn
how to form an LLC
in your state in our free guides or choose wise business plans to make your LLC registraion simple and hassle free for you.
Do You Need to Register a Transport Business?
Wise Business Plans offer you a wide range of business formation services to make it easy for you to incorporate a transport business and focus on other tasks.
4. Obtain a Federal Tax ID Number
The first step in your transportation service journey is establishing yourself as a business. To do this, you need to get a business license from your local or state authorities. Since business license rules vary by region, you should also check with your local government.
You need to apply for a federal tax identification number, or employer identification number (EIN) before you open a business.
5. Obtain a License or Permit
To start a transportation service, you must be licensed. Why does a transportation business need more permits than other kinds of businesses? The answer is that in many scenarios, you will work with passengers, people, and other precious cargo.
Do You Need a Business License for a Trucking Company?
Wise business plans have simplified the process for you to get your transport business licenses, tax registrations, and seller's permits in just minutes!
Get your Business License for Trucking Company Now
6. Open a Business Bank and 30 Account and Get Credit Cards
Personal asset protection is enhanced when you open specialized business banking and credit accounts. When your personal and professional accounts are mixed, your personal assets (your home, automobile, and other valuables) are vulnerable if your company is sued.
Furthermore, learning how to establish business credit may assist you in receiving credit cards and other financial resources in your transport and logistic business's name (rather than yours), improved interest rates, greater lines of credit, and more.
Set up a business bank account
Apart from being a requirement when applying for business loans, establishing a business bank account has several benefits.
Separates your personal belongings from your transport and logistic business's assets, which is critical for personal asset protection.
Makes tax preparation and accounting simple.
It makes tracking expenses easier and more organized.
Recommended: To discover the greatest bank or credit union, read our Best Banks for Small Business review .
Open net 30 account
Net 30 payment terms are used to establish and develop business credit as well as boost company cash flow. Businesses purchase products and pay off the whole amount within a 30-day period using a net 30 account.
Net 30 credit vendors are reported to the major business credit bureaus (Dun & Bradstreet, Experian Business, and Equifax Business Credit). This is the way businesses build business credit to qualify for credit cards and other lines of credit.
Recommended: Read our list of the top net 30 vendors guide to start getting business credit or simply open your net 30 account with wise business plans in seconds.
Get a business credit card
It's exciting to open a business credit card for your transport business. A business credit card can assist you to establish credit, safeguard your company financially, access rewards (such as cash back), and simplify cash flow. It can also assist you to manage your expenditures.
Pro Tips:
Take a look at our list of the 11 best business credit cards and decide which one is the right fit for you.
7. Purchase and Build Your Fleet
If your company picks the right vehicles, your drivers will have the right equipment for the job. The result is efficiency and speed of service. A small van being used to carry a huge load will make your company look unprofessional, as will using a large bus trailer to haul limited cargo.
When choosing your logistics vehicles, you should consider the following:
What supplies you will carry
The number of supplies you will need to carry
The types of terrain you will encounter.
Business Plan Writing Services by Wise Business Plans
"There are a lot of government regulations when moving items from country to country," said Joseph Ferriolo, Director of Wise BusinessPlans. "We support the companies that ease stress for clients, businesses, and individuals by taking care of their essential equipment and household goods during long-distance moves.
By offering them a high-quality business plan for a transportation company and accompanying services that can pave the way to a more prosperous business future, we work to give them a better long-term business life ", said Ferriolo.
Transport and Logistics Business Plan
Trucking operators often find transport and trucking business plan vital to planning routes and suppliers and looking ahead to the future of the company in a changing economic environment. A trucking business plan is essential for creating a trucking company with a solid foundation and the ability to both compete and deliver.
"Business planning is what we do and we strive to do it with accuracy and professionalism, always with our client's best interests in mind," Ferriolo added.
The wise business plan is committed to helping transport companies to register their businesses, creating a high-quality transport and logistics business plan to get funded.
What is Included in Transport and Logistics Business Plan
Executive Summary
Once the stages of gathering data and brainstorming are over, it is time to know the best way to execute your business plan. This is when the elaboration of an Executive Summary comes into play.
The operational plan describes how your transport and logistics business forwarding company will be structured, location, physical facilities, and equipment.
You should also make estimates about your company's productive capacity and how many operations you can develop per month. In addition, you should outline the number of employees needed and the tasks that each one will have in your business.
Company Description
After the Executive Summary, it's time to describe the company description you must have to include 5 W's in your and 1 H when drafting your first copy for the transport and logistics business plan.
Who are you? Who is your business?
What is your product or service?
Where is your business located?
When will you implement your business plan and see results?
Why would potential customers want to buy from you?
Market Analysis
Analyzing the market is one of the most fundamental steps to preparing a good transport and logistics business plan. At this stage, you will define who your customers, competitors, and suppliers will be, in addition to detailing the products and services you plan on offering in the transport and logistics business.
Identifying the target audience of your company is critical. It seems obvious, but it is important to remember: without customers, there is no way a company exists. Therefore, look for detailed information on who your ideal customer is, how they behave and what they seek in the marketplace.
Quality and Cost-Effectiveness
After tracing the profile of your business's target audience, it is important to think about the positioning of the services you'll provide. Think about how you want your services to be seen by the international market to be chosen over your competitors. What do quality and cost-effectiveness mean for them?
The more specific market data you gathered in the first stage, the more knowledge you'll have over the skills you need to develop in order to establish your transport and logistics business in the market.
Financial Projections
It is also extremely important to find out if your transport and logistics business is financially viable. When it comes to financial terms, you should have a sense of how much should be invested to get your business started, considering aspects like rent, workforce, equipment, and registration fees.
You should also stipulate the capital necessary for your company to operate in the long term, making a balance between variable/invariable expenses and the expected revenue.
Download the business plan for transport and logistics in pdf or visit our shipping and logistics business plan sample page to learn what a business plan looks like.
In case you need examples of business plans for other industries, we have compiled a list of sample business plans for a wide range of industries to give you ideas.
Other Major Services for Transport and Logistics Business
Starting a transport business? Wise business plans offer you a quick and easy guide to starting your transport and logistics business, as well as assistance in every step along the way from funding to registering or licensing a business entity, branding, and marketing. Following are our main services
Wise business plans also offer a net 30 account application. A Net-30 account allows you 30 days to pay the bill in full after you have purchased products. Managing your business finances is also easier with Net 30 accounts. Apply for your net 30 business accounts now