How to Start a Home Health Care Business
Home care providers are among the fastest-growing industries in healthcare in the United States. Every year, patients save billions of dollars by receiving care at home instead of in a hospital.
Aging populations, chronic disease prevalence, physician acceptance of home care, medical advancements, and cost-effective treatment options from public and private payers are all driving industry revenue growth.
The industry is likely to grow in this area of healthcare over the next few years, which will allow it to compete effectively with institutional care providers, such as hospitals.
According to IBIS-World, Over the five years to 2026, as the Coronavirus pandemic subsides, industry revenue is expected to grow at an annualized rate of 5.1% to $140.8 billion.
Let's take a look at what services home healthcare agencies offer and then check out the 12 steps you need to follow to start a successful home health care business.
The Actual Definition of a Home Health Care agency
Home health care is a relatively straightforward concept. It means medical professionals or professional caregivers visit people at home to provide some kind of assistance or care.
Home health care covers a wide range of services that can mean different things to different people. Home health care may include physical therapy, speech therapy, and skilled nursing. It might include assisting older adults with activities of day-by-day living, for example, bathing, dressing, and eating.
What services do home health care businesses offer?
Home health care refers to medical treatment or assistive care for patients who do not need hospitalization or facility care but do need help to live safely at home. A medical professional or professional caregiver visits an individual at home to provide some sort of help or care.
Even though home care might involve medical treatment, the majority of health care is assisting people with daily tasks like‌ ‌bathing,‌ ‌dressing,‌ ‌and‌ ‌eating.
Medical Home Care vs. Non-Medical Home
Medical Home Care: The medical home care industry provides wound care and other nursing services, such as monitoring blood pressure and mental health. Senior citizens and recently discharged hospital patients usually need this type of care.
Non-Medical Home Care: Home care that is not medically oriented, such as non-medical staff or caregivers, is aimed at providing essential day-to-day assistance.
Among their services are helping individuals prepare meals, cleaning the house, changing or dressing them, or driving them to doctors' appointments. They may also play cards or board games with them to keep them active.
12 Steps to Start a Home Health Care Business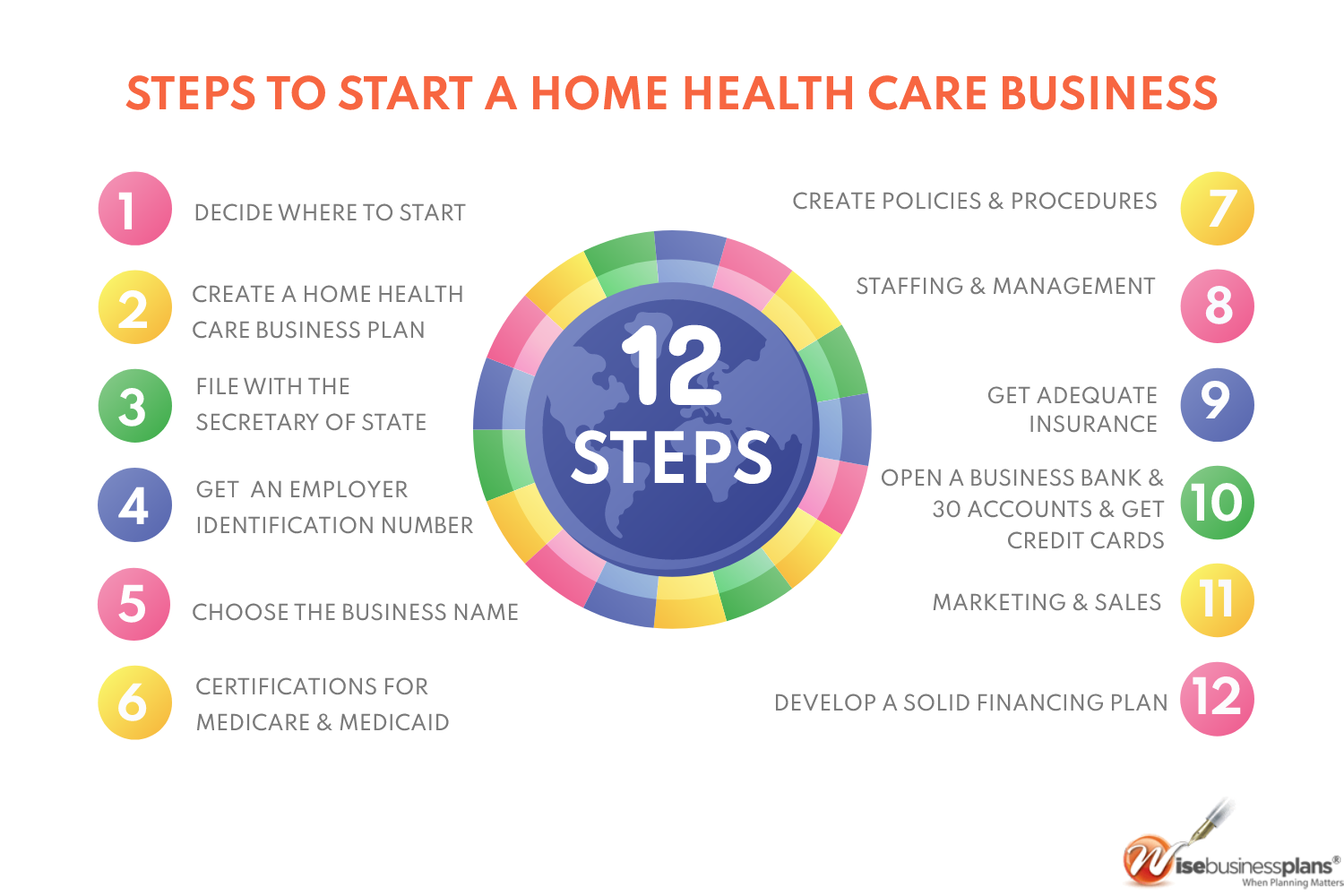 "Running or Starting a home health care business can be challenging and fast-paced, which can be stressful.
In this article, we will discuss the details of every step of starting a medical home health business outside of a hospital or clinic.
Step 1. Decide Where to Start
How do you get into this business? Each model has its pros and cons:
Start a business from scratch. There may be lower startup costs, but more risk. It is important to have business experience. Thorough research of the industry is essential.
Purchase an existing company. The cost is higher in mature businesses, there is less risk, and high diligence is required.
Need to buy a company? An M&A business plan is essential before acquiring an existing company.
Invest in a franchise. This business model has a higher entry fee but is proven. Consult a business broker and lawyer who specializes in franchise law.
Investing in a franchise can be hassle-free with our franchise business plan to give you peace of mind.
Step 2: Create a Home Health Care Business Plan
Starting any kind of business starts with this step. As the basis of your company, you will need to create a home health care business plan. It will guide you through each step of the process.
A home health care business plan includes the following elements:
No matter what format you choose, there are some things you should keep in mind. Here are a few:
Equipment and starting costs
Home health care requires sophisticated and expensive medical equipment. For a successful start, you'll need a detailed list of everything you'll need.
Key expenses will include:
Office equipment
Office supplies
Nursing supplies
Business development
Rental expenses

Finance and cash flow
After you compile your list of expenses, you need a capital-raising strategy. Traditional routes include bank loans, small business loans, and angel investors. There may also be grants for emerging health care businesses at the state level.
For the first three to six months of your business, you are almost certain to lose money while your clientele grows and you are on a regular billing cycle with Medicare and Medicaid. So make sure you have a carefully thought out cash flow plan in place to ensure you can make it through these crucial first few months.
Conduct market research and identify your competitors.
Your greatest weapon when it comes to raising capital is a bullet-proof analysis proving that yours is a great local market for this business and that you can serve a need that is unmet by your competitors.
Although this is a growing industry on a national and global scale, if your community is oversaturated, you will have a difficult time competing.
A strong competitive analysis can also help you with marketing and recruitment strategies when you identify where others have failed to penetrate the market.
Remember: Our guide on how to write a business plan will give you more information about the process if you've never written one before.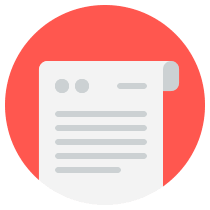 Free: Home Health Care Business Plan Pdf
To write a home health care business plan, you don't need to be an expert. You can just download our proven health care business plan pdf to get a better idea.
Step 3. File with the Secretary of State
Depending on your location and business structure, you will need to register your business. There are various types of business structures available, including Sole Proprietorship, Partnership, Corporation, and Limited Liability Companies (LLC).
Generally, registering your business involves filing your business name with the state and local government.
You can check for business name availability on the Secretary of State's website in your area and see if the domain name is available for your website. Once your business name and entity have been approved, you can order letterhead, business cards, and brochures.
Recommended: Learn how to start an LLC in your state in our free guides or choose Wise Business Plans to make the LLC registration hassle-free for you!
Step 4. Obtain an Employer Identification Number (EIN)
Employer Identification Numbers (EINs)
, also known as Federal Employer Identification Numbers (FEINs) or Federal Tax Identification Numbers (FTIDs) are unique nine-digit numbers issued by the Internal Revenue Service (IRS) to entities operating in the United States.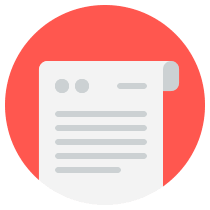 Need to get a License for Home Health Care Business?
We have simplified the process for you. Wise Business Plans can help you obtain business licenses, tax registrations, and seller's permits in a hassle-free manner.
Step 5. Choose the Business Name
As you prepare to incorporate your company and set your business name, you might want to check domain names to ensure something you want is not already taken. When your business name is decided and availability is confirmed, create letterheads, business cards, and brochures.
Recommended: How to Choose a Business Name
Step 6: Certifications for Medicare and Medicaid
In the United States, the first step to navigating the certification process is filling out the state's home care license application and all documentation required for the home care business license.
Obtaining a Tax ID and NPI number for your home health care business is part of this process. Home care license requirements and standards vary from state to state.
If you need assistance, you should contact the Department of Health in your state.
If a patient is eligible for Medicare Part A (Hospital Insurance) and/or Medicare Part B (Medical Insurance), they will receive skilled nursing care, physical therapy, speech-language pathology services, occupational services, and others.
Medicare and Medicaid will be your primary sources of revenue unless you have an unorthodox business model. Make sure your business obtains all the necessary Medicare and Medicaid certifications.
Accreditation by Medicare:
A three-day Medicare survey is required for the accreditation process and is an audit of your business' operations and clinical records.
The patient must meet the following criteria to be eligible for Medicare home care coverage:
The patient must be under a physician's care and follow a prescribed and reviewed the treatment plan
A physician must certify that the patient requires at least one of the following services:
Continuous occupational therapy
Speech therapy
Physiotherapy
Skilled nursing care (more than drawing blood)
Home care providers must be Medicare-certified and must determine that the patient is homebound
The patient may not need more than intermittent or part-time nursing care
Be sure to research your own state's jurisprudence requirements if you are planning on starting a home health care business.
Step 7. Create Policies and Procedures
The following needs to be addressed in your policies and procedures:
Payroll and employee records
Practices related to hiring
The orientation
The training process
Billing for clients
Customer rights and responsibilities
New client admissions
Plans for care
Planned schedules
Step 8. Staffing and management
With a home health care business, unlike most other businesses where employees sell or facilitate your product, your staff is your product.
Choosing the right people is crucial because ultimately the person who walks into the home represents your company and is the face of your business. The greatest challenge for a home care business is finding good staff."
What kind of staff do you need?
Your first hire will be a qualified clinical supervisor if you are not a physician. Medicare (and most states) require that a physician or registered nurse with more than one year's experience serve as a clinical supervisor.
The supervisor should always be available to provide support to the employees providing home health care services.
Additionally, most states require a certified administrator to be in place, but this role can be performed by the clinical supervisor if they are certified in both capacities.
You have two options when it comes to frontline service providers.
You can hire your own staff if you have the resources right away. Starting this business will require serious cash infusions as your salary demands will outweigh your income in the first months.
A second option is to contract out the work to another physiotherapy, occupational therapy, or skilled nurse agency or association. The most common approach is to hire a qualified nurse and a physiotherapist on an as-needed basis (and hire the rest of the field as needed).
Step 9. Get adequate insurance
Your insurance coverage must be adequate. At the very least, you'll need:
Professional liability insurance– protects you from negligence, malpractice, or incompetence claims. It is also known as "errors and omissions" insurance.) Depending on the services you provide, you may also need:
General liability insurance – Insures you against claims involving third-party bodily injury or property damage resulting‌ ‌from‌ ‌your‌ ‌product‌ ‌or‌ ‌ operation.
Cybersecurity insurance – Protects you from some HIPAA penalties resulting from breaches or hacks that expose‌ ‌PII‌ ‌(Personal‌ ‌ Identifiable‌ ‌Information).
10. Open a Business Bank and 30 Accounts and Get Credit Cards
Personal asset protection is enhanced when you open specialized business banking and credit accounts. When your personal and professional accounts are mixed, your personal assets (your home, automobile, and other valuables) are vulnerable if your company is issued.
Furthermore, learning how to establish business credit may assist you in receiving credit cards and other financial resources in your company's name (rather than yours), improved interest rates, greater lines of credit, and more.
Set up a business bank account
Apart from being a requirement when applying for business loans, establishing a business bank account has several benefits.
Separates your personal belongings from your company's assets, which is critical for personal asset protection.
Makes tax preparation and accounting simple.
It makes tracking expenses easier and more organized.
Recommended: To discover the greatest bank or credit union, read our Best Banks for Small Business review.
Open net 30 account
Net 30 payment terms are used to establish and grow firm credit, as well as enhance company cash flow. Businesses purchase products and pay off the whole amount within a 30-day period using a net 30 account.
Net 30 credit vendors are reported to the major business credit bureaus (Dun & Bradstreet, Experian Business, and Equifax Business Credit). This is the way businesses build business credit to qualify for credit cards and other lines of credit.
Recommended: Read our list of the top net 30 vendors guide to start getting business credit or simply open your net 30 accounts with wise business plans in seconds.
Get a business credit card
It's exciting to open a business credit card for your firm. A business credit card can assist you to establish credit, safeguard your company financially, access rewards (such as cashback), and simplify cash flow. It can also assist you to manage your expenditures.
Recommended: Check out our list of the 11 best business credit cards and decide which one is best for you.
Step 11. Marketing and Sales
Once you have your home health care business plan in place and your ideal staff lined up, you're ready to find clients and get started operating your business. This is a challenging step for anyone who owns a business, particularly a service-based company like a home health care agency.
Identify the best referral sources in your area, including discharge planners, medical home care companies, existing client references, elder law attorneys, estate planners physicians, physical rehabilitation centers, churches, bank trust officers, and geriatric care managers.
Your business's success depends on marketing and sales. Obtaining clients requires effective marketing strategies. Here are some marketing ideas you can implement to get your business off the ground:
Make a website: If you want clients for your home healthcare business, Make sure you have a simple website that will promote your name and information. Create your promotional materials and learn specific sales techniques for home care.
Make Google aware of your existence. Ensure that Google has access to your address, office hours, and phone number so you can reach potential clients. This is simple, but first, you need a website.
Know what makes you different. Tell your prospective client what makes you different and better than the competition. Make sure that your employees know this and that it is clear on your website.
Join a community organization. Join local groups and associations, such as the National Association for Home Care & Hospice, to show your professionalism and get your name out there.
Your Business Marketing isn't Working?
wise business plans, our certified digital marketing specialists have great expertise in over 400 industries and are always ready to assist you in marketing your company.
Step 12. Develop a Solid Financing Plan
When you bill Medicare, Medicaid, or third-party insurers, you may experience some financial stress due to the time it takes for payments to be received. To bridge the payment gap between periods, home healthcare agencies and businesses use receivable factoring.
Factoring allows you to receive an advance that you can use to pay your employees and grow your business. It will free up cash flow for your business, allowing you to focus on your business operations.
Home Health Care Business Plan Writing Service
Long-time business planning leader Wise Business Plans is offering an effective home health care business plan for home health care agencies and other entrepreneurs assistance in gaining the market perspective and financial numbers needed to secure startup, business sustainability, and expansion funding, as well as regional consumer information to better guide future expansion options.
We're dedicated to providing our healthcare clients with the very best home health care business plan, prepared individually to ethically meet all their business planning needs," said Ferriolo.
All Wise Business Plans include a market analysis summary that will help the business owner and investors, alike, understand the demographics of the community the client is serving.
Download Now: Home Health Care Business Plan in PDF  or Visit our Sample Business Plans gallery for over 400+ industries to help you create your plan.
Wise Business Plans (www.wisebusinessplans.com), staffed with MBA professional business plan writers, researchers, and financial experts, is a trusted partner for businesses across a broad spectrum of products and services. Our mission is to empower our clients to make the best possible business decisions, boost company performance and facilitate their funding success by laying the groundwork for strong businesses that excite, inspire and retain talented and exceptional employees.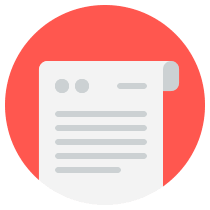 Free: Non-Medical Home Care Business Plan Pdf
To write a non medical home care business plan, you don't need to be an expert. You can download our proven health care business plan pdf to get a better idea.
Tags:
Business Ideas
,
Business Starting Tips
,
Form a Business