Business Tradelines That Build Your Business Credit
Business Tradelines – also known as trade references or trade information – are accounts that appear on business credit reports.
Personal credit reports may include tradelines for personal credit cards, loans, and lines of credit. There are two types of business tradelines on credit reports: financial tradelines and vendor tradelines.
The financial tradelines of your company are those reported by a bank, credit union, or financial institution. Financial tradelines outline your company's history of obtaining and repaying (or missing payments on) financial products such as a business credit card, loan, lease, or line of credit.
Additionally, business credit reports can include vendor tradelines. Tradelines are also known as merchant, corporate, or supplier tradelines. Vendor tradelines are the net payment accounts you may have with vendors and suppliers.
As an example, if you open a net-30 account with a vendor, you have 30 days to pay an invoice. The credit report of your company may show how much credit you used and whether you made your payments on time or late.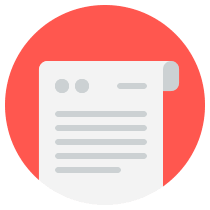 Need a Business Credit Card?
Take a look at our list of the 11 best business credit cards and decide which one is the right fit for you.
Business Credit Bureaus
There are several business credit bureaus that track business tradelines and other information about your business.
Bureaus specialize in financial tradelines, while others specialize in vendor tradelines. Several commercial credit reporting agencies collect and categorize information about both types of tradelines.
The Experian business credit report may list all of your business' credit accounts and classify the tradeline company as financial, supply, services, utilities, or transportation.
Experian is also a consumer credit bureau, but your business credit profile from Experian is completely different from your personal credit report.
Dun and Bradstreet (D&B), on the other hand, focuses only on vendor credit and business credit. In addition, it categorizes a company's trade payments. D&B may group your trade credit accounts by industry rather than listing them individually.
Why are Tradelines Important?
Business tradelines can be important since they give other companies and organizations a sense of your creditworthiness.
Credit reports may include an overview of your company's history of paying its bills and accounts.
Additionally, they often have information about the business, such as how old it is, what its industry is, and whether there are outstanding liens or judgments.
When you apply for a loan, line of credit, lease, insurance, or trade credit, someone may review your business's credit report. When you are trying to get a contract with a major corporation or government agency.
A lot of business credit reports include business credit scores or creditworthiness ratings, and your tradelines can directly impact these.
D&B Paydex Score, for example, ranges from 1 to 100. To get a score of 80, you must pay your trade accounts on time. Getting a better score requires you to pay early than the trade credit accounts require.
Get a Trade Line on Net 90 Terms: Our list of Net 90 vendors will help you business credit line on Net 90 terms. You can make payment after 90 calendar days of invoice. 
Benefits of Business Tradelines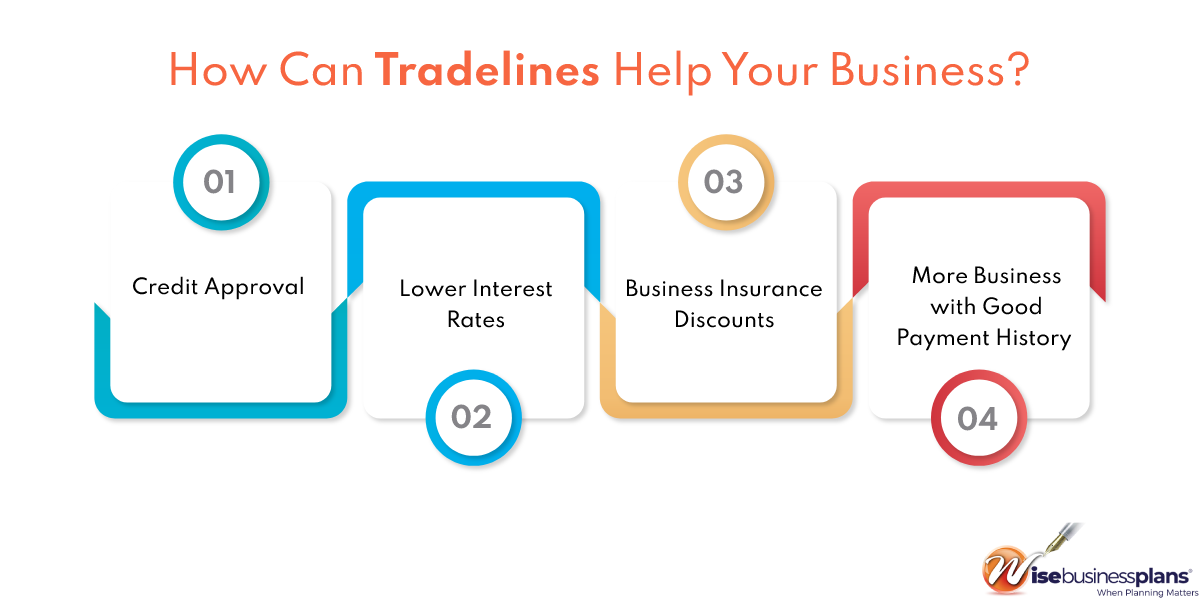 Tradelines offer a number of benefits when used properly. You will see unmatched returns on your business. It is only possible to achieve this by closely following the rules and regulations.
So how can tradelines help your business?
Credit Approval: Small businesses have trouble getting financing due to the time it takes to build up their credit rating. Business loans can also be denied if you have poor credit. By securing a tradeline for your business, you can boost your credit score and make yourself more attractive to lenders.
Lower Interest Rates: Small businesses have difficulty repaying high-interest loans. Poor or unestablished business credit makes it nearly impossible to get low-interest financing. Adding a tradeline to your report will increase your chances of getting a low-interest business loan. 
Business Insurance Discounts: Insurance is less likely to be obtained by businesses with low credit scores. By adding a solid tradeline to your report, you will be able to qualify for the insurance coverage you need.
Your chances of getting more business are improved: When getting into business deals, many companies look at your payment history, not your credit score. Basically, this is a short version of your credit score. Most of big businesses believe that if you pay your debts on time and use your credit responsibly, then your business will be profitable.
5 Things you should know about Business Tradelines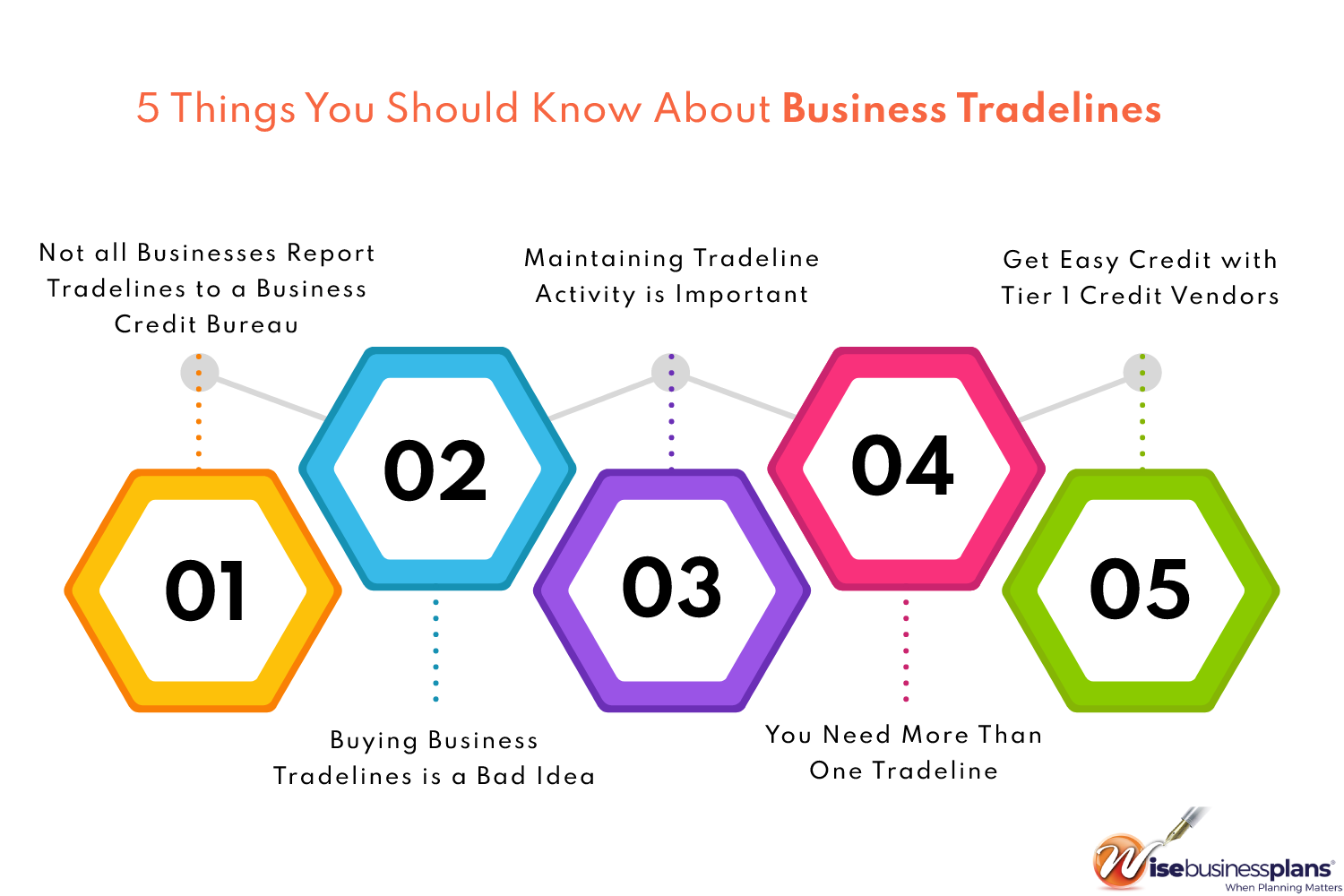 Running and growing your business may require the use of credit. However, there are a few things you should know about tradelines in particular.
1. Not all businesses report tradelines to a business credit bureau
You can only build business credit through tradelines if they report your payments to the credit reporting agencies.  
Companies may not want to invest the time or money to create a reporting system and send updates to the credit bureaus, and they are not required to report your accounts or payments.
There are other business credit bureaus that don't let you manually submit trade references to try and build your credit history.
Fortunately, many companies report tradelines. Even then, you should check which business bureaus they belong to.
As a result, building your business credit with Experian is important, but it won't matter if you apply for trade credit with a supplier who checks your Equifax Business or D&B report.
2. Buying Business Tradelines is a Bad Idea
If you're looking for a fast way to build your business credit, you'll quickly discover there are companies that sell tradelines. These are usually "seasoned" tradelines, meaning they've been in business for quite some time.
Generally, the seller will authorize your business to use the tradeline. A shelf company is a company formed on paper that sits on a shelf until it's sold.
The idea is to purchase a company that has been in operation for a long time and has established credit. As a result, it can qualify for contracts and higher funding limits based on its "history.".
Although tradelines and shelf corporations aren't technically illegal, lenders don't like this practice. If a lender finds out that you used these tactics, you might be in trouble.
Buying tradelines or a shelf company with the intent of misrepresenting your credit history and applying for a loan or credit account could be considered fraud.
3. Maintaining tradeline activity is important
Keep your business's accounts active once you have established tradelines. Businesses and creditors want to see you pay your bills on time, or in the case of companies using D&B Paydex Scores, paying them early.
Experian considers a tradeline new when it's added to your credit report for the first time. A tradeline is considered "regular" if it is updated at least once every three months with new activity.
However, if three months pass without any activity, the tradeline becomes "aged". When there are no updates for 36 months, the tradeline can fall off your Experian business credit report-although it can return to regular status if it's updated in the future.
4. You want more than one tradeline
In the same way that having a tradeline without information isn't particularly useful, you want to have more than one business tradeline to augment your business credit report.
When building good business credit, it can be especially helpful to have several tradelines with a long history of on-time payments. It might even be a requirement for some business credit scores.
As an example, the D&B Paydex scoring model requires at least two tradelines (some people report needing three) and three trade experiences (payment records) in order to score your business.
5. Get Business Tradelines without Already Having Business Credit
Discover the little-known secret to building business credit.  Vendors at the vendor credit tier, known as starter vendors, can get you tradelines without business credit. 
Once you start reporting to CRAs, your credit score will grow without you needing to spend a dime except for what you buy from the tradeline vendors that your business needs. 
As soon as you have enough business tradelines reporting from these starter vendors, you can apply for credit cards at higher credit tiers.  The more accounts you acquire in each tier, the higher the tier you can move to.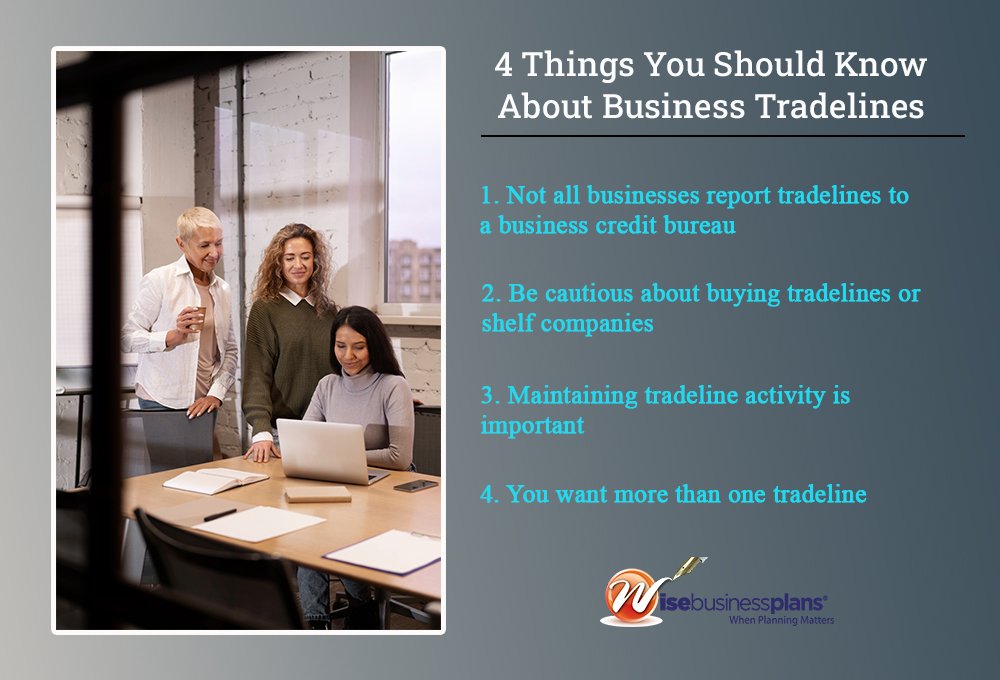 How do I get a business tradeline?
A business tradeline can be obtained by opening a credit account with a company that reports to at least one of the business credit reporting agencies. If you aren't sure if a company reports, you can contact them and ask.
You can also ask your current vendors or suppliers to report your account to one or more credit bureaus.
Most won't check your FICO score and only require a basic credit check.
Consider finding vendors who report to commercial credit bureaus if you don't already do business with such suppliers. Purchase items your business needs (such as office supplies) then pay on time.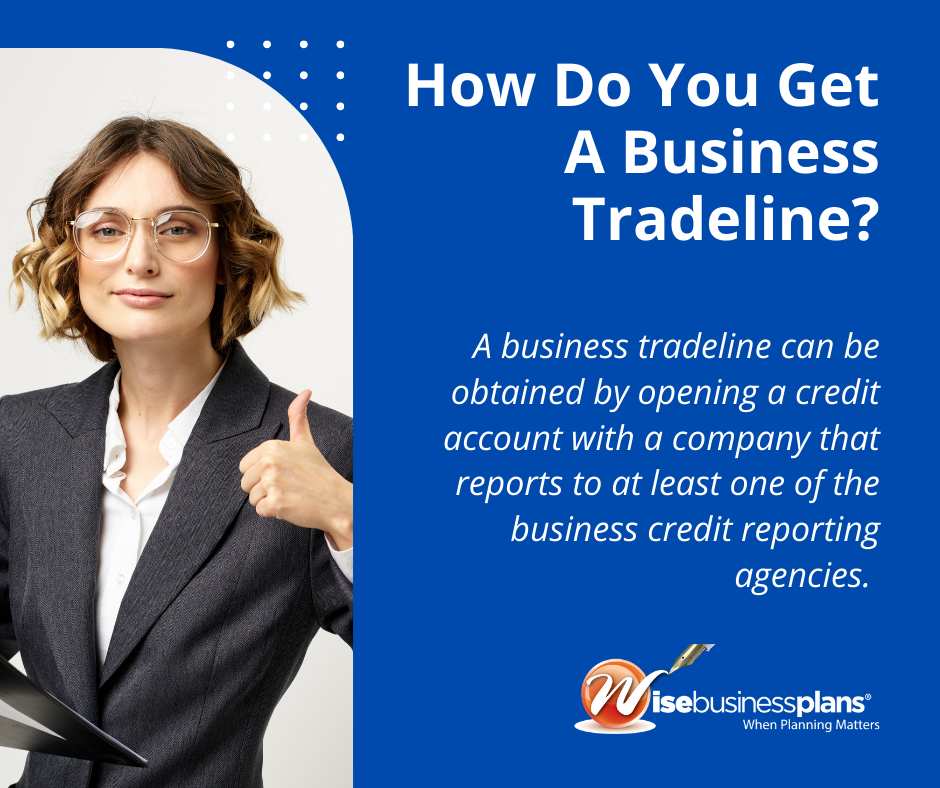 How to find business tradelines that report
If you are looking to expand your credit report or add new tradelines, here is a list of vendors and suppliers offering easy approval net-30 accounts.
Several of these companies offer office supplies, shipping supplies, and cleaning supplies that your business may need anyway.
Establishing payment terms with a supplier and purchasing these items using a net-30 account will improve your cash flow and build your credit at the same time.
Things to consider before applying for tradelines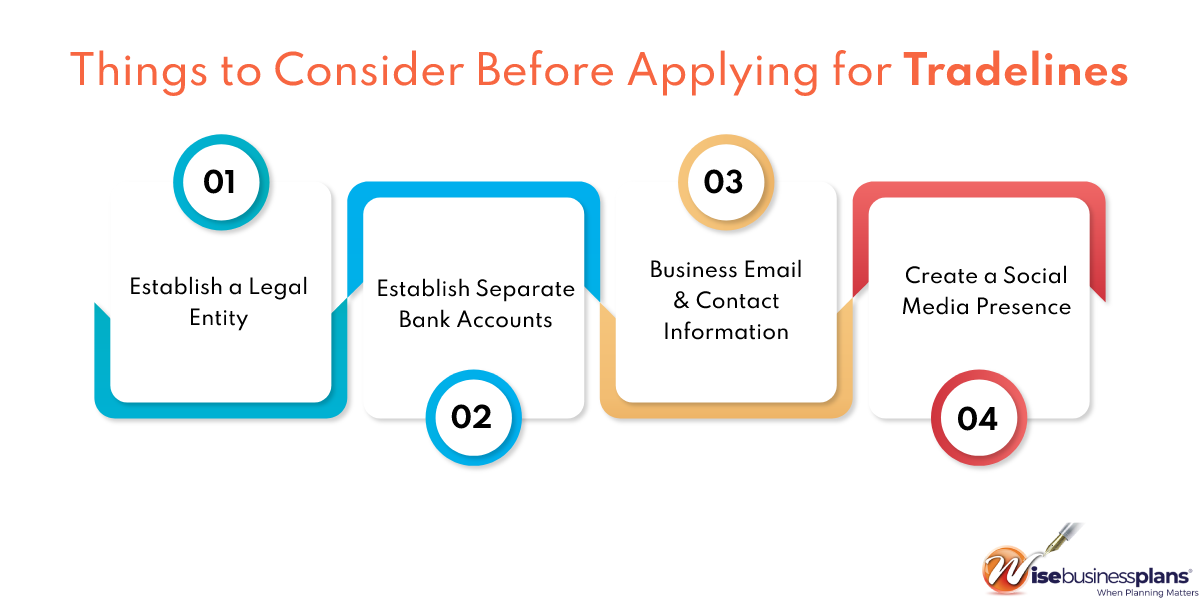 Establish a legal entity: To establish trade terms with any business, establish your business as a legal entity (ie; form an LLC, or S Corporation). The business should be registered with your state's secretary of state.
Establish separate bank accounts: Having separate bank accounts will help you track your company's accounts payable and help keep your finances separate.
Business email and contact information: Vendors will examine your business' credibility when assessing its legitimacy. A business email address in the company's name is helpful in this endeavor. Do not use free email services like Yahoo or Gmail.
Create a social media presence for your business on Facebook, Twitter, Instagram, LinkedIn, or YouTube, depending on the platforms your customers use.
What is a business tradeline?
Business tradelines are accounts on a credit report that reflect financial or trade credit. Business tradelines are credit accounts between businesses and vendors. A supplier or vendor will usually offer a business net-30 terms, meaning that the business can pay for purchases in 30 days, instead of upfront. There are many vendors who offer business tradelines as a payment option and agree to receive payment later. Creating tradelines and paying bills on time (or early) is key to building your business's credit. 
Can you buy business tradelines?
A business tradeline can be bought online. The seller may add your business as an authorized user on an established tradeline or sell you a shelf company with established credit. However, we don't recommend it.
Is purchasing a business tradeline illegal?
The purchase of a business tradeline is not illegal, but that does not mean it's a good idea. Providing false information about your business's credit history on a bank loan application may be considered fraud. It may also hurt your relationship with creditors and credit bureaus.
How many tradelines should a business have? 
To build business credit, you will probably want to make sure that your credit report lists at least three accounts reporting to business credit bureaus.
Tags:
Business Credit and Loans