Quick Approval Net 90 Vendors for Building Business Credit
For small and medium businesses, the flexibility to pay their bills in a few days helps them manage their cash flow.
Nothing is better than getting a 90 days trade credit line to pay your bills with net 90 vendors. 
Some business vendors offer you the facility of paying their bills with a gap. This short credit facility is denoted by the time it comes with. 
For example, if a business allows payment within 30 days, it is called Net-30; in a similar way, net 60 vendors allow payments on a 60-day basis.
, and Net-90 of the vendor allows you to make payment after 90 days. Understand how net 30 accounts work. 
 We have discussed Net 90 credit, how it helps you run the business efficiently and build business credit, and how you can find net 90 vendors who offer Net 90 terms
Easy Approval Net 90 Vendors
Many vendors that offer credit mostly offer it for 30 or 60 days. There are only a few vendors that offer Net 90 credit terms. Let's check the Net 90 wholesale vendors you can credit from.
1. Wise Business Plans
Wisebusinessplan offers a range of business consultancy services including:
You can buy any of the Wise Business Plan services on a credit and make payment when the term ends. 
WiseBusinessPlans offer Net 30, Net 60, and Net 90 credit terms. 
You can get approved for credit with Wisebusinessplans if your business is at least 30 days old, you have an Employer Identification Number (EIN), a DUNS number, and overall good business history.
Free Resources: Business Plan Examples, Business Plan Templates, Sample Business Plans

Credit Reporting Agency: Dun & Bradstreet, Equifax 
Annual Fee: $99 annual fee for keeping the account open
Vendor Link: WiseBusinessPlan Net 90 Accounts 
2. Quill
Quill is a retailer of office supplies including cleaning products, shipping, coffee, breakroom supplies, toner and inks for printers, furniture and fixture, electronics, and many more. 
Quill requires new businesses without a credit score to start with a pre-pay for 90 days before it gives them credit payment terms. 
They move your credit account up gradually. Once you have successfully paid for the first credit term, they will start your Net 30 and make it to Net 90 over time.
Membership Fee: $0 fee to maintain credit terms 
Reported Credit Bureaus: Dun & Bradstreet, Experian
Vendor Link: Quill Trade Credit Net 90 Accounts 
Net 30 Business Accounts
Net 30 credit terms are the easiest to secure and many business vendors offer Net 30 credit to startups and new businesses without much scrutiny. However, you will need to have good personal credit before you apply and get approved.
This list of Net 30 vendors will help you get started. Check each vendor and apply for a Net 30 credit. 
Crown Office Supplies

Shirtsy

HD Supply

Uline

Quill

Wise Business Plans

NAMYNOT

Business T-Shirt Club
Related Article: If you want to do clothing business on net 30 payment terms. See our list of the best net 30 clothing vendors.
Why Request Credit Terms for Business Transactions?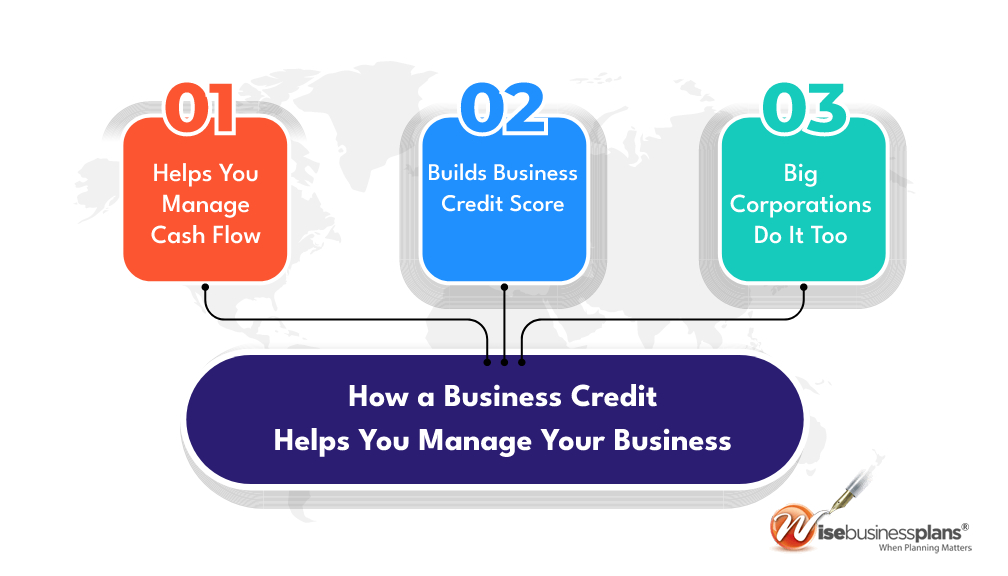 Cash flow is vital for any business. Good cash flow management can help your business grow but if your business runs out of cash, the chances of survival are slim.
Here is how a business credit helps you manage your business. 
Helps you manage cash flow: Cash flow is the amount of money coming in and going out of a business. When you can make some of the money stay, you can make an investment in your business growth, buy necessary products and services with short-term and long-term returns, and plan better for the future. 
Builds Business Credit Score: When you start a business, your business credit score is zero. You can build business credit with the help of Net 30, Net 60, or Net 90 credit terms when you make payment in time. This way, you can make necessary product and service purchases without paying on the spot and building your business credit on the side. 
Bonus Tip: Want to know how business credit works, read out guide on what is a good business credit to understand. 
Big Corporations do it too: Business credit with a time limit term is a common practice. Major players like Kellogs, Procter & Gamble, also use credit terms for making payments. This helps them manage, invest, and profit better.
How can you Get Net 90 Terms without a Business Credit Score?
Getting business credit as a new business or without a business credit score can be challenging. However, some vendors work with new businesses. You can contact these vendors and start a credit line for your business.  
First, look for lenders that offer credit on easy terms. When you are on the market for buying products or services for your business, ask for credit. Sometimes, businesses offer credit to their old and trusted customers. You may also be able to negotiate for credit like Net 30 or Net 90 as a new business. 
Look for startup-friendly lenders with a reputation for working with new businesses and startups. These lenders don't do thorough scrutiny and you can be approved with them even when you don't have a business credit score yet. However, you'll need to have a good personal credit score. 
Open credit or tradeline with the vendors that report with credit reporting bureaus as only the credit reported to the bureaus is counted towards your business credit score. At a minimum, the vendor must report to Dun & Bradstreet, and one another.
Use Net 90 Credit to Build Business Credit Score
When you are a startup or a small business owner, you find yourself in a paradox. You need to show good credit performance to build your business credit score but lenders want to see a good credit score before they lend to you. 
A Net 90 credit line helps you solve that paradox. Here is how:
Pay Credit Early
Your business credit score shows if you pay your credit or loan on time. The earlier you pay, the better your credit score will be. 
Check your cash flow again. Choose a credit strategically. Go for the amount of credit you can pay within one week. Now, select a credit with a 30 days, 60 days, or 90 days window. Pay this credit within half the time and give your credit score a good boost.
Manage Other Business Liabilities with Better Cash Flow 
You get excess cash when you can get business credit. This excess cash helps you pay other business liabilities like rent, bills, other vendor bills, etc. 
As a business credit score is a representation of your credit repayment pattern, paying all bills on time helps with building business credit. Experian Boost gets your rent and utility bills counted toward your credit score.
Pay Sooner for Maximum Impact 
Although a credit term helps with cash flow management, it also builds your credit. 
You can within the time but when you pay sooner, you get the maximum boost to your business credit score.
What Happens if You Delay Payment beyond 90 Days
While business credit is a great aid for startups and small businesses, missing payments can cause financial penalties and a bent in business credit score.
Interest on Late Payment
You don't have to pay any interest on the loan when you make payment within time. However, paying late will cost an interest payment. 
Most vendors offer a grace period before they charge a fine or interest. Also, you may have to pay both a fixed-amount fine and interest on the loan. 
Your agreement with the vendor should have all the details about the late-payment fine and interest rate.
Invoice Factoring
When a vendor sells an invoice to a third party, it is called invoice factoring. The company an invoice is sold to is called a factor or factoring company. 
If your credit invoice has been factored, you will pay 5%-7% more than the invoice value on average. However, this amount varies for individual cases.
Importance of Net 90 Vendors
Net 90 vendors give their customers 90 calendar days (not business days) to clear their invoices. Having extra cash and such flexibility in cash flow makes you more competitive and creates a competitive advantage for you. 
The products or services you buy on Net 90 credit terms may be more than usual as the vendors pay interest on financing this credit. 
For a customer, when you have 90 days to pay back the credit, you can recover your accounts receivable and repay the Net 90 credit. This is like doing business on the vendor's money. 
Vendors favor medium and large businesses that have good cash flow already. This minimizes the risk for vendors. Also, large businesses negotiate credit terms with vendors based on their business size and the ability to pay on time.
How Major Business Credit Bureaus Work
These are the most prominent credit reporting agencies, we will see how the top business credit reporting bureaus work.
Dun & Bradstreet

Experian

Equifax

TransUnion

Creditsafe Group

Cortera

Experian PLC

Experian Business

FICO

Innovis

ChexSystems
Dun & Bradstreet
The standard in business credit score, Dun & Bradstreet works exclusively with businesses. When you apply for business credit, the first thing the lender will want to see after your EIN is your Dun & Bradstreet PAYDEX score. 
D&B PAYDEX score only includes the credit history reported to it. If your vendor is not reporting to D&B, your good payment history won't be counted toward your credit score. 
Encourage your suppliers to report data to Dun & Bradstreet. If they don't agree, consider replacing these with vendors who report to D&B.
Your D&B business credit score includes:
Delinquency Predictor Score

: Your ability to pay the bills on time in the next 12 months 

Failure Score:

The chances of the company going bankrupt in the next 12 months 

D&B Rating:

The overall performance of your business as per accounting reports and public information
Credit Limit Recommendation: D&B advice to financial institutions on how much money they should lend to you
Equifax
Equifax develops its score with Small Business Finance Exchange (SBFE) data as SBFE keeps a record of small business lenders and shows the credit history of small businesses. 
Equifax also collects data from credit information, public record, bankruptcies, etc, to create a business credit report. 
An Equifax Business Credit score is made up of:
Payment Trend and Payment Index

: Comparative payment record for your business for the last 12 months 

Business Credit Risk Score:

Chances of getting severe delinquency or charge-off in the next 12 months 
Business Failure Score: Bankruptcy chances in the next 12 months, a lower score presents a high risk
Experian
Like the above two business credit reporting agencies, Experian also collects data from a variety of sources including public records, legal filing, govt data, other credit agencies, and databases. 
Experian also collects data from banks about loans, judgments, and bankruptcies. It takes into account the business size, classification, and time in the business and gives a score on a scale of 100.
Here is how the score breakdown. 
0-15: High Risk

16-30: Medium Risk

31-80: Good Credit

80-100: Excellent Credit
Want to know more about credit reporting bureaus, read this comprehensive guide on how business credit works. 
What is a Tradeline?
Credit reporting agencies describe credit listed on a business's credit report as a tradeline. 
You have revolving (loans that can be renewed like credit cards) and installment (loans, mortgages, etc.,) credit accounts on your credit report. A tradeline identifies the debt and provides the following information:
Lender's name and address

Account Type 

Partial account number

Current status

Account opening date 

Account closing date, if applicable

Last Activity Date 

Current balance

Original loan amount or credit limit

Monthly Payment

Recent balance (for credit cards only)

Payment history
Tradelines are used to calculate your business credit score and show its creditworthiness. 
Make a schedule for checking your credit report. Keep an eye on your tradelines. See if any tradeline was created fraudulently and get it removed.
How can a Small Business Establish Business Credit for the First Time?
Getting credit for a new business or a startup is hard. However, when you start on the right footing and work with a plan, you can establish business credit quickly and get loans. 
This simple 9-step approach will help you build your business credit fast. 
Select the Right Business Structure other than a Sole Proprietorship

Get the Employer Identification Number (EIN)

Open a Business Bank Account

Know your Personal and Business Credit Scores. A personal credit score is important at the start as your business credit score is not yet established. 

Add Trade References (entities you do business with)

Establish Credit with Suppliers and Vendors who Report to Credit Reporting Agencies 

Get Business Credit Cards and Make Monthly Payments before the Time 

Pay bills on time

Monitor business credit reports for any errors, missing tradelines or credit, inaccuracies, etc.
Net 90 Alternatives
Some alternatives to Net 90 credit are:
Payable in Advance 

Cash on Delivery / Collect on Delivery (COD)

Net 7 

Net 10

Net 15

Net 3  

1/10 Net 30

2/10 Net 30 

Net 45

Net 60
The number appearing after 'Net' states the number of days for making payment for the credit. The number appearing before 'Net' represents the discount offered on early payment. 
For example, in 1/10 Net 30, 1/10 means that there is a 10% discount if paid within one week and net 30 means that the credit must be cleared in full within 30 calendar days of the invoice.
Are Net 90 Vendors Hard To Find?
There is a scarcity of Net 90 vendors. Most suppliers won't offer such long credit term to new businesses. However, if your business relationship is strong with the suppliers, you can negotiate a Net 90 credit term with them. 
We have given details of the Net 90 vendors we could find. These vendors are startup-friendly and they work with small businesses on easier terms. 
If you have time and you are patient, you can start with a Net 30 credit account, build business relationships with vendors and then negotiate for Net 60 and later on, Net 90 credit terms. You are more likely to get Net 90 earlier this way.
Related Article: Our list of the best net 60 vendors will allow you to do business on net 60 payment terms.