How to Write a Business Plan Outline
You have a great business idea, and you have been diligently planning your business, but it is mostly in your head.
You realize the importance of putting your plan on paper, but you have never written anything resembling a business plan and have no idea where to start.
You have looked at countless startup business plan outlines online, but they do not seem to agree with each other on format or flow, so how do you know you have found a good one?
The best startup business plan outline defines the steps necessary to launch a new business. 
A professional business plan consultant is uniquely positioned to help you devise a list of goals that will clearly lay out each milepost from the start of your business to its successful operation.
Note: There is no absolute right or wrong way to write a business plan, and these sections do not have to be in any particular order.
Parts of a Business Plan Outline
These are the steps and parts of a business plan outline. You can use them to make a great business plan.
Executive Summary
The Executive Summary is a condensed version of all of the information in the business plan. It is basically the same for your business plan as what a trailer is for a movie. 
Because of its purpose, there should be little or no information in your Executive Summary that is not conveyed elsewhere in your business plan.
In a business plan layout, you will write at least one/two sentences about each of the following:
Problem statement
How you will solve this problem
Target Market, who will buy your products or services
A brief introduction to the competition
Financial plan summary
Investment requirements
Key achievements and milestones
Product & Service Description
This section is where you describe the products and/or services that you will offer.
If you are offering a cutting-edge technology that your readers are likely not familiar with, then you should explain in detail how your customers would use it, the benefits of using it, and how you are pricing it.
If your business will be more conventional, such as a restaurant or coffee shop, then it probably does not need as elaborate of an explanation, but it would be prudent to include any signature items on your menu.
In the product and services description part of your outline for the business plan, you will briefly discuss the following:
The problem you'll solve
How your product or service will solve the problem
Show your product is a good match for the problem
Product overview
The competitive advantage of your product
Research and development plan
Market Analysis
Market analysis in a business plan is where you describe your industry. It should include information about the size of the industry, what the growth trends have been in recent years, and ideally, what the growth trends are projected to be in future years.
If your business is one where you serve a local area and customers need to come to your establishment, then information about your location, along with the demographics in your vicinity, would be prudent.
If you are serving customers remotely and in a much larger geographical area, then you can probably leave out the location and demographics.
Discuss the following subpoints in your outline of a business plan.
Customer groups and market segmentation
Buyer Persona
Market growth prospects
Competitors and alternatives for your product or service
Competitor Analysis
This section is where you describe your primary competitors. If the answer is not obvious, then really think about this one.
Contrary to what you might think, if you think that you have no competition, a potential lender or investor will likely be put off by this claim because they will think one of three things:
You have not done sufficient research
You are deliberately misleading
There is no market for your business idea
You might also consider direct versus indirect competitors.
Companies like Pizza Hut, Papa John's, and Domino's are direct competitors because they are all pizza companies with very similar menu items. 
McDonald's, on the other hand, would be an indirect competitor to these companies because while its menu offering is substantially different, it still serves the same purpose of providing a convenient way to get a prepared meal.
In the business plan outlines' competitor analysis, discuss the following briefly.
Direct and indirect competitors
Product/service alternatives in the market
Your competitive advantage or how you'll win the market
Competitive Advantages
This section is where you explain how you stand out from your competition. Are you able to beat them on price? Do you offer a premium value that justifies a higher price?
Do you or anyone on your management team have an extraordinary amount of experience in your field? Do you have a prime location? These are possible advantages to consider but not a comprehensive list.
Discuss your competitive advantages by discussing these points.
How your product or service is better than the competition
How you will maintain this advantage
Can you create or enhance your competitive advantage?
SWOT Analysis
SWOT Analysis is an abbreviation for Strengths, Weaknesses, Opportunities, and Threats. Strengths and Weaknesses are for comparing yourself to your competitors, while Opportunities and Threats are external factors.
For example, suppose you want to start a brewery. If your beer selection is smaller than other nearby breweries, then that would be a weakness.
However, if any politicians or organizations were to begin lobbying to raise the drinking age to 30, that would be a threat, not a weakness, because it would affect everyone in your industry, not just you.
SWOT analysis is pretty straightforward but you will need to put some thought into it.
Target Market
Realistically, your business cannot be everything to everyone. Consider Walmart and Target. Walmart usually has lower prices, but Target usually has wider aisles, more clerks on the floor to assist you, and more checkout lanes open for quicker turnarounds.
To use your advertising resources most efficiently, you need to assess the total addressable market and then assess the segments of your market most likely to buy from you.
You might consider your Competitive Advantages and then try to discern which customers would likely appreciate those advantages the most.
Talk about these points in your target market section.
Size of your Target market
Ideal customer
Dynamics of your target market
The growth trajectory for new businesses in your target market
Bonus Tip: Here is step by step guide on how to calculate market size using TAM, TOM and SOM.
Marketing Strategy
What tactics will you use to reach your target market? Will they be receptive to traditional media outlets, such as print, radio, or television?
Or are they likely to spend more time using social media on their computers and phones, thereby warranting a pay-per-click model, such as Google Ads or Facebook Ads?
Discuss the following aspects of your marketing strategy in this section of the business plan outline.
Marketing Plan
The marketing tools you will use
Budget for the marketing strategy
Timelines
Short-term and long-term goals of your marketing strategy
Management Team
The management team section in a business plan is where you detail the professional background of yourself and any other key owners or managers in your business. A good way to show this information would be in paragraph form, similar to an "About the Author" section of a book.
A potential lender or investor will want to know why your team has a better chance of making your operation successful than any John or Jane Doe on the street, and this section of your plan will be the best opportunity to answer that question.
The management team section of your business plan will discuss:
Management team introduction
Management team gaps
Personnel Plan or who you will need to hire
Key people on your team
Financial Projections
The financial plan section of a business plan is where you show how much revenue you expect to generate, what expenses you expect to incur, and what you expect your profit to be.
A sound financial model should, at a minimum, include Income Statements, Cash Flow Statements, and Balance Sheets that project three years or more into the future. Many lenders and investors will want to see five years, as well as the first year being broken into monthly projections.
When writing financial projections in your outline for a business plan, briefly discuss these.
Revenue and Sales Forecast data
Expected expenses
Profit and loss projection
Cash flow projection
Projected balance sheet
How you'll use funds
Business Plan Outline Template
Executive Summary

Problem Statement 

Solution 

Target Market Description 

Competition Analysis 

Financial Summary 

Funding Requirements for Business 

Milestones and Traction of your Business 

Business Overview 

Business Location 

Company History 

Key People

Product and Services Brief

Business Objectives and Goals

Short-term and long-term business goals 

Competitor Analysis 

Spot Direct and Indirect Competitors 

SWOT Analysis for Competitors 

Competitors and alternatives

Competitive advantage 

Market Analysis 

Market Segmentation

Target market segment strategy

Market needs

Market trends

Market growth

Key customers / Customer persona

Future markets or Growth Plan 

Product and Services

Problem Statement 

Solution of the Problem with our Product or Service 

Validation of Problem and Solution. 

Product Overview

Product Competition Analysis 

Roadmap/Future Plans for Product Development 

Operational Plan 

Business Goals 

Assign Responsibilities and Tasks

Outline Resources 

Business Structure and Management

Sole Proprietorship/LLC/LLP/Corp

Financial Analysis

Revenue and Sales Forecast

Expenses

Projected Profit and Loss

Projected Cash Flow

Projected Balance Sheet

Personnel Plan

Use of Funds

Marketing and Sales

Marketing Plan

Sales plan

Location and Facilities Description

Technology or Marketing Methods 

 Equipment and tools for Marketing

Appendix
Start a Business Plan with Business Plan Outline
Trying to create all of these sections for your business plan may seem overwhelming. 
Just remember that a business plan is intended to be a roadmap that can be adjusted as you monitor the results of your business, so none of this is set in stone.
You can also download our 300+ free business plan templates covering a wide range of industries.
A good business plan consultant should be equipped to research and format data that will outline projected sales, profits and losses, cash flow, and the balance sheet. 
The business plan should include any tables that are industry-specific or necessary, and close with appendices that outline projections for the first year of operations.
A professional business plan writer can create an easy-to-follow and implement the best startup business plan outline that you can confidently take to investors and loan officers. It will stand up under even the most rigorous scrutiny.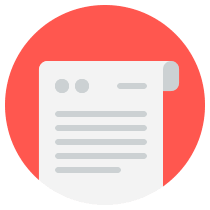 Need Business Plan Writer
Business Plan Structure, Title Page & Table of Contents
Your business will start with a table of content, no matter when you write it.
The title page should be designed well and look professional. You may need to hire a designer for creating your business plan title page. However, you can also make use of our business plan title page designs.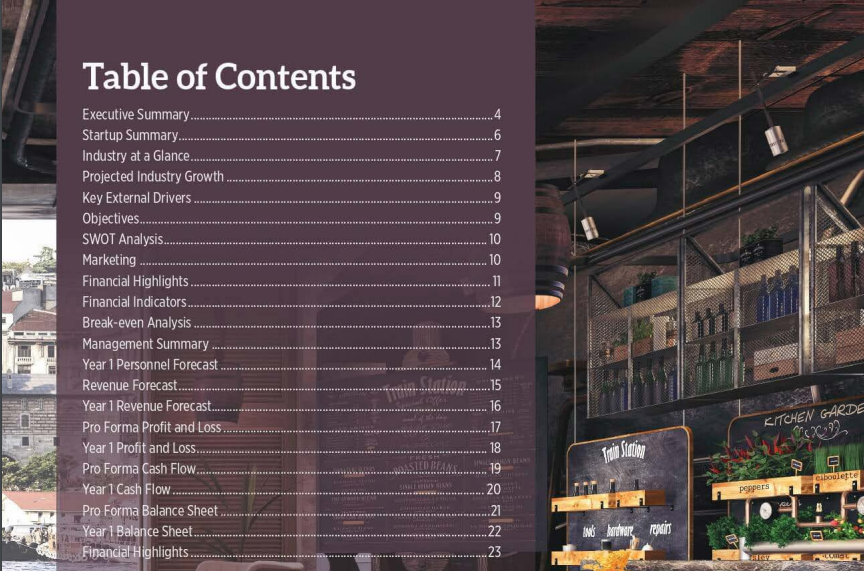 FAQs about Business Plan Outline
How To Structure A Business Plan
The goal of a business plan is to effectively present your business idea to potential investors.
Keep the structure of your business plan in a logical way so that everyone can understand your business idea by the end of the business plan.
Use our business plan outline to structure your business plan well.
How To Make A Business Plan Outline
A business plan outline shows sections and subsections of your business plan.
A business plan outline will include these sections.
Executive Summary
Product and Service Description
Market Analysis
Competitor Analysis
Competitive Advantages
SWOT Analysis
Target Market
Marketing Strategy
Management Team
Financial Analysis and Projections
Articles & Templates Related to Business Plans