SWOT Analysis: What It Is and How to Do It Correctly With Examples
What is Swot Analysis
SWOT-analysis helps you identify your organization's strengths, weaknesses, opportunities, and threats.
The exercise gives you the opportunity to analyze both external and internal factors that are affecting your business and determine the factors that can help you get ahead of competitors and plan for growth.
Your company's strengths and weaknesses are something you can change; they are something that is internal to your company. Some examples are the people on your team, your patents and intellectual property, and your location.
Opportunities and threats are external-what are happening in the larger market, outside of your company. Taking advantage of opportunities and guarding against threats is possible, but you cannot change them. Some examples are competitors and raw material prices as well as consumer shopping trends.
Go ahead and download our free swot analysis template if you just want to dive right in and get started.
Download Your Free Swot Analysis Examples
SWOT Analysis Template
Risks and rewards come with every business endeavor. You can reduce this uncertainty by using a SWOT Analysis template to identify your company's strengths and weaknesses.
Identify potential opportunities and threats with your team using the free swot analysis templates, and determine what your company, department, or project strengths and weaknesses are.
You can apply a SWOT analysis to an entire organization to find out if success and growth trajectories are aligned.
In the same way, a particular project or department can also be evaluated using this strategy.
Analyze whether a new department or workflow strategy is needed within the organization.
Analyze a new business idea using the SWOT matrix. Startups often use SWOT templates as part of their business planning.
Importance of Swot Analysis For Small Business
By taking the time to conduct a SWOT analysis, you'll be armed with a strategy for determining how to prioritize the work you need to do to grow your business.
Even if you feel that you know all you need to do for your business to succeed, a SWOT analysis will force you to look at it from a new perspective.
As you examine your strengths and weaknesses, you will see how you can leverage them to take advantage of the opportunities and threats that exist in your market.
Who should do a SWOT Analysis?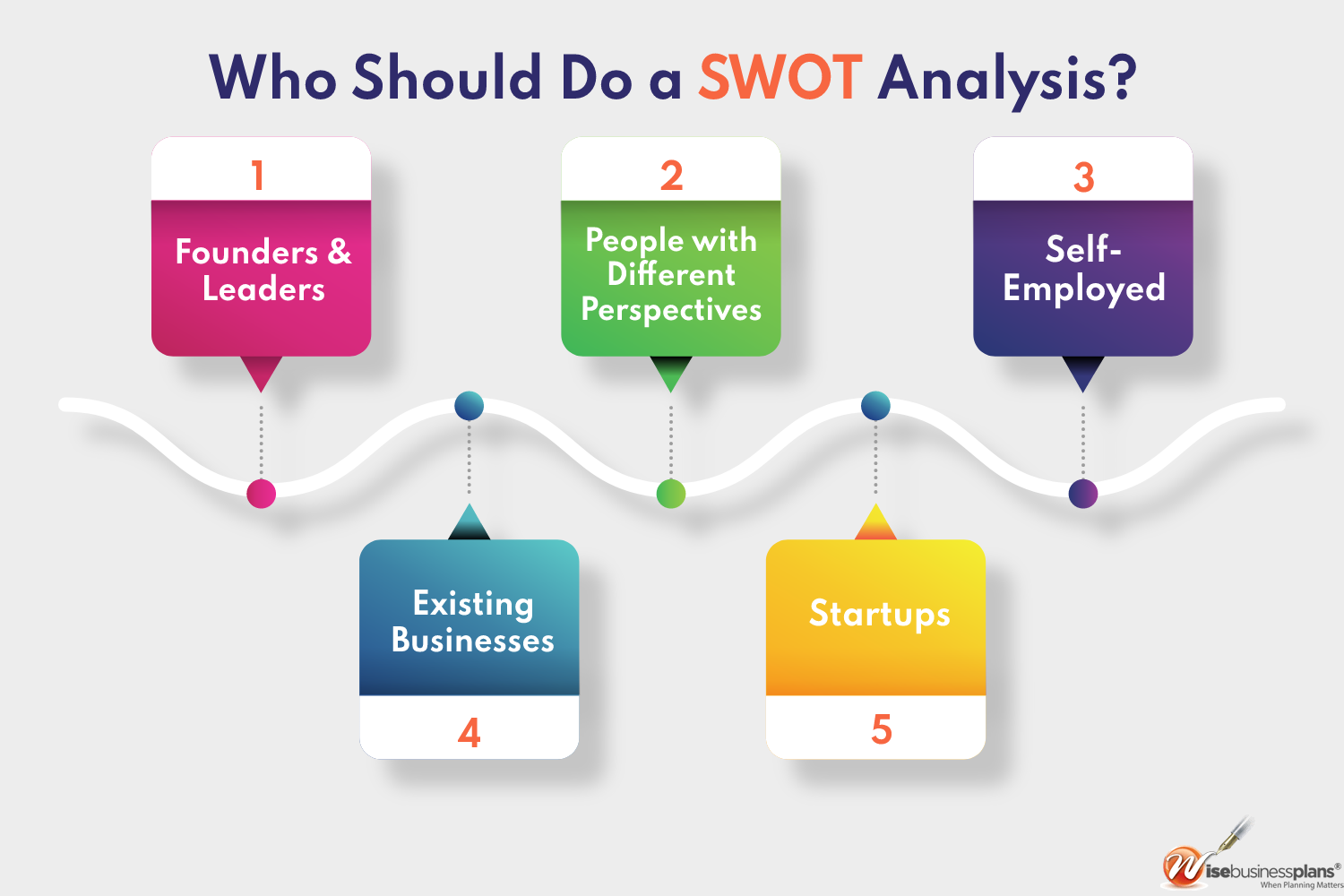 Founders and leaders: SWOT analysis is effective when company founders and leaders are deeply involved. This isn't a task that can be delegated to others.
People with different perspectives: However, company leadership should also not do the work alone. Gather a group of people with different perspectives on the company in order to get the best results.
Choose employees who represent different aspects of your company, such as sales, customer service, and marketing. Some innovative companies also look outside of their own ranks during a SWOT analysis in order to get their customers' input.
Self-employed: A SWOT analysis can still be done if you're starting or running your own business. Your accountant, friends, or even vendors and suppliers who may know a little about your business can provide additional insights. The key is to consider different perspectives.
Existing businesses: Existing businesses can perform a SWOT analysis to assess their current situation and formulate a strategy to move forward. However, keep in mind that things are constantly changing, so recheck your SWOT analysis every six to twelve months.
Startups: Startups must conduct a SWOT analysis as part of their business planning. This will help you layout a strategy so that you start off on the right foot and know where you are going.
How to Do a SWOT Analysis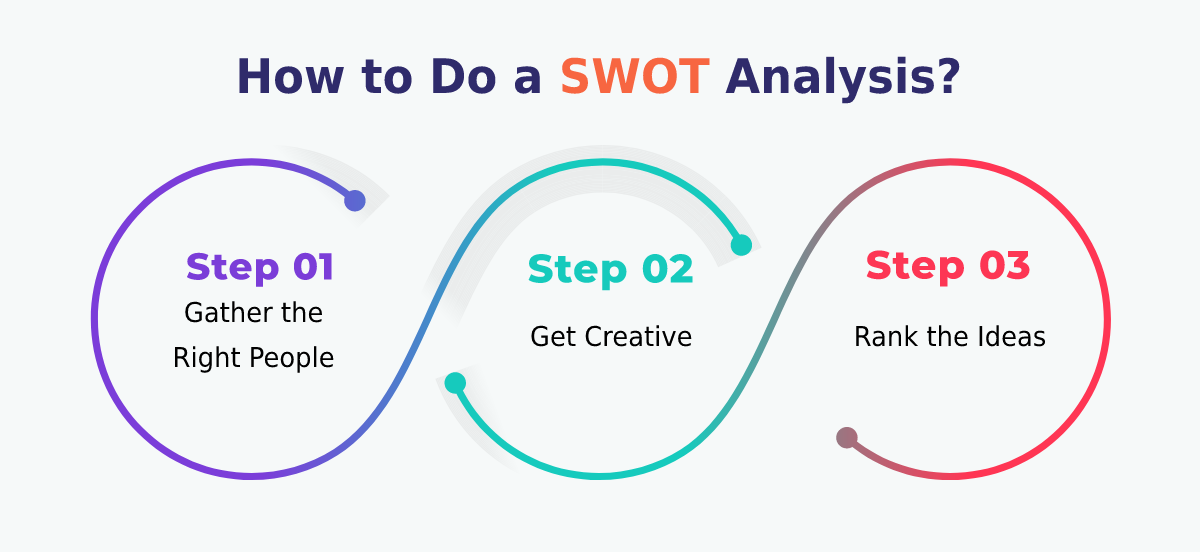 Making your SWOT analysis creative will allow you to come up with unique solutions and open up new ideas. In order to ensure that your SWOT analysis is thorough and accurate, there are a few things you can do.
These tricks include gathering your team in a way that promotes teamwork, preparing beforehand, and developing creative ways of choosing ideas. Here are some tips you can use to get started.
1. Gather the right people
Make sure you gather representatives from different departments and teams within your company. It's likely that different groups within your organization will have very different viewpoints that are crucial to a successful SWOT analysis.
Choosing the right number of team members is important, as too many participants may lead to a lack of commitment or participation. Around ten participants is the ideal number for a productive brainstorming session.
2. Get creative
To generate creative ideas, you must first invite them. This requires finding fun ways to come up with opportunities. You can do this by generating random ideas, discussing obvious mistakes, or playing team-building games to psyche the team-up.
Give everyone a pad of sticky notes and ask them to quietly come up with ideas on their own.  After five or ten minutes of brainstorming privately, post all the sticky notes on the wall and group similar ideas.
If someone else's idea sparks a new thought, anyone can add additional notes at this point.
3 .Rank the ideas
Now that all ideas have been organized, it is time to rank them.After the voting exercise, you should have a prioritized list of ideas. Now the list is up for discussion and debate, and someone in the room will be able to make the final decision on the priority. The CEO is usually responsible for this, but it can be delegated to another person in charge of business strategy.
It is important to follow this process of generating ideas for each section of your SWOT analysis: Strengths, Weaknesses, Opportunities, and Threats.
Questions to ask during a SWOT analysis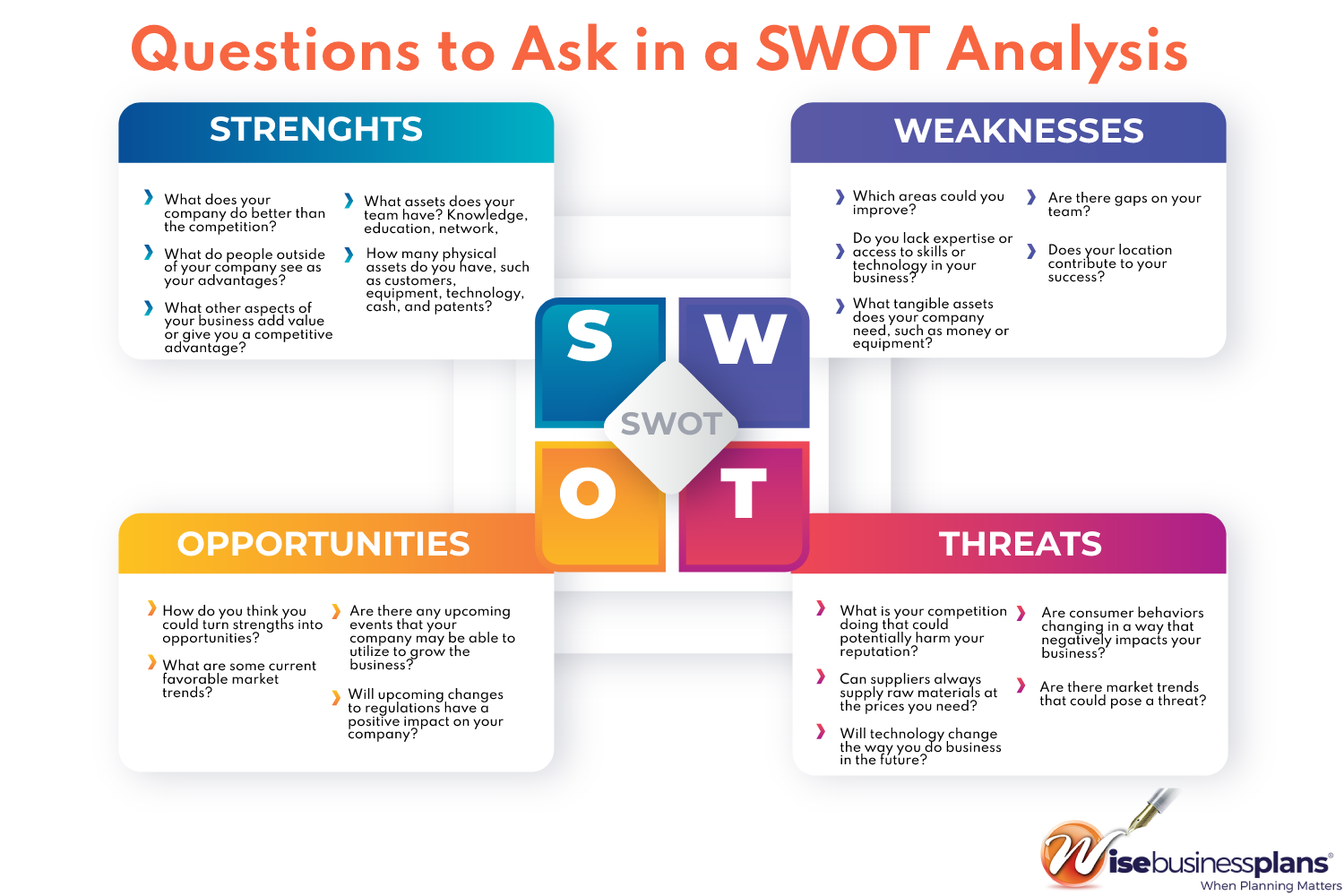 Below are some questions to help you develop each section of your SWOT analysis. These questions can help explain each section and help spark your creativity.
Strengths
An organization's strengths are its internal, positive attributes. You can manage these attributes.
What does your company do better than the competition?
What do people outside of your company see as your advantages?
What assets does your team have? Knowledge, education, network, skills, and reputation.
How many physical assets do you have, such as customers, equipment, technology, cash, and patents?
What other aspects of your business add value or give you a competitive advantage?
Weaknesses
Your weaknesses are the things that take away from your strengths. You might have to improve on these things in order to be competitive.
Which areas could you improve?
Do you lack expertise or access to skills or technology in your business?
What tangible assets does your company need, such as money or equipment?
Are there gaps on your team?
Does your location contribute to your success?
Opportunities
Opportunities are external factors in your business environment that can directly impact your success.
How do you think you could turn strengths into opportunities?
What are some current favorable market trends?
Are there any upcoming events that your company may be able to utilize to grow the business?
Will upcoming changes to regulations have a positive impact on your company?
Threats
Threats are external factors that you cannot control. Put in place contingency plans to deal with them if they occur.
What is your competition doing that could potentially harm your reputation?
Can suppliers always supply raw materials at the prices you need?
Will technology change the way you do business in the future?
Are consumer behaviors changing in a way that negatively impacts your business?
Are there market trends that could pose a threat?
Does SWOT Analysis Worth It?
It's not only worth it but highly recommended. Many small businesses fall into the trap of believing they "don't have enough material" to put a SWOT analysis for small businesses together. That's false.
it's actually simple enough that any business owner can do it regardless of business goals, business size, or investment. With a little brainstorming and help from team members of various departments (if you've hired them already), you'll be setting tangible goals for the company.
With tangible goals followed by a solid action plan, taking advantage of your business strengths and opportunities becomes less overwhelming. In fact, a SWOT analysis can be used as well for one-off projects (marketing campaigns, for example) to measure their performance and potentially increase sales through strategic thinking.
Case Study: An example of  Swot Analysis:
To make the process even easier, let's take a look at the following SWOT analysis for a marketing company.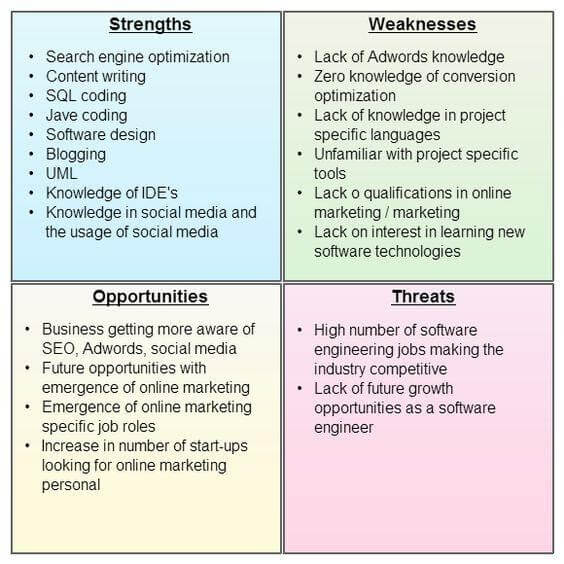 Potential strategies for growth
Your business's analysis could have fewer topics, that's completely fine. What would be the next step for this marketing company?
Based on the SWOT Analysis, one strong option would be to create a Growth Strategy. Parts of their growth strategy could be: 
Training team members on Google Adwords and the marketing tools necessary for better workflow. Learning should be exciting and interactive, so as to pique interests.
Skillfully advertising the emergence of online marketing, informing prospects about the time and money economy related to outsourcing.
See our business plan examples for detailed examples of SWOT analyses for several types of industries and businesses or download our free SWOT analysis template.