How to Write a Business Plan Cover Page Complete Guide with Examples
Fill the Form to Download Business Plan Cover Page Examples
A business plan cover page may not come to mind when you think of writing your business plan. Although it's traditionally one of the last sections of a business plan, it's one of the most crucial.
Your business plan only has one chance to make a good impression on your reader. The cover page of a book or business plan can easily make a person make a decision.
In this article, we will explain the importance of business plan cover pages and provide a step-by-step guide to help you create your own cover page for business plan. Use our complete business plan template to see what should be included in the other sections of your business plan.
What is a business plan cover page?
The cover page of a business plan summarizes all the important aspects of the business and serves as an introduction to the full business plan. Bankers and investors can quickly determine the purpose of a business plan by viewing the cover page.
You should include the name of your company, your logo, addresses, and other information that identifies your business. This is the first page of your plan, so it should look professional, visually pleasing, and informative.
What is the purpose of a cover page?
The purpose of the cover page is to communicate what the document enclosed is and to provide information that enables a reader to contact you about your business.
Make sure your business plan's cover page is visually appealing, free of errors, and concise to set the tone for its content.
A strong business plan cover page should be simple, clean, and powerful. Don't clutter your cover page with details about how your business will operate. Save those details for the executive summary.
Whether you are writing a business plan, marketing plan, or proposal, the business plan cover page is an essential part of your plan. Read on to find out which elements your business plan cover page should contain and how to design it for maximum impact.
What to Include in the Business Plan Cover Page?
Although there are no specific rules regarding what should be included on your business plan cover page, we have prepared some essential information that you should not overlook.
Company logo
Business name
Document title
Tagline (optional)
Contact information and address
Completion date
Confidentiality statement
Now let's look at each of these elements in greater detail so you know what you need to include on your business plan cover page.
Use a neat, clean, high-quality logo to make your business plan cover page look professional. The logo should be placed at the top of the page.
The image should be large enough to see details, but not so large that it becomes a distraction. Brand identity begins with your logo. The company logo is the first and most significant section that will capture your readers' attention immediately.
Pro Tips:
People are 90% more likely to remember your logo if you place it in the top left corner.
After the company logo, your company name is the second most important section of your cover page as you want your reader to remember your company name as they read the document.
To make your company name stand out from the rest of the information on the business plan cover page, you should use a readable, bold font that is the largest font on the page.
Please keep in mind that if your company logo includes your company name, you can remove either your company logo or name from the cover page.
You can download 50+ Free Business Plan Templates here that include not only pre-built cover pages but also provide step-by-step guidance in the creation of your entire business plan.
Plan titles tell the reader immediately what the document is about, whether it is a business plan, marketing plan, expansion plan, recovery plan, or anything else.
It is commonly referred to as a "Business Plan," but you can also customize it by saying "Five-Year Business Plan" or "Merger Business Plan" if you want to outline more specific objectives.
The title of the plan should be large and prominent on the cover page. Readers should know the purpose of the document immediately.
Increase readability by using a clear, bold font, such as Times New Roman, Garamond, or Arial. It may be difficult to read script lettering and doesn't appear professional.
Please Note: Make sure your name isn't more prominent than your business plan title cover page.
Business owners sometimes use taglines to describe what they do and how they're different. It's optional, but you can also include a catchy slogan or motto describing your business.
A tagline becomes an essential part of your cover page if you want your reader to immediately understand what you do.
Generally, your business plan will be more interesting to investors or readers if the tagline is memorable. A business tagline is a short catchy marketing slogan that signifies your brand or company name, as well as other important aspects of your business.
Pro Tips:
Create a tagline by describing what you do in a few words. Put your tagline under your company logo on your cover page so readers understand what you do immediately.
5. Contact Information and Address
"Prepared By" contains contact information the reader can use to contact the person. It includes information about the company's mailing address, phone number, e-mail address, and website.
To make investors aware of where to direct their inquiries, include your name as the business owner as well as the names of any partners or executives.
Try to center this information on the page to maintain consistency in formatting. As long as the information is clearly visible and readable, you may use a smaller font size than you used for the company name and title.
When was this plan written? The date is important to readers, so include it (month and year are sufficient).
Under the contact information, write the year (or the year and month) in which the business plan was finalized and published. It's a good idea to update your business plan throughout the year if you're including the month, so readers don't think it's old.
It is important to note that your company name should appear more prominently than your title and date.
Depending on your business plan's writing style, you may spell out the date, like Jan 20, 2023, or write it numerically, like 20/1/23.
Dates should be formatted consistently throughout the document. To maintain consistency, center the text and use the same font size as your address and contact information.
7. Confidentiality Statement
Adding a confidentiality statement to your cover page protects your idea from being disclosed. It is not required, but you may want to include a confidentiality statement on the cover page, or just text "Confidential" to emphasize that this is a confidential document such as the following:
Example of Confidentiality Statement
It is understood that the information provided in this [Company's Name] Business Plan is totally confidential, and the reader undertakes not to disclose any aspect of it without the express written consent of the business owner.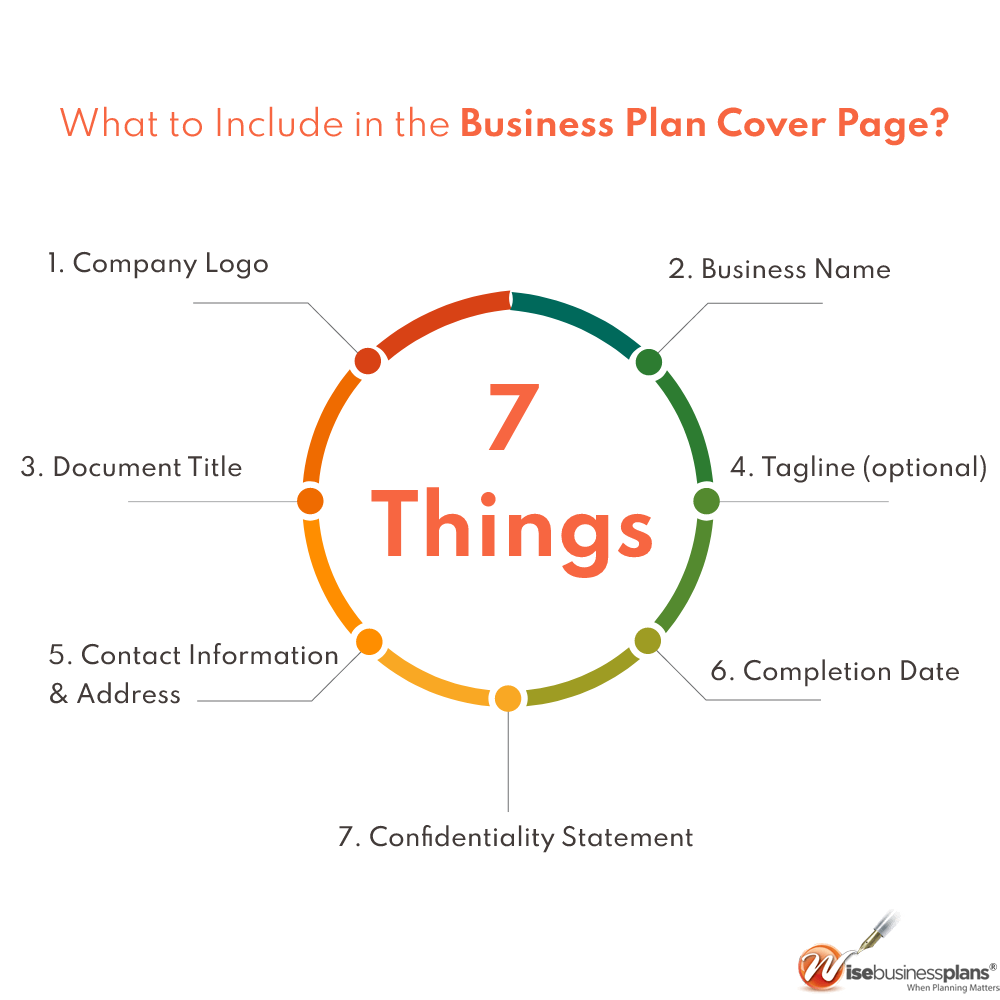 Are You Looking for a Customized Business Plan Template?
What makes a great cover page for a business plan
Formatting should be consistent
Messy or unprofessional cover pages can create negative perceptions in your readers' minds before they even open your business plan.
The cover page of your business plan is the first impression of your company, so your logo, fonts, and brand colors should all work together to capture the reader's attention.
Follow these best practices to create a cover page that stands out:
Keeping your cover page neat and consistent will allow your reader to perceive your organization and professionalism. Use consistent formatting through
Maintaining equal spacing between characters and lines
Choosing fonts that are similar or identical
Make sure each line of your cover page is centered
When it comes to fonts, it's best practice to stick to one type of typeface, such as serif or sans serif. It's also important to choose fonts that are simple, easy to read, and represent your brand.
It is important to ensure your business plan's cover page is free of spelling and grammatical errors. Make sure you proofread your document several times before publishing the final version, and ask others to review it as well.
In your business plan executive summary, you will summarize its contents. The cover page should not do the same. It is also unwise to create a business plan cover that is graphically complicated because the information will be difficult to discern. A strong business plan cover page should be simple, clean, and powerful.
Make use of the color scheme of your company
Color plays a crucial role in establishing your brand's credibility and trustworthiness. Choosing the right brand color will reveal more about your business than you could ever imagine.
In addition, using the right colors can enhance your brand value by creating a strong visual identity. To make your business plan more appealing, your brand color should be incorporated everywhere, such as titles, subtitles, features, images, etc.
Ensure the colors don't distract from the important information and consider coordinating them with your company's brand or logo.
Colors represent 90% of your brand's personality and elicit the right emotions from your customers, so choose colors that represent your brand's personality and evoke the right emotions.
When it comes to choosing a logo, simplicity is key. Try to create something that represents your brand and speaks to your audience without being too busy (in other words: white space is your friend).
It's also important to remember to be practical: your logo should look good in any medium, size, color, and even time period. Beyond your business plan cover page, you'll need it for your social media, marketing material, or labels.
Download Pack of 6

Business Plan Cover Page

Examples
We will show you some real-world business plan cover page examples so you may know how to design your own.
Download Business Plan Cover Page Templates
Here are a few business plan cover examples to illustrate the structure and format. Download and customize it according to your needs.
You can download 50+ Free Business Plan Templates here that include not only pre-built cover pages but also provide step-by-step guidance in the creation of your entire business plan.
Articles & Templates Related to Business Plans