How to Do a Market Analysis for a Business Plan?
What is Market Analysis in a Business Plan?
Market analysis for a  business plan serves the purpose of exploring the suitability of your product or service for the market. 
Your market analysis for a business plan lets you see your position in the market. It helps you identify the market trends, product demand, buying trends, seasonality, competition, etc.
A good market analysis will prepare you for a successful launch and steady growth. The time you invest in exploring your target market is well-spent. 
In this article, we have discussed how to conduct market research for a business plan. Make sure you read till the end to fully understand how to do a market analysis in business plan.
Why you should do Market Analysis for a business plan?
When you analyze your target market in-depth, you understand it better. You understand what market demands are and how your product can serve the market. This market knowledge will help you convince your lenders and investors to work with you. 
These are some reasons why you should include a market analysis business plan.
Reduce Risk

Target on the Right Customer Base

Know the Trend

Project Revenues

Set Growth Benchmarks 

Optimize Marketing Strategy 
Reduce Risk
Doing a market analysis will lower your risk of failure by helping you spot market pitfalls. When you know what lies ahead, you can plan better and prepare better. 
Target on the Right Customer Base
A market analysis for a business plan will help you identify the right customer base for your product or service. 
Many people cast a wide net at the start but a market analysis proves them wrong. 
For example, if we say that many Indians live in a neighborhood and an Indian food restaurant will be a sure hit there may be wrong. Maybe all they are eating at home is Indian food and they don't wish to eat the same food at a restaurant. 
Another example would be thinking that since your product or service is a good match for small businesses, all small businesses are your target customers. 
When you do market analysis and look critically at your customer base, you can dodge false optimism.
Know the Trend
All markets are unpredictable in one way or another. Knowing how the market behaves when changes occur and understanding the market trends is important for long-term success. 
Check for seasonality, innovation in the market, and consumer behavior trends. See how your industry responds to the changes in economy.
Project Revenues
 A market analysis for a business plan can help you make sound revenue projections for your business. Your projections with data are no longer your wishful thoughts. 
If your revenue forecast is based on solid market research, potential investors and lenders will know it and consider you a serious candidate for funding. 
Set Growth Benchmarks 
Every industry moves in a distinct way. Some industries have favorable business conditions and growth is rapid in that industry. 
Doing a market analysis and knowing your industry will help you set realistic growth benchmarks. When you set aggressive growth benchmarks with a reasonable chance of success, you can maximize your business growth. 
Optimize Marketing Strategy 
Your marketing strategy is how you'll raise awareness and drive sales for your product or service. Your market analysis can tell you:
how to reach your customers, 

how you should design your offers, 

how much will you need to spend 

When will you achieve your marketing goals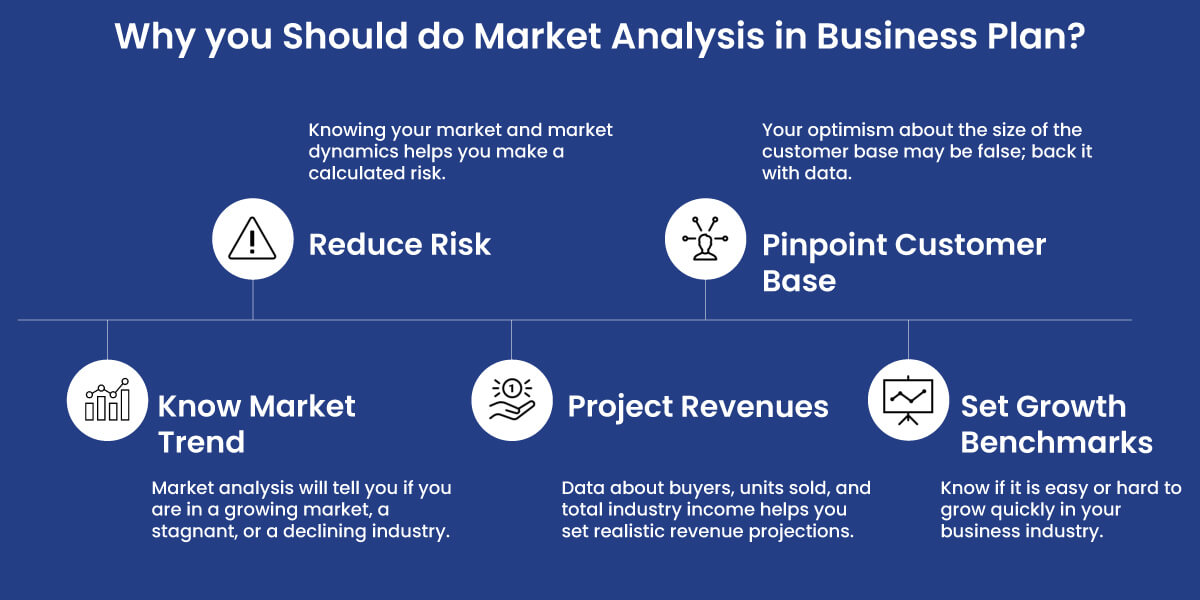 What should you include in Market Analysis?
You will analyze the target market in business plan in this section. Here is what you should include in a market analysis for business plan.


Industry Outlook
Industry outlook shows the direction of your industry. It shows if you are in a growing industry, a stagnant, or a declining industry. 
Consider adding these points to  your industry outlook:
Are you in a big market like casual wear clothing or a niche market like heavy snow coats 

Discuss the product life cycle 

Discuss projected year-over-year growth
Target Market 
Determine and specify your target market. Your initial, super-optimistic estimations about your target market may be incorrect. 
Base your assumptions on data. Specify your target market by using these markers. 
Identify your target customers' demographics like gender, age, location, income, education, etc. 

Create a buyer persona to show what your ideal customer looks like 

Include research and surveys about your target market like focus groups, and feedback surveys
We have also included an example of target market in business plan at the end of this page. 
Product/Service Demand 
Document your product or service demand in the market. See how many units of similar products or services are sold per year and how many people make the purchase. 
Market Growth Prospects 
Assess the overall change in your industry. Every industry has different dynamics. Some industries react to economic shocks with a rapid decline while others may show resilience. 
Many consumer goods industries stay stable for a long stretch of time and you can spot the decline years ahead. On the same lines, discuss the growth prospects of your industry and the market.
Market Trends 
Trends are the sudden changes that disrupt. The fashion industry is one of the best examples to study market trends. 
Watch for similar market trends in your industry and document them. 
Competitor Analysis 
Competitor analysis is the meat of your market analysis for a business plan. These businesses are like case studies as you can learn from their business practices and growth trajectories. 
Industry Entry Barriers 
If the industry entry barriers are low, you'll compete with a lot of businesses. However, your chances of early success are higher in such industries as you can easily reach the breakeven point and sustain your business. 
Hard entry barriers mean there are established players in that industry and it will take time for you to grab a share of the market. 
Industry Regulations 
See the level of regulations for your industry and make a plan ahead to deal with them. The regulations increase business operating and overhead costs.
When doing industry analysis in business plan, list the industry regulations you'll need to care for.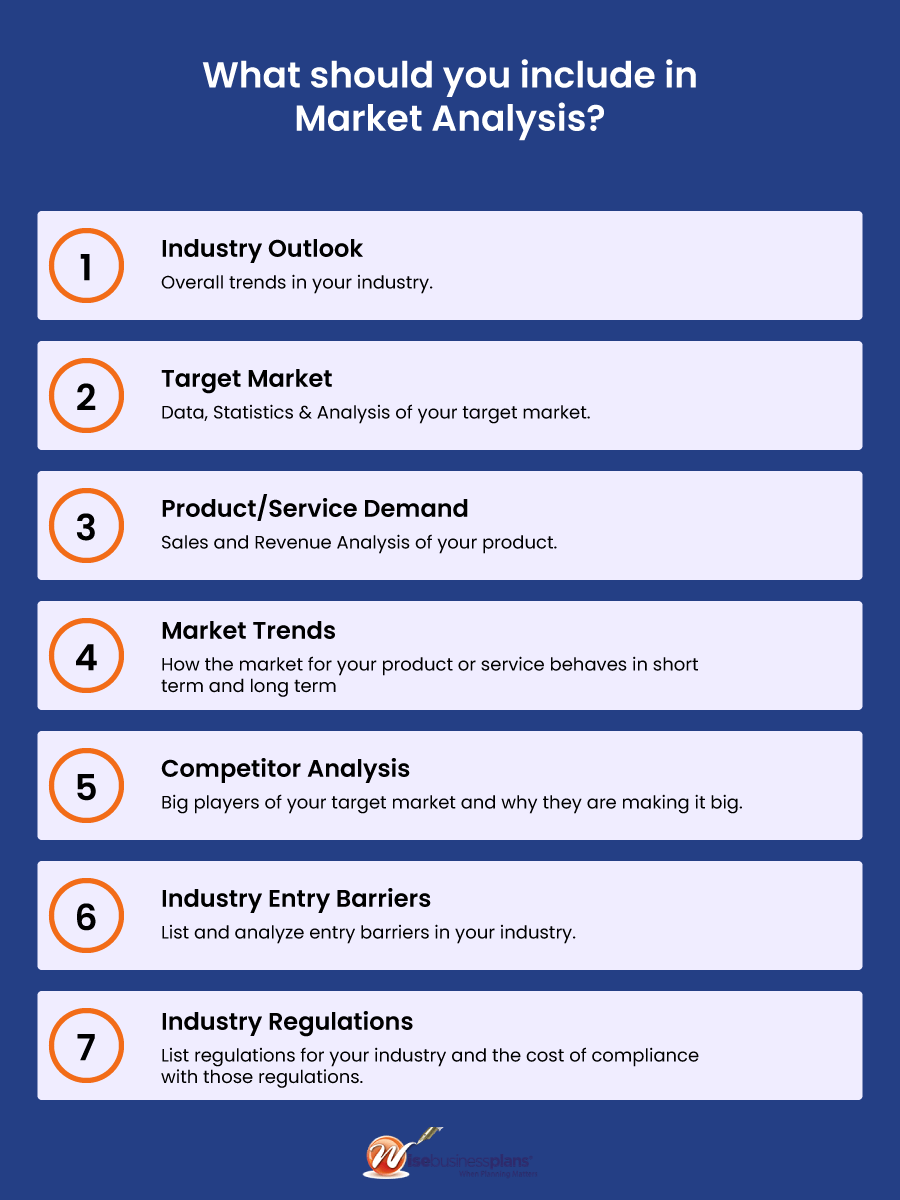 How to do Market Analysis for a Business Plan?
A market analysis is about collecting all the necessary information and research and getting into the details of your industry and competitors. 
You can do a market analysis using this simple framework.
Decide your Purpose 

Do Industry Research

Define your Customer

Understand Competition

Collect More Data for the Market 

Make Use of this Data 
Decide your Purpose 
You may be doing a market analysis for knowing your industry better or for convincing a potential lender or investor. Once you determine the purpose of market analysis, you can estimate the time and type of research the process will take.
Do Industry Research
Discuss the industry trends and see how the market is changing over the past few years. You'll also need to include industry forecasts to complete the picture. 
A comparative market analysis helps you identify your competitive advantage. Make sure to include this in the market analysis.
Define your Customer
Defining your customer helps you understand their needs. Define your customer in terms of demographics like:
Gender

Age

Income

Education

Location 

Occupation 

Interests 

Needs 
Build a buyer persona for your product or service. This will help you understand the customer well and design products and services for your ideal customer. 
Pro Tips: Learn how to write a business plan products and services section.
Understand Competition
Understanding your competition will prepare you for the market. Look into their strengths and weakness. See what businesses are successful in your industry and study them to understand how they are doing it. 
Steps for doing competitor analysis business plan.
List your top competitors 

Do a SWOT analysis for each competitor 

Compare their product or service with yours 

Analyze why a customer chooses their product over others 

Identify opportunities on how you can improve your product
Collect More Data for the Market 
The more data you have, the better your chances are of doing a top-notch market analysis. 
Collect your data from credible sources. Make sure your data is factually correct. You will be making decisions on the basis of this data. 
Here are some reliable and credible data sources that you use in your market analysis. 
Local Chamber of Commerce & Industries 

Trade Journals and Academic Research

Your own SWOT analysis

Market surveys or feedback
Make Use of this Data 
It is time to make sense of the numbers. 
The market analysis includes details from business conditions to long-term success in the industry. It calculates risk for your business.  Some factors may not be in your favor and you'll have to decide on your chances of success.  
Keep your data organized in sections. Organize your data with a goal to present it before investors, lenders, and the team. That way, you'll keep it simple and easy to understand.
Do you want to see an example of market analysis in a business plan? See our business plan examples to understand how it is done.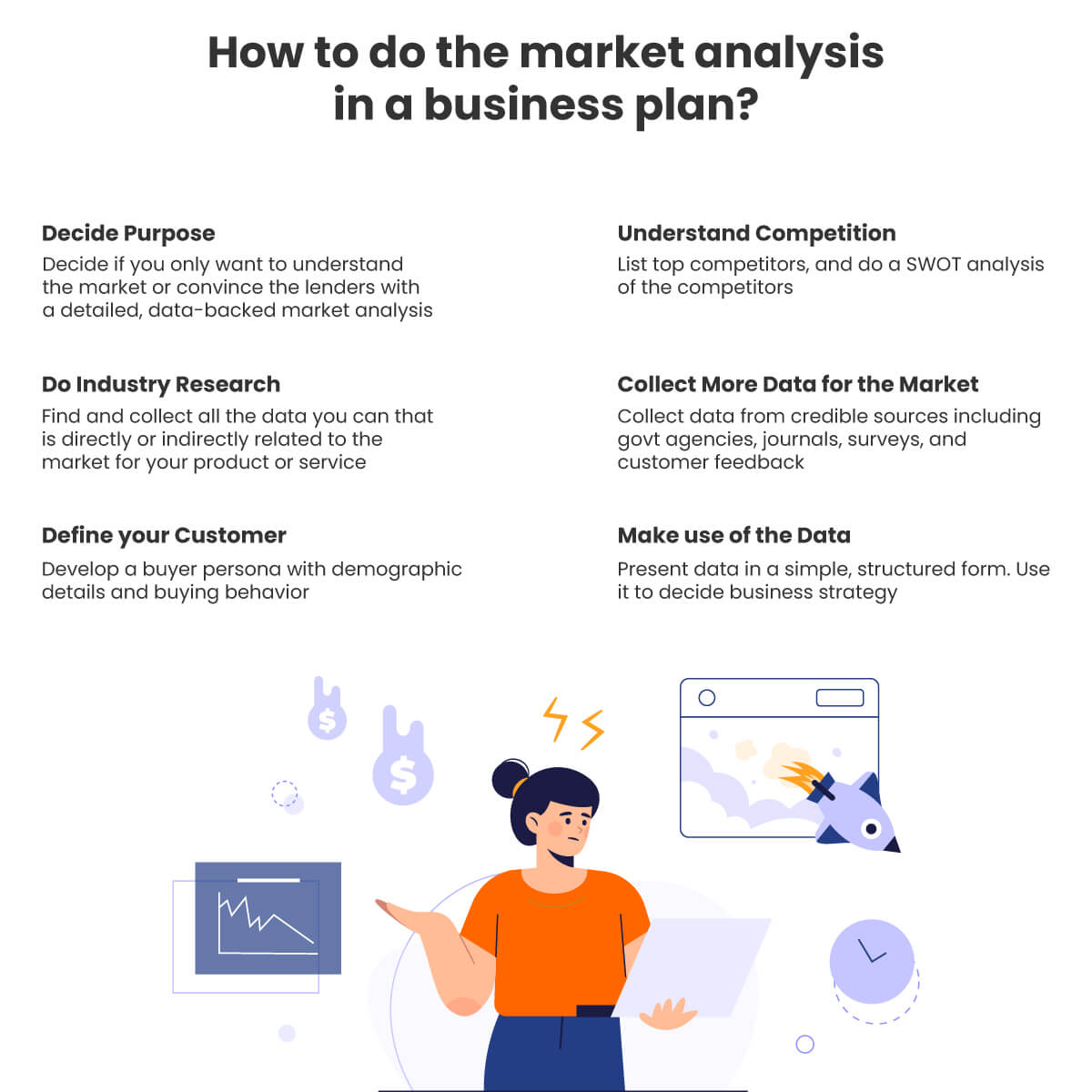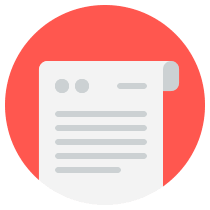 Market Analysis Business Plan Examples ​
Still wondering what is a market analysis in a business plan?

See this example of market analysis in a business plan and writer a killer market analysis.

Download the Business Plan Market Analysis Example PDF here.
Market Research from WiseBusinessPlans
At Wise Business Plans™ we pride ourselves on giving you the best market research for business plans available. We subscribe to commercial software programs and pay hefty licensing fees to give your business a competitive edge. 
Instead of spending hours on figuring out how to do market research for a business plan, hire professionals from WiseBusinessPlans and get a top-notch market research report for your business plan. 
Market Research Institutes and Databases we use 
IBIS World's Industry Market Research Reports are powerful business tools that provide strategic insight and analysis on over 700 U.S. industries. 
ESRI: Market Research combines GIS (Geographic Information System) technology with extensive demographic, consumer spending, and business data for the entire United States to deliver on-demand, boardroom-ready reports and maps.
Dun & Bradstreet: D&B's products and services are drawn from a global database of more than 130 million companies.
Hoovers: Hoover's database of industry information, 65 million company records, and 85 million people records you can deliver valuable business insight to your employees and customers.
First Research: First Market Research is the leading provider of market analysis tools that help sales and marketing teams perform faster and smarter, open doors, and close more deals.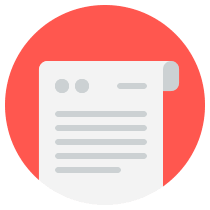 Get Market Research & Market Analysis Done by Professionals
Base your Market Research on data and expertise you can trust.  

Hire professional market researchers from WiseBusinessPlans and take a solid start. 
Tags:
business plans