How Masonry Company Owners Are Building Profits
The masonry company is currently utilizing comprehensive apprenticeship schools throughout the country to increase manpower, and meet the need for more skilled masonry experts.
"Masonry companies are the art of building a structure, primarily in either stones or bricks, and is a highly durable form of construction created to meet the unique needs and ideas of a client," stated Joseph Ferriolo, Director at Wise Business Plans. "At Wise, we're in the business of helping to build strong, successful, and durable companies.
We are happy to support these companies by providing them with one-of-a-kind masonry market plans," Ferriolo added.
How To Start a Masonry Company
If you want to start a masonry business, here are some steps you need to take: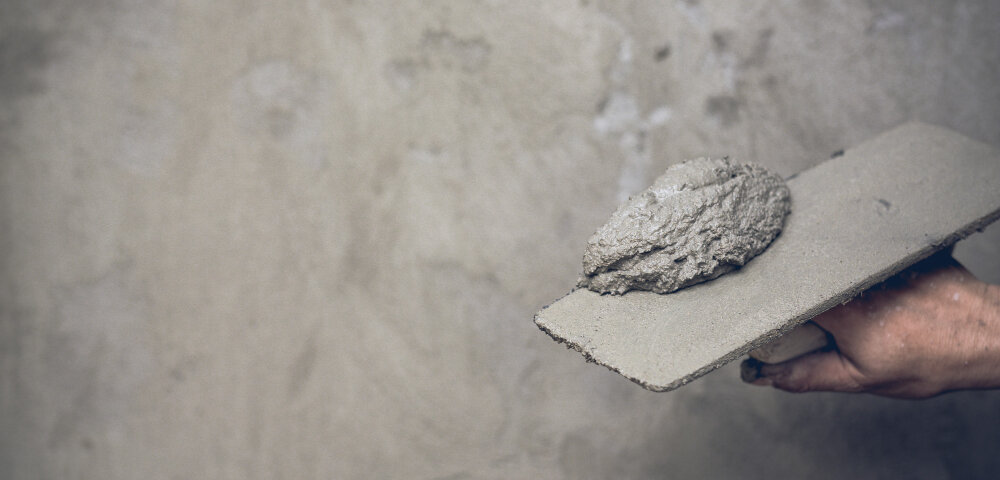 1. Develop a Business Plan for Masonry Company
You should develop a business plan before diving into any venture. It is essential that you write a business plan before you start your own masonry company! Equipment and vehicles for masonry work can be expensive. Don't forget to consider the cost of small business insurance, not just for you but also for any employees.
Do You Need Help in Creating a Masonry Business Plan?
Our clients no longer have to worry about the complexities of writing a professional business plan. Our MBA-qualified business plan writers have written over 15000+ business plans for over 400 industries in over a decade.
Let us create a perfect business plan for you
2. Get Trained and Qualified
A mason can teach you the skills necessary to start your own business or you can enroll in a community college or trade school to gain the knowledge you need. Apprenticeship programs are one of the best ways for you to gain the skills you need. After working as an apprentice for three to four years, you can earn journeyman status.
3. Build an Inventory of Tools
When you apprentice for a large company or work as a contracting mason, you usually use their tools. Investing in your own tools of the trade is a vital part of starting your own business. If you want to start a small masonry business, the start-up costs can vary depending on the size and number of the equipment you use.
4. Get Your License
When you start a business, it is a good idea to get your contractor license. Depending on your state, you may have to get a license from your local labor department. A first-rate impression goes a long way. You will be fulfilling your legal responsibilities and showing potential customers that you are legit at a little cost.
Do You Need a Business License for Masonry Company?
Wise business plans have eased the process to obtain a business license, which is generally necessary in order to operate a masonry business.
Let Wise help you Get your Business License for Masonry Company
5. Get Insured
You should strongly consider getting small business insurance. Having this coverage will protect you and your employees in the unfortunate event of an accident on the job. Make sure you also obtain a bond for your clients in case the property is damaged. By offering insurance coverage for unforeseen circumstances, you will increase the likelihood of clients seeking your business' services.
Pro Tips: Would you like to learn more about business insurance? Here is a comprehensive article about 10 types of small business insurance and how to choose the right one
6. Register Your Business
Let's get started. Your choice as a business owner determines the way your business is registered(LLC, or Corporation). If you are a sole proprietor, will you register it as a company, or solely as an individual? There are pros and cons to each type of business structure, so it's crucial that you research each one thoroughly before choosing one.
Need to Register a Business Entity for Masonry Company?
We at Wise Business Plans provide you with a wide range of business formation services for incorporating a company in a way that makes the process easy and allows you to stay focused on other important tasks.
Register Your Business as Masonry Company Now
7. Marketing
Marketing your masonry business is important after you start it. Starting with a simple website can be very cost-effective. Additionally, social media accounts, business cards, and yard signs can be used to advertise your masonry company for free or at a low cost.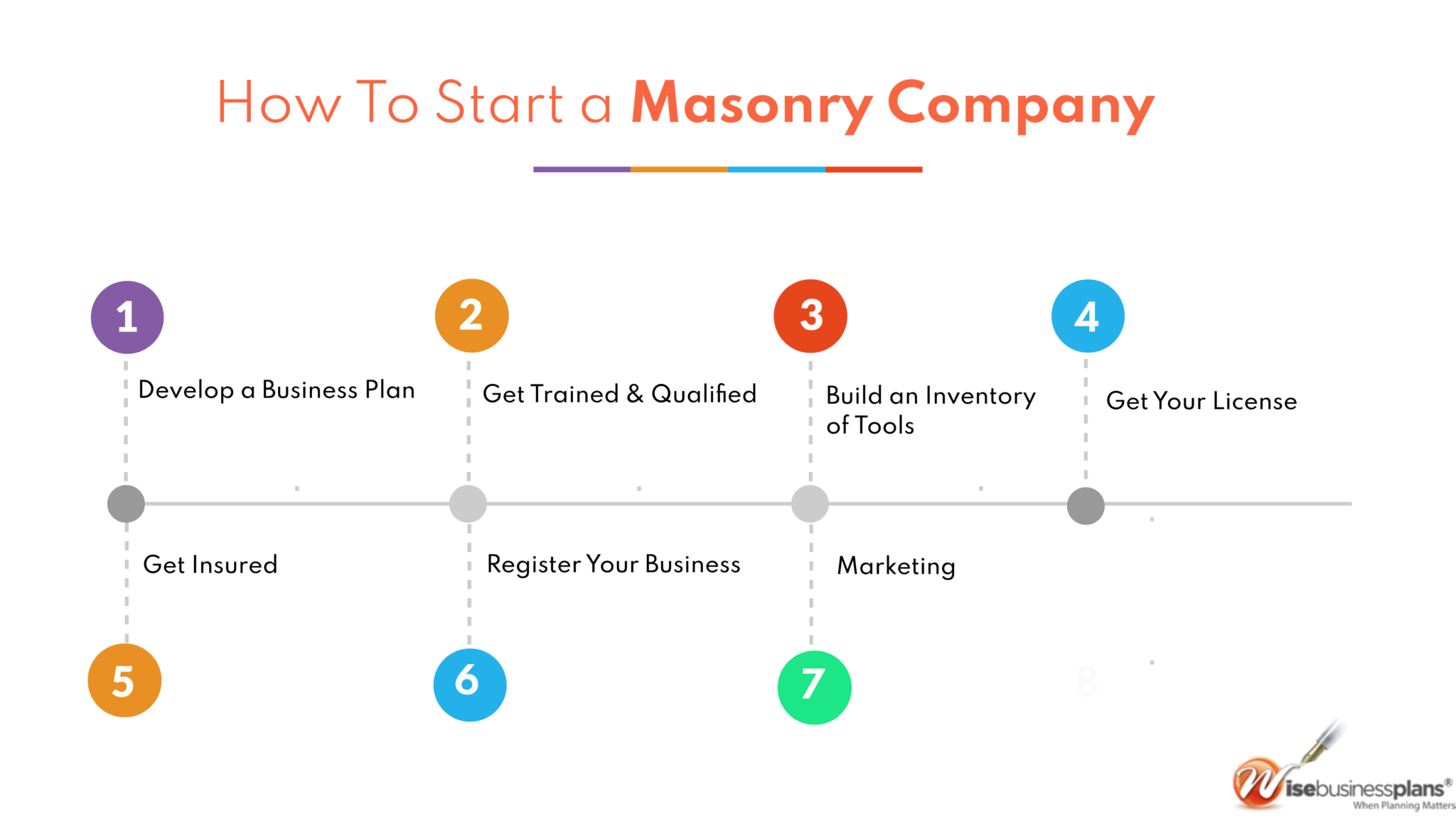 Check out these simple and easy steps guide to start your masonry business
All Wise Business Plans are tailor-made to showcase startup or expansion concepts as companies work to acquire funding from investors, look to raise capital through venture capitalists, or approach private investors. Plans include market research and custom financials that are developed for each masonry company. Design experts will give every plan a one-of-a-kind, professional look, and each client is entitled to a free revision to ensure the plan is done right.
Visit our business plan samples page to view our real sample business plans related to over 400+ industries.
"It takes great skill and attention to detail for masonry construction companies to create beautiful structures that are meant to last for generations. WBP team of writers uses their skills and business knowledge to create the right plan for each of our clients, always in an ethical and professional manner," said Ferriolo.
Wise Business Plans, staffed with professional MBA writers, researchers, and financial experts, is a trusted partner for businesses across a broad spectrum of products and services. Our mission is to empower our clients to make the best possible business decisions, boost company performance and facilitate their funding success by laying the groundwork for strong businesses that excite, inspire and retain talented and exceptional employees.
We also provide other Major Business Services for Masonry Business
Starting a masonry business? Wise business plans offer you a quick and easy guide to start your own masonry business, as well as assistance in every step along the way from funding to registering or licensing a business entity, branding, and marketing. Following are our main services
Wise business plans also offer a net 30 account application. Net-30 accounts allow you 30 days to pay the bill in full after you have purchased products. Net 30 accounts can also make managing your business finances easier. To learn more about Net 30 accounts, read more
Tags:
Business Ideas
,
Business Starting Tips
,
Form a Business