How to Start a Grocery Store
Independent grocery store owners and Rural grocers are hoping to take advantage of customer preferences by stocking up on local fresh foods and other unique products that stand to distinguish the small business owners from big corporate stores.
Fruits and vegetables are a part of our nutritional life force, and their value for keeping a healthy body and mind must not be underestimated," stated Joseph Ferriolo, Director at WBP."The right small fruit and vegetable business plan also should never be underestimated, as it can mean the difference between a mediocre or a highly successful business."
How to Start a Grocery Store
"In order to compete with large franchise stores, it is important for independent store owners to have accurate market data that lays out a clear path for long-term success," said Joseph Ferriolo, Director of Wise Business Plans. "The competition is staggering and it takes constant vigilance and planning to stay ahead of the crowd."
8 Proven Steps to Start a Grocery store Business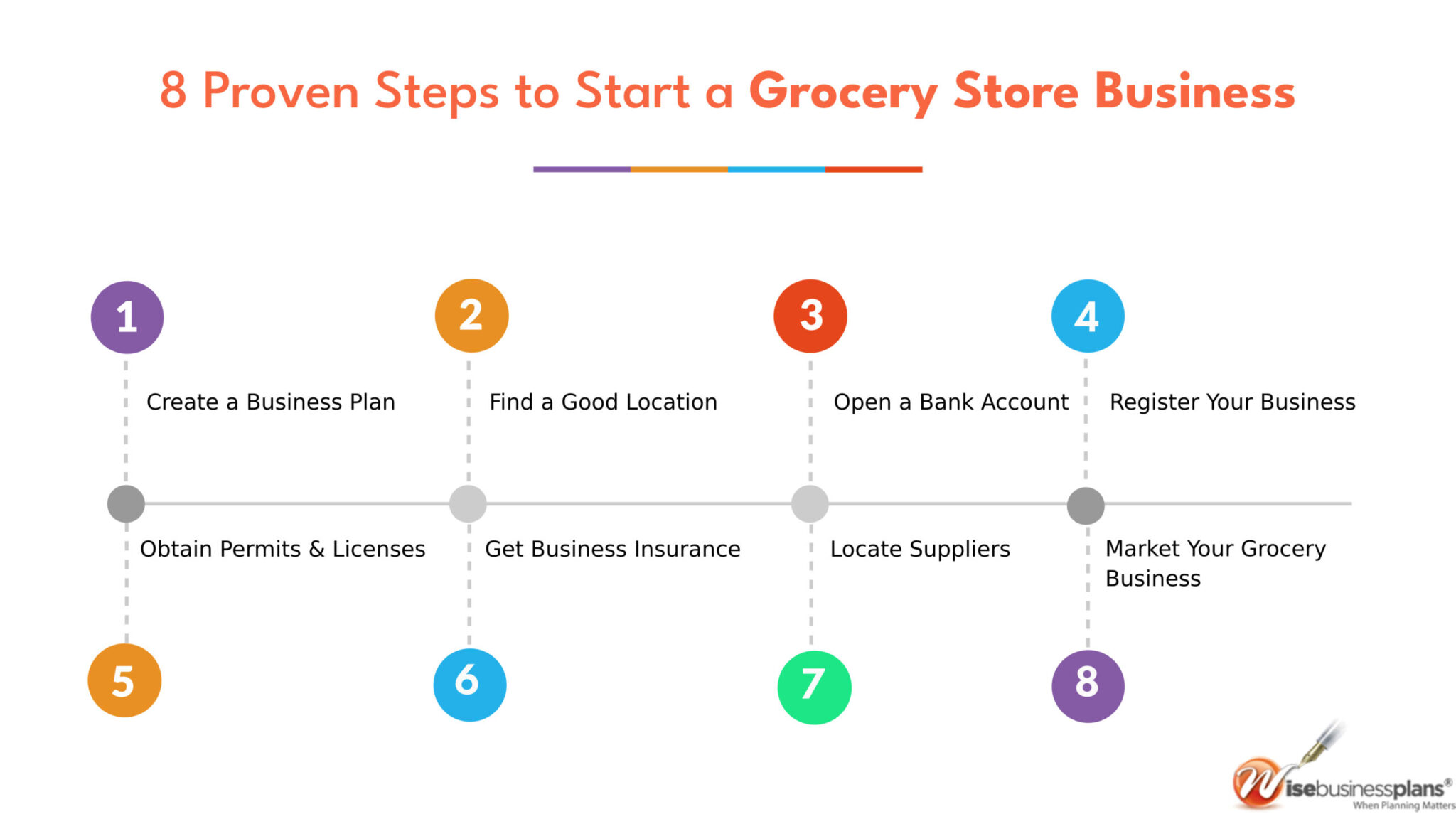 1. Create a Grocery Store Business Plan
As an entrepreneur, a clear plan is essential for success. This helps you achieve success by outlining your business model, your target market, and your financial projections. Your business plan is the backbone of your business.
Do You Need Help in Creating a Business Plan?
Our clients no longer have to worry about the complexities of writing a professional business plan. Our MBA-qualified business plan writers have written over 15000+ business plans for over 400 industries in over a decade.
2. Find a Good Location
You must choose a good location for your grocery store if you want it to succeed. It is a place where there is good traffic of people. Good locations should also have good parking spaces. There is no one who would like to park his car in an area where he will be harassed for obstructing traffic.
3. Open a Bank Account
Having a business bank account is important. Even though you already have a personal bank account, it is still a good idea to open a business account in which you can deposit all of the grocery store revenues.
4. Register Your Business
In order to open your grocery store, you must first register the business name. Choose a name that is catchy and easy to remember. As a grocery store, it is important that the business name is easy to brand.
Need to register a Grocery Store Business?
Our registered agents offer you a wide range of business formation services to make it easy for you to incorporate a business and focus on other tasks.
Register your Grocery Store Business Now 
5. Obtain Business Permits and Licenses
A grocery store cannot be operated without a permit from regulatory authorities. You may be fined heavily, or your business may be shut down if you fail to obtain the necessary permits and licenses.
Do You Need a Grocery Store Business License?
Business licenses can be difficult to obtain. A wise business plan makes it effortless for you to acquire a business license for your Grocery Store business.
Get Your Grocery Store Business License Now
6. Get Business Insurance
In addition to licenses and permits, your business needs insurance to operate safely and legally. In the event of a covered loss, business insurance protects your company's finances.
7. Locate Suppliers
To run a successful grocery store, you need to secure inventory at cheap prices. The margins on grocery store items are very low. It may be necessary to purchase directly from manufacturers to enjoy the best prices.
8. Market Your Grocery Business
All businesses should have a social media strategy across all major platforms like Twitter, Facebook, and Instagram in the digital age. You might consider a print campaign, such as a monthly circular featuring daily deals, to attract more people.
Check out these simple steps guide to start your grocery store business 
Grocery store owners offer a wider range of choices than ever before when it comes to fresh fruits and vegetables, limited only by your tastes. At Wise, we work closely with greengrocer owners and distributors, to ensure that the resulting small fruit and vegetable business plan is the correct one to meet that particular client's ideas and company needs," said Ferriolo.
Fruit and Vegetable Business Plan by Wise Business Plans
Wise Business Plans can help define the business goals of independent grocers, rural grocers and assist clients to present a winning fruit and vegetable store business plan to raise capital and meet specific market demands, including the tools needed to manage a thriving business. Wise Business Plans offers grocers one-of-a-kind, carefully created business plans for a grocery store, custom-crafted by MBA-qualified writers and graphic designers, and always offered at an affordable price.
Our fruit and vegetable store business plan is complete and includes all the sections that bankers and investors hope to see. A grocery store business plan includes the following sections:
Don't miss out to look at this simple grocery store business plan sample to get an idea of what a business plan looks like.
We also provide other Major Business Services for Grocery Store Business
Starting a grocery store business? Wise business plans offer you a quick and easy guide to start your own grocery store business, as well as assistance in every step along the way from funding to registering or licensing a business entity, branding, and marketing. Following are our main services
Wise business plans also offer a net 30 account application. Net-30 accounts allow you 30 days to pay the bill in full after you have purchased products. Net 30 accounts can also make managing your business finances easier. To learn more about Net 30 accounts, read more
Tags:
Business Ideas
,
Business Starting Tips
,
Form a Business