How to Start a Banquet Hall Business
Banquets, reunions, awards ceremonies, and wedding receptions require space and amenities often only offered by facilities dedicated to managing such events, and autumn 2021 is looking to be a profitable season for banquet hall businesses.
Wise Business Plans, a leader in the business planning industry, is partnering with owners, entrepreneurs who want to know how to start your own banquet hall, managers of banquet hall and event facilities to gain the marketing edge and garner increased bookings and revenue through the use of effective business planning strategies.
How to Start Your Own Banquet Hall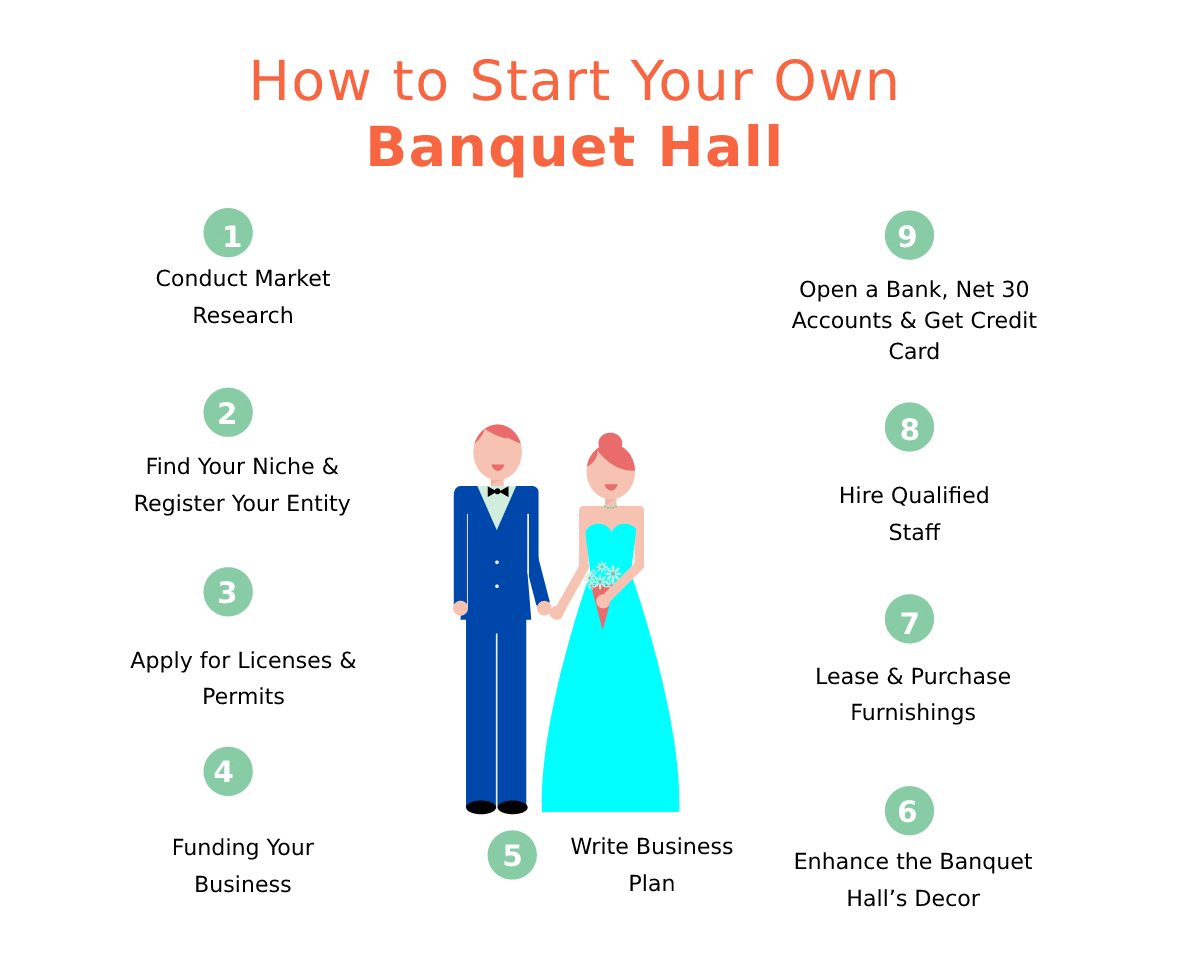 "Hosting a large gathering can be daunting when it involves decorations, supplies, and clean up, as well as other necessary aspects, such as invitations, seating arrangements, and entertaining your guests," said Joseph Ferriolo, Director of Wise. "Hiring the right event hall with a knowledgeable management staff can be a huge relief and will allow the event to progress smoothly. 
Here are the 9 steps you need to follow to start your own banquet hall business.
1. Conduct Market Research
Doing some up-front research is an important step to validate your idea. Make sure the banquet halls are in demand in the community where you have decided to set up operations by conducting a business feasibility study and looking at the opposition.
Do You Need Market Research?
Wise Business Plans strives to provide you with the best research available. The writers and analysts behind our in-depth Market Research and Analysis reports have years of experience, integrity, and business knowledge. Book a Free consultancy Now!
2. Find Your Niche And Register Your Entity
This will be significant if you are opening a banquet hall in a community where there is huge competition. Specifically, identify your customer. This is the place where you will focus your advertising endeavors.
All parties should protect themselves against any personal liability. You can form an S corporation or a limited liability company (LLC). A Limited Liability Company combines elements of both a partnership and a corporation. In order to simplify federal income tax matters, S corporations elect to pass income and losses to shareholders.
Need to Register a Business Entity?
Find out how to start an LLC in Your State or hire Wise Business Plans' business formation services to make incorporation easy for you and let you concentrate on other important tasks.  Our main business formation services include
LLC Formation
NonProfit Business Formation
S Corporation Registration
Tax ID Number
Register Your Banquet Hall Business Now
3. Apply for Licenses and Permits
Remaining legitimately compliant is essential for your organization to run easily. The business license and permits you need will depend on your incorporation status, your industry, and will be diverse relying upon the state, province, city, and even the area of town in which you're operating.
Do you need a Business License for Banquet Hall Business?
Wise business plans have eased the process to obtain a business license for Banquet Hall, which is generally needed to operate a Banquet Hall business.
Let Wise Help you to Get your Business License for Banquet Hall
4. Funding Your Business
As you are in the start-up phase, you have to spend money to bring in money" and for bigger undertakings, you will be unable to manage the up-front costs needed to get your business going and productive. The amount you need to get started will be based on a detailed calculation of the start-up costs and month-to-month working expenses for about a year. You may find helpful this investor business plan to fund your business.
Funding is a Problem for You?
Our experts have raised more than $1 billion in funding for our clients. Let Wise Business Plan's experts help you to get the business funding for your banquet hall business every step of the way!
5. Write Your Banquet Hall Business Plan
Your business plan is the establishment of your business. It archives the particular issues you'll address for clients and the activities your organization will conduct in order to do so, what items and services you'll offer to them, and what advertising activities you'll perform in order to convey to them that you can help them.
Do You Need a Banquet Hall Business Plan?
Here's the good news: you can minimize the time it takes to write a business plan by hiring wise business plan writers who have over a decade of experience writing business plans, spanning over 400 industries.
6. Enhance the Banquet Hall's Decor
Make your own design plans or hire a professional designer. There should be a clean and professional look to the banquet hall that is adaptable to the individual tastes of each client. A professional interior designer can provide insight into how to mix and match color schemes for basic wall treatments, table linens, and carpets.
7. Lease and Purchase Furnishings
Typically, guest tables and chairs, buffet tables, and decorative items such as indoor plants are purchased directly from hospitality industry furniture dealers. You may lease linens and dishware because these are items that customers like to coordinate and customize for their events.
8. Hire Qualified Staff
The banquet manager should be a professional host, as well as an event coordinator, a staff, and vendor services, coordinator. Create an employee policy and procedure manual that clearly outlines the team's responsibilities and operations. It should include the chain of command regarding the banquet operations.
Open a Business Bank and 30 Account and Get Credit Card
Personal asset protection is enhanced when you open specialized business banking and credit accounts. When your personal and professional accounts are mixed, your personal assets (your home, automobile, and other valuables) are vulnerable if your banquet hall Business is sued.
Furthermore, learning how to establish business credit may assist you in receiving credit cards and other financial resources in your banquet hall company's name (rather than yours), improved interest rates, greater lines of credit, and more.
Set up a business bank account
Apart from being a requirement when applying for business loans, establishing a business bank account has several benefits.
Separates your personal belongings from your banquet hall business's assets, which is critical for personal asset protection.
Makes tax preparation and accounting simple.
It makes tracking expenses easier and more organized.
Recommended: To discover the greatest bank or credit union, read our Best Banks for Small Business review .
Open net 30 account
Net 30 payment terms are used to establish and develop business credit as well as boost company cash flow. Businesses purchase products and pay off the whole amount within a 30-day period using a net 30 account.
Net 30 credit vendors are reported to the major business credit bureaus (Dun & Bradstreet, Experian Business, and Equifax Business Credit). This is the way businesses build business credit to qualify for credit cards and other lines of credit.
Recommended: Read our list of the top net 30 vendors guide to start getting business credit or simply open your net 30 account with wise business plans in seconds.
Get a business credit card
It's exciting to open a business credit card for your banquet hall business. A business credit card can assist you to establish credit, safeguard your company financially, access rewards (such as cash back), and simplify cash flow. It can also assist you to manage your expenditures.
Recommended: Take a look at our list of the 11 best business credit cards and decide which one is the right fit for you.
Wise Business Plans Writing Services
Each banquet hall business plan or event center business plan is original, crafted after consultation with the client, and carefully written by MBA-educated business plan writers and designed by graphics experts.
Every banquet hall business plan includes personal and professional financial planning and all banquet hall business plans have the option for a free revision, to assure that the finished product is correct and effectively meets the specific goals and requirements of that client.
"Owners and entrepreneurs of event halls are in the business of helping others celebrate the joyful milestones in their lives. At Wise, we celebrate the successful business milestones and achievements of our clients and work to secure them a productive future," said Ferriolo.
Download our free banquet hall business plan sample in PDF or visit our business plan examples page to view our real sample business plans related to over 400+ industries.
Wise Business Plans, staffed with professional MBA writers, researchers, and financial experts, is a trusted partner for businesses across a broad spectrum of products and services. Our mission is to empower our clients to make the best possible business decisions, boost company performance and facilitate their funding success by laying the groundwork for strong businesses that excite, inspire and retain talented and exceptional employees.
Other Major Business Services for Banquet Halls
Starting a banquet hall business? With Wise Business Plans, you will receive a quick and easy guide to start your banquet hall business, as well as assistance in every step along the way from funding to registering or licensing a business entity, branding, and marketing. Following are our main services
Wise business plans also offer a net 30 account application. A Net-30 account allows you 30 days to pay the bill in full after you have purchased products. Managing your business finances is also easier with Net 30 accounts. Apply for your net 30 business accounts now
Tags:
Business Ideas
,
Business Starting Tips