How to Write a Company Overview for a Business Plan
A company overview introduces your company.
People reading your business plan want to know about your business idea, how you plan to make your business idea a success and what are your chances of success. 
Your company overview is one of the important pieces of a business plan. Think of your company as a vehicle and your business plan a journey. You can navigate your way to success with a strong vehicle.  
Many business plans are made with the sole purpose of attracting funding and investment. If you have the same goal, writing a good company overview is essential.
Why should you Write a Company Overview?
A company overview is your chance to show your company's strengths and the unique value proposition that your company offers. 
You can answer investors' concerns here and convince them of your success. Lenders and investors want to know if their debt or investment will be secure with your business. 
When you can develop their confidence with your company overview section, it is likely that they will consider your business for investment. 
What goes into a Company Overview?
Here is what you should include in your company overview section of a business plan.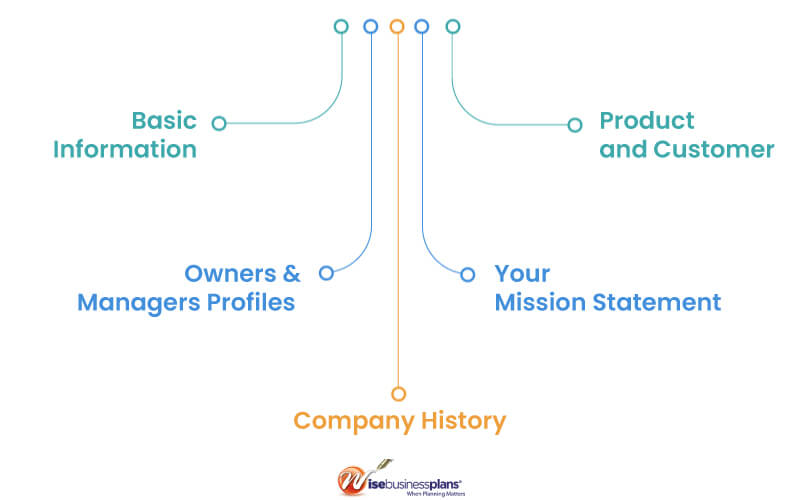 1-Basic Information
 The basic information of your company includes when your company was formed, how many employees you have, how much you are selling currently, your customer demographics, etc.
2- Owners & Managers Profiles  
Include your owners' and managers' profiles in the business plan company overview section. 
Showing the responsible people in your company and introducing your capable team to the world helps you gain investors' confidence. 
If you can show that your business idea is credible and your team is capable of successfully carrying out the plan, your chances of getting funds from investors and backers increase.
3- Company History
Company history is relevant for old businesses. 
The companies working in the industry for some time and have shown steady growth over time have an easy time convincing lenders. 
Many times, a company that has already developed the product, tested it in the market, and has representative customers to show gets investment.
If you are in the business for a few years, investors would like to know about your representative customers, product or service performance in the past, and data on how soon the product will pay for itself in terms of reduced costs or increased efficiency.
4- Mission Statement
Try to write a simple mission statement. It should be easy to read and easy to understand. 
Keep your mission statement short to one or two sentences only. 
5- Product/Service and Customer 
Shortly discuss your product or service in your business overview. 
Tell your readers about your product or service, how it is different and why it will capture a market share.
You'll need to shortly discuss your competitors to clear your unique proposition. Discuss what the competitors' product or service is lacking and how you are filling that gap.
Mention your target customers. Many people will overestimate their target customers. Keep the estimates realistic and take a second opinion on this from a knowledgeable person.
6- Goals 
Discuss your future goals at the end of the company overview section. 
Consider answering these questions when writing about your business goals. 
How will you grow your customer base?

How will you increase your market share?

If and how will you increase your service area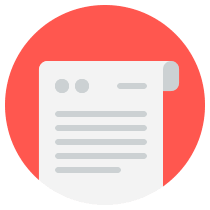 Check Company Description Examples in a Business Plan
Check our page for  Business Plan Examples to understand how you can write company overview in a business plan. 
How to Write a Business Overview?
Follow these simple steps to write a business overview for your business plan. Remember your business overview is only a small section and you'd want to keep it short. 
Use Elevator Pitch
Your elevator pitch is the shortest version of your business plan. Start your company overview with your elevator pitch.
Keep yourself to the Basics
A company description is meant to shortly introduce your company. Make a small paragraph for each point but restrict yourself to the basics. 
Fight the urge to lengthen it as you have a full document ahead to explain your business plan. We recommend that you write the company overview after you have written your business plan. That way, you'll know what is the most concise way to include all necessary details.
Show Passion for your Business
Show your love and passion for your business. Make your company introduction engaging with your passion and excitement for your business.
Keep it Compact
You know your company better than anyone elsel. Your emotions may carry you away from the topic. Here, think in terms of the readers of your business plan and write a compact, to-the-point firm overview or corporate overview. 
Your business plan readers are only partly interested in your company. They want to know if your company can meet business plan goals. Keeping your company overview brief will help readers get to the point easily.
Have Structure 
A company overview example structure looks like this:
Basic Introduction to your company

Introduction the team

Company history 

Mission Statement 

Product or Service 

Customer profile

Future goals 
Consider writing 1, 2 sentence paragraphs for each point to write a compact and well-structured company overview.
Get a test reader 
Ask someone with some knowledge of the topic to read your company overview. 
You may miss your mistakes or even not recognize them. However, the second pair of eyes will be able to spot errors and mistakes without any bias.
Proofread 
Proofreading checks your work for grammar, punctuation, and spelling. Some tools like Grammarly also help you do that but it is still better to ask a human to proofread your work.
Why should you put so much effort into writing a business plan and a company overview? 
Company Overview examples
You may need to see a business description example to exactly know what you need to write about.
Cleaning Service Company Overview Example
Anna Active Cleaning Services offers home cleaning services in Detroit. This sole proprietorship is based in East Side, Detroit. 
Anna Active Cleaning offers services to local residents. We are also available on call for jobs in the other areas of the city. 
Our CEO, Ms. Anna Smith,  is a single mother with an ambition for helping people live well. She has a high school diploma. 
Ms. Smith has over 5 years of combined experience in managing home cleaning businesses. Our team includes 4 female workers with over 10 years of experience and 3 of them have a professional house cleaning certificate. 
Anna Active Cleaning started in May 2018 as a small local business. The lack of quality home cleaning services in her area inspired Ms. Smith to start this business. 
We have successfully served over 1000 customers in the past 3 years. Most of our customers repeatedly hire us. 
Our mission statement is: "Everyone deserves a clean and shining home, we will make it happen for you".
Anna Cleaning Service offers home cleaning, kitchen cleaning, floor cleaning, and laundry services. Our customers include homeowners, working women, parents with kids who can't spare time, or new movers. 
Our goal is to first expand to all areas of Detroit city and then to all major cities in Michigan and neighboring states. We are working hard to achieve the first goal within one year and expansion goals within 5 years i.e, before the end of 2027.