Non Profit Business Plan Writer for Entrepreneurs
History of Non Profit Organization:
Before we talk about non profit business plan, let's look into the American history and why non profit organizations serve the nation.
Since the early history of the United States, volunteers have organized groups to help those in need or to advance cultural, social, or educational goals.
Americans wanted to think of themselves as a "self-governing country" that preferred to handle social issues locally and did not trust government involvement.
People in need could rely on their neighbors or the community to assist them because charity was viewed as a religious obligation. While the wealthy created institutions like Harvard and Yale Colleges, churches raised money for the poor.
Earlier to the 1930s, the majority of nonprofit organizations' funding came from wealthy individuals and foundations.
After the Financial Crisis, the federal government had to offer a wide range of social services due to the large number of people who were in need, such as public programs for the unemployed or compensation for the elderly and dependent children.
What is Non Profit Organization means?
The word "Non Profit" refers to a non profit organization that doesn't focus making a profit. Instead, it is a company whose aim is to advance a social cause, a common objective, or a mission.
As it is for a social cause and provides a public benefit, So it is exempted from the tax.
A non-profit business plan is just a road map highlighting the organization's goals and objectives as well as how it intends to achieve them. Charity work is the primary objective of non-profit organizations.
Actually, just like any other type of business, non-profit organizations require thorough and organized planning. Making a business plan is a key element of starting a non-profit.
Why Need Non Profit Organization?
Generally speaking, non profit organizations exist to improve people's quality of life on a local, regional, national, or even international scale. These groups are committed to promote the public interest rather than private or financial profit.
Nonprofit organizations plays a vital role in society by working to change the lives of others and the public good.
They are often at the front end of social change and provide much-needed services to those who are most insecure.
In contrast to profit oriented companies, non profit organizations (NPOs) are not owned by anyone, and any profits left over after operating costs are applied to the organization's objectives rather than to its fellow citizens or staff.
What problems Targeted by a Non Profit Organization?
When starting a nonprofit organization, you should first specify its purpose.
Why did you found this company, and what do you hope to achieve?
This can involve anything from initiating a community group or emphasizing the talents of local artists to targets problems like homelessness, healthcare, and hunger.
Who Qualifies for Non Profit Organization?
The majority of qualified organizations are either public charities or private organizations. These organizations' goals may consist of, but are not restricted to:
Examples include daycare centers, museums, churches, theaters, and many other types of organizations.
What is the Difference Between Profit Organization and Non Profit Organization?
Purpose: A Profit Organization is a legal entity, which operates for earning profit for the owner. Whereas, A non profit organization is a legal entity, which operates for serving the society as a whole.
Source of Revenue: The main source of revenue for Profit Organization is Sale of goods and services. Whereas, for Non-Profit Organization's main source of revenue are donations, subscriptions, government grants, membership fees etc. Crowdfunding, a form of online fundraising, has also become a popular method of funding for nonprofit organization.
Financial Statements: The financial statements for Profit Organization are cash flow statements , income statements, and balance sheets .
Whereas, The financial statements for Non Profit organization are receipts & payments accounts, income & expenditure accounts, and balance sheets.
Variety of People: In Profit Organization, the ideal buyers are targeted and the purpose of selling to the right audience is the goal. Whereas, Non Profit Organization have a broad audience view and people can join, contribute, become members voluntarily.
Taxation: Profit organizations are taxed in a number of ways. Whereas Non Profit organization can register for tax exemption.
Staff: Staff for Profit Organization will consist mostly of paid employees and interns. Whereas, Non Profit Organization typically relies heavily on volunteer staff.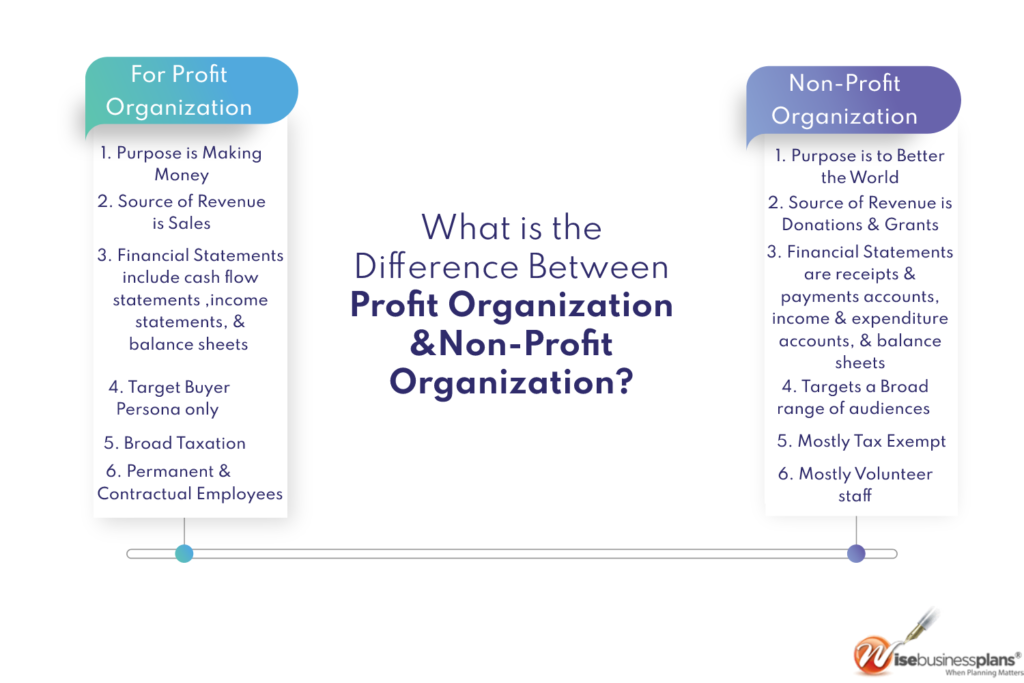 Pro Tip:

We help inspiring entrepreneurs and leaders Plan, Build and Fund their business vision.

Call our MBA Business Plan Writer professionals at 

1-800-496-1056 to answer all your questions.

Contact us to Get Your Non Profit Business Plan
What is Non Profit Business Plan?
A business plan is a written document that explains the financial objectives of their company and describes how you are going to achieve those objectives.
You can share a strong, thorough plan with early investors, lenders, and other significant partners to give them a road map for the company's next three to five years.
To monitor your progress in relation to your plan, it is imperative that you hold regular plan review meetings.
This will coincide for the majority of non profit organizations with regular board meetings and reports.
A Professional Business Plan Writer will:
Conduct market research for you.
Work with you to create the best strategies to grow your business.
Create financial projections.
Write your plan geared to your audience. Your audience could range from yourself, your team, partners, banks, angel investors, venture capitalists, etc.
In any of these cases, when hiring someone to write a business plan , make sure they have a working knowledge of the needs of your intended audience in order to write a plan that appeals to them.
Why Business Plan is Important in Non Profit Organization?
 Business Plan is important to search out the solutions of the questions stuck in our mind.
"What problem(s) are we trying to solve?" or "What are we trying to achieve?" also, "Who will get us there, by when, and how much money and other resources, will it take?"
A business plan can serve as your road map for keeping your enterprise on course, from securing funding to recruiting staff to planning for expansion.
When faced with challenges, your business plan can help you stay motivated and focused on your objectives.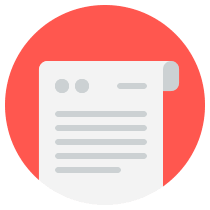 Are you facing any difficulty in Non Profit Business Plan?
What are the Purpose of a Non Profit Business Plan?
Owners of non profit organizations need business plans for the following reasons:
Encouraging large individuals or foundations to provide funding for their projects.
Recruiting board members who can assist them in better understanding what they are committing to.
Guiding non profit organization and serving as a compass to keep its key figures from veering off course.
When requesting business loans, non profits should be especially careful if they intend to open a store, restaurant, gift shop, or another endeavor that will help them pay their programs.
One thing to keep in mind is that the business plan is not strict. It should be created in such a way that it leaves room for adaptive changes.
In this way, non profit owners can adjust their plans as the organization grows.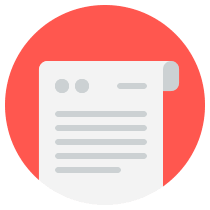 Free: Download Business Plan Cover Page Examples
Learn how to write a business plan cover page and download the free business plan cover page examples to build a beautiful cover page for your business plan by our Experts.
Wisebusinessplans
Company Outline: The concept of Wisebusinessplans was born in 1991. A group of highly established and successful businessmen formed a new affiliation called "The Wise Guys," who were experts in their field of non profit business plan template.
They created this idea to help non profit organizations succeed. The first thing they did was create a guide business plan for non profit organization to understand what they needed to do to be successful.
The Team's main focus was to inform non profit business owners how to write a winning business plan.
Company Business: Wisebusinessplans provides a wide collection of support services and product options, such as graphic design, consultation, branding, stand-alone planning, and marketing.
But the nerve of Wise is their professionally designed business plans, which they customize to your business with your unique business goals of non profit organization in mind."
Wisebusinessplans offers many additive services, such as consulting, creative branding, marketing, and web development.
Although the maximum benefit of Wisebusinessplans is to assist you in writing winning non profit business plans, they also offer many additional plans to assist you.
Wisebusinessplans also provides online coaching and seminars.
What is included in our the Non Profit Business Plan Template?
To start non profit organization, The business plan can be used at any time and modified as required. In comparison to a more established non profit, a new non profit Business may be fairly basic.
Every Non Profit Business Plan template  will have components like an executive summary, an organizational overview, and a market study.
Any company, especially non profit organizations which are frequently created by people with varying levels of business experience can benefit from using a Non Profit business plan template.
There are a few items that should be in any non profit business plan , while the specifics may vary depending on the organization.
1.Executive Summary: The components of the business plan are briefly summarized in the executive summary . The challenge here is to write an engaging summary that will grab the reader's interest long enough for them to read the whole thing.
The non profit owner can outline the organization's goals in this area and as well as give a brief history of how and why it came to be. The non-programs, profit's services, and goods can also be described by him or her.
The owner should also describe the company's marketing and financial plans.
2.Organizational Structure: Under this segment, the owner simply needs to explain how the non profit (501)(c)(3)  business plan is structured, starting from the board of directors and working down to executive staff.
He or she should also highlight grants (if there are any), objectives, strategies on how to measure up, and a few trends in this particular non profit area.
3.Products, Programs or Services Execution: The products and services  that were listed in the executive summary are now described in a more wide way under this segment.
The individual should also incorporate specific features such as the delivery methods, sources of products, the benefits of the non profit's products and services, as well as future modification plans.
This section should also provide information relating to any copyrights or patents that the non-profit holds.
4.Marketing Plan:
What is the target market or audience of the non profit's business plan?
How does the non profit think to reach these people?
What does the non profit aim to serve?
The marketing plan should provide detailed answers to these questions. For instance, the owner should outline the competitors of his non profit, as well as other non profits that may be potential collaborators.
Pro Tip: Here is a step by step guide on how to write a market analysis for business plan.
5. Workable Plan: In this section, the owner will be trying to answer questions such as:
How does the non profit deliver its products or services?
What is the location of its main facility?
Does the non profit have any equipment or inventory needs?
Basically, the individual should explain the exact plan of action he plans to use to maintain the operation.
This section also covers the impact of the non profit business plan and services on clients and on the community at large.
6.Management and Organizational Team: Names and contact information for the members of the management team are covered in this section. A list of the board members and their individual expertise is also included.
Using an organizational chart is the simplest way to describe the non profit business plan management team.
The chart lists every employee of the non profit along with their positions within it. The review of the non profit's current and prospective staffing needs should also be included in this section.
As the organization expands, it might need to bring on board more volunteers, an IT professional, accountants, and other experts.
7.Capitalization: Capitalization is another element that should not be left out in a non profit business plan. In this section, the owner lists all the non profit's outstanding loans, debts, bonds, and endowments.
Endowments refer to government or private grants that the non profit has received or applied for.
Bonus Tip: Here is step by step guide on how to write a right financial plan in business plan.
8.Appendix: The owner should include the mission and vision statements, promotional materials, key employees' resumes, a list of the board of directors, charts, and graphs pertinent to the appendix in the event that the non profit is not a startup.
If necessary, the owner should also provide an annual report.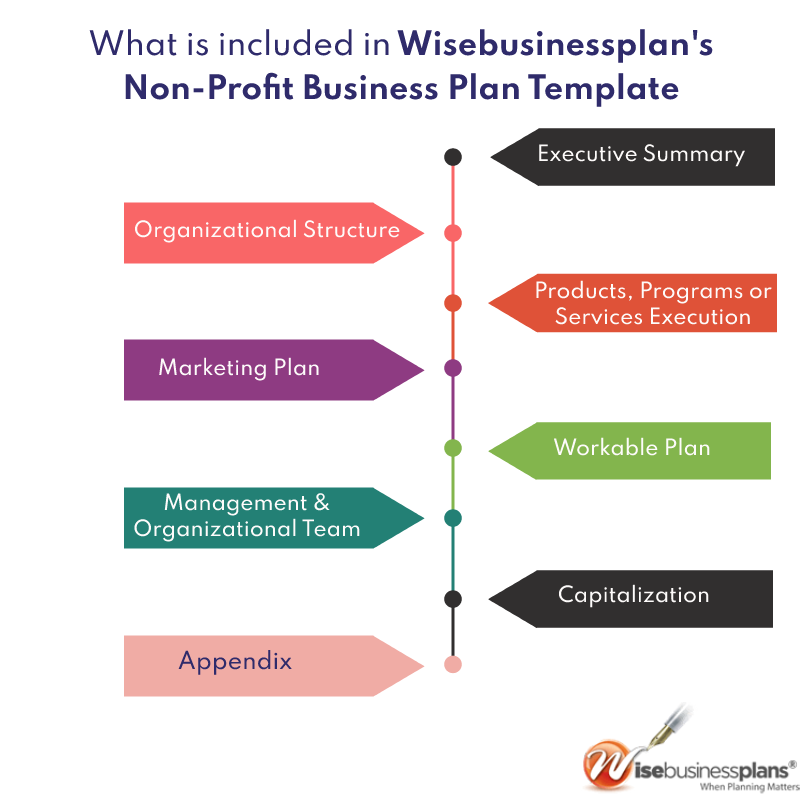 Wisebusinessplans: Why choose us!
Non Profit Business Plan:
Best Business Plan Writers that works for you day and night so that you can achieve the best results from the efforts of our experts.
Our team will help you by designing a customize and easy non profit business plan.
Our professional MBA Writers  and consultants organize your planning efforts with a united team. It will help you in bring together consultants and collaborators, to provide financiers and other stakeholders with a sound non profit business plan.
They trust their clients to Wisebusinessplans! Thousands of satisfied customers. Hundreds of + "5 star testimonials" written by our previous clients.
Our team work hard to develop 53 Best Non Profit Business Ideas that will help you in starting a non profit business efficiently and effectively.
Additional Help:
You can use our free business plan template  to walk through each section of your project.
Check out Wisebusinessplan if you're seeking for a tool to assist you in creating your business plan. It may be quickly set up to generate a free business plan with step-by-step instructions  at every stage. 
Through a single dashboard, you'll be able to quickly create plans and compare them to your actual so that you may actively plan, make adjustments, and show to investors and board members. 
It's a fantastic idea to make business planning simple and easy so you can focus on providing for individuals you're hoping to help.
Pro Tip:

We help inspiring entrepreneurs and leaders Plan, Build and Fund their business vision.

Call our MBA Business Plan Writer professionals at 1-800-496-1056 to answer all your questions.

Give Us a Call or  Contact Us