Is it Worth to Hire Business Plan Writers on Fiverr?
Everyone knows Fiverr as a $5 gig marketplace. It may be a good place to get your PDF converted to a Word file but it is not a great match for a serious project like a business plan for your business startup and growth.
Let's explore the reasons why Fiverr is not suitable for getting your business plan done.
Writing a Business Plan Yourself vs Hiring a Business Plan Writer 
We will first look into two scenarios, either you'll write the business plan yourself or you'll hire someone to write a business plan. Let's weigh both options. 
Writing a Business Plan Yourself
Writing a business plan yourself is one of the best ways to do it. No one knows your business idea better than you. Since you'll be the one running the business, you know your strengths and weaknesses and you can figure out the best plan of action for making your business idea a financial success. 
However, some entrepreneurs dread the idea of writing a plan while some think they don't need a business plan at all; both are mistaken. 
You can easily write a business plan with the help of a free business plan template. Check our extensive library of free business plan templates and write a killer business plan today. 
Recommended: For an attractive cover page for a business plan visit our page on how to write a business plan cover page
Hiring a Business Plan Writer 
Hiring a business plan writer can turn out to be good but that depends on who you hire. 
A qualified business plan writer with the right experience can understand your business idea and your business vision. They can help you make a business plan that will help you set the right growth map for your business and help you win funding from investors/financial institutions.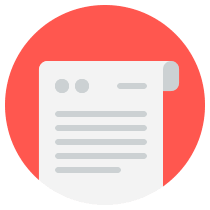 Get Investor-Ready Business Plan
WiseBusinessPlans offer investor-ready business plans that will help you win investment and funding for your startup. 
However, vetting a business plan writer is hard. Reviews can be manipulated and work experiences can be faked. 
A secure way of hiring a business plan writer is to find a quality business plan writing services company like WiseBusinessPlans that will give you direct access to the business plan writer. Any such company should be transparent and you must be able to verify their claims. 
Hiring a Business Plan Writer on Fiverr 
Let's look into the advantages and (mostly) disadvantages of hiring a business plan writer on Fiverr. 
Pros
Fiverr is Cheap
Fiverr is cheap. People are doing things for $5 there.  You can get a 'solid business plan' for $15 only.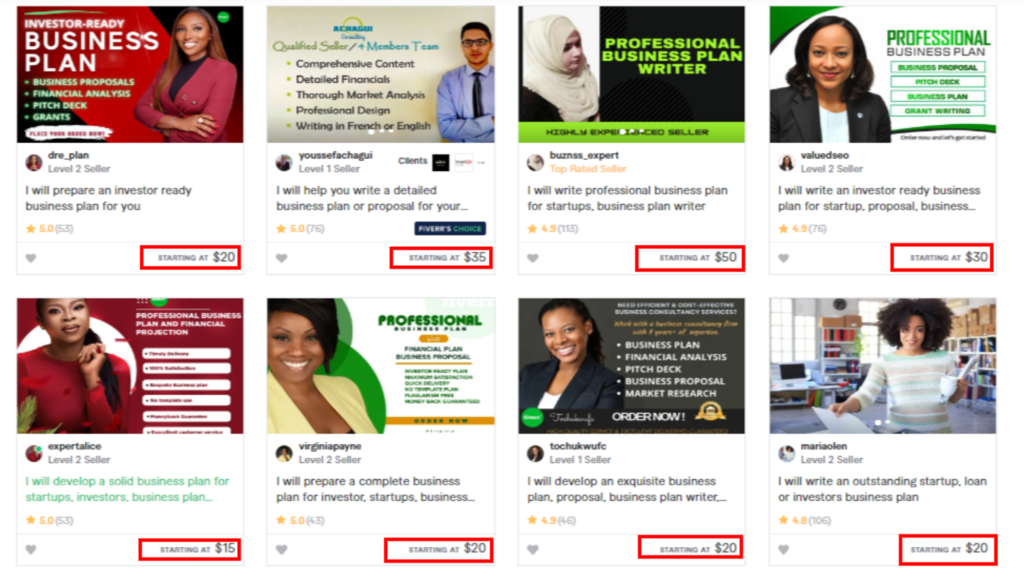 Quick  turn around
Many Fiverr business plan writers can quickly deliver you a ready business plan, or what they have promised in their gigs. You can get a business plan within three days only if you are in a hurry. 
Working directly with the Writer 
Fiverr works on the buyer-seller model. You as a buyer work directly with a Fiverr seller. You'll have direct access to your business plan writer. 
If you are vigilant and ask good questions, you can assess your Fiverr business plan writer's skill level and if they can produce quality for you.
Cons
Low Quality 
Fiverr has mostly very cheap business plan writers who will do it for less than $20. We know that the amount of work that goes into developing a business plan is worth a lot more than $20. A quality business plan for $20 is a 'too good to be true' offer. 
Mostly Templates Based Work 
Many Fiverr sellers who offer business plan writing services only use business plan templates. They will download a free business plan template from credible sites, fill the template with half-baked data that is remotely useful to your business idea and deliver you the business plan. 
If using a template was the way to do it, why not do it yourself with a business plan template instead of hiring a Fiverr writer?
You Don't Know if the Writer is Qualified 
Sellers' claims are not verified on Fiverr. They can say anything about them in their profile bio and Fiverr will let it be there. For example, you may be discussing your business plan writing project with an 'MBA' from India who doesn't even have a college degree. 
Fiverr has skill testing for sellers and only those skill test results are credible. 
Writers Don't Have High-End Research Resource 
It is hard to expect a Fiverr business plan writer to have an IBISWorld subscription for example. However, business consultancy firms that offer business plan writing services often have such high-end resources. 
You May Not Get What You See
There is an unethical practice in the freelance world called 'service dropshipping'. 
Service dropshipping means that a seller takes an order at a high price from you while giving you the impression that they will be doing the actual work. Then they hire someone cheaper to do the work, pay them less, deliver your project, and keep the margin. 
Such sellers add no value to the process and only do arbitrage to suck money. You never know who actually worked on your project. 
Why hire Wisebusinessplans instead of a freelance business plan writer?
Wisebusinessplans is a veteran in business planning and business consultancy with over 12 years under its belt. 
Wisebusinessplans offers business plan writing services as its core service. We have written business plans for many industries in over 400 niches. 
Our business plan writing team includes MBAs with industry experience. You can expect the best business plan for starting and growing your business plan that will be backed by real data and professional advice. 
You will be in direct contact with your business plan writer who will take notes from you and discuss the project with you to understand your business needs and your vision for the business.
This helps our MBA business plan writer to develop a business plan that can serve as a strategic roadmap for your business and secure investment and funding too. 
Check our full range of business consultancy services here. 
In comparison, all a  freelancer business plan writer from Fiverr can offer you low prices and a quick turnaround.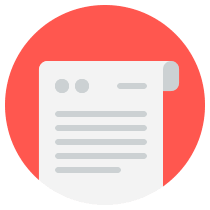 Give your Business a Solid Foundation. 
Hire our business plan writer and get a startup business plan that works as a growth path for your business and helps you measure progress over time. 
Tips for Hiring a Business Plan Writer on Fiverr
Interested in giving Fiverr a shot?  We have curated some tips to navigate Fiverr and find comparatively suitable talent for your business plan writing project.
Start with Fiverr Filters

Fiverr has useful search filters that you can use to narrow your research and find talent quickly. 
Once you type the skill or the talent in the Fiverr search bar, it shows you the gigs that it thinks matches your query. 
The menu for each search filter will be different for each query. We have outlined some ways to make use of these filters to search for a Fiverr business plan writer. 
Category

. Stay in your niche of work. Here, select 'Business Plans' in the category filter. 

Service Option

. You'll see sub filters for language, business type, plan format, plan purpose, and services included in the gig. Apply filters that match your needs.

Seller Details

. The sub filters include seller level, seller speaks (seller language), and seller country.

Budget

. There is a freelancer for literally every budget. Determine your budget for the project and set this filter accordingly.

Delivery Time

. Decide how soon you want it done. 

Pro Services

. You can toggle this button to only see the freelancers vetted by Fiverr. 

Local Sellers

. This toggle button filter results to show only the freelancers from your country. 

Online Sellers

. You can use this toggle filter to see the sellers online right now and talk to them. This filter is helpful if you are in a hurry. 
The default order of appearance is by relevance however you can sort by the 'Best Selling' or 'Newest Arrival' too.
Don't Go for the Seller Claims, Check Feedback
Sellers may say anything to get the buyers' attention. See if the feedback for their past work supports their claims. 
About feedback, start with 1-star reviews and move up. Don't start with all-praise reviews as they can be faked. Using this approach, you can see how freelancers falter when they falter. 
Use Buyer Requests to Quickly Get Proposals 
'Buyer Requests' is a useful feature where buyers post their project details and the interested sellers send proposals. Post a buyer request for your project in the morning and you will get many proposals by the day's end. 
Use Custom Gigs
Sometimes the ready-made gigs may not suit your needs. You can request a custom gig for your work. 
Tell the freelancer the scope of work and timeline, and request a quote. Explain the project in detail so that the freelancer knows what they are expected to do. That way, they can perform better.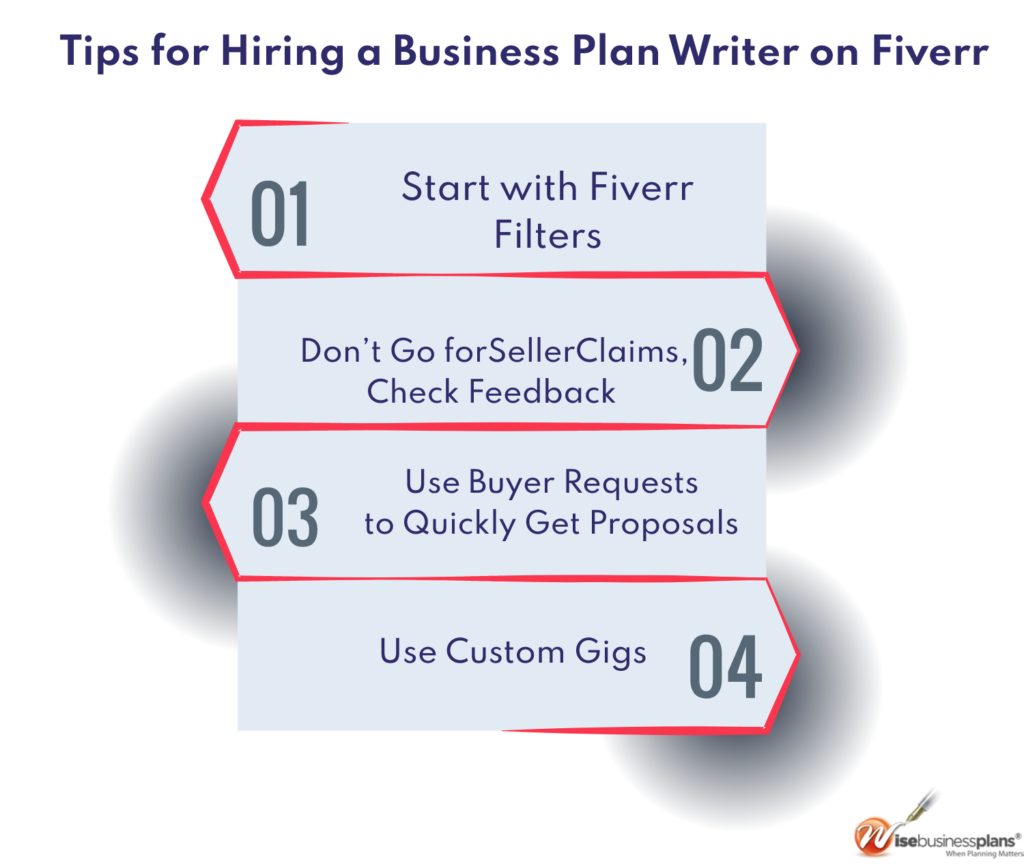 Top Talent for Business Plan Writing on Fiverr
If you are still interested in trying Fiverr out and you have some money to spare, we have curated for you a list of the top business plan writers from Fiverr. Take a look.
How we chose these Fiverr business plan writers?
All of the five Fiverr business plan writers featured here have these in common.
Pro Sellers
Vetted by Fiverr for their skills
Live and Work in the USA
Offer gigs with a complete business plan package
Have feedback
We have further vetted these sellers for their strengths and weaknesses to make the selection easier for you.
We have noticed that PRO business plan writers are in short supply on Fiverr.
| Business Plan Writers | Language | Offer Credit | Freelancer or Agency | Successful Reviews: | Avg Rating | Avg Cost | Avg Time |
| --- | --- | --- | --- | --- | --- | --- | --- |
| Mr. Lenny Criddle | English | No | Freelancer | 53 | 4.7/5 | $700 | 7-10 days |
| Maggie Curran | English | No | Freelancer | 33 | 5/5 | $700 | 14 Days |
| AnnShea | English | No | Freelancer | 3 | 5/5 | $4000 | 10 - 14 days |
| Yasser Mansi | English & Arabic | No | Freelancer | 26 | 4.9/5 | $1000 | 7-10 days |
| Leonardo Leo Plans | English & Spanish | No | Freelancer | 5 | 4/5 | $3000 | 5-10 days |
Mr. Lenny Criddle is a professional working in a business consultancy firm. He has an MBA from Notre Dame University. 
Customers have praised communication, on-time delivery, and quality of work. Two of the reviews rate this service low but it is evident that the buyers didn't provide the details necessary to make a business plan. 
It also appears that Mr. Criddle may be working as a duo with his wife or partner. A review mentions 'Lenny and Traci'.
Pros:
University education
Work experience in business consultancy
Reviews praising quality work with on-time delivery
Cons
Not a full-time business plan writer
Can't communicate outside Fiverr
Check Mr. Lenny Criddle's gig here. His business planning gig offers three packages.
Business plan with Market Analysis, $495

Business plan with a marketing plan, $725

Business plan with a financial forecast, $995
Maggie Curran is one of the few professional you seldom find on Fiverr. She is a real deal. 
Maggie has 33 reviews but all are high praises talking about her wealth of business and market knowledge, her polite communication, and always delivering more than the promised deliverables. 
Maggie charges on the higher side but looking at the reviews (more like fan comments), her service exceeds the fees.
Pros
Very experienced
Excellent communication
Knowledgeable in all business areas, many industries, and markets
Cons
High Prices
May not communicate outside Fiverr
AnnShea is relatively new on Fiverr with only 3 reviews. However, these 3 reviews are rated 5 stars. All of these reviews are not visible at the moment, heaven knows why.
If you have time on your hands, and you want to get your business done from a PRO Fiverr business plan writer like AnnShea, you can get it done for $1500 in the starter package of her gig.
Pros
Fiverr-vetted seller, you are getting what you see
Offers business plan with varying details
Yasser is a corporate lawyer and entrepreneur from the Middle East, recently relocated to the United States. 
Customers praise the work quality and timeliness of this seller. A few customers also praised his quick understanding and that they didn't need to tell a lot about their business. Only a few basic questions and Yasser was ready to create a business plan.
Pros:
Lawyer background
Relatively cheap among the Pro sellers
Cons
Communication can be improved
Leonardo is one of the most educated freelancers among our selection. He has an MBA from Babson Business School and a Masters in Industrial Engineering.
Pros:
Highly qualified freelancer
Suitable for manufacturing and industrial business plans
Cons
Insufficient work history to check how this freelancer works