Family business ideas 2023
By
Bilal
Last Updated on -
Family business ideas 2023
Discover family business ideas that don't require specialized skills or high education levels to succeed long-term. With low overhead costs, these ideas allow more family members to actively contribute. Create a detailed business plan to organize roles and involvement. Start your own business with the support of your family using these 23 ideas based on your experience and skills.
1. Media/Writing Freelance
You should start developing samples to show potential clients if you're a decent writer. As content creation drives online business, companies need a steady supply of fresh content that helps them stand out.
Each family member should target new skills in search engine optimization, website management, and related demand areas by taking free and low-cost online classes.
Your earnings will increase as you develop experience and a solid portfolio. You can also market yourself in a specific niche, such as grant writing, blog writing, or web content writing.
2. College Consulting Business
The college admissions process can be overwhelming for high school students (and their parents). Students and parents have to go through a lot of steps, including visiting schools, completing applications, writing essays, taking tests, and finding scholarships or loans.
You can start a family business within this field and focus on a niche for each member of your family that he/she enjoys. In other words, you don't have to do it all yourself, but your business can offer a variety of services, which can make you stand out from the competition.
You will have a lot of success in your college consulting business if you get referrals, but when you're just starting out, consider advertising around local schools and libraries.
3. Child/Seniors Care Centre
Consider opening your own in-home childcare business if you have experience with children. This is particularly suitable for parents with at least one child who stays at home.
The experience of navigating the elder care system for a parent or family member can also be helpful to those who are navigating it for the first time.
You can start a childcare or daycare business if you love kids. As the global population continues to age, elder care services are also in high demand. It can be an excellent way for your family to connect with your local community and support it.
By advertising to people you already know or through a caregiving website like Care.com, you can start this family business without needing a place to operate.
4. Home fix-it and Cleaning services
Cleaning is one of the easiest businesses to start, and the $76 billion industry has seen steady growth in recent years, so the opportunity is there.  
In these types of businesses, you offer only the tasks you enjoy and not the ones you don't. For example, some cleaning services do laundry, while others don't.
Cleaning is often a dirty business with demanding work, so it may not be for everyone. However, if you enjoy making things look great, this might be your niche.
If you have other family members involved, you may be able to offer more services and work faster. Therefore, you can take on more jobs than if you were operating alone. 
Need a website for your cleaning business? 
We are here for you. Our web design experts understand the needs of cleaning companies, how their websites should work, and what their audience wants. Get your cleaning business online.
5. Pet Sitting and Dog Daycare
As far as your transportation and space allow, you could provide extra services such as taking animals to the vet and grooming. You could also host a dog daycare or boarding service.
Keep it simple by offering to feed animals in people's homes while they're away on vacation. You get to decide what your business will be.
In a dog daycare, dogs can stay physically active and mentally stimulated. If you love dogs, starting a dog daycare business can be a fun and profitable venture. The US dog daycare industry is worth more than $4 billion a year. 
Promote your services in retirement communities, where residents may have mobility issues, and in urban areas with young professionals who tend to work long hours.
6. Grocery and Errands Service
When you are low on cash, one of the easiest ways to help those around you is by offering to run their errands for them. Most people who run an office job do not have the time to run errands, so if you are able to do it, they are willing to pay.
The likelihood that you'll have clients will depend on how organized and efficient you are, as well as whether you are willing to go out and about to get the job done.
When you're just starting out, sites like Fiverr and TaskRabbit can be helpful for advertising your services.
7. Bakery Start-up:
Start by perfecting a few recipes and designs, and offering them to your local community as a family business.
You can promote your business at local events and fairs, or team up with other small businesses in your neighborhood. Despite the anti-carb trend, the US baking industry has been growing for years and is now worth more than $12 billion.
You can open a bakery or start a home-based baking business and share your delicious culinary creations with the world while making a comfortable living. 
To open a bakery, you'll need all the right equipment and ingredients, as well as passing the necessary health checks and licensing. 
8. Event Organizer
There has never been a more fun and creative family business idea than event planning! Whether they are company picnics or school soccer banquets, event planning will increase your organizational skills to the max.
It is common for busy professionals to hire someone to handle the details they don't have time to think about.
From developing concepts to planning food and the aesthetic appearance of the occasion, event planning has jobs for all tastes. If you have a lot of members in your family, you can handle multiple events in one weekend.
9. Landscaping Business
If you love working in the yard and spending time outdoors, you might consider starting your own landscaping business. Boosted by the recent real estate boom, landscaping and lawncare have seen steady growth in recent years.
You could offer a wealth of services, from designing yards and gardens to tree planting, trimming, mowing, and more. You could focus on residential customers or businesses, or go for broke and aim for both!
After that, to attract clients you'll want to build a simple, appealing website and launch some strong marketing to get the word out. From there, you should start seeing business roll in as you enjoy the scent of freshly cut grass.
10. Rental Business
Besides renting out homes and apartments, you can also rent out bicycles, cars, equipment, and even event supplies (such as tents and chairs). Before you set up your own business, find out what your community needs.
It is common for family businesses to invest in real estate, as it provides a steady source of income. If you have some experience flipping homes and a few properties under your belt, you have no limits! You can even get your kids involved in managing rental units.
11. Farmers Market Vendors
Farmer's markets offer everything from home-grown products to handcrafted foodstuffs like jams. If you don't want to sell food, consider selling crafts.
The farmers market is also a helpful place for generating word-of-mouth marketing for a broader business, such as an e-commerce site.
There are a lot of opportunities to sell your goods at farmers' markets if you are crafty, have a garden, or enjoy canning or baking. Farmers' markets are booming because many people prefer to buy from local vendors.
It doesn't matter what you make. You can rent booth space at a farmers market and sell your products for a small fee.
ProTip: To start a market vendor business, you need a business plan. You can download a business plan pdf to write a business plan yourself.
12. Tutoring Business
If your family wants flexibility, tutoring is a great option. Additionally, tutoring can cover a wide range of topics, allowing different people to specialize in different subjects.
You will need to have the knowledge to be able to help students with their homework and test preparation, but you will also need patience and kindness.
For a small fee, you can mentor people who are interested in learning your skills. You can help them learn what you already know and make sure they're using it effectively.
Mentoring services can be offered in many different ways: one-on-one meetings, blogs, ebooks, podcasts, and even a website.
13. Photography
Having a family photography business is possible – and you don't have to be a shutterbug. A family member can take images, another can schedule appointments, another can edit images, and another can handle marketing and customer service. It can be a fun, family-run business.
As long as you're good at taking photos and dealing with people, starting a photography business could be a profitable side hustle.
Once you have great samples of your work, create a business Facebook page, Instagram account, and other social media pages to grow your customer base.
Pro Tip: You need a business plan to start a photography business. You can determine what elements make up a good plan by using a photography business plan template.
14. Gardening Business
You might be interested in starting a gardening or landscaping company if you enjoy spending time outdoors. Many people would like to have fresh vegetables in their gardens and green grass, but simply don't have the time to maintain them.
Firstly, the industry has grown significantly in recent years, primarily due to the real estate boom, and is expected to continue expanding. Secondly, every lawn needs attention sooner or later, which is why it is a $100 billion industry worldwide.
To keep clients, you need to stand out and provide high-quality service. As a result, you'll need to invest in the latest lawn-mowing and maintenance equipment, as well as marketing across social media, online platforms like TaskRabbit and your local community.
15. Food Truck Business
Owning a food truck is an exciting family business idea! Mobile cooking has become increasingly popular in recent years, allowing kids and teens to work alongside their parents.
A food truck is a lucrative money-making idea. Food trucks can bring in more than $500,000 a year, with startup costs of $40,000. Starting a food truck generally takes three to 12 months and requires the following nine steps: Research local food truck laws and regulations.
In addition to being a great small business idea, food trucks often don't require much startup capital and only require a few employees.
Related Resources: 
16. Online Business
Whether you code or design websites, play video games or post on social media for profit, you can make money online if your entire family has Internet skills! 
Using Fiverr, every family member can offer gigs with their photography, graphic design, freelance writing, and database research skills.
It is also possible for you to open an online store as a family business. If you are looking for products based on your interests, you may have to spend a bit of money at first.
Online businesses allow you to cut some of the huge costs associated with offline businesses. It is possible to eliminate things like expensive office or retail space and long-term lease commitments, as well as the need to stock inventory with your money.
17. Laundry Business
With clothes that need cleaning and people who don't want to deal with them, laundry is a billion-dollar industry in the US. You can get in on the action by opening a family-run laundry business.
In the US, the average laundromat has annual revenues of $300,000. Statistics show that owning a laundromat is also a very safe investment.
In addition to buying a dozen machines and renting a space in a high-traffic area, you will need to determine whether you want to be a self-service laundry or offer drop-off service.
It is also possible to invest even more and offer high-end cleaning. Whatever route you choose, your success rate is high, as US laundromats have an impressive 95% success rate.
Pro Tip: An effective laundry business plan is essential for success. The following laundry business plan template is a great resource for inspiration.
18. Catering Service Events
As the pandemic recedes and more and more people plan major events, such as weddings and corporate meetings, now is a great time to start a catering business. Catch up some fresh Catering Business Ideas.
A menu is obviously the first step, so make sure you have a selection of appetizers, second courses, soups and salads, entrees, and desserts. Don't forget to cater to people's dietary concerns – including low-fat, gluten-free, vegetarian, and vegan choices. 
Having a family-themed cafe or restaurant creates a lovely, comfortable atmosphere that attracts customers from near and far.
Lastly, you must secure all necessary licenses and permits, as food businesses are strictly regulated. Today's top event planners often use apps to book the most qualified caterers. 
Pro Tip: A business plan is necessary for a successful catering business, download free catering business plan template to write a plan yourself.
19. Jewelry Making
It is true that the fine jewelry market is very lucrative, with costs per piece far higher than those of costume/fashion alternatives. Fine jewelry also entails a considerable amount of start-up work.
As a bonus, you and your family can design and create different, or the same, types of jewelry to satisfy the fashion preferences of many customers.
A family member can focus on online sales through their own website or on popular marketplaces such as Etsy and eBay.
Your income can range from $10,000 to $250,000 per year, depending on how many pieces you produce, how desirable they are, and how aggressively you market them
20. Selling Crafts Business
Selling handmade crafts could be a great business opportunity for a family that is hardworking, creative, and artistic. 
You can sell bracelets, shirts, hats, gift baskets, home decor items, or anything else that catches your attention and allows you to express yourself.
This is a lucrative time to start your own craft business, provide people with wonderful products, and ride the wave of prosperity to success. 
Crafts are one of the most effective ways to turn small businesses into big ones. You can create a niche website or sell products online on platforms like Shopify, Etsy, eBay, WooCommerce, and many more.  
21. Family Blogging
Come up with interesting ideas to promote yourself as a family if your family is the creative writing type. You can gain sponsor deals and take your business to the next level by boosting your traffic and attracting readers from all over the world.
You can do this with affiliate marketing tools or by activating a paywall on Medium, for example.
Create a family travel blog, a cooking blog, an adventure blog, an advice blog, or any other type of writing that would let you express yourself. This will help you to make this family business idea a success. There are endless opportunities for blogs, books, signing tours, TED talks, and more..
22. Dry Cleaning
When it comes to dry cleaning your clothes, there are no hard and fast rules. Some have their formal suits dry-cleaned after the third wear, while others have it done after five or six.
Nevertheless, one thing is certain – as the economy improves and more gatherings are held, the $8 billion dry-cleaning industry will rebound quickly. If you want to succeed, start your dry-cleaning business now. 
Alterations and dry cleaning services, as well as special services for furs, leathers, and suedes, could be provided. Following compliance with all legal and regulatory requirements, you should launch a marketing campaign.
23. Home Decor Business
Starting a home decor business might be the right career choice for you if you have a creative mind. In 2024, the home decor industry in the US will generate over $200 billion in revenue. 
In order to reduce startup and overhead expenses, you might consider operating your business from home and selling your products on online marketplaces.
To make your product stand out in a crowded market, you must keep up with the latest trends and be innovative in promoting it. You must register your business and follow other legal requirements.
It is possible to have a very rewarding home decor business with a creative marketing strategy and diligent work.
What are the Advantages of Starting a Family Business?
In the US, 60% of the workforce is employed by family-owned businesses and more than half (57%) of the total GDP is contributed by these businesses. 
In addition to offering many benefits, this business model is a great opportunity to explore the business world with your family members and turn an idea into profits.
Set your own schedule and be your own boss. Create your own team and environment. Manage your business and personal life.
Don't just build wealth, build a foundation for future generations. A goal to strive for. A place to teach young people skills and values.
The family business allows generations to share their experiences, knowledge, and values, as well as work as a team.
Help your community thrive economically by connecting with local businesses, creating jobs, and bringing people together from all walks of life.
Run your family business successfully and learn as much as you can. Use time management, communication, leadership, planning (long-term, short-term goals, execution), and more skills to maximize existing and new business opportunities.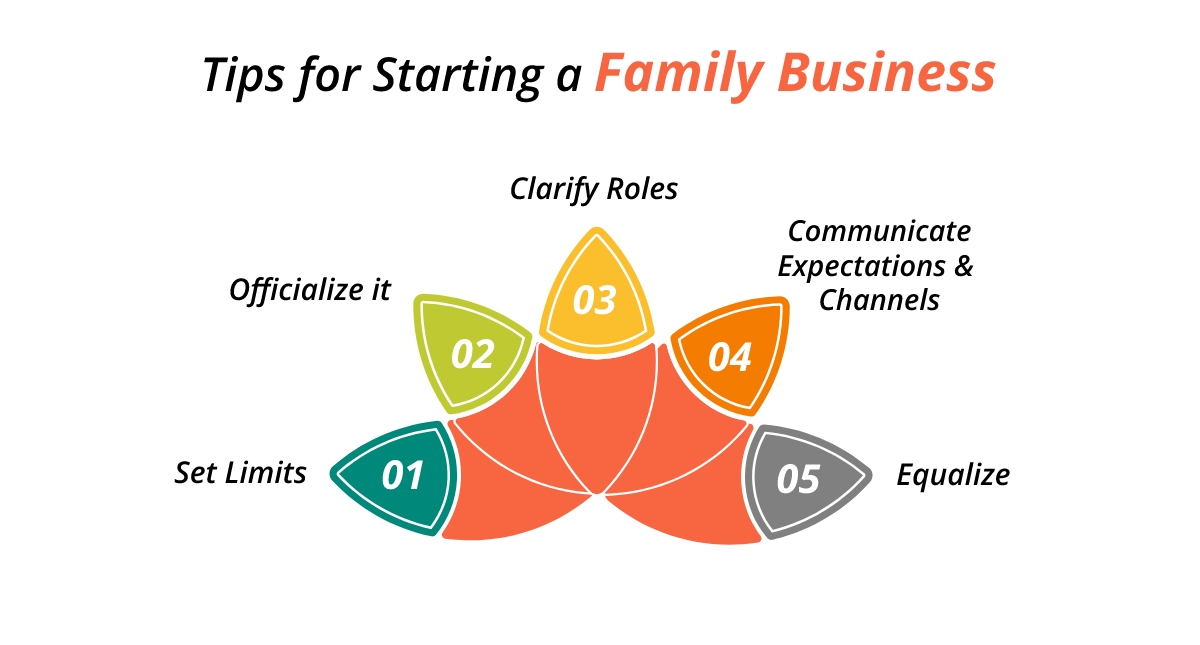 ProTip: The first step in starting a family business is to create a business plan. You can download a sample business plan pdf for inspiration.
Final Thoughts
Many people say not to start a business with family members for fear of disagreements and falling-outs, but you'd also miss the joy and benefits of working together. Small businesses would have fewer problems if they avoided hiring family members.
Start a family-run business if you want to provide financial stability for your family. With shared values, unified leadership, and a commitment to long-term success, you'll be able to find a startup that's rooted in the future. Family businesses can also be fun — if you pick the right model.
First, decide which family business idea works for your particular family. Once you've selected one and are ready to launch your business, you need to figure out how to fund it
Family Business Ideas 2023 : FAQs
Q. What are some profitable family business ideas for 2023?
A. In 2023, there are several lucrative family business ideas to consider, such as starting a home-based bakery, offering personalized online tutoring services, or launching a family-owned e-commerce store.
Q. How can I involve my family in a business venture in 2023?
A. Involving your family in a business venture in 2023 can be achieved by exploring collaborative ideas like opening a family-run restaurant, starting a craft brewery, or creating a family-owned landscaping company.
Q. Are there any low-cost family business ideas for 2023?
A. Absolutely! In 2023, you can embark on low-cost family business ideas such as launching a YouTube channel focused on family-friendly content, providing pet-sitting services in your neighborhood, or starting a small-scale organic farming operation.
Q. What are some home-based family business ideas for 2023?
A. For families looking to operate a business from home in 2023, consider ideas like establishing an online boutique selling handmade goods, offering virtual fitness training sessions, or providing virtual assistant services to businesses.