21 Leading 3D Printing Business Ideas (2023)
By
Bilal
Last Updated on -
Looking to start a 3D printing business in 2023?
Approximately 12.6 billion U.S. dollars were spent on 3D printing products and services worldwide in 2020.
Over the next 3 years, the industry is expected to grow at a compound annual growth rate of about 17 percent.
Thus, starting a 3D printing business might be a good idea.
Here are 25 ideas you can use to start a 3D printing business in 2023.
What Is 3D Printing?
Three-dimensional objects can be created using computer-aided design (CAD). The process of additive manufacturing involves layering plastic, powder, metal, or resin until it has been completely formed.  
3D printing technology produces finished products faster than traditional manufacturing processes. Advertising agencies also use it to visualize and test concepts before they are put live. 
In 2021, 2.2 million 3D printers were shipped worldwide, and by 2030, 21.5 million will be shipped.
1. 3D Metal Printing
The additive manufacturing process uses only the intended amount of metal powder, In contrast, milling and machining remove parts of the material to produce the final product.  
Because of its flexibility, 3D Printing is popular among businesses for printing signage for buildings, offices, and more.
In general, metal 3d printing costs range from $15 per piece to $800 for larger models, based on factors such as the size, complexity, and finishing of the 3D model in this case, metal.
2. 3D Printing Promotional Products
To market their brand, companies need specialized, customized products, so 3D printing services are in high demand. Finding a local 3D printing service that could help speed up the process would be beneficial.
If you are considering starting a home business, 3D-printed promotional products would be a great choice. Companies are always looking for interesting products to put their logo on.
The amount you can earn per month is between $275,000 and $400,000.
3. Invest in 3D-printed Art
We have witnessed a revolution in art with the development of 3D printing technology. This technology has the ability to deliver more creative art pieces with complex geometries and a higher level of detail. It has never been easier.
There are various online art galleries where you can sell your 3D prints if you are an artist or if you have an entrepreneurial spirit.
It's possible to earn $50,000 per month if you work hard enough.
4. Customized Glass Frames
Glass manufacturers are adopting layer-by-layer printing technology to deliver unique products and beat the competition by bringing more innovation to their products.
With printing technology, glass companies can create highly complex structures and designs that were previously unimaginable. If you are looking for a profitable business opportunity, consider a customized glass frame business.
The amount of money you can earn on a monthly basis ranges from $20,000 to $500,000
5. Make Customized Earbuds
Customized earbuds perform better, but custom manufacturing is expensive, and collecting consumer data can be challenging.
It is possible to customize audiology products such as earbuds with high-quality 3D printers and advanced scanning technology because 3D printing is changing manufacturing processes and delivering enhanced customer satisfaction.
Starting a 3D earbud production business can be a lucrative business idea if you enjoy designing and developing audiology applications.
If you can earn $500,000 per month, that is how much you can make.
6. 3D printing for Product Design
The advent of 3D printing has provided designers and engineers with an alternative way to showcase their capabilities. Designers and engineers use transformative technology to create digitally engineered molds for patients. 
Through 3D printing technology, manufacturers can produce cost-effective short production runs to test the market or to offer customized product versions.
3D printing in design applies during product conception to allow designers to compare, test, and understand structural and visual qualities. 
At the prototyping stage, designers use 3D printing to create functional prototypes faster compared to when using traditional prototyping.
7. Provide Corporate 3D Printing
Interested in starting your own 3D printer business? 3D printers help businesses design and prototype products. They also help develop marketing materials, improve existing products, and make detailed models.
Manufacturers who need to create 3D prototypes of new products before starting production will be your target customers, although some will have their own 3D printers for this purpose.
A 3D printing business that focuses on corporate services is also an excellent way to start your entrepreneurial career.
It is possible for you to make a salary of $275,000 per month if you work hard enough3
8. Sell 3D printers
In the next decade, the global 3D printing service market will exceed $5 billion. Manufacturers can utilize 3D printing for flexible designs, rapid prototyping, and more.
If you're looking for 3D printing business ideas, you might want to consider selling 3D printers.

You can start by finding 3D printer manufacturers and applying to their distributorship programs. Also, you can set up a website for selling printers and accessories for 3D printers.
If you can make $330,000 a month, you'll be very happy.
9. 3D Modeling Business
You can start a 3D modeling business in 2023 if you have experience in 3D modeling and are looking for a profitable business idea. You should first identify a niche, then identify potential customers within that niche.
The 3D printable model can be created using a CAD program, a 3D scanner, or a plain digital camera and photogrammetry software. CAD models result in fewer errors and can be corrected before printing, allowing them to be verified before printing.
It is possible for you to make a monthly income of $10,000 if you work hard enough
10. Customize Existing Items
Design professionals use 3D printing to improve existing items. Businesses can create lasting impressions among their target audience with 3D-printed products.
3D printing, for example, makes it possible to achieve custom shapes and material strengths that match individual patients in orthopedics. Orthoses and prostheses require customized adaptations.
If you have experience with 3D printing, you can help manufacturers and designers customize products.
How Much Can You Make? $100,000/month
11. Invest in 3D Robotics
Engineering can also use 3D printing to design and prototype robotics projects in the same way manufacturing do. Approximately 4.9 billion 3D printing robots will be sold in the next few years, growing at 15% CAGR.
Engineering companies use 3D printing to develop customized robotic solutions for clients in manufacturing, construction, healthcare, automotive, aerospace, and defense.
There is a lot of potential in 3D printing business ideas because of the growth in robotics. You may consider developing robotic solutions using 3D printing technology if you have some background in robotics engineering.
12. Start a customized Collectibles Business
Many people still collect art pieces and images of celebrities, athletes, artists, etc., even though some trends tend to fall out of style quickly.
Using 3D printing, you can start a collectibles business and focus on any niche. 3D printing provides the benefit of producing lighter, easier-to-transport collectibles, so businesses can reach global customers without worrying about transportation costs.
The average amount you can make per month is $10,000.
13. Jewelry and Ornament Designing
3D printing is becoming more popular among jewelry designers, from ring and bracelet designers to earring designers. Between 2020 and 2024, the market for 3D jewelry is expected to grow by $1.95 billion, with a compound annual growth rate (CAGR) of 21%.
Metals, nylons, and other materials specific to jewelry making are better suited to 3D jewelry printers that enable casting. 3D jewelry and ornament printing may be a feasible option for those in the jewelry industry or interested in venturing into the industry.
Jewelers can conceptualize and prototype rings, necklaces, and other jewelry products using 3D printing. The technology has enabled the production of jewelry faster and helped to deliver personalized designs while customers wait.
The amount of money you can make per month is $83,000.
14. Create a 3D selfie studio
Historically, 3D printing has been used to build, repair, and engineer structures, but now it is finding its way into personal space. Today, we see graphic designers and artists using 3D printers to create 3D portraits.
3D selfie studios provide more elaborate scanning and printing processes. Plastics and other materials can be used to create 3D selfie images.
You'll need a full-body 3D scanner, 3D digital retouching software, and a full-color 3D printer to start a 3D selfie printing business.
You can earn as much as $625,000 a month if you know how to market yourself.

15. Work as a 3D Fashion Designer
In fashion design, 3D is the process of creating a 3D prototype based on a 2D pattern. 3D digital design allows brands to design and sample clothing more quickly and with less waste with the aid of 3D technology. Designers can now construct a 3D garment directly on a digital avatar (model) of their size.
Fashion companies and designers are applying 3D printing technology to reduce their impact on the 3D Printing Market Report Scope
In the US, 3D fashion designer salaries range from $19,140 to $114,171, with a median salary of $46,904.
ProTip: It's necessary to have a business plan if you want to start a 3D fashion design business. To help you write your own plan, download our free business plan sample pdf.
16. Toys for Children
Toys keep children occupied and entertained. If you are looking to start a 3D printing business, another area you can specialize in is making children's toys and selling them.
There is a huge global market for children's toys and they are always in demand. Therefore, the profit potential is virtually limitless.
The fact that procreation is not prohibited means that demand for these toys will increase all year round. This is especially true if you think like a kid and design adorable toys that will capture the attention of young children all year round.
The Medical Industry and 3D Printing
Most of the top 50 medical device companies use 3D printing to create accurate prototypes of medical devices. They also use jigs, fixtures, and direct 3D printing of medical devices.
17. Manufacturing of Pills
Despite the fact that most 3D printers work with materials like plastic and aluminum, there are also numerous other materials that can be printed with.
The FDA approved the first 3D-printed pill in 2015. Several materials are being used to create more effective medications that dissolve quickly and are easier to ingest. If you already have a medical background but are looking for a creative business venture, this may be a perfect choice.
18. Medical Implants
Additive manufacturing has enabled doctors to perform successful implants using 3D printing in healthcare.
Patients now have new hope through additive manufacturing (3D printing) thanks to knee implants like Conformis.
Especially if you are in the medical field, you may want to consider starting your own 3D printing business if you are interested.
It is estimated that if you work hard enough you will be able to earn $258,333 per month if you work hard enough
19. 3D Printed Prosthetics
In the United States, there are approximately 2 million people with limb loss.
In the medical industry, 3D printing makes an incredible difference and saves millions of lives. Today, patients can request 3D-enabled knee replacements and prosthetic arms. 3D printing technology can also improve the lives of those who rely on prosthetic limbs.
A typical prosthetic costs between $1,500 and $8,000. A 3D prosthetic can cost as little as $50. Since over 2 million people are at risk of limb loss, it is a smart business idea to start 3D prosthetic printing.
The amount of money you can earn per month is $258,333
20. BIO-PRINTING
A lot of changes have occurred in the bioprinting industry in the last few years, and now additive manufacturing is being explored for services beyond rapid prototyping. 
In addition to tissue repair and reconstruction, 3D printing is being explored for kidney transplants, prosthetic limbs, and even heart transplants. 
Using bioprinting, living tissue, bone, blood vessels, and, potentially, whole organs can be created for medical procedures, training, and testing.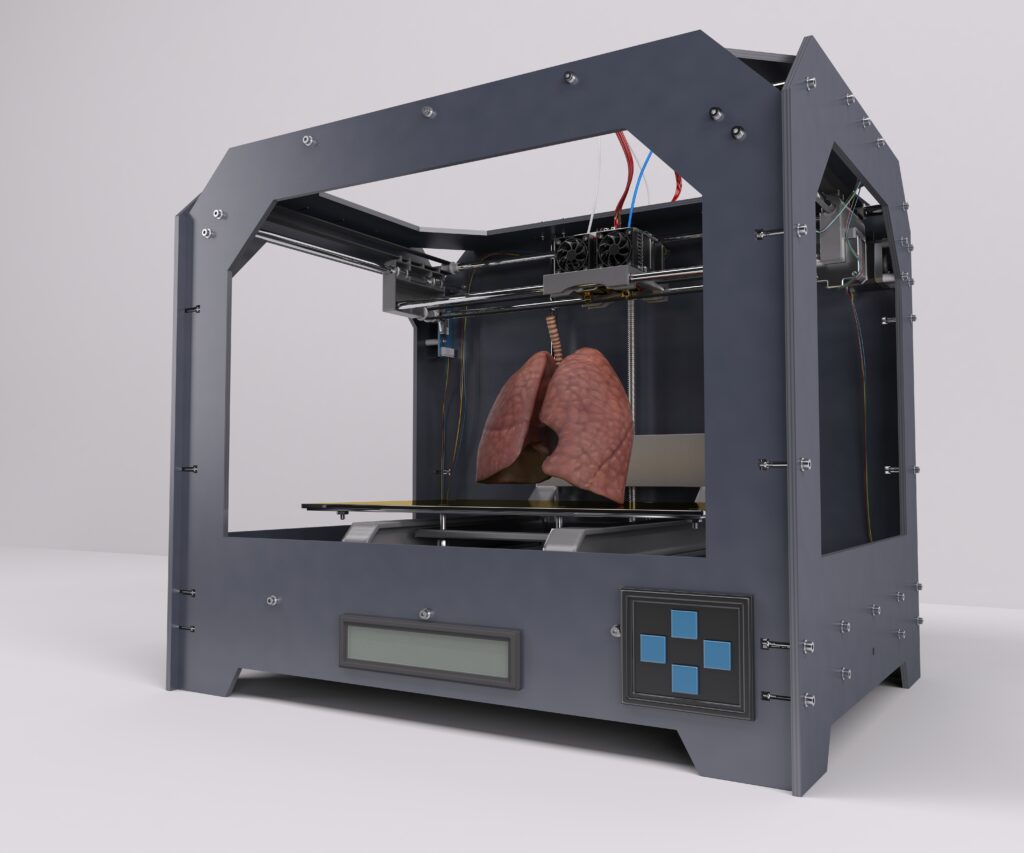 21. Cool 3D Objects
It's fun to make art with 3D printing, and it's catching on. People are now using additive manufacturing to create items that were previously unattainable. 
Here are some ideas that you can copy as you jumpstart your additive manufacturing business venture if you are a small business owner convinced to try 3D printing.
These are already available products on the market, but imagine how 3D printing businesses can take them with the newest technologies.     
3D printing technology allows you to create not only original patterns and prints but also one-of-a-kind shapes for your dinnerware. 
Create stylish vases and plant holders as people spend more time in their homes. Make custom gardening tools at the same time
You can design and 3D print shaker cups tailored to a niche market.
You can design and 3D print shaker cups for fitness buffs. Make your business stand out by giving clients the option of adding their names or favorite fitness quotes
ProTip: To figure out the startup costs for a 3D printing business, you need a business plan. You can download business plan examples pdf to help you write yours.
Transform Your 3D Printing Business Vision: Customized Business Plans and Resources for Innovative Entrepreneurs"
Launching a 3D printing business on a limited budget necessitates a comprehensive business plan to ensure success.
Our 3D printing business plan writing services provides tailored plans to suit your needs, while our website offers invaluable free resources, such as sample business plans and business plan templates.
By investing in a well-crafted business plan, you can boost your chances of success and achieve your entrepreneurial goals in the 3D printing industry.