How to Start a Food Truck Business
If you're wondering how to start a food truck business of your own, this guide on starting a food truck business is best for you.
The Food Trucks industry has seen significant growth over the five years and is one of the best-performing segments in the broader food service sector.
However, the economic fallout from the pandemic outbreak has caused the industry to see sharp revenue losses in 2020. Despite this, revenue from the industry was projected to grow 4.7% in 2021 as the economy recovers. Over the five years to 2021, food truck industry revenue has increased by 6.6% annually to $1.2 billion.
In the next five years, food truck industry revenue is expected to grow 1.6% annually to $1.3 billion.
[1] "Food Trucks in the US," 2022, IBISWorld

Its remarkable growth is the result of changing consumer preferences toward unique, gourmet cuisine at lower prices than a sit-down restaurant.
Food trucks are a popular choice among entrepreneurs because purchasing a restaurant location is incredibly costly, whereas food trucks are significantly less costly.
A successful food truck can bring in more than $500,000 per year with a startup cost around $40,000.
If you've been dreaming of starting a food truck business, we've got the steps you need to get your business off the ground.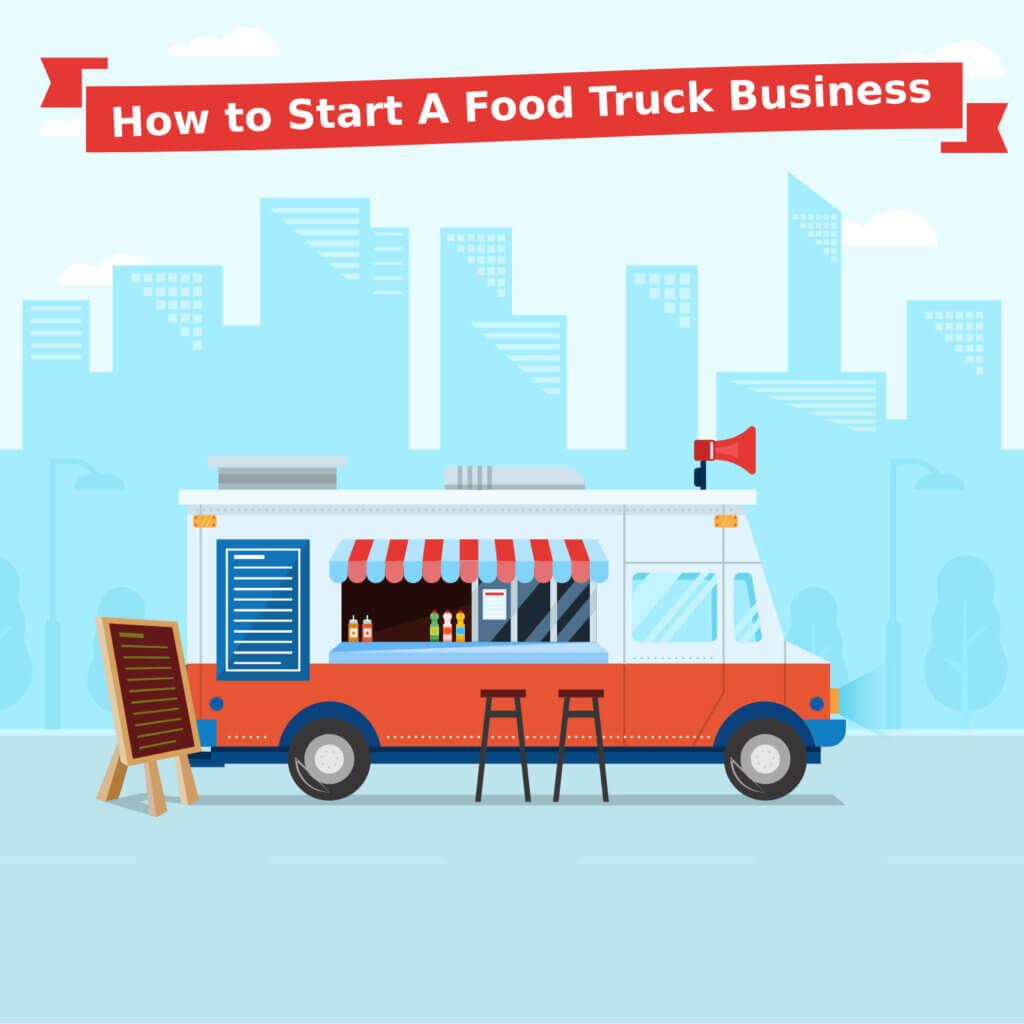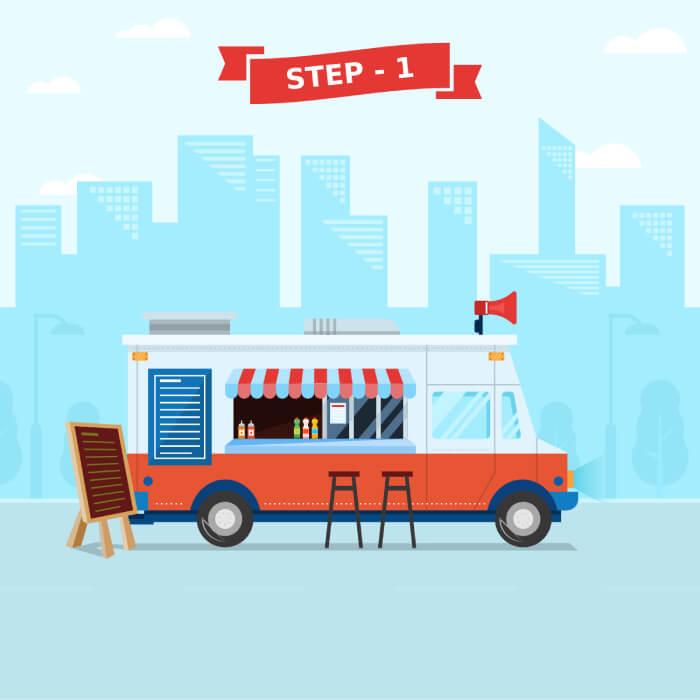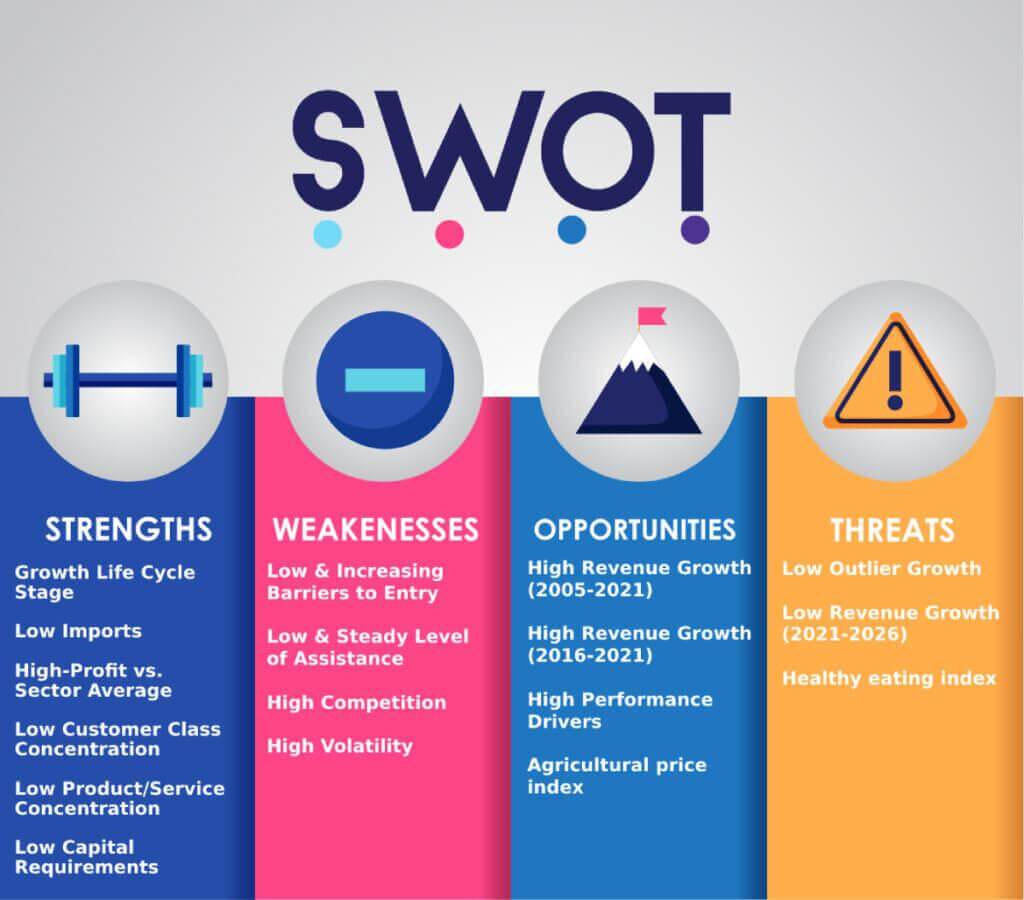 1. Research Your Food Truck Scene
If you are considering opening a food truck, make sure your idea will stand out against the existing ones. Get to know your target market to figure out what it likes (and dislikes) and how to reach it.
Finally, Create a SWOT analysis of your food truck to see where the opportunities are.
Research your city for the following:
Food truck businesses and concepts that already exist
Existing concepts of restaurants
A look at the demographics of the population
A place where food trucks can stop and sell their products
Busy street times when commuters could become customers
Make sure that there is a need for the food truck concept you will be presenting in your city.
An example of population demographics
According to Ibis-world, the 25-34 age group spends the most on food trucks each month.
Due to their limited time, many of these young adults rely on food trucks for affordable, unique lunch options.
Also, a growing number of older consumers between 35 and 44 prefer food trucks for quick and convenient meals.
Therefore, Ibis-world expects 25 to 44-year-old to represent 36.7% of the food truck market in 2021.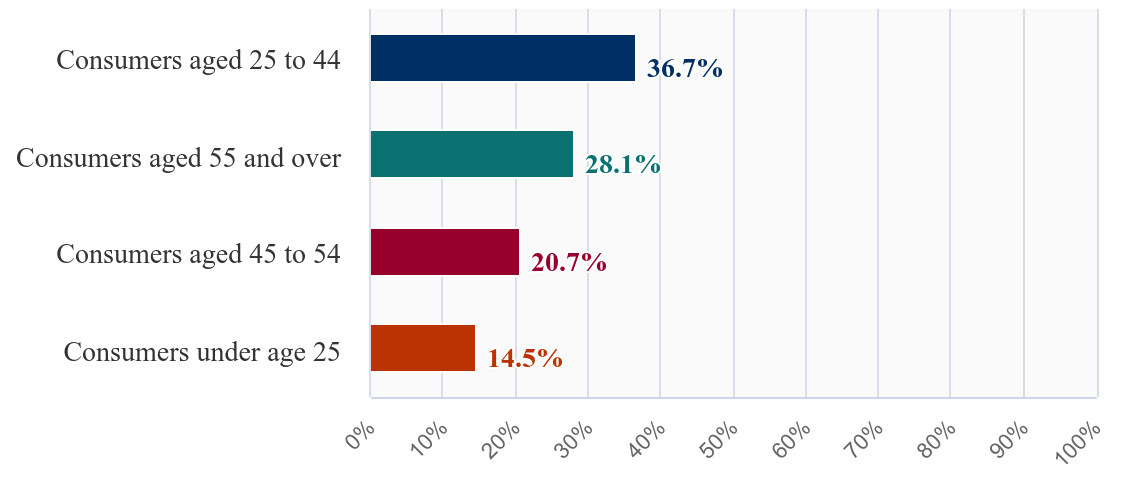 2. Pick a Food Truck Concept
Your Food truck should serve the needs of the local population, but you should also share your interests and passions through your business.
You should choose a food truck concept that blends your unique style with the needs of the community.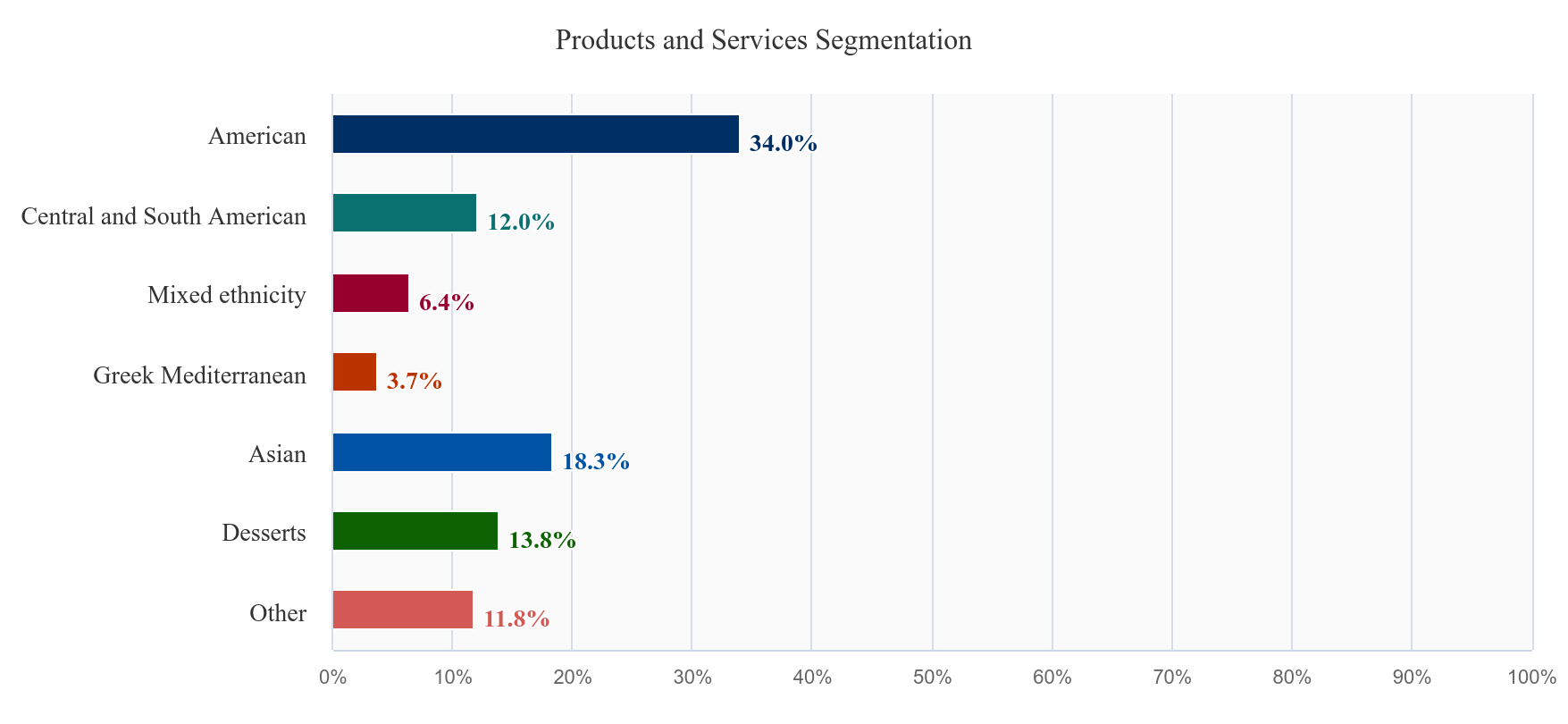 You have endless options when it comes to opening a food truck business. The cuisine you can serve includes:
Investing in the right food truck type starts with market research. Having grilled cheese food trucks in your area but no pizza trucks may influence your decision.
Choose a food truck that has less competition, is affordable, and suits your tastes.
Cooking Style: Pick a food concept that is different from others in your area; you don't want to be the third Pizza truck in a small town.
Prices: If most of the food trucks in your area sell food between $5 and $8, then you may not want to stray too far from that price point. Alternatively, if your town has a lot of expensive, gourmet-style trucks, you can run wild with your imagination.
Serving hours: Breakfast or lunch hours could be busy for trucks in your town if several people commute for work. A breakfast or lunch concept makes sense in that case.
Make note of the service style, size of the menu, and parking situation of local trucks.
Look at the social media accounts of local trucking companies to see how they attract customers.
Talk to truck owners about their biggest challenges. They will probably be eager to share their knowledge with future food truckers.
Most food truck communities are best known for the camaraderie and support offered by other truck operators.
After that, you can choose a name and logo that express your business' essence. Your name, logo, and concept should convey the following:
Uniqueness and memorableness
Descriptive and attention-grabbing
Having a clear intention without being too specific can allow you to grow
It takes a visually appealing logo and a well-designed concept to get customers to shop at your truck.
Recommended: Explore how Logo Designer at Wise Business Plans can create strong brand identities, manage effective branding collateral, and tell your brand's story with consistent branding.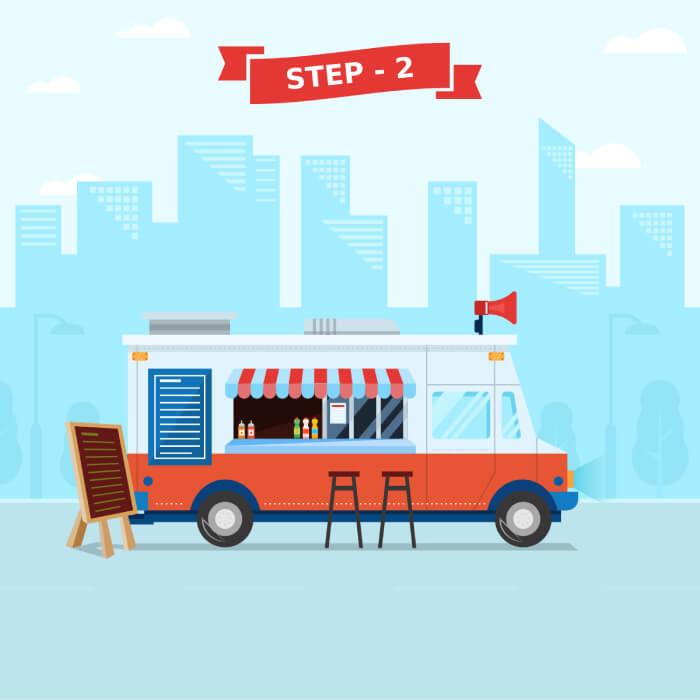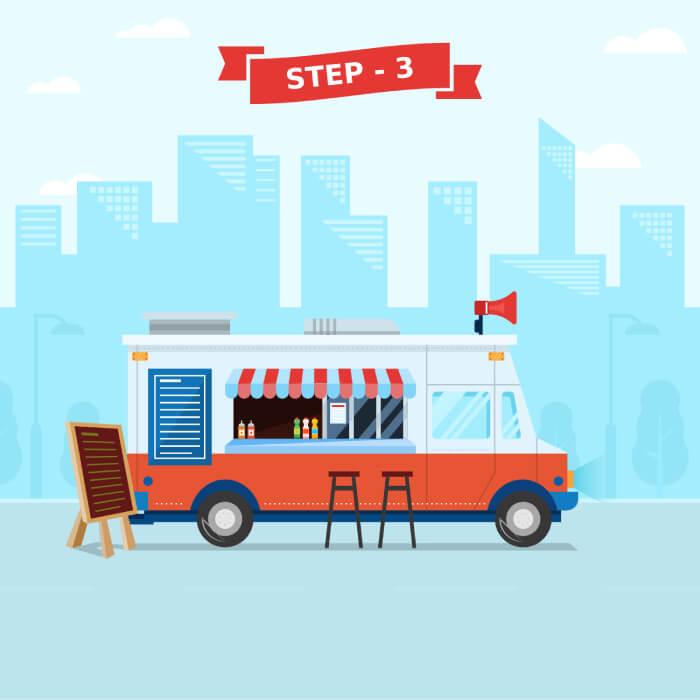 3. Plan Your Food Truck Startup Costs
A food truck business can cost anywhere between $28,000 and $114,000 to get off the ground, depending on your specific circumstances.
But obviously, it depends, but let's take a look at some of the factors that determine startup and operating costs.
We'll break them down and relate them back to the all-important question: How much does it cost to start a food truck?
The food truck itself will be your main expense
Most used trucks cost around $50000, and you can start using them almost immediately. However, a new food truck can have a lot higher price, especially if it has all the amenities.
There are also one-time costs and location-dependent costs.
One-time costs include
A register or point-of-sale (POS) system
Any legal, or consulting fees

Technology for operating your truck.

Advertising, marketing, and more.
Recurring costs include
Payroll
Rental equipment 
Credit card processing
Fuel
Proper licenses and permits Fees depending on location.
There are a few additional costs you can expect when starting a food truck business, including:
$2,000 to $4,000 in insurance per year

Initial costs of food and inventory: $1,000 to $2,000
Payment processing: $200 to $1,000
Commissary fees: $400 to $1,200
Permits and licenses: $100 to $2000
Keeping this in mind, you can also explore your different financing options – including bank loans and company credit cards – in order to cover some of the startup costs.
4. Get Funding for Your Food Truck
To get your business off the ground, you are likely to need a loan because of the costs involved.
Getting funding for a food truck business can be a major challenge. A business plan is your first step toward requesting funding for your truck.
The better your personal and business credit, the greater your chances of getting a business loan. There are many ways you can get funding and startup capital including
Equipment financing: Best for getting your food truck business started and purchasing the necessary equipment
Business lines of credit: Especially good for flexible food truck financing, including working capital
SBA Microloans: Most affordable and best for smaller funding amounts
Opening a business credit card: For funding day-to-day food truck purchases and supplementing other loans
Crowdfunding campaigns: Specifically designed to serve the financing needs of food truck owners with ties to the local community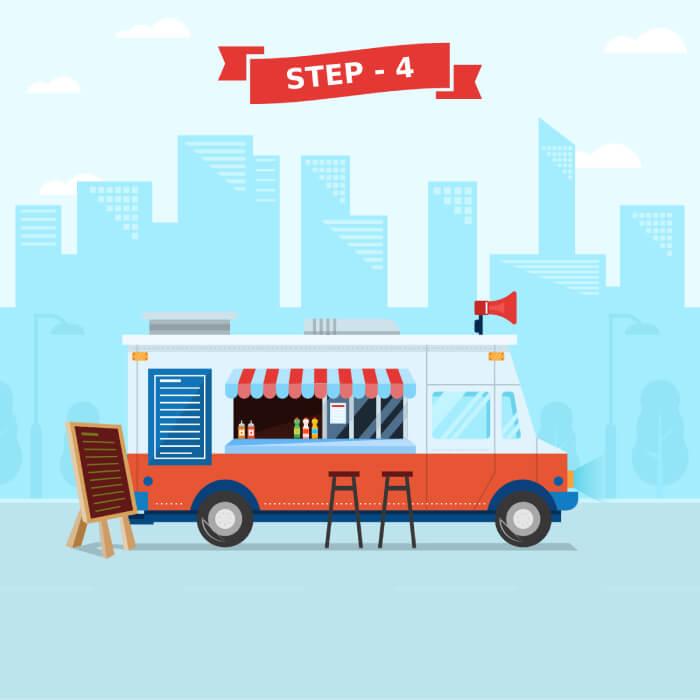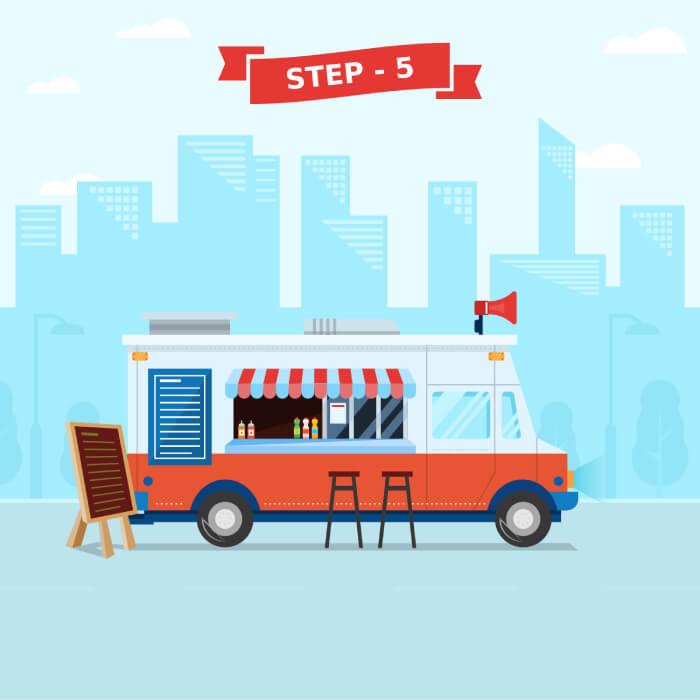 5. Write a Food Truck Business Plan
If you want your food truck to succeed, you need a well-written business plan. Your business plan helps investors and lenders see the potential of your food truck.
It gives you a better idea of when your food truck will become profitable and what funds you need to run it until that time.
Your food truck business plan serves as a foundation for how you envision your business to begin, run, and grow.
An Executive Summary: Explain the food truck industry in your region, your business vision, your concept, your theme, and other sectors and markets that could directly affect your business. It should not be longer than a page.
Describe your company: In this section, explain why you would like to start a food truck business and how your business is different from the competition.
Market Analysis: Here you will describe who your target customers are, what their needs are, where they are located and how your food truck will attract them.
Organization and management: Your next step should be to describe how your food truck business is structured as a legal entity (e.g., sole proprietorship, LLC, partnership). Create a business organizational chart that shows employee ranks clearly.
Product Line: Food trucks serve food as their main product. Explain the menu and what you plan to offer potential customers. Also, be aware of how your business will evolve and respond to market changes.
Marketing and Sales Strategies: Describe how you will market your food truck business and the marketing tactics you will employ to spread the word about it.
Funding request: This section is mandatory for entrepreneurs seeking outside funding. Indicate where you will obtain funding for your food truck and how much you will need in order to start up your business.
A Financial Projections: Here you will show investors how you plan to grow your food truck business over the next five years.
Appendix: Finally, in this section, you can include any additional information not included in the plan, such as photos, logos, and blueprints.
6. Consider a POS system as a smart investment
Invest in a secure payment system that is both fast and reliable to ensure seamless transactions.
In order to maximize sales during rush hours, you need your payments processor to accept customer payments quickly.
A recent study shows that 80% of consumers made contactless payments in the past year, and 70% of millennials used smartphone payments.
Many food trucks choose a cash-only business model in part to not depend on internet access; however, customers are less likely to carry cash, which can limit your clientele.
The simplest way to accept card and digital payments is to use a mobile, cloud-based POS system.
A Toast POS system is ideal for food truck environments because it allows mobile ordering and payment. By doing so, your customers can order and pay over the phone, giving you more time to prepare orders.
Forget about pens, paper, and receipts.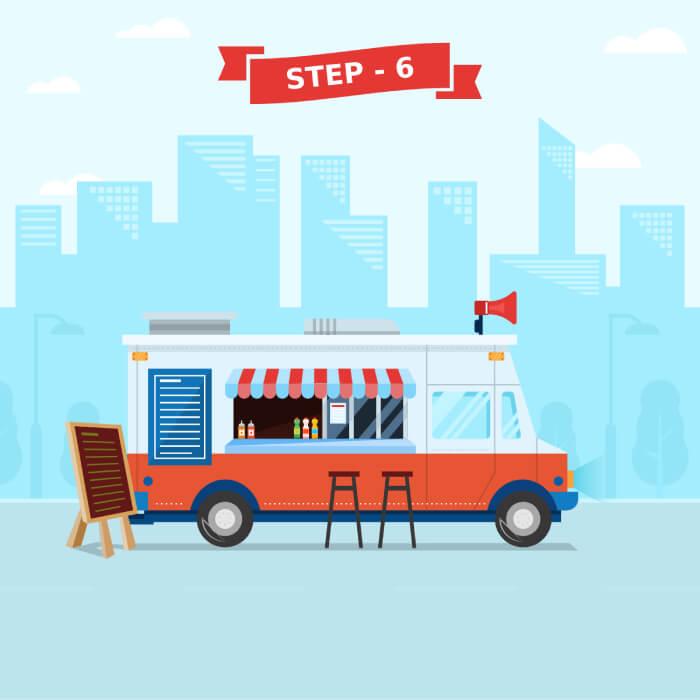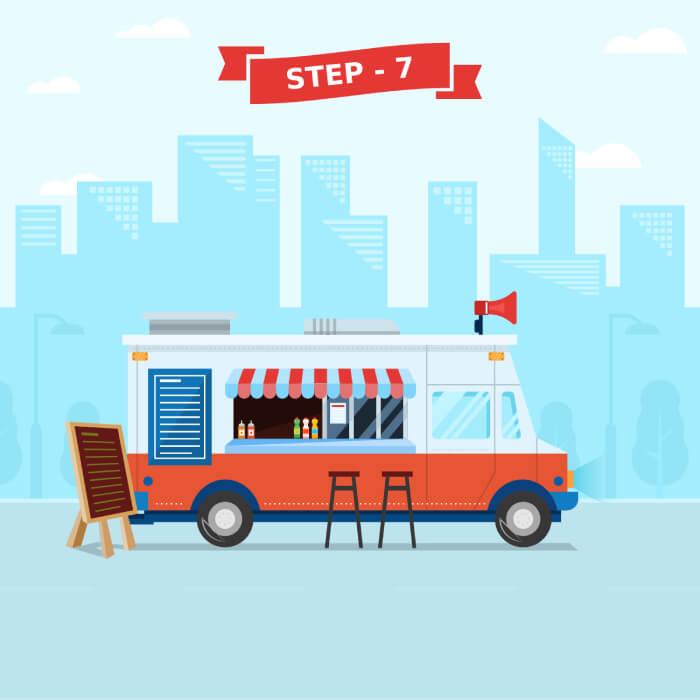 7. Get Food Truck Business Licenses and Permits
In order to operate your food truck, you must follow city, state, and federal regulations. Make sure you are familiar with the common business laws in your area to prevent legal delays.
You should check with the local Chamber of Commerce, Health Department, and Department of Motor Vehicles (DMV) for their requirements before applying for permits or licenses.
Food trucks must also obtain a variety of licenses and permits, just as restaurants do:
Food Service License
Employee Health Permit,
Business License
Employer Identification Number
In addition, you will probably need the following food truck-specific permits:
Permits for zoning and parking
Permit for a mobile food facility
Be sure to ask your DMV about parking restrictions and limits in your town, along with where overnight parking is allowed, as you work to establish your parking permits and registration.
8. Advertise and Market Your Food Truck Business
Since your food truck won't have a permanent address, advertising and marketing play a fundamental role in its success. You can use a variety of marketing tactics to enhance your brand's visibility in the public eye.
Here are a few food truck marketing ideas:
Ensure your logo is highly visible. Put it on your truck, on flyers, and online.

Create an eye-catching menu board. Ensure that your menu board is legible, appealing, and clearly displays your food.

Make a website that features your regular locations, photos, and an "About Our Company" section.

Create social media accounts where customers can follow your business, see pictures, and interact with you.

Locate unique locations for your food truck. As a first step, explore various neighborhoods to find the best location for your business.

Attend local food truck festivals and catered parties. This will help you gain more customers.

Once you have selected good locations, you should visit them frequently to build your name recognition.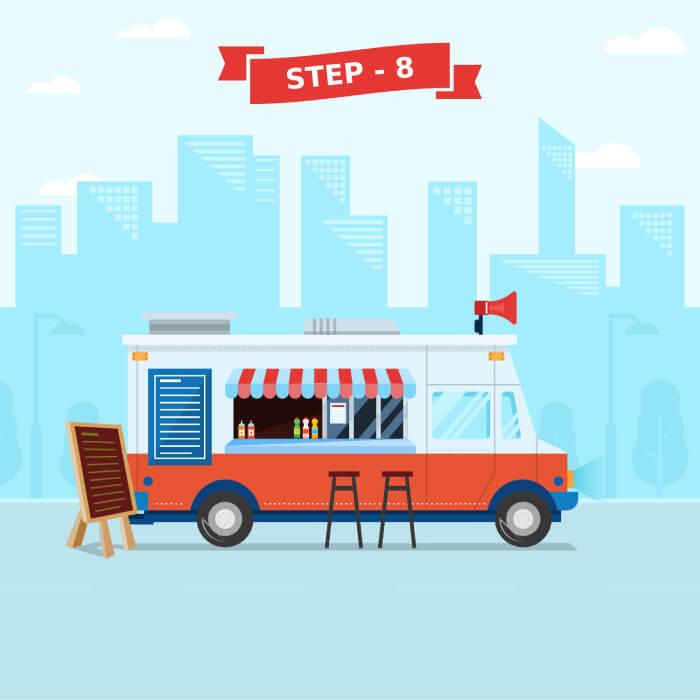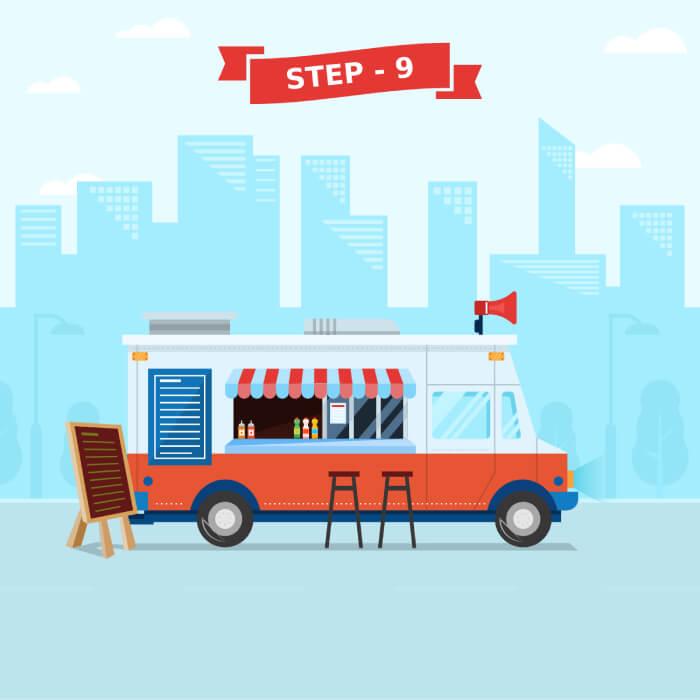 9. Buy A Food Truck and Equipment
Because your startup budget will go mostly to your food truck vehicle, you should choose one that will be of value to you.
Renting a vehicle would reduce your startup costs. A trailer is another option. Although it's less mobile, it's less expensive to get started.
Further, you should purchase insurance to cover any physical damage to your truck and any potential liabilities. Don't forget to install code-compliant equipment on your truck, such as
Appliances for cooking: Ranges, fryers, microwaves, toasters
Holding and warming equipment: Tabletop food warmers, soup kettles, and fry dump stations
Equipment for Food Preparation: Worktables, knives, cutting boards, cookware, kitchen utensils, thermometers, etc.
Equipment for serving food: Take out supplies, food trays, napkins, cups, and plastic cutlery
Equipment for refrigeration: Prep tables, under-counter refrigeration, ice machines
Equipment for cleaning: Hand-sinks, compartment sinks, floor mats, sanitizing chemicals, trash cans, recycling bins, cleaning chemicals for floors
5 Key Success Factors For Food Truck Businesses
Despite the challenges of the food truck industry, We have identified five factors that can help you boost profitability, efficiency, and ultimately success.
Stock control ability: In order to maximize earnings and reduce purchases costs, food truck operators should avoid waste and spoilage of ingredients.
Proximity to key markets: In order to maximize sales, food truck operators must be located in areas with significant foot traffic. It could be a local community event, a local market, or a council-permitted park and service location.
You must have a license: To continue operating, food truck operators must meet all licensing requirements and renew their licenses every year.
An effective quality control system:: To avoid fines from regulators and to provide customers with high-quality food, food trucks must uphold quality standards. Communication with your local council will ensure your business meets these standards.
A distinctive, differentiated menu: Since this is a competitive industry, operators must have a distinct market position and offer unique menu options.
Creating and maintaining a community: Any hospitality business thrives on repeat customers. These are the customers who refer their family and friends. Most importantly, loyal customers boost brand awareness through word-of-mouth referrals.
These 5 factors are essential for the success of food truck businesses, resulting ultimately in higher sales and brand awareness, but most importantly, higher profits.
Want to Get Top-Quality Food Truck Business Plan?
Wise Business Plans is the largest and #1 rated business plan writing company in the United States. Creating high-quality, beautifully designed, and highly detailed business plans at a reasonable price is our specialty.
Over 3,000 projects have been completed in almost every industry. Our business plans are used for strategic planning, internal planning, investor fundraising, and bank financing. We have helped 3,000+ companies across 150 industries obtain debt and equity funding amounting to $1 billion.
The Highlights Of Our Recently Developed Food Truck Business Plan
The Food Trucks industry has expanded over the five years to 2021 and is one of the best-performing segments in the broader food service sector. The industry's remarkable rise is largely attributable to changing consumer preferences in favor of unique, gourmet cuisine at lower prices than a sit-down restaurant.
Cities such as Portland, OR, Los Angeles and Austin, TX, have sought to differentiate themselves by crafting laws and creating areas specially designed for mobile food trucks. These trends have been a boon for the Food Trucks industry, as consumers have sought to maximize their disposable income by indulging in small conveniences like affordable gourmet food.
However, the economic fallout stemming from the COVID-19 (coronavirus) outbreak has placed downward pressure on the industry, causing industry revenue to decline sharply in 2020. Nevertheless, as the economy recovers, industry revenue is expected to rebound 4.7% in 2021. Overall, industry revenue has increased at an annualized rate of 6.6% to $1.2 billion over the five years to 2021.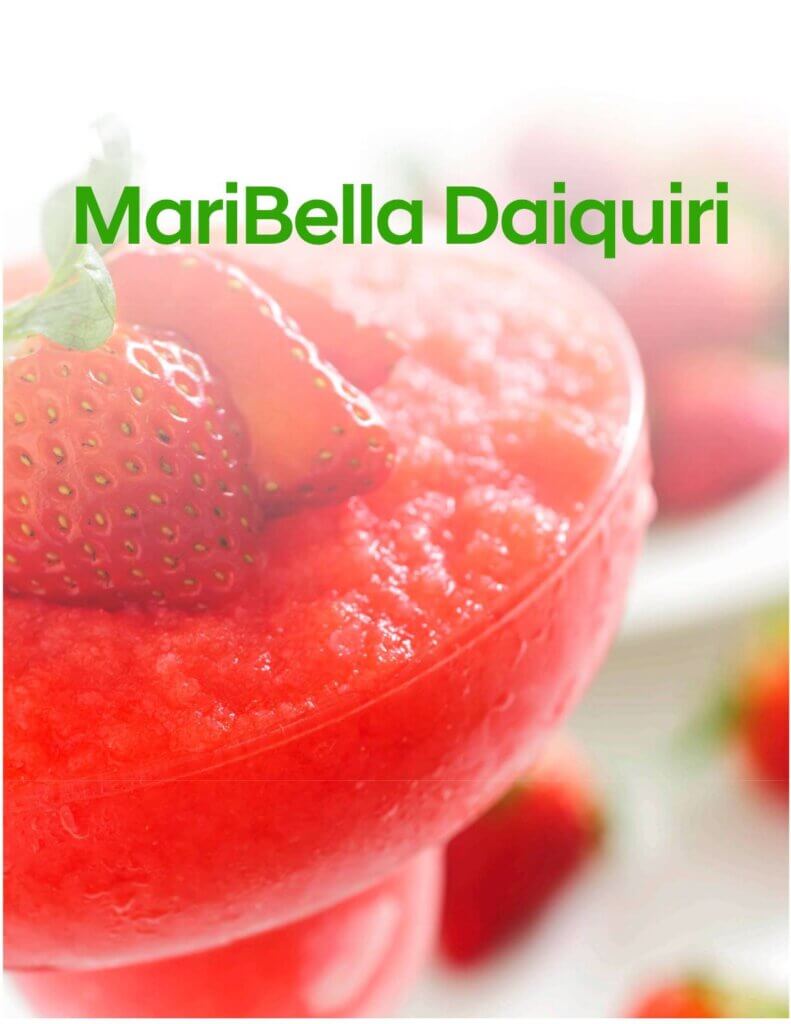 There are two types of vendors in the Food Trucks industry. These include mobile food preparation vehicles, which have the facilities to provide hot foods to customers' orders, and industrial catering vehicles, which sell mainly prepackaged, cold foods on a self-serve basis and are usually operated by a single person.
These are generally used to service industrial and construction sites, in addition to sporting and other major events. The proportion of industrial catering facilities has been somewhat stable over the five years to 2021, while the proportion of mobile food-preparation vehicles has leaped forward over the past five years in response to the rising popularity of food trucks.
Soft serve vehicles are also included in this segment, such as ice cream trucks serving soft-serve ice cream within the truck itself, or its industrial catering equivalent, which predominantly serves prepacked popsicles, ice cream, as well as a range of different sweets.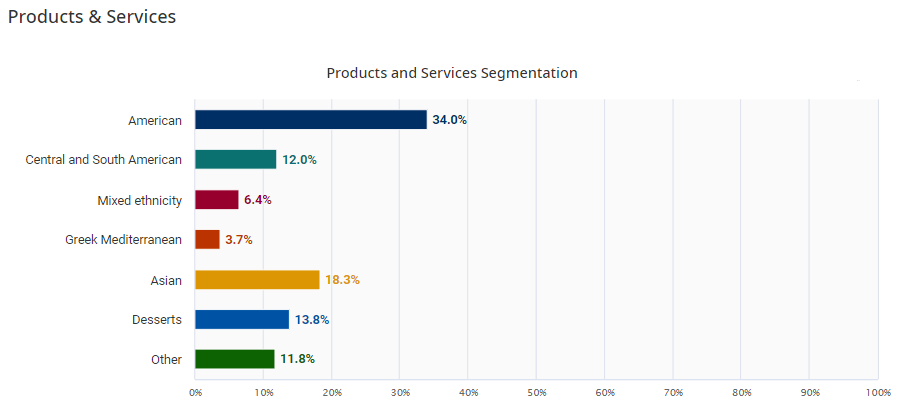 Food Truck Business FAQ's
How many food trucks are there in the US by 2023?
According to 2023 statistics, there are 32,176 Food Trucks businesses in the United States, which represents a 5.5% increase from 2022.
What state has the largest number of food trucks in the United States?
California (753 businesses), Texas (549 businesses) and Florida (502 businesses) are the States with the most Food Truck businesses in the US According to IBIS-WORLD
[2] "Food Trucks in the US," 2022, IBISWorld.
How big is the US Food Trucks market in 2023?
In 2023, the Food Trucks industry is expected to generate $1.4 billion in revenue.
[3] "Food Trucks in the US," 2023, IBISWorld.
Is a food truck profitable?
On average, it costs $55,000 to start a food truck business. Typically, food truck revenues range between $250k and $500k.
How much does a food truck business plan cost?
Depending on your needs, the cost of a full plan writing service may vary. Give us a call at 1-800-496-1056 to request a quote.
Contact Us Today For A Free Consultation