How to Start a Remodeling Business
If you're wondering how to start your own home renovation business, this guide on starting a remodeling business is best for you.
Are you considering starting a renovation company but are concerned about the amount of competition? Don't worry about it.
There's plenty of opportunity in the remodeling and home renovation world for contractors who accomplish as little as $100,000 in total volume per year and work their way up.
In this article, we'll go over some of the steps you'll need to do to get started in the remodeling business. 
We'll also go over some helpful hints for starting and growing a remodeling business in this industry.
So, if you're considering to change career and becoming a contractor, keep reading!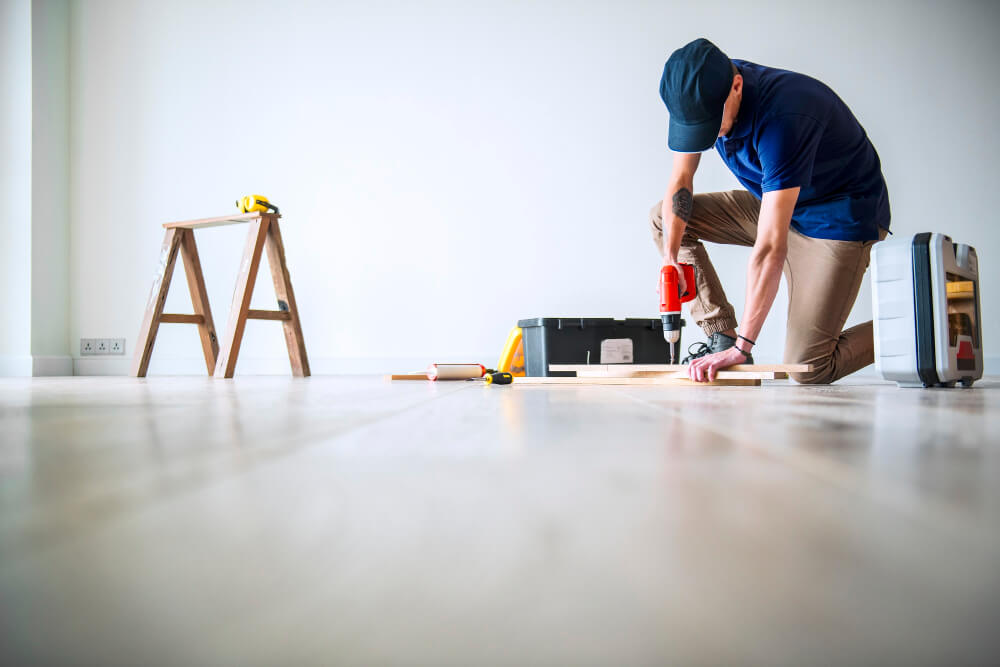 Step 1. Decide on a specialty
All general contractors specialize in one or two services and then subcontract out the rest of the work. Which services you plan to fulfill yourself and which services you plan to contract out to subs should be addressed in your remodeling business plan. 
For example, you may want to start remodeling your kitchen and bathroom, but you will only be able to do the tile work yourself. You'd have to hire others to do the electrical, plumbing, cabinetry, and finishing work. The amount of work you need to sub out will determine how big or small projects you can take on.
Larger projects usually mean more money, but if you have to contract out a lot of work, you may lose more money than you gain.
Step 2: Make a budget plan ahead of time
Home renovation businesses, in contrast to construction businesses, which are typically large corporations, are easier to manage financially. However, don't expect everything to go smoothly. With so many other entrepreneurs in your field doing the same work as you, the most important thing you can do is make sure you have enough money to cover your initial costs.
This budget should include the wages of your employees (direct labor), overhead expenses (the total cost of all the tools you'll need to complete the job), and direct materials (pretty self-explanatory). When you've figured out all of your upfront costs, it's time to look into financing options. 
Make appointments with several banks to see if they can provide you with some reasonably priced business loans. Additionally, look into government grants for small businesses. Even if you don't qualify for one right now, knowing what options you have in the future is beneficial.
If you're just offering your time and skills as a part-time re modeler, the start-up cost will be around $50,000 to $75,000, as you'll need a full set of tools, a vehicle to transport tools and supplies, and the necessary licencing and insurance to operate in your state and locality. If you are starting a remodeling business providing major renovation services, you'll need $250,000 to $500,000 in start-up capital, as you'll need to buy your first few orders of materials and hire staff before your customer pays you for the job.
Step 3: Your remodeling business name
Choosing the right business name is crucial and difficult. If you run a sole proprietorship, you should consider using a different remodeling business name than your own.
When registering a business name, we recommend conducting the following research:
The business records of your state
Platforms for social media
Records of federal and state trademarks
The availability of a web domain.
It's important to register your domain name before someone else does so.
Step 4. Create a legal business entity
The majority of remodeling companies choose one of the four entity types listed below. Each has its own set of advantages and disadvantages that should be thoroughly researched and discussed with your lawyer and CPA before deciding on the best option for you.
LLC
Sole Proprietor
C Corporation
General Partnership
Though you may be tempted to
form a sole proprietorship
, as it's the easiest to form and comes with the least amount of taxes, you should reconsider your decision.
An LLC, or Limited Liability Company
, is the best type of entity for solo entrepreneurs and partners alike.  An
LLC
can protect you from any lawsuits, debt, back taxes or judgments that belong to the company.
After learning how to start a remodeling business, you may want to expand and go public, in which case you should consider forming a
C corporation
. Despite being the most complicated of business structures, it provides significant protection for companies that generate a lot of money.
Find out how to form an llc yourself
Learn about llc formation, including information on registered agents, naming rules, business licenses, and more.
Choose Your State to Learn How to Form an LLC There
Or Make your life easier with Wise Business Plans
Get the easiest and fastest LLC formation online with worry-free services and support. 
Step 5. Acquire the required licenses and insurances
You may discover that your state requires you to obtain a contractor's licence if you Google how to start a remodeling business. You might be able to skip this step if you're only doing finishing and cosmetic work. If you plan to make any structural changes to homes or buildings, install roofing or siding, or perform electrical or plumbing work, you will need to be properly certified.
In addition, you should purchase general liability insurance. Even if some states don't require it for all contractors, it's a good idea to have one in case something goes wrong and the homeowner or business owner decides to blame you. 
For example, if you remodel a bathroom and the pipes burst two weeks later, you may be liable for property damage. General liability insurance could protect you from having to pay for a priceless heirloom out of your own pocket if one of your employees steals from a homeowner.
Ready to Protect Your Remodeling Business

Let us help you with your business insurance needs.
General business liability insurance
Medical insurance
Term life insurance
Workers' Comp
Surety bonds
Commercial auto
Step 6. Make friendship with subcontractors and suppliers
People who provide you with the materials you need for your home renovation business, as well as your collaborators, should be treated as family. Despite the fact that it is a business partnership, it should be built on mutual trust and support.
The most important rule to follow is that you should always pay your suppliers and collaborators on time. Your company will rely on them just as much as it will rely on your own abilities. 
For example, you could use online invoicing to speed up the payment process and your company's workflow. These practical tools not only help with workflow, but they also help with cash flow, resulting in smooth and quick business collaboration. If you need invoice templates, visit our invoice template page to download the professional free invoice templates.
Many new businesses can be found in the home renovation market. While becoming a successful business owner in this field will take a lot of time and effort, there is plenty of room for (both personal and professional) growth. As a result, take the plunge and start your own remodeling business.
Step 7. Create a business bank account and a credit card for it
Personal asset protection necessitates the use of dedicated business banking and credit accounts. When your personal and business accounts are mixed, your personal assets (such as your home, car, and other valuables) are put at risk if your company is sued. This is referred to as piercing your corporate veil in business law.
Furthermore, learning how to build business credit can help you obtain business credit cards and other financing in your business's name (rather than your own), lower interest rates, and increase credit lines, among other benefits.
Open a bank account for your business
Separates your personal assets from your company's assets, which is necessary for personal asset protection.
Makes accounting and tax filing easier.
Create a net 30 account
Net 30 accounts
 are used to establish and build credit for businesses as well as increase cash flow. A net 30 account allows businesses to pur
c
hase goods and pay for them in full within a 30-day period.
The major business credit bureaus receive reports from many of the net 30 credit vendors (Dun & Bradstreet, Experian Business, and Equifex Business Credit). This is how companies establish business credit in order to be approved for credit cards and other lines of credit.
Get a credit card for your remodeling business
Obtaining a business credit card benefits you in the following ways:
Put all of your business expenses in one place to separate personal and business expenses.
Build your company's credit history, which will come in handy if you need to raise money in the future.
Step 8. Set up a phone system for your business
Getting a business phone is one of the most effective ways to keep your personal and professional lives separate and private. That isn't the only advantage; it also aids in the automation of your business, provides legitimacy to your company, and makes it easier for potential customers to locate and contact you.
Wise business plans offer a variety of features for businesses, including Toll-free numbers, Coverage in US and Canada, team messaging and more. Try our business phone services today.
Step 9: Promote your expertise
Your company will require excellent marketing in order for people to be aware of and use the services you provide. One of the things you should do in the first few months of your remodeling business is market it.
You can advertise your business by handing out flyers, putting up billboards, or using the internet. Putting your brand on Craigslist is the best way to market today. You'll get more leads and make more money if you use online marketing.
Tips for Growing a Remodeling Business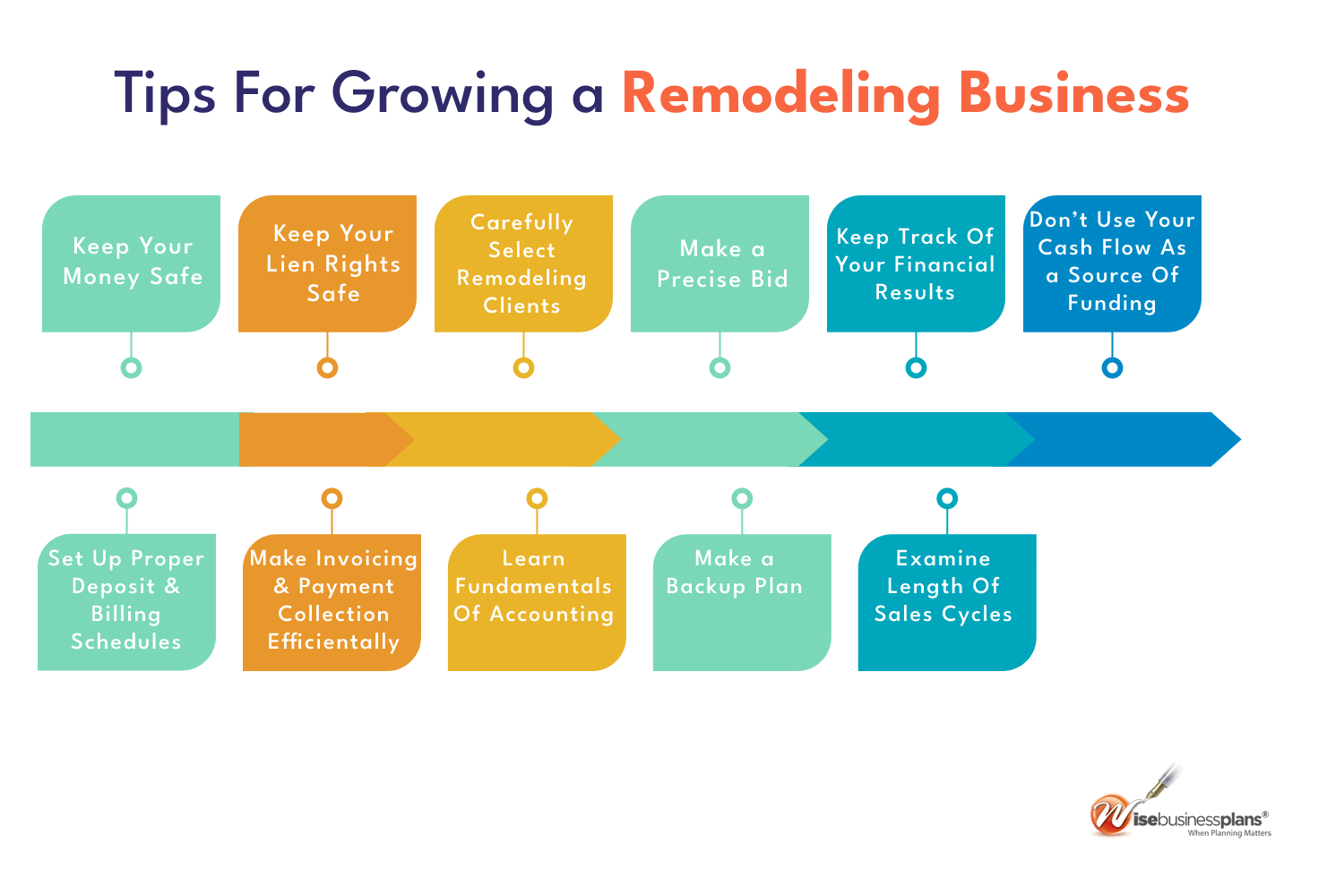 Here are some tips for contractors on how to handle increased demand and expand their remodeling business during a recession.
1. Keep your money safe
There is sometimes a feeling that success is guaranteed when renovation jobs are pouring in the door. However, for a remodeling business, expansion entails a great deal of risk. Your cash outlay for material purchases, labor, and mobilization costs rises as you take on more jobs. While you wait for payments, your business can quickly become underwater.
Cash flow issues are the leading cause of construction company failure, which should come as no surprise. When you're trying to expand your remodeling business, it's more important than ever to keep a close eye on your
financial statements
and look for any gaps in your cash flow forecast.
Are you looking for a simple way to safe your cash reserves? Consider taking out a loan to pay for your materials. Allow someone else to pay for your materials up front while you wait for payment from your customer. Use those funds to pay off other bills that can't be postponed.
2. Keep your lien rights safe
When a customer delays or defaults on their payment, it becomes more costly the more jobs you have open and the larger they become. That money is necessary to keep your other projects afloat. Your right to file a mechanics lien is the most valuable tool in your payment toolbox, regardless of how much you trust the homeowner to pay.
Remember that when your business is booming, cash flow issues can quickly sink you. Consider filing a mechanics lien to protect your financial assets if a homeowner is delaying payment. A mechanics lien claim can prevent an owner from selling or refinancing their property until you are paid.
3. Carefully select remodeling clients
You can be pickier about the customers you take on when you have more renovation jobs than you can handle. It is critical to select the best clients for your business.
The first step is to ensure that the services you provide meet the expectations of your customers. Is your remodeling company more concerned with project design or construction?
Another important consideration is the location. Consider the distance between your office and the construction site. Working on assignments that are further away can take a lot of time and effort.
It's also critical to become acquainted with your customers. Make sure they have the specifications nailed down before you start the remodeling process, unless they're hiring you to design and build a new bathroom. You can see if your personalities mesh well during the interview. This is crucial because you will be working with them for a long time. 
4. Make a precise bid
To increase your payment, it may be tempting to overbid. However, it may result in the loss of potential clients. When it comes to remodeling projects, few homeowners choose the first contractor they come across.
It's critical to evaluate previous projects when determining the bid amount so that your renovation estimate is as accurate as possible. Examine blueprints and bills, for example. You should also factor in all remodeling expenses, including labor, materials, and equipment.
Understanding the return on investment (ROI) of projects is another way to determine the appropriate amount. Bathroom remodels, for example, have a higher return on investment. Research can assist in determining the most accurate renovation cost. Make sure the bid information is well-organized and that the estimated costs are supported by data.
5. Keep track of your financial results
Every homeowner is distinct, and each renovation project is distinct as well. Some jobs will cost more than you anticipated, while others will come in under budget. You can identify trends that you can control by tracking your financial performance over time.
6. Don't use your cash flow as a source of funding
Remodeling business and business owners frequently use money from personal savings or anticipated cash flow from future jobs to fund current projects. While it is a low-cost method of financing, it requires you to take a significant financial risk in the event of a market downturn or an unexpected drop in business.
If your cash flow is liquid and accessible, it can help your remodeling business survive in the event of a drop in demand. Consider other alternative financing options, such as low-cost merchant cash advances or equipment-based asset financing, instead of using your cash as a financing tool. These options provide you with affordable access to the cash you need to do your job.
7. Set up proper deposit and billing schedules
 If a client hires you and then declares bankruptcy or decides not to finish the project, you may be unable to recover the money you've spent on materials, labor, equipment, and other supplies without resorting to legal action.
Protect your assets by establishing clear client policies and procedures. Before work can begin, some remodeling business require a deposit of up to 50% of the total job cost. The bill for specific percentages of the total amount due at various points in the project once the job is started.
8. Make invoicing and payment collection more efficient
To save money on hard costs, shorten the time it takes to prepare and send invoices, and simplify the process of sending payment reminders, send invoices electronically. Invoices should include payment policies such as "due upon receipt" or "
Net 30 terms
". 
Consider accepting credit cards if you don't already. You may have to pay a small fee for the service, but it could result in invoices being paid much more quickly than they would be otherwise.
9. Learn the fundamentals of accounting
Percentage of completion accounting, according to remodeling
business accounting expert
s, is critical for all remodeling business owners to use and monitor because it has a direct impact on cash flow. 
Invest in software that makes this figure simple to calculate (to arrive at the percentage complete for each job, divide costs to date by total estimated costs). Monitor the percentages for all of your jobs on a regular basis so you don't get caught off guard when a job's timeline or budget shifts.
10. Make a backup plan 
Develop four to six weeks of rolling cash flow projections at the very least, so you have a real-time picture of your company's financial situation. Aim to have six months' worth of cash flow reserves (based on your operating expenses) in a liquid, interest-bearing deposit account that you can access in the event of an emergency.
11.  Examine the length of your sales cycles
While larger remodeling projects may require more time and resources to quote, complete, bill, and collect payment, smaller jobs may require far less time and resources to quote, complete, bill, and collect payment. Keep track of your company's timelines for converting job quotes into live projects. Weekly review your project schedules to see if seasonality, demand, or economic trends require you to diversify your workload in order to maintain optimal cash flow.
Cash flow management is a difficult aspect of owning a remodeling company, but it isn't one that requires you to be reactive. Implement these best practices to create a financially stable and thriving remodeling company.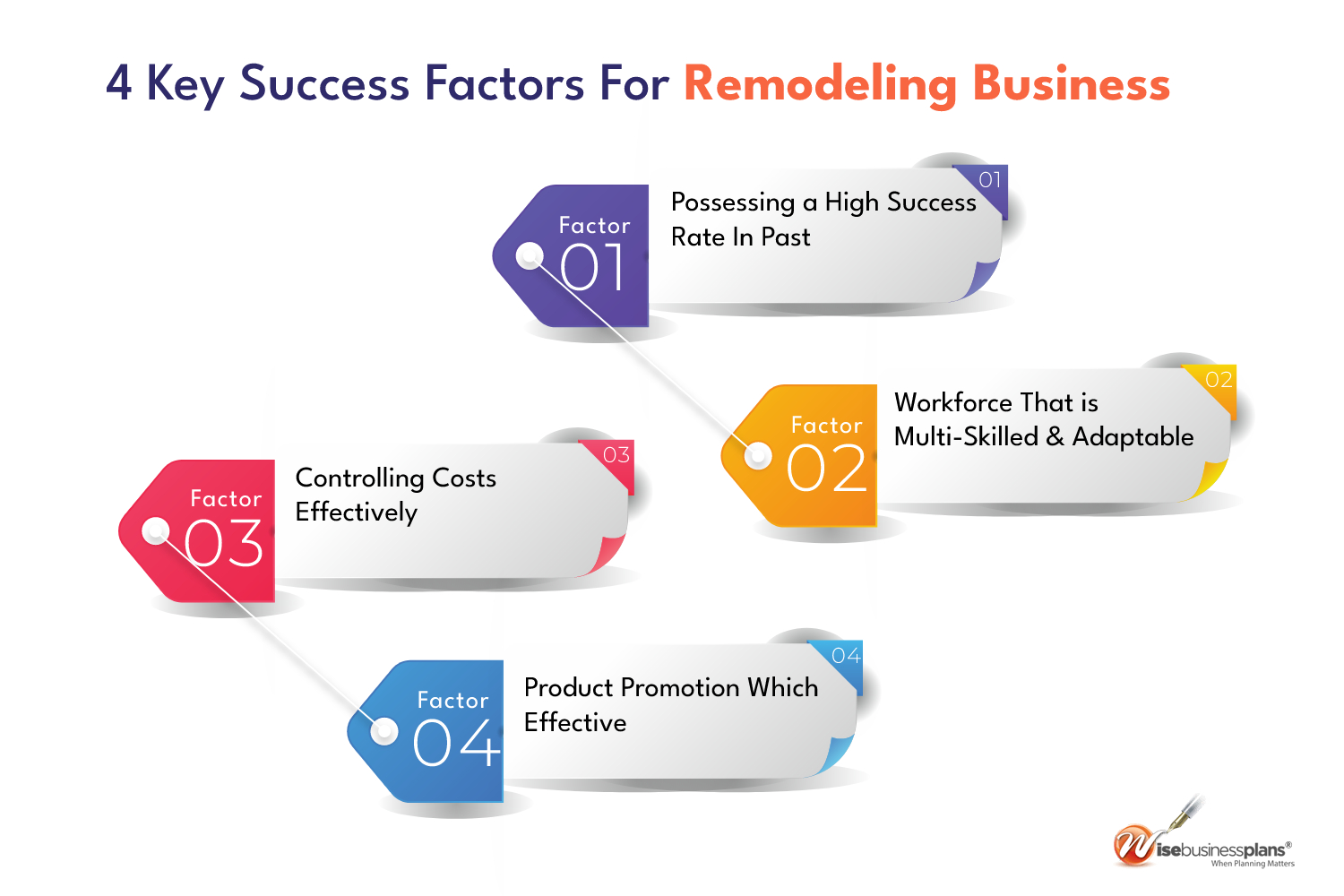 Possessing a high success rate in the past (including completed prior contracts): Companies with a strong reputation for having the financial, managerial, and technical capacity for remodeling projects attract potential clients. Successful remodeling companies can show a portfolio of previous work and testimonials from happy clients.
Workforce that is multi-skilled and adaptable: Reputable tradespeople and subcontractors are available on a project-by-project basis for successful remodeling companies.
Controlling costs effectively: Successful remodeling businesses maintain tight cost controls and have access to low-cost input materials to maintain competitive pricing.
Product promotion which effective: To generate publicity and new contracts, successful remodeling companies have a strong marketing department.
The highlights of our recently developed remodeling business plan
Market Analysis Summary: Remodeling Business Plan
Over the five years to 2020, operators in the Commercial Property Remodeling industry have benefited from increased demand as a result of falling office rental vacancy rates and rising consumer spending, at least through 2019. 
Furthermore, in recent years, rising corporate profits have prompted businesses to renovate commercial properties, boosting demand for industry services. 
As a result, IBISWorld expects industry revenue to grow at a 4.4% annualized rate to $35.8 billion over the forecast period. However, the spread of COVID-19 (corona virus) has brought the global economy and, with it, industry activity to a halt in 2020. 
Industry revenue is expected to fall in 2020 due to expected decreases in the value of private nonresidential construction and corporate profit. At the same time, due to the rise in stay-at-home orders, office rental vacancies have increased. As a result, revenue growth is expected to slow by 11.3% in 2020.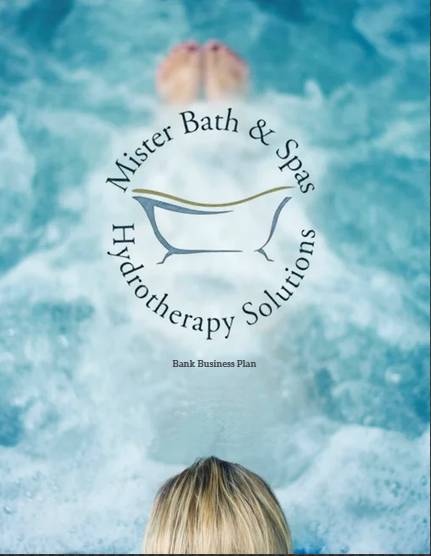 Interior room additions and alterations will account for 22.3 percent of industry revenue in 2020, according to industry contractors. Interior room alterations and additions are required for all downstream markets, including office buildings, commercial buildings, and other structures. 
When businesses relocate, commercial property contractors, for example, renovate their office interiors. Removing walls, doors, and other interior infrastructure can also help industry operators expand warehouses and other facilities. 
Over the last five years, demand for interior alterations and additions has risen in tandem with a rise in commercial construction spending.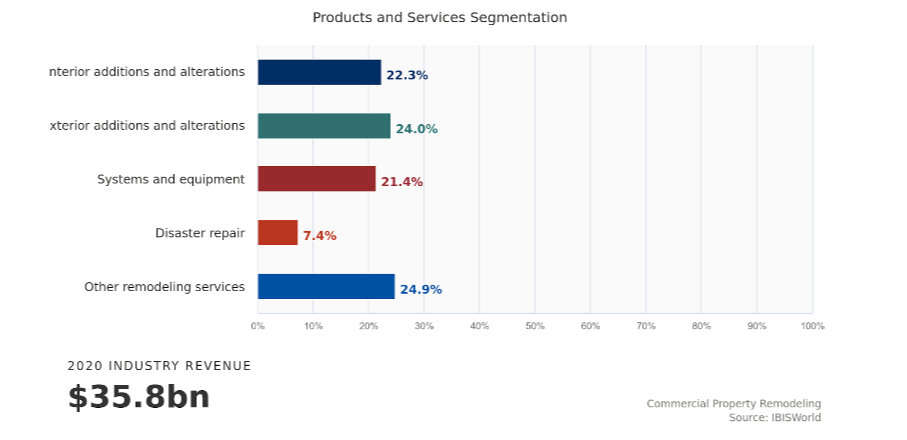 Frequently Asked Questions
What are the ongoing costs of running a remodeling company?
You'll need to keep track of your material suppliers' accounts, pay your crews on time, and keep your vehicles and tools in good working order. Fortunately, you can keep your office space to a minimum.
Who is the intended audience?
Owners of residential and commercial properties who want their property professionally renovated and are willing to pay a reasonable price for labor and materials. Large businesses that require renovations may have more space, allowing you to charge a higher rate.
What are the ways that a remodelling company makes money?
Customers pay you for labor and materials for their renovation, which is how your remodeling business makes money. As part of your trade, you are responsible for providing your own tools. Paint, hardware, lumber, flooring, and other supplies, on the other hand, are purchased at wholesale prices and then charged to your customer at a premium. Your hourly labor costs will be determined by your level of expertise, the type of job you're doing, and local labor rates.
What is the maximum amount you can charge customers?
The size and complexity of the job will determine your rates. Rates range from $45 to $85 per hour, with the possibility of lower or higher rates. To ensure that your client is getting a good deal, you should conduct a thorough competitive analysis. Between $3,000 and $15,000 is the average cost of a renovation project.
What is the maximum profit a remodelling company can make?
The standard markup on materials is 15%. A one-man company with multiple crews can earn around $20,000 per year working part-time, while a large contractor with multiple crews can earn in the seven figures when they complete multiple large jobs throughout the year.
How can you increase the profitability of your company?
Providing high-quality work that completely satisfies your customers is the most effective way to increase business and profit. For a successful remodeling business, you'll need to make sure that quality control and customer service are always top priorities.
Contact Us Today For A Free Consultation