How to Start an Embroidery Business
Due to advancements in machine embroidery technology, the custom embroidery, and sewing industry is expected to continue the growth surge that has driven the sector in recent months.
Wise Business Plans is now offering embroidery artisans and entrepreneurs the up-to-date market data, how to start an embroidery business, unique one-of-a-kind embroidery business ideas, and accompanying services necessary to garner funding for business sustainability and expansion.
8 Simple Steps to Start an Embroidery Business: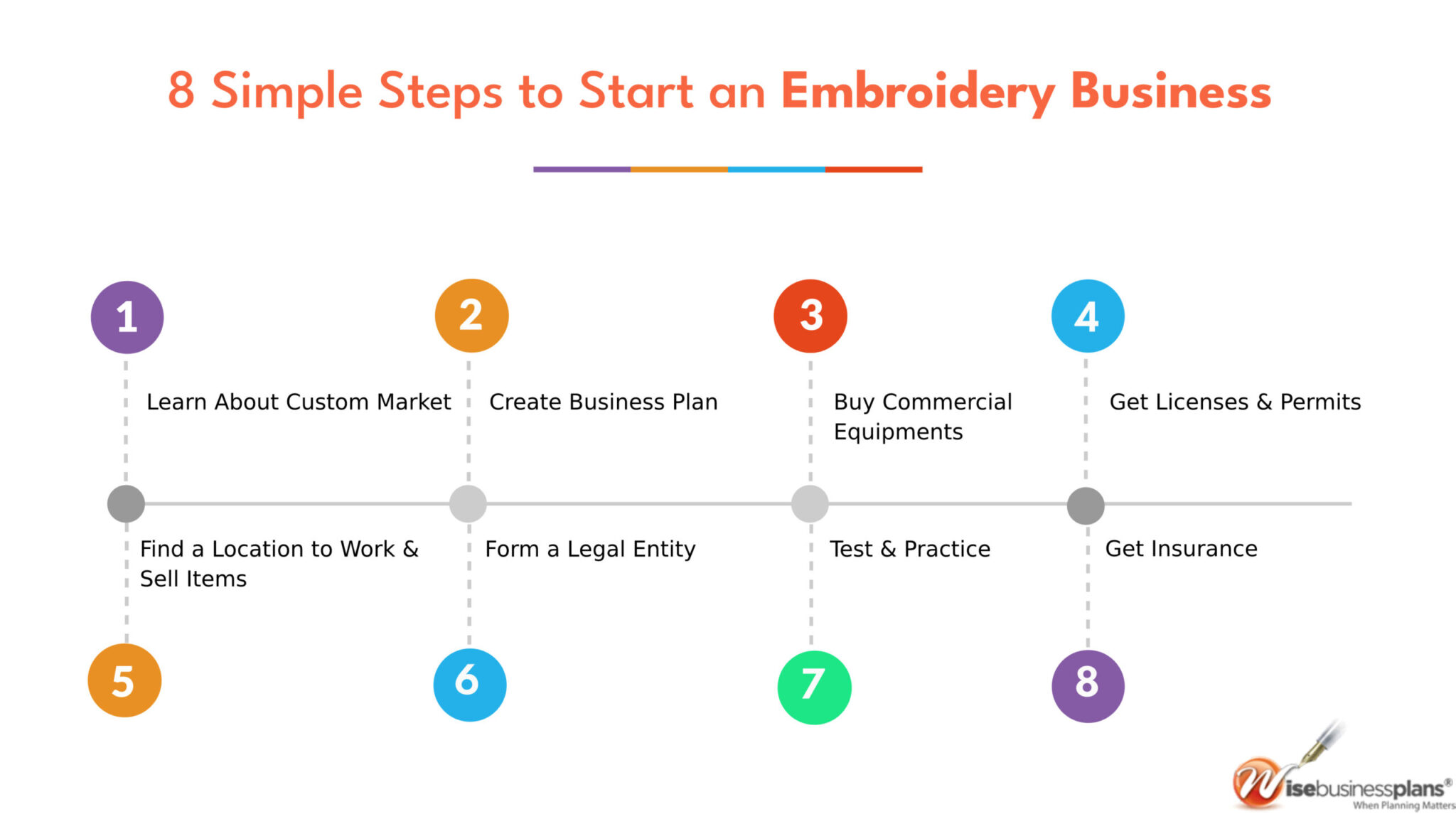 1. Learn About the Custom Embroidery Market
Learn about the latest embroidery trends and get tips for starting an embroidery business by joining embroidery and custom apparel associations. Attend embroidery trade shows to chat with suppliers and embroidery professionals. Become familiar with custom embroidery by reading relevant journals and books.
2. Create An Embroidery Business Plan
For your embroidery business to succeed, you need a business plan. If you don't have one, you're like a ship at sea. A business plan will help you chart a course from where you are now to where you want to be with your embroidery company.
Do You Need an Embroidery Business Plan?
Here's the good news: When you hire wise business plans, you'll be able to minimize the time required to write a business plan, since their experience spans 400 industries.
Hire a professional business plan writer now
3. Buy Your Commercial Embroidery Equipment
To start your embroidery business, you will need equipment. Purchasing an embroidery machine is the most important purchase you will need to make. Making the wrong embroidery device can hurt your business, so choose wisely. Buying an established embroidery business is another option. Instead of buying equipment and finding a space, you can buy an embroidery business that is already established.
4. Get Your Licenses and Permits
You will need to make a quick call to the local government offices to determine which licenses or permits you will need to open your embroidery shop. Several government offices within your local area offer licensing and permits. For new businesses, some cities or counties require a business license, even if the company is already registered with the state.
Do you need a Business License for Embroidery Business?
It is now easier to obtain a business license for an embroidery business using wise business plans, which are generally required for operating an embroidery business.
Let Wise Help you to Get your Business License for Embroidery Business
5. Find a Location to Work and Sell your Items
Embroiderers often start at home. To house your embroidery machine, computer, and supplies, you will need a clean, spacious space. If you need to keep files and manage your business, you will need office space as well. Find out what local zoning laws govern traffic and parking if you choose to open a storefront or plan to have customers come to your home.
6. Form a Legal Entity
To register your company, submit a tax form to the IRS. For state taxes, employers are required to register with them as employers. It is particularly important to comply with state regulations about unemployment insurance and workers' compensation.
Need to Register a Business Entity for Embroidery Business?
Wise Business Plans registered agents provide business formation services to make incorporation easy and free up your time to focus on other tasks.
Register Your Embroidery Business with the Help of Wise Business Plans
7. Test and Practice
High-quality work is the most important promise your business makes to its customers. If your embroidery skills aren't up to par, it doesn't matter if you have the best machines, the best thread, or the best systems. Practice and knowledge are the most vital things you can do right away.
8. Get Insurance
When your embroidery business experiences an unplanned catastrophe, you will require business insurance to protect yourself against financial loss. Having small business insurance will help you protect your embroidery company's assets, property, and income.
Funding is a Problem for You?
For our clients, our experts have raised over $1 billion in funding. Our experts will help you every step of the way to secure the business funding you need for your embroidery business!
Check out these simple steps guide to start your embroidery business
Embroidery Business Plan Writing Services
"Sometimes we just need that special word or phrase added to team shirts, family reunion tees, or perhaps a company logo embroidered onto business attire," said Joseph Ferriolo, Director of Wise embroidery business ideas."Thanks to technology, it is now easier than ever to get your own unique design expertly sewn onto just about any clothing item or hat of your choosing."
Wise Business Plans can help define the business goals of professionals, and assist clients to present winning embroidery business ideas to raise capital and meet specific market demands, including the tools needed to manage a thriving business. Wise Business Plans offers artisans one-of-a-kind, carefully created embroidery business ideas, custom-crafted by MBA qualified professional business plan writers and graphic designers, and always offered at an affordable price.
View our real sample business plans related to over 400+ industries on our business plan examples page or download our free embroidery business plan sample in PDF.
Other Major Business Services for Embroidery Business
Do you want to start an embroidery business? Business plans by Wise Plan offer an easy, guide to starting your own embroidery business, along with assistance with every step along the way, including funding, registering, licensing, and marketing your organization.
Wise business plans also offer a net 30 account application. Net-30 accounts allow you 30 days to pay the bill in full after you have purchased products. Net 30 accounts can also make managing your business finances easier. To learn more about Net 30 accounts, read more
Tags:
Business Ideas
,
Business Starting Tips
,
Form a Business