Purchase Order: What is it and How to Create One
A purchase order is a written commitment from the buyer to pay for a sale to the seller for which the products or services will be delivered in the future. 
A purchase order comes with a unique number that works as a legend for the sales and helps both seller and purchaser.
What is a Purchase Order
A purchase order creates a legal bond between the seller and the buyer. A purchase order mentions order details like product/service specification, quantity, and types. It also mentioned the payment terms and delivery terms. 
The buyer creates a purchase order and presents it to the seller. Once accepted, it gets enforced and takes the form of a legal commercial agreement. 
What is a Purchase Order Requisition?
A purchase order requisition is an internal instrument that a company's employee creates to request the purchase of a product. It stays in the company and may result in a purchase order if approved. 
The difference between purchase order requisition and a purchase order is that the former does not create a legal binding whereas a purchase order creates a legal bond between the buyer and the seller of a product. 
How does a purchase order work?
A purchase streamlines the goods and service procurement process. Most small businesses create a purchase order directly without using the purchase requisition form. 
Bonus Tip: Looking to start a new small business? Check these small business ideas for quick inspiration.
A purchase order clearly mentions the details of products, the quantity, when they are needed, and how payment will be made. 
Many small and medium businesses start the procurement process with a purchase requisition form. As we explained earlier, a purchase requisition form is the internal request for buying some goods or services. 
If the purchase requisition form is approved, the management issues a purchase order for the requested product or service. Management also confirms the quantity, the price, delivery date or delivery schedule and payment terms. 
When the seller accepts the purchase order, it becomes legally binding. The product is delivered as per the agreed schedule on the purchase order and the payment is also made accordingly. 
How to Create a Purchase Order?
You can use your bookkeeping software or ERP for generating a purchase order. 
Pro Tip: You can check for our bookkeeping services for small businesses.
When you make it mandatory to use a purchase order for any new purchase or any goods or services, you will save a lot of trouble in price uncertainty, delay in the delivery, bad purchase experience, and many other supply chain problems. 
We have also suggested some tools and accounting software for easily creating purchase orders. However, if you are using spreadsheets, you can simply make a purchase order with the help of a purchase order template for excel or Google spreadsheets. 
Here is how you can make a purchase order for your business. 
Choose a template for the type of tool you will use like MS Word, Excel, Goolge Docs, Goolge Sheets, etc. 

Input the data 

Write the Purchase Order number (PO number)

Add buyer seller information

Add product details 

Mention the delivery date 

Add terms and conditions for the transactions 
Purchase Order Example 
Here is an example of a purchase order. You can see how the data is filled in this example purchase order. Download purchase order example.
Purchase Order Template 
You can make use of this free purchase order template. We also have a purchase order template excel and purchase order template word. Download our helpful PDF Template.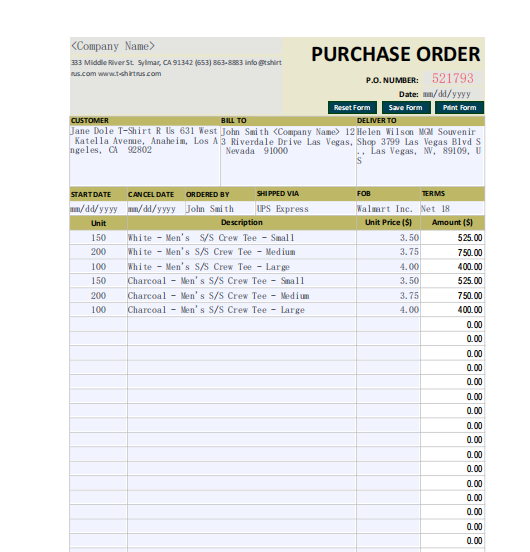 Purchase Order vs Invoice
What's the Difference between Purchase Order and Invoice?
The difference between a purchase order and an invoice lies primarily in the way these are used. 
A purchase order is used to control and track the purchasing for a company. A buyer creates a purchase order and sends it to the seller or vendor. 
Whereas, an invoice is the payment request that a seller generates to recover payment for the products or services delivered. 
Download free invoice template to create a professional invoice for your business now.
| Purchase Order | Invoice |
| --- | --- |
| Buyer sends a purchase order to the vendor for the purchase of a product | The vendor or sellers sends to the buyer for recovering the dues for products delivered as agreed payment terms |
| A buyer generates a purchase order when placing an order | Invoice is generated when the order has been delivered |
| A purchase order defines the terms and conditions for the purchase | Confirms and sometimes closes the sale with the payment |
| Helps resolve supply chain problems | Helps with payment management |
Similarities between Purchase Order and Invoice 
Here is how an invoice is similar to a purchase order. 
Both are commercial communications used to handle different aspects of a purchase life cycle 

Help both buyer and seller optimize the spend 

Improve supply chain

Both documents has order details, vendors and buyer details, and shipping information

Both documents are legally binding
Pros and Cons of Purchase Order 
Pros of using Purchase orders 
No more duplicate order if you use purchase order 

No surprise invoices, everything is planned already 

Incoming order tracking 

Better check on price changes 

Better auditing compliance 

Improves financial accuracy and predictability 

helps make better budgets 

Better communication with business partners

legally binding, peace of mind for both parties
Cons of using purchase orders 
Additional paperwork and workload 

Buying using credit cards may be better solution for small businesses 
What do you need? Invoice or Purchase Order?
If you are a buyer and you are buying goods or services, you will use a purchase order. It will help you process purchases better and help you remove common supply chain problems. It also helps you with financial management and you can budget better if you know how much you are going to spend and when. 
Use an invoice when you are requesting payment from a buyer. An invoice reminds the buyer that they need to make the payment for the purchase they made with you. Invoice protects your interest if both parties have agreed on payment terms and late payment fines. 
Best Small Business Software and Tools for Creating Purchase Order 
If you are in the market for a new software and tool for creating and managing purchase orders for your business, check out our recommendations here. 
Paramount WorkPlace (Recommended)

Zoho Books

KissFlow

Purchase Control

O2b Technologies

WorkflowMax

DPO

Xero

Bellwether

SalesAttach

Sage Intacct

Ecomdash

Procurify
Check this post for more business tools you will need in your business. 
What is a purchase order for a car?
A car's purchase order and a bill of sale are similar. Both create a legally-binding agreement and a document that confirms the car buying transactions. A purchase order for a car has details of price, fees, rebates, and any other payments.
What account is debited when a purchase order is created?
Accounts Payable is debited for a purchase order.
What is a purchase order form?
A purchase order form creates an agreement between the buyer and the seller for the buying/selling agreement. Once you create a purchase order form for your business, it will make your business's purchasing process consistent, predictable, and better manageable.
What is a purchase order in construction?
When a construction company issues a purchase order for the purchasing of construction materials, services, equipment, or any other construction material, it is called a construction purchase order. It is principally the same as any other purchase order.
What is a purchase order system?
A purchase order system helps a business automate the process of purchase requisition request and purchase order. You can quickly process product or service purchase requests from different departments and optimize the purchasing process.
What is a blind purchase order?
A blind purchase order is given to the receiving department which then counts the incoming products and records the quantity. A blind purchase order eliminates the chances of the receiving person recording the product count as on the purchase order without actually counting the incoming goods.
What is a government purchase order?
A government purchase order is a buying request for the purchase of goods or services from the government on specific terms and conditions. The government purchase order falls under simplified acquisition procedures.
What is a limit purchase order?
A limit purchase order puts a limit on the net value of purchases without fixing the purchase quantity. A limited purchase order stops the overspend and keeps it within budget.
What is a non standard purchase order?
A non standard purchase order is used when the price or quantity cannot be determined before time. An example of undeterminable cost is legal expenses and an example of the undetermined quantity is the number of guests for a conference.