Net 30 Clothing Vendors And Other Wholesale Clothing Vendors
Customers with good credit histories are typically offered Net 30 payment terms by Net 30 clothing vendors. It is possible to require a deposit or collateral to secure credit for customers without a good credit history or who are not established business customers.
There are a variety of payment terms available to wholesale clothing vendors, including net 30 terms. In this way, retailers are able to pay for their purchases within 30 days of receiving the invoice. Retailers who don't have the funds to pay upfront may find this to be an attractive option. Additionally, retailers may spread their payments over a longer period of time.
Wisebusinessplans compiles a list of the top net 30 clothing vendors and best wholesale clothing vendors.
Top Net 30 Clothing Vendors for 2023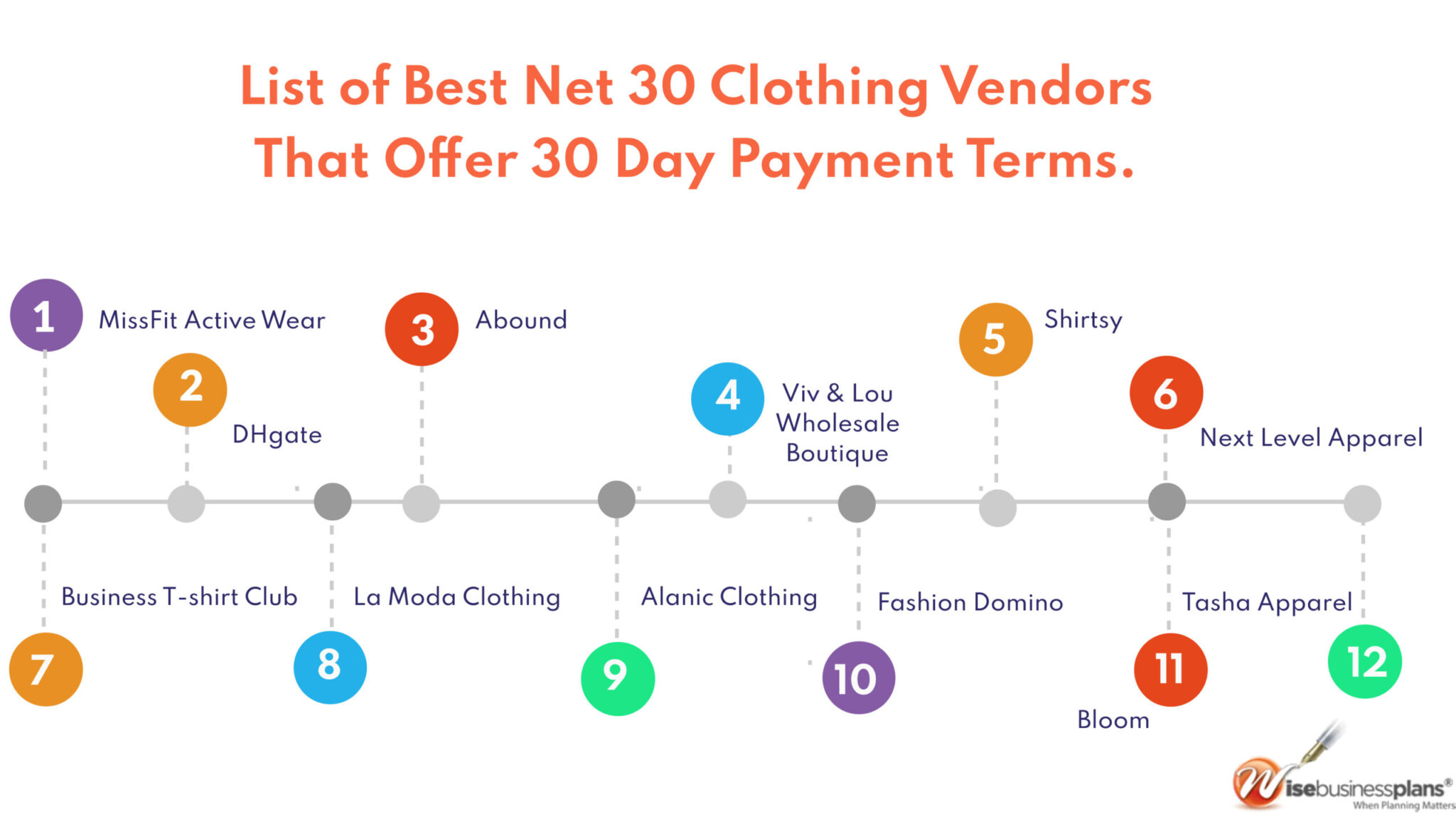 Here is a list of the best net 30 clothing vendors that offer 30 day payment terms.
Missfit Active wear is one of the best manufacturers and distributors of wholesale net 30 clothing for women. They design stylish and unique yoga apparel, jackets, shorts, t-shirts, tank tops, and many more. They also provide workout accessories like water bottles, gym bags, yoga mats etc.
Missfit Activewear requires a credit application to approve net 30 payments over $5k. Credit card payments do not qualify for cash discounts on net terms. Within 30 days of the shipment date, Net 30 terms require prompt payment by company check or other electronic transfer.
China-based DHGATE Group was founded in 2004 as a B2B e-commerce service platform
There are many branches of this company in Canada, Europe, the United States and elsewhere. It is one of the largest one-stop shops for small and medium retailers in the US market. They are primarily focused on small B2B companies.
The company offers a wide range of products, including apparel, electronics, baby and kids products, and many others, which makes them one of the best net 30 wholesale clothing vendors. They offer wide variety of fashion accessories like handbags, tank-tops and others as Net 30 wholesale vendors.
The Abbound wholesale marketplace works with over 6400 brands and is one of the best net 30 wholesale clothing marketplaces found in 2019. Additionally, Abbound help local retailers looking for the perfect products to stock their stores grow their wholesale business. They offer 800k+ products including home products, clothing, fashion accessories, baby products, food and beverages and many other. The company offers new products at no risk with their net 30/60 payment terms. They offer free return on net 60 payment terms.
ProTip: If you want more net 60 vendors list. Take a look at our post on the best net 60 vendors with 60-day payment terms.
4. Viv & Lou Wholesale Boutique
Wholesale Boutique is owned and operated by Denise Thigpen. The company has a wide range of home goods, apparel, bags and accessories to choose from. Staff dedication and hard work are the keys to the company's success.
They offer uniquely distinctive, fresh, and customized Products. In order to qualify for Net 30 pricing, Wholesale Boutique requires a $3k minimum purchase.
The company is a direct-to-garment printer owned by Crown Office Supplies. Shirtsy is known as one of the few custom net 30 vendors with payment terms of net 30 days.
The company is able to print full-resolution photos on a variety of materials using screen printing. There is a wide selection of cotton t-shirts, hoodies, and sweat shorts available that can be customized.
Additionally, denim jackets and high-quality sneakers are also available, as well as a few pairs of jeans and shorts also. Shirtsy net 30 trade credit applications are subject to a fee of $99 per year.
They are one of the largest wholesale producers and sellers of blank apparel of the highest quality. The blank apparel industry was revolutionized by these companies in 2003.
It was through exceptional craftsmanship that Next Level Apparel was created. The company strives to provide premium blank apparel that is soft and prints smoothly in order to deliver the best apparel for everyone.

Next Level Apparel offers NET 30 terms for orders and credit card payments.
Business T-Shirt Club is the only membership-based apparel printing company that caters exclusively to business owners & entrepreneurs also known as one of the best net 30 t-shirt vendors. As a wholesale clothing company, this company offers a wide variety of products, such as masks, shirts, hats, sportswear, and many other items.
For net 30 payment terms, including credit reports, a fee of $70 is required each year.

The company is based in Miami, Florida, and sells wholesale women's clothing. There is a wide selection of bohemian resort wear and summer outfits available here from one of the leading wholesalers. If the product is damaged or incorrect, they offer a 10 day return policy.
In addition to its net 30/60 payment terms, La Moda Clothing accepts all other forms of payment, including credit cards (American Express, Visa, Discover and Master cards).
Wholesale Clothing Vendors Offering Other Payment Terms
As a leading manufacturer of fashion, sports, and fitness clothing based in Beverly Hills, CA, Alanic Clothing has reached all corners of the globe.

It is committed to enhancing the apparel industry worldwide. Putting twice as much effort into every action they take, they have doubled their glory today and stand invincible. 
They design clothes from fashion to fitness, taking individualized preferences into account, allowing customization but never compromising quality or comfort. If you are a business merchant or an individual bulk buyer looking for bulk orders, they are always ready to seal a business deal with you!
Los Angeles-based Fashion Domino facilitates wholesale fashion sales. It facilitates the exchange of wholesale clothes, handbags, shoes, and cosmetics between manufacturers and distributors around the world.
They aim to provide a better online shopping experience for business-to-business customers as a new player in the wholesale fashion industry. There is a strong focus on women's clothing, but there is also clothing for men and children available from this company.
Over 2000 vendors in the Los Angeles fashion industry participate in the show, featuring brands with regularly updated collections and exceptional customer service.
A quality clothing vendor with eye-catching style. Women's tops and dresses are added every week to Bloom. That's why Bloom Wholesale is so popular. The wholesale boutique at Bloom's sells women's fashion starting at $5 to $7. The plus size women's clothes they make are some of the most stylish.
Los Angeles' largest wholesale boutique clothing vendor, Tasha Apparel, offers exquisite fashion at wholesale prices.
Tasha Apparel offers quality women's clothing at the best prices. You can find shirts, dresses, tops, fashion jewelry, jeans, bags, as well as skirts in all shapes and sizes. Tasha Apparel dropships quality wholesale women's clothing from the USA at reasonable prices, so you can earn substantial profit margins.
They work with many trusted boutique wholesale clothing suppliers to provide a variety of clothing styles and sufficient inventory. You will find the lowest prices on these items that are constantly updated.
The Importance of a Business Plan for Net 30 Clothing Vendors
Net 30 payment terms can be a useful tool for clothing vendors who want to build a relationship with suppliers and establish credit.
However, it's essential to remember that building a successful clothing business requires more than just favorable payment terms.
To succeed in the clothing industry, you need a solid
business plan
that outlines your goals, identifies your target market, evaluates competition, and creates a roadmap for achieving your objectives.
At Wise Business Plans, we specialize in crafting comprehensive business plans for clothing businesses that help entrepreneurs like you achieve their goals.
Our business plan writing services is designed to provide you with a well-researched and tailored plan that meets your specific needs and objectives.
In addition to our business plan writing service, we also offer free resources to help you create a business plan on your own. Our website features  business plan examples, business plan templates, and articles on creating a successful business plan.
Tags:
Business Credit and Loans
,
Financial Management
,
Net-30