How to Own a Franchise with No Money
Despite the fact that you might not have thousands of dollars waiting to be invested in your bank account, there are still ways to get money, so owning a franchise is not off-limits.
Here is a step-by-step guideline for beginning a business, even if you don't currently have the necessary finances.
Figure out what you can afford you buy a franchise. There will always be some risk involved in starting a business, so be careful to only take calculated risks and avoid going into debt.
Search for the best franchise for you. Franchises that provide services are less expensive because they don't charge retail prices. You can run your business from home, with a lower startup cost and quicker ramp-up. By doing that, you can start producing money quickly and regain your investment.
Now consider: What's the right method of funding for you:There are numerous ways to join a franchise without having any money. Here are some fundraising strategies you can use to raise the money required to launch your own franchise business. Let's explore some.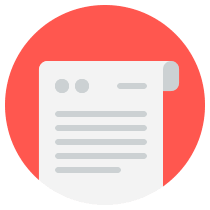 Franchise Business Plan Writer
Franchising usually requires a business plan. Hire our award-winning business plan writers to make your franchise business plan stand out.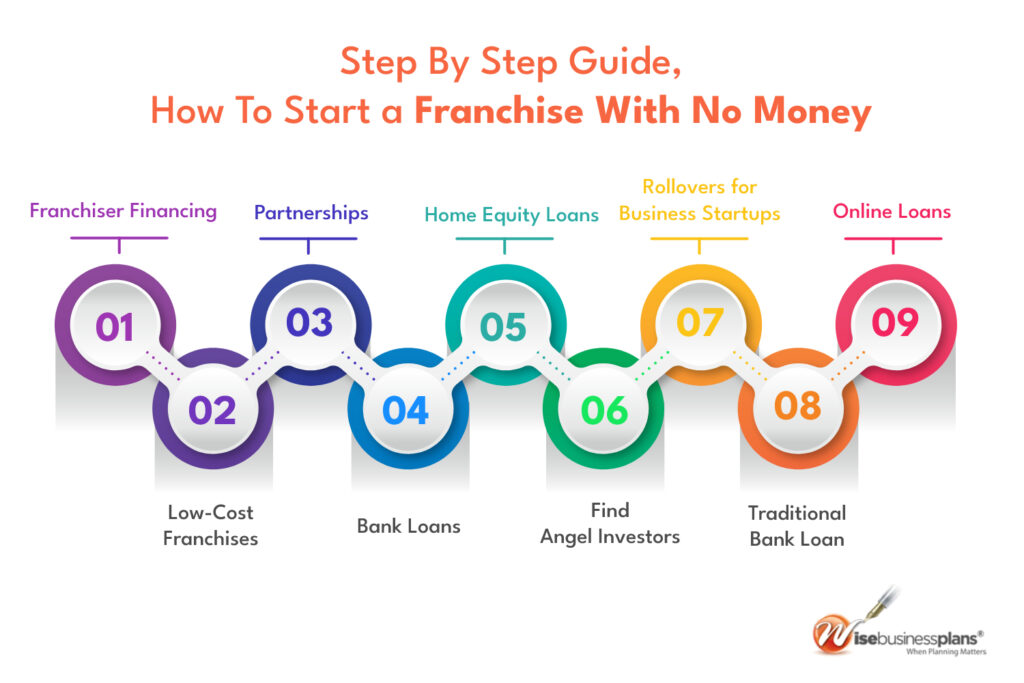 How to Start a Franchise with No Money?
We'll discuss various strategies on how to buy a franchise with no money. Along with these strategies, developing a well-researched and professional franchise business plan will significantly enhance your chances of securing funding and launching your franchise successfully.
It is possible to finance the purchase of a franchise in several different ways, including:
1. Franchiser Financing:
The fact that it benefits the franchiser as well as the franchisee.
The franchisee receives funds, while the franchisor grows the brand and adds another location to its portfolio leading to a large number of franchisors providing some form of financial assistance.
A franchisor might assist in locating low-interest loans or even just advice on where to go for money from reputable sources.
2. Partnerships:
If you don't have the money to buy a franchise, think about entering into a partnership with someone who does. Anyone with money to invest, whether they are a friend, relative, coworker, College or University fellow, or other, can join as a partner.
Make sure you engage with an attorney to prepare any documentation and agreements once you've found a business partner.
This will make sure that everyone is aware of their rights, duties, and responsibilities as well as what portion of the profit they will each earn.
3. Home Equity Loans:
A home-based line of credit  (HELOC) or a home equity loan are two ways for homeowners to raise money. The value of the equity in your property will determine which of these options you choose.
The difference between the value of your home and the amount you owe on it is basically your home equity. For instance, your equity is worth $100,000 if your home is worth $400,000 but you only need to pay $30,000 more.
In Home equity loans, you put your property at risk by taking out this loan since you could end up having to pay it back. For approval, they also require a strong credit score and a favorable debt-to-income ratio.
4. Rollovers for Business Startups (ROBS):
A ROBS plan enables you to launch your own business using your own retirement funds as compared to borrowing money from a lender. A new retirement fund is established along with a new C-corp.
The old retirement account's funds are transferred into the new retirement account. These funds are utilized to buy C-corp stock, providing you with the capital you require to expand your company.
5. Online Loans:
Finding loans to buy a franchise is now simpler than ever due to the internet.
Unfortunately, finding a competitive business loan may be challenging for you as a startup. Lenders consider factors including your personal and corporate credit histories, annual sales, and length of time in operation when evaluating risk.
Finding funds with suitable rates and terms can be difficult if your business hasn't launched yet or is still in its very early stages.
6. Low-Cost Franchises:
Set your sights on more accessible opportunities that will help you start your own franchise.
You can track down low-cost startups as well as franchises that provide new owners discounts. For instance, some franchisors provide veterans, and members of marginalized communities, including women and minorities discounts on their franchise costs. 
Recommended Resources:

7. Bank loans:
Loans are not given out directly by the SBA. Instead, this government department offers a guarantee on loans made by intermediary lenders including banks, credit unions, and other lenders.
Franchisees and other owners of small businesses have an easier time getting accepted because the SBA backs a significant portion of each loan.
The SBA 7(a) loan is one of the greatest SBA loans available to franchisees, however, there are other sorts as well. You could receive up to $5 million with this loan, and the repayment terms range from 7 to 25 years.
Another SBA loan option is the CDC/504 loan. In this case, a non-profit Certified Development Company (CDC) pays up to 40% of the franchisee's financial requirements.
8. Find Angel Investors:
Many franchisees have been successful in obtaining early money from private VC firms or angel investors, although this isn't always an option.
Venture capitalists and independent angel investors frequently make pretty flexible investments in franchise start-ups Business.
Bonus tip: Here is detail article on how to find a venture capitalist.
9. Traditional Bank Loan:
Since their practice of providing loans to franchisees has historically been successful, traditional lenders can also be an useful source of capital.
The traditional money lenders are excited to lend money to companies they are familiar with, but not so much to companies they have never heard of.
If you are successful in meeting all the eligibility standards, you can benefit from a traditional bank loan to launch your own franchise.

Top 5 Low Cost Franchises to Start Today
There are five franchise opportunities that require relatively low startup costs and offer high profits:
1. Cruise Planners
Franchise fee: $10,995
Initial investment: $2,095 to $23,367
2. Fit4Mom
Franchise fee: $5,495 to $10,495
Initial investment: $6,205 to $24,285
3. Chem-Dry
Franchise fee: $23,500
Initial investment: $56,495 to $162,457
Personal financials: $50,000
4. Jazzercise
Franchise fee: $1,250
Initial investment: $2,500 to $38,000
5. Stratus Building Solutions
Franchise fee: $2,700 to $100,000
Initial investment: $3,450 to $100,000
Here is the complete list of low cost franchises with high profit margin with detail information.
Despite the relatively low initial investment costs, these franchises still require a lot of dedication and hard work to succeed. Additionally, your ability to market and manage your business, as well as the overall economic climate, will influence your profits.
Final Words:
It is challenging to invest in a franchise without making an initial financial commitment. There are no assurances that you will be able to locate collaborators or financiers who are prepared to offer funding.
In addition, it is extremely likely that the terms of their investment will be less than ideal.
If you do manage to find partners, you will also need to be able to get along with them for the next 30 or more years.
In order to invest in a franchise with no money, you will need to be patient in your quest for the ideal franchise opportunity. In order to demonstrate that you are a wise investment, you must also be prepared and able to put in the work.