How To Franchise Your Business – A Comprehensive Guide
Franchising your business can be a great way to expand your brand and grow your business, but it also requires careful planning and consideration.
Additionally, it is essential to have a good understanding of the industry in which you plan to franchise your business, as well as the target market, and competition in that industry.
Whether you're just starting to think about franchising, or you're ready to take the next step, this guide will provide you with the information you need to become a successful franchisor.
This can include researching different franchise opportunities, creating a business plan, securing funding, and complying with legal and regulatory requirements.
What does it mean to franchise a business?
Franchising is a business model whereby a company (the franchisor) licenses an individual or company (the franchisee) to operate under its brand, products, and operating systems. Franchisees are able to use a franchisor's established system and reputation, while franchisors benefit from franchisee efforts.
An agreement would be created between the franchisor and the business owner to begin the process. Franchisees are allowed to possess limited rights to your intellectual property, supply chain networks, training systems, and more.
Business format franchises:

The franchisor provides the franchisee with everything, including training, operating systems, and ongoing support. Examples include fast-food restaurants, hotels, and retail stores.

Product distribution franchises:

The franchisee is granted the right to distribute and sell the franchisor's products in a specific area. Examples include car dealerships and gas stations.

Job franchise: A low-investment nature job franchise is a business opportunity that allows individuals to start their own company. It offers support in areas such as marketing, training, and operations, while also providing a proven business model. Job franchises provide entrepreneurs with the ability to start a business with lower risks and higher chances of success.

Investment franchise: An investment franchise is a type of franchise in which the franchisee makes an investment to become a part of the franchisor's brand and business model. This investment usually covers the use of the franchisor's proprietary products, services, and systems, as well as training and support.

Conversion franchise: An existing independent business becomes part of a larger franchising system. This involves converting the existing business into a franchise unit, allowing the business owner to benefit from the franchisor's established brand, systems, and support.

Manufacturing franchises:

A manufacturer or distributor licenses the franchisor to manufacture and/or distribute its products.
7 Steps to franchise your business?
Franchising your small business means taking the legal and business steps to support franchisees, sell franchises, and grow your business.
As you prepare to franchise your business, you will have to deal with independent contractors who will run their own franchises. It's important to note that these steps are for those who want to franchise an existing business.
However, before deciding to franchise your business, it's important to understand the process of how to franchise your business: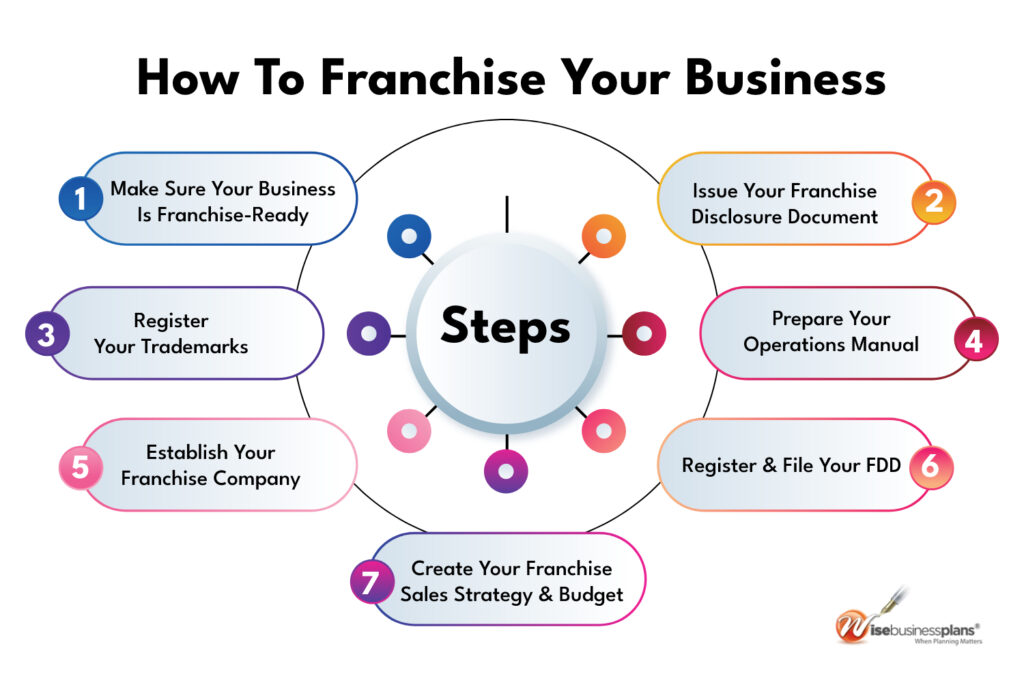 1. Make Sure Your Business is Franchise-Ready
Here are a few key factors to consider when determining if your business is ready to franchise:
Proven track record:

You should have a track record of success and stability in your business. The company must have a consistent and growing customer base, as well as positive financial performance.

Scalability:

It is important for your business to have a scalable model that franchisees can replicate across multiple locations. There is a proven business model, standard operating procedures, and a training and support system for franchisees.

Strong brand:

Your business should have a recognizable and reputable brand. This will help to attract potential franchisees and customers.

Support infrastructure:

You should provide training and support to franchisees, as well as marketing and advertising resources.

Franchise team:

To franchise your business, you'll need a dedicated franchise team in place, including a franchise attorney, franchise consultant, and accountant.

Financial resources:

There is a significant cost involved in developing a franchise system, registering the franchise, and providing training and support to franchisees.
2. Issue Your Franchise Disclosure Document
It is a legal document required by the Federal Trade Commission (FTC) that must be provided by a franchisor to a prospective franchisee before they enter into a franchise agreement.
This document contains information about the franchise including the franchisor's litigation history, financial performance representations, and franchise fees.
To ensure that your franchise disclosure document is accurate and complete, you should consult a lawyer experienced in franchise law. Both the franchisor and franchisee should review the FDD before signing the franchise agreement as it provides a window into the franchise agreement.
3. Prepare Your Operations Manual
A franchise operations manual outlines your standard operating procedures. A franchise manual serves as a training tool and a reference guide for franchisees. Here are the basic steps for preparing an operations manual:
Define your standard operating procedures:

Include information on how your business operates, including how you open and close it, and how you handle customer complaints.

Detailed information on products and services:

Your operations manual must include details about the products and services you offer, including pricing and any limitations.

Financial information:

Information concerning financial management, including accounting and recordkeeping procedures and franchisor royalty requirements must be included in the operations manual.

Marketing and advertising information:

Franchisees should learn how to participate in marketing and advertising initiatives from the franchisor.

Contact information:

Franchisees should have access to support and resources from the franchisor, including phone numbers and email addresses.

Make it easy to understand:

It should be written in plain language. Make navigation easy with headings, subheadings, and bullet points.

Important legal information:

The operations manual should cover legal details, such as the franchise agreement, state-specific laws, and insurance requirements of the franchisor.

Review and update it regularly:

Keep the operations manual current and accurate by reviewing and updating it regularly. New products, services, and legal or regulatory changes should be included.
4. Register Your Trademarks
Registration of trademarks is essential to franchising because your brand's trademarks will be central to licensing them to franchisees.
Make sure that your proposed trademarks do not infringe on any existing trademarks by searching the United States Patent and Trademark Office (USPTO) database or by using a private trademark search firm.

The USPTO will accept trademark applications for any trademarks that you have determined are available. A trademark attorney can assist you with any issues that might arise during the registration process and ensure that your application is complete and accurate.
5. Establish Your Franchise Company
It is necessary to form a franchise company during the franchising process and before issuing your franchise disclosure document.
Your new franchise company will be a corporation or limited liability company that sells franchises, supports franchisees, and receives royalties from franchisees. You should therefore operate your franchising business through a separate corporation.
6. Register and File Your FDD
You must register and file the FDD with the appropriate federal and state agencies after it has been completed. The following steps need to be followed:
Timing:

The FDD must be provided to potential franchisees at least 14 days before the signing of a franchise agreement.

Ongoing Filing:

Any significant changes in the FDD must be reported to the Federal Trade Commission within 120 days after the franchise year ends.

Filing fee:

There is a filing fee for registering the FDD with the FTC, which varies depending on the size of the franchisor.

Penalties:

Failure to register and file the FDD with the FTC can result in significant fines and penalties.

State registration:

Some states require registration of FDDs with state agencies like the Department of Corporations and Attorney General's offices as well as with the FTC.
7. Create Your Franchise Sales Strategy and Budget
In order to expand your business through franchising, you need to create a franchise sales strategy and budget. Following are a few steps to follow when creating a franchise sales strategy and budget:
Identify your target market:

You should determine your ideal franchisee's demographics, location, and needs.

Develop your marketing plan:

After identifying your target market, you should develop an advertising and promotional plan that includes trade shows and networking events.

Determine your sales goals:

Set targets for recruitment and franchisee sign-up, and determine how many franchises you want to sell over time.

Establish your budget:

Include advertising, trade shows, and other promotional costs in your franchise sales budget.

Allocate resources

: Use staff resources effectively to manage franchise sales and budgets.

Continuously review and adapt:

Adjust your franchise sales strategy and budget based on feedback from franchisees, market trends, and changing business conditions.

Establish a lead generation process:

Develop an identification and tracking tool for potential franchisees, and a follow-up process for them.

Develop a sales process:

Train franchise sales staff and develop a system for tracking franchise sales progress.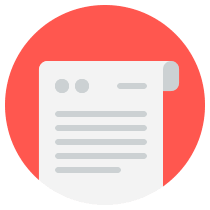 Franchise Business Plan Writer
Franchising usually requires a business plan. Hire our award-winning business plan writers to make your franchise business plan stand out.
How much should it cost to franchise my business?
It is important to understand that franchise costs vary widely depending on the industry, the size of the franchise, and the requirements of the franchisor. In terms of initial franchise fees, they can range from a few thousand dollars to hundreds of thousands of dollars, while ongoing royalties usually range from 4-8% of gross sales.
Franchise costs should be thoroughly researched and compared to possible benefits before deciding to franchise your business. To ensure compliance, you should also work with an experienced franchise attorney.
Helpful: Looking buy a franchise but don't have enough money, Visit our article on how to get franchise financing to start franchise business.