Top 20 Low Cost Franchises with High Profit
McDonald's is still the largest and highest-profit franchise in the world, but perhaps you don't have $2,313,295 to invest. Or food isn't really your thing.
Franchise ownership can cost somewhere around $1,000 to millions of dollars. The McDonald's example demonstrates that the top franchises demand an investment of about $2 million.
According to the US Census, franchises make up 11.4% of all US firms. The majority of franchise opportunities are in the food industry, but there are also large portions in the auto dealers, convenience stores, gyms, hotels, and real estate industries.
Let's have a look at our list of the top 20 low cost franchises with high profit opportunities to select from.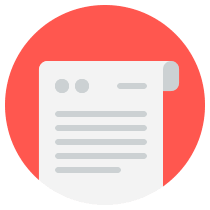 Franchise Business Plan Writer
Franchising usually requires a business plan. Hire our award-winning business plan writers to make your franchise business plan stand out.
Top 20 Low Cost Franchises with High Profit
A franchise's setup costs can be high and can range from a few thousand dollars to more than a million but you can seek guidance on How to buy a Franchise with low investment. There are possibilities for you in a number of industries if you're wanting to buy a franchise for a reduced cost.
1. Cruise Planners
As the name implies, you aid in planning cruises as well as other vacations, such as all-inclusive resort vacations and visits on land.
American Express Travel is connected to the home-based franchise known as Cruise Planners. By investing in a franchise, you can work from home as a travel expert.
The startup costs involved with opening a Cruise Planners business are lower than those of many other franchises because you don't need a storefront.
Additionally, you can start without any prior experience in the travel business or at a travel agency.
Franchise fee: $10,995
Initial investment: $2,095 to $23,367
Royalty fee: 1.5-3%
Franchise Category: Travelling
2. Fit4Mom
For mothers, the Fit4Mom brand offers wellness, health, and exercise programs. The Fit4Mom fitness franchise offers numerous options to build a profitable business and to benefit society by promoting motherhood.
An investor who starts a Fit4Mom fitness franchise benefits from a wonderful network of more than 1,000 partners in addition to the brand name and exercise programs.
Franchise fee: $7,495 to $13,395
Initial investment: $6,900 to $26,400
Royalty fee:4%
Franchise Category: Fitness/Gym
3. Chem-Dry
Chem-Dry has 3,000 franchises employing the company's patented products in more than 55 countries around the world.
if you decide you're interested in launching a Chem-Dry franchise and need assistance with the first investment, Fortunately, this franchisor offers internal financing options to help you get started.
Chem-Dry offers franchisees an already-built brand, goods, support, and training so that you may easily and rapidly start your own low-investment, high-return franchise business. 
Franchise fee: $23,500
Initial investment: $56,495 to $162,457
Royalty fee: $414.32/month.
Franchise Category: Carpet Cleaning.
4. Jazzercise
For more than 37 years, Jazzercise has led the world in dance-based fitness, offering classes in more than 30 nations. It is a good Franchise of low cost with a high profit portfolio.
A Jazzercise franchise is the ideal investment for you! As self-employed business owners, Jazzercise franchisees have the power to significantly influence their own income while also positively impacting the lives of others through dance and fitness.
The Franchise Zone, where you may download business tools and information, is one of the resources Jazzercise offers to assist you in starting and expanding your business.
Franchise fee: $1,000
Initial investment: $5,000 – $10,000
Royalty fee: Varies.
Franchise Category: Dance Fitness.
5. Stratus Building Solutions
There are already more than 2,000 franchisees operating in more than 50 major cities around the United States and Canada.
As a commercial cleaning franchising business, stratus Building Solutions serves American businesses. The business provides day porter services, hygienic cleaning services, and public health options for schools and medical facilities.
It also provides commercial janitorial, green service options, floor and carpet cleaning and maintenance, restroom sanitization, pressure washing, post-construction site clearing and cleaning, and restroom sanitization services.
For assistance with the first franchise fee, equipment, inventory, and other beginning expenditures, Stratus provides internal financing options.
The Franchisee can get a benefit of low-cost with high return with the minimum investment up to $ 3K to $50K, depends on the business size.
Franchise fee: $2,700 to $39,600
Initial investment: $3,450 to $50,350
Royalty fee: 5%
Franchise Category: Commercial Cleaning.
6. SuperGlass Windshield Repair
SuperGlass Windshield Repair is the world's largest windshield repair franchise. Consider opening a SuperGlass Windshield Repair franchise if you are interested in starting your own company and enjoy working outside.
As a franchisee of SuperGlass Windshield Repair, you will run a home-based windshield repair and scratch removal business that can assist you in reaching your professional objectives.
This franchisor has been able to keep up with customer demand by concentrating on mobile service while also keeping setup and overhead costs for franchisees low.
Franchise fee: $17,500
Initial investment: $18,685 to $84,205
Royalty fee: 4% of Gross Sales
Franchise Category: Vehicle Maintinance.
7. Mosquito Squad
Businesses run by Mosquito Squad provide a variety of outdoor pest control products and services, including barrier treatment services, outdoor misting system sales, design, installation, and maintenance, as well as other insect elimination and control systems for both residential and commercial usage.
You get the chance to run your own business with the support of a reputable, national support team thanks to Mosquito Squad.
Better yet, you may launch your company from the convenience of your home office!
Franchise fee: $45,000
Initial investment: $153,410 – $201,035
Royalty fee: 8% to 10%
Franchise Category: Pest Control.
8. Pillar to Post Home Inspectors
The largest and fastest-growing professional home inspection franchise in North America is Pillar To Post. Over 550 franchises now operate in the US and Canada, and the business has been ranked first in its sector for the last 8 years.
Within their designated zone, the franchisee will have the sole right to utilize the Pillar to Post trade name, logos, proprietary processes, tools, and goods.
Before starting their franchise business, Pillar to Post franchisees are expected to successfully complete a training program. From office practices to strategies for field inspections, this training covers every facet of the industry.
Additionally, franchisees will have access to ongoing support from the franchisor's corporate office.
Franchise fee: $40,000
Initial investment: $44,285 – $54,435
Royalty fee: 7%
Franchise Category: Home Inspection.
9. Property Management Inc.
Property Management Inc. is a reputable property management franchise that provides four main services: managing rental properties for associations, businesses, and homes.
More than 35% of Americans rent their homes as opposed to owning them. The property management sector has a lot of possibilities as the number of renters and rental units rises.
The PMI name, logo, and other trademarked and copyrighted materials, procedures, software solutions, property management software, processes, and systems will be used by franchisees to run a PMI business in a certain geographic area.
Franchise fee: $50,000 – $55,000
Initial investment: $60,000 – $150,000
Royalty fee: 1.0%
Franchise Category: Property and Real Estate Management.
10. Soccer Shots
The best soccer franchise program for young boys and girls in the U.S. and Canada is called Soccer Shots. It provides a distinctive approach to teaching soccer that focuses on the developmental requirements of kids ages 3 to 8.
A youth sports franchise opportunity can be the best choice for you if you enjoy sports and have a heart for assisting young people.
You can realize your ambition of owning a business as a franchisee while enjoying the advantages of a well-known brand and corporate assistance with marketing and operations.
Franchise fee: $34,500

Initial investment: $41,034 – $53,950
Royalty fee: 7.0%
Franchise Category: Soccer Coaching Program for Kids.
11. Dream Vacations
With more than 1500 independently owned travel franchise locations across the country, Dream Vacations has expanded to become one of the country's top travel retailers during the past 20 years.
We want to continue to be the top travel provider, giving millions of people access to the most intriguing places on earth as a part of World Travel Holdings.
According to an unique system, the franchisor offers franchisees for starting and running businesses that sell cruises, vacation packages, and specific other travel-related goods and services.
Franchise fee: $10,500
Initial investment: $3,245 – $21,850
Royalty fee: 1.5-3%
Franchise Category: Travelling.
12. Lil' Kickers
Little Kickers is a franchise organization that teaches superior football skills to kids between the ages of 18 months and 7 years.
A Little Kickers franchisee, who works primarily from home, has a variety of responsibilities, including handling all administrative tasks and advertising the sessions. They must also hire, develop, and oversee a group of coaches who conduct the classes. Franchisees occasionally participate in teaching themselves.
Currently, it operates 300 franchisees in 34 nations, with a $ 2 million annual revenue. Somewhere in the world, 66,000 kids attend a Little Kickers lesson each week.
Franchise fee: $15,000
Initial investment: $25,180 – $37,050
Royalty fee: 10%
Franchise Category: Football Coaching Program for Kids.
13. American Business Systems
One of the leading medical billing franchisees in the country is American Business Systems. ABS is ideal for business owners searching for a flexible low-cost franchise opportunity with great returns because it requires little startup capital and allows for work from home.
More than 2,000 marketing materials, a semi-custom website, live online training, and unrestricted lifetime support are also included.
Since the franchise has a 0% royalty fee, it is advantageous for the franchisee to have a low cost with high profit.
Franchise fee: $28,990
Initial investment: $28,990
Royalty fee: 0%
Franchise Category: Medical Billing.
14. Dog Training Elite
The fastest expanding dog training franchise in America is Dog Training Elite! Low cost Home-based business with a successful semi-absentee model. The responsibility of dog training can be avoided by Dog Training Elite franchise owners!
Franchise owners may also decide to invest in the ability to provide specialized dog training services, such as advanced puppy, advanced service, and personal protection.
Franchise fee: $59,000
Initial investment: $126,900 to $147,750
Royalty fee: 8%
Franchise Category: Pets and Vets Services 
15. Floor Hero
Franchisees are given the tools and procedures necessary to maintain various kinds of wood and concrete floors by the franchisor.
Their coating offers a special chance to capitalize on the current trend of renovating worn-out or damaged wood or concrete floors, which might turn this business into one of the most lucrative franchises with cheap initial investment.
They will give you comprehensive training if you decide to open a Floor Hero franchise.
Franchise fee: $15,000
Initial investment: $24,930 – $46,680
Royalty fee: 4%
Franchise Category: Cleaning and Buffing Services 
16. Amazing Athletes‍
A brand called Amazing Athletes offers sports and wellness programs to kids between the ages of two and a half and six. They have more than 100 franchisees and are present in 28 states.
The initial franchise fee may be financed by the franchisee up to 50%. Franchisees who select this option will be required to sign a promissory note that will be refinanced over a 14-month period at a simple interest rate of 15%.
Other than what has already been mentioned, neither the franchisor nor its affiliates currently provide direct or indirect finance for the development or acquisition of the franchise.
Franchise fee: $27,500 – $40,000
Initial investment: $33,450 – $64,950
Royalty fee: 8.0%
Franchise Category: Sports Education and Physical Fitness
17. The Maids
The Maids is not your typical cleaning service. Instead, The Maids is a market leader and the top-ranked domestic cleaning service according to Business Insider. This gives a fantastic opportunity to develop an asset with a reliable recurring revenue stream.
This franchisor offers franchisees the top systems in the market, cutting-edge procedures, technology, training, and support everything you need to launch and manage a successful residential cleaning business.
Franchise fee: $22,400
Initial investment: $9,600 to $84,000
Royalty fee: 3.9% – 6.9%
Franchise Category: Household Cleaning
18. Baby Boot Camp
A workout chain called Baby Boot Camp targets mothers who have just given birth. Net worth, fitness experience, and prior training certificates are among the determining elements used to evaluate potential franchisees on an individual basis.
This is a wonderful method to assist new mothers in increasing their fitness without having to make childcare arrangements.
You have the option of opening a brand-new Baby Boot Camp franchise in new markets or buying one of a select few already established franchises if you're interested in doing so.
Due to the 0% royalty fee, this franchise is seen as beneficial for its low cost with high profit margin for the franchisee.
Franchise fee: $7,000
Initial investment: $4,570 to $10,800
Royalty fee: N/A
Franchise Category: Fitness and Nutrition for Mothers. 
19. Monkey Bars Garage Storage Solutions
Monkey Bar Storage System, an expert in garage storage, is growing in the United States and Canada by offering reasonably priced solutions to the storage issues that regular homeowners encounter.
Plans are being made for global distribution now that there are 80 dealers in all of North America.
The initial stock, secured territory acquisition, customized dealer website, full home show display, pre-designed marketing materials, and one-on-one training are all included in the franchisee investment.
Due to the 0% royalty fee, this franchise is seen as ideal for its low cost with high profit margin for the franchisee.
Franchise fee: $5,000
Initial investment: $35,000
Royalty fee: N/A
Franchise Category: Garage Organizer
20. Social Owl‍
To run this turnkey, home-based business, no prior skills is necessary. Offer social media services, online reputation management, contests, and social discounts to customers to support nearby businesses. Marketing on social media is booming right now!
Make money in this quickly expanding business. Set your own prices and keep all sales revenue. With the help of SocialOwl's program, anyone can succeed in social media.
Franchise fee: N/A
Initial investment: $149
Royalty fee: N/A
Franchise Category: Social Media Marketing

 
Bonus Tip: Here are some low-cost franchise opportunities categorized according to the amount of capital they require.
How to find a Low-Cost, High-Profit Franchise?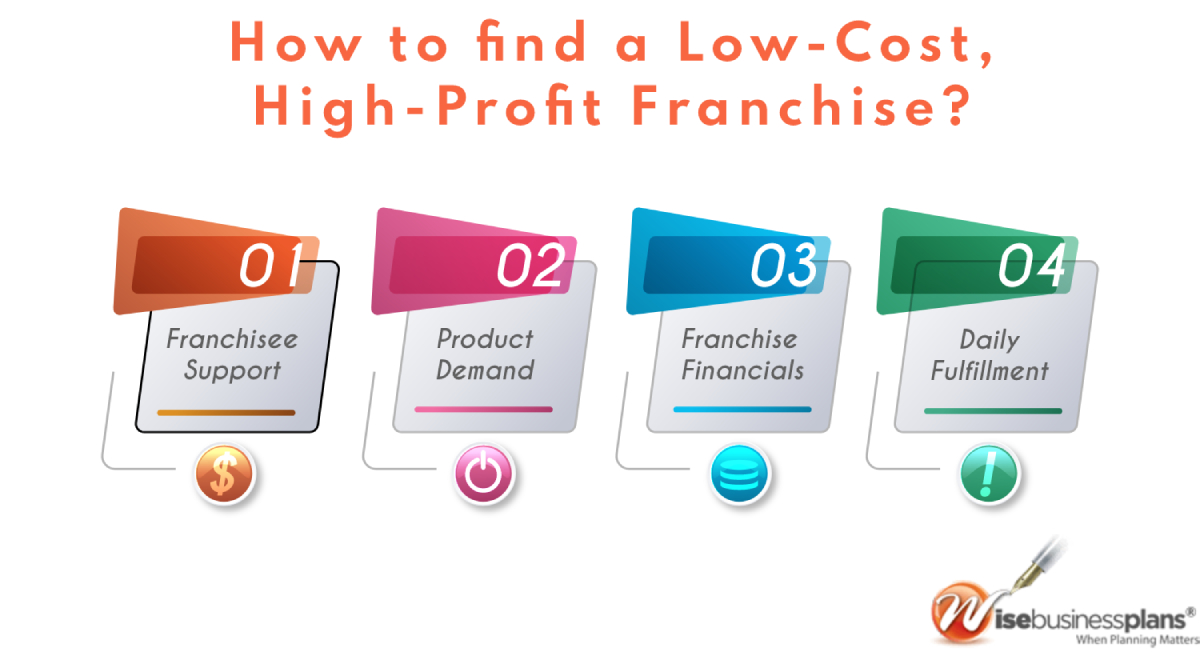 Franchises typically have established success strategies and a speedier ROI than beginning your own business, where you must set up everything from scratch. Clearly, a low-cost franchise with large profits returns is the desired outcome.
Franchisee Support
Check to discover if the franchisor has a solid support system in place for franchisees, particularly in the area of marketing, as that is what will make or break your company.
Product Demand
The firm might have a great product, but if it's in the wrong place, there's a chance it won't succeed. Ask the franchisor for this information.
It's also a good idea to research the competitors for the good or service since this could offer you an excellent understanding of what it takes to succeed. A quick Google Trends search to see if others in the region are looking for those products is another effective technique to gauge demand.
Franchise Financials
The greatest way to predict a franchise's future profitability is to examine the financial performance of the company. It can be helpful to speak with an accountant or attorney to properly understand this.
If necessary, have a conversation with an accountant or lawyer about which franchises to examine and whether beginning fees and upfront investments are reasonable given your current financial circumstances.
It's important to read the small print because there can be additional fees, personal expenses, or royalties.
Daily Fulfillment
Finally, and maybe most importantly: Will you enjoy performing what is asked of you?
Do you believe in the main statement?
The majority of people will find everyday fulfillment in exercising their strongest skills.

Important Parameters for Low-Cost Franchise Business
A franchise already has a solid consumer base and brand. Some of the difficult work, including coming up with the company idea, producing the logo, and preparing the marketing materials, has already been done by the franchisor. The franchisee can now step in and handle the daily duties of business ownership.
You need money to purchase a franchise, just as with any other type of business. Every franchise demands an initial financial investment as well as ongoing financial and time commitments.
There are four key cost factors to keep in mind when purchasing a franchise:
Franchise Cost: Almost all franchise opportunities need an upfront, one-time franchise fee from the prospective business owner.
Initial Expenditures: The resources, labor, and materials you'll need to launch are covered by your initial outlay. The franchise fee is included in the initial investment amount in our rating below.
Ongoing Investment: The money you'll need to keep operating the franchise is known as the ongoing investment.
Personal Finances: Some franchises need a minimum net worth before the owner is allowed to buy a franchise. Others have needs for money.