How to Find a Venture Capitalist
How to Find a Venture Capitalist
You have a brilliant idea and you have built a great company around it. Now you need money to grow it further.
Not every venture capitalist is suitable for your business. Find the right VC for your business that has invested in the same niche or your locality.
We have explained an effective 5-step approach to how to find a venture capitalist.
Step 1. Who is your Target Investor
First, define your target investor.
Venture capital is not for everyone.
Venture capitalists are looking for companies with market worth, established sales channels, a strong brand, and a great team that can grow the firm.
When you have just entered the market, relying on a bank loan, friends and family support, or crowdfunding is a better idea.
Step 2. Know the Market
The better you understand the VC market, the better you pitch your business to eligible VCs.
Start by selecting a group of venture capitalists/investors you want to target.
See if your target group invests in companies of a similar size. For example, if you need only a $500,000 investment, you should contact the VCs who invest in a similar range.
If you pitch your business idea to firms that invest like $2 million per venture, you'll be considered unprofessional and lose your reputation.
Once you know who you want to target, create a list of VC companies that invest in your target funding range and your industry. The VCs that meet both of these criteria is potentially a good match for you.
So, how to find venture capitalists? Research your list of VC firms and check their portfolio, press releases, history, and investment patterns.
For example, if your product or business idea is about healthcare, find a VC firm that has invested in healthcare startups in the past with companies of the same size as yours.
Cross-check your selected VC firms with portfolio firms and check their feedback
Grow 1%: What is a portfolio company?
The companies where private equity firms or venture capitalists invest are called portfolio companies. For example, Accelbyte, blink, Fanatics, Flipkart, and OYO are portfolio companies of the SoftBank VC firm.
Another consideration is your locality. See if your target firms have invested in your city or a nearby city. That way, you know your target VC firms are interested in your area and might be willing to invest with you too.
You can find VC lists from Wikipedia, CBinsights, Crunchbase, etc.
Step 3. Shortlist the VCs
In the third step of how to find VC, you'll shortlist the VCs you selected already.
Once you know the market, shorten your list to less than a dozen and keep the ones you have received good feedback about and are relevant to your industry.
Many VC firms will place staff on your board. Be prepared for adjusting VC staff to your board. These people are there to watch the investor's interest and want to make sure you make the best use of the investment.
Venture capitalists are as much interested in your business's financial success as you are. When you have good working relations with the investment firm and their onboard team, you'll remove a lot of roadblocks.
Step 4. Cast a wide net
You have a short list of the VCs that you want to get investment from. You also have feedback about them and you know if they will be interested in investing with you.
When it comes to finding and meeting VC companies, a personal connection is more effective than cold calling or cold emailing.
Sometimes, getting investment for your business idea is all about knowing someone who knows a VC. However, this doesn't undermine the effectiveness of cold emails or cold calling.
Finding a good match for your business idea is a two-way street. Just like you are looking for a good fit for your business idea, the investors are looking for promising companies they can invest with.
However, since they are in the business of taking risks, they want to make sure it is a risk worth taking.
The first step for you is to get into the door. When you can pitch your business idea, you can think about the probability of getting backed by that VC firm.
Step 5. Perfect your Pitch
Every VC firm is different. They have different portfolios and past histories. Also, when you look closely, you'll find a pattern in their investments.
A great pitch is half the answer to how to find venture capital funding.
Being a good fit for a VC is not enough, you have to prove that you are a good fit.
Make a template about your business and include only the necessary information. Investors will only be interested in the companies that prove good returns over investment quickly.
Your template should only include the core details about your business.
Don't use the same template everywhere. You will write a new message for every VC and pitch your business in a way that relates and appeals to them.
When you approach VCs via cold emails, tell them about you, your business, your growth so far, and a short introduction to your team.
The goal of your cold call or cold email is to prove to them that you are a genuine prospect.
Don't negotiate just yet.
Let them know that you wrote that email only for that particular VC.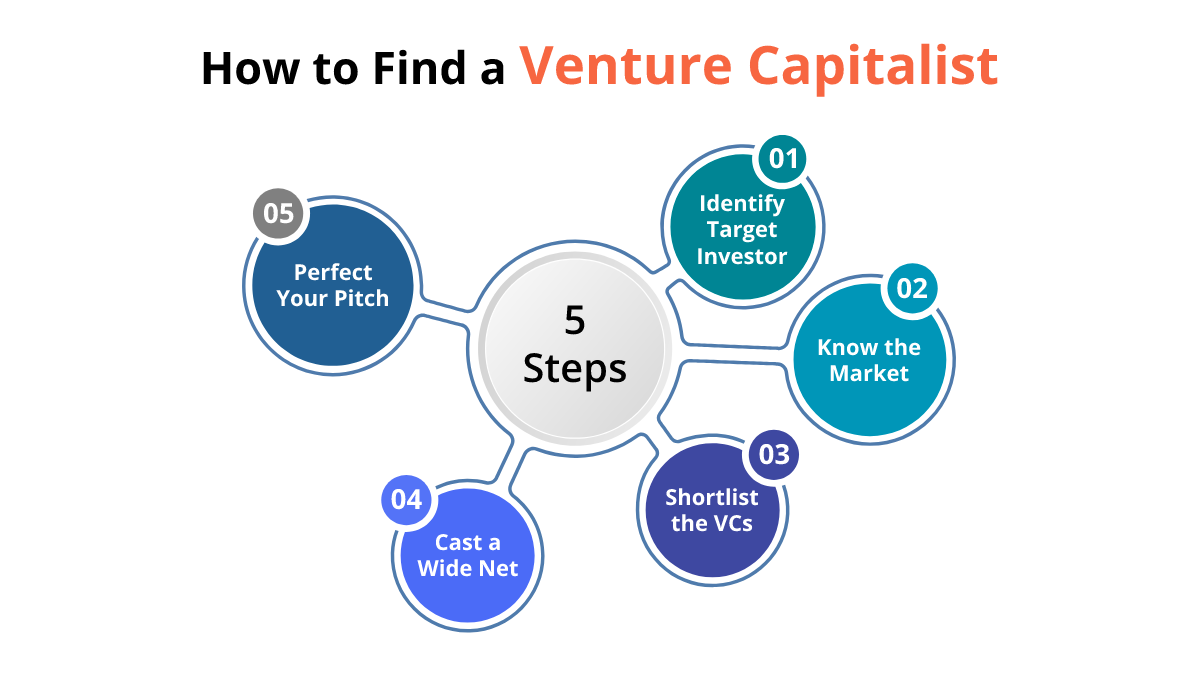 5 Places to Find and Reach Venture Capitalists
We have discussed how to find venture capitalists so far; let's see where to get venture capital.
VC Blogs and Websites
Many VCs keep a blog or website where they share an opinion and connect with prospects.
Connect with them by making a good first impression with an intelligent comment. See who they frequently interact with and the topics they are interested in. Prepare yourself for meeting them on common ground.
You can also use your business blog to write about the topics they are interested in. You can create a connection and possibly, a chance to meet them.
For starters, check these VC blogs.
Twitter Handles for VCs
Twitter is another great place to (virtually) meet VCs. Find your shortlisted VCs on Twitter. Follow them. See who they interact with and what they mostly talk about.
Enrich your knowledge about the topic and interact with them. Once you get into their circle and you have value to offer, sooner or later, you'll be noticed.
Start by following these VC investors.
@jason–Jason Calacanis
@richminer–Rich Miner
@bfeld–Brad Feld
@shervin–Shervin Pishevar
@pcflanagan–Paul Flanagan
@davidbeisel–David Beisel
@bostonvc–David Skok
@eileentso–Eileen Burbidge (Eileen Tso, Eileen Broch)
@davidcowan–David Cowan
@ajay_bcv–Ajay Agarwal
@balajis–Balaji Srinivasan
@vkhosla–Vinod Khosla
@christine–Christine Herron
@davidlee–David Lee
@ryanjsweeney – Ryan Sweeney
Find VCs on LinkedIn
Many VCs have LinkedIn profiles. VC firms also have LinkedIn pages. Grow your LinkedIn profile and make more common connections. Again, the secret is getting into the tribe.
Once you find target VCs, message them on LinkedIn. You may receive a response.
Industry Events
You can find eligible VCs at industry events. Search for a directory of events and see relevant industry events in your city. Start with these event directories for finding a VC.
Cold Emails
Make use of classic cold emails to reach VCs.
You'll find VC emails on their blogs or websites. You can also contact the VC firm and ask for their email.
Keep your cold email short and to the point. Make it a teaser email with only the necessary information. If they are interested in knowing more about your business, they'll contact you for further information.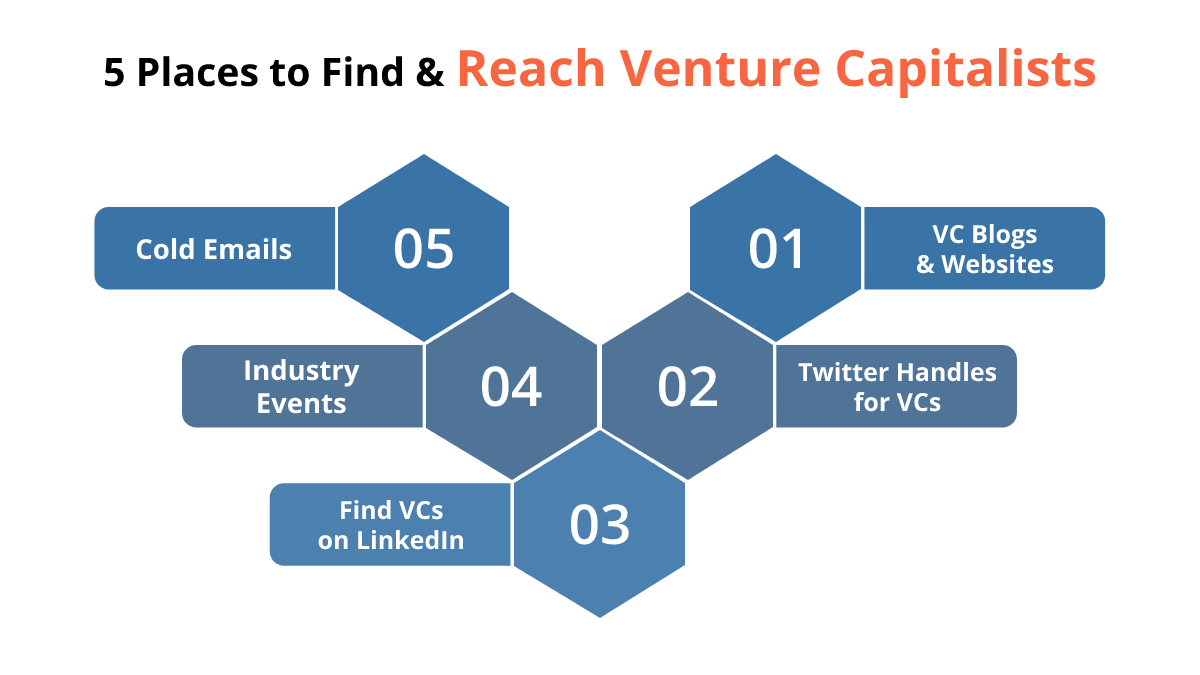 Why you should focus on finding a good fit than money?
Before you decipher how to get venture capital funding, think hard if you actually need VC money.
Not every firm is a good candidate for VC money.
The right VC for your startup will be the one with experience and expertise in the market and who invests an amount similar to what you need for your startup.
Don't go for the big names. Look for firms or investors whose goals and expertise align with yours.
Investors want to make money with you. They share the risk and want a reward for the investment. Make a plan to convince them that the problem you are solving is 'worth solving'.