How to Start a Water Well Drilling Company
"With over 15 million U.S. households relying on private wells for drinking water, residential water well drillers have the responsibility of constructing safe and dependable wells for our home water needs," said Joseph Ferriolo, Director of Wisebusinessplans.
"The Wise team of experts takes the responsibility of securing future business success for well-drilling entrepreneurs seriously by carefully consulting with our clients and listening to their ideas, every step of the way."
How to Start a Water Well Drilling Company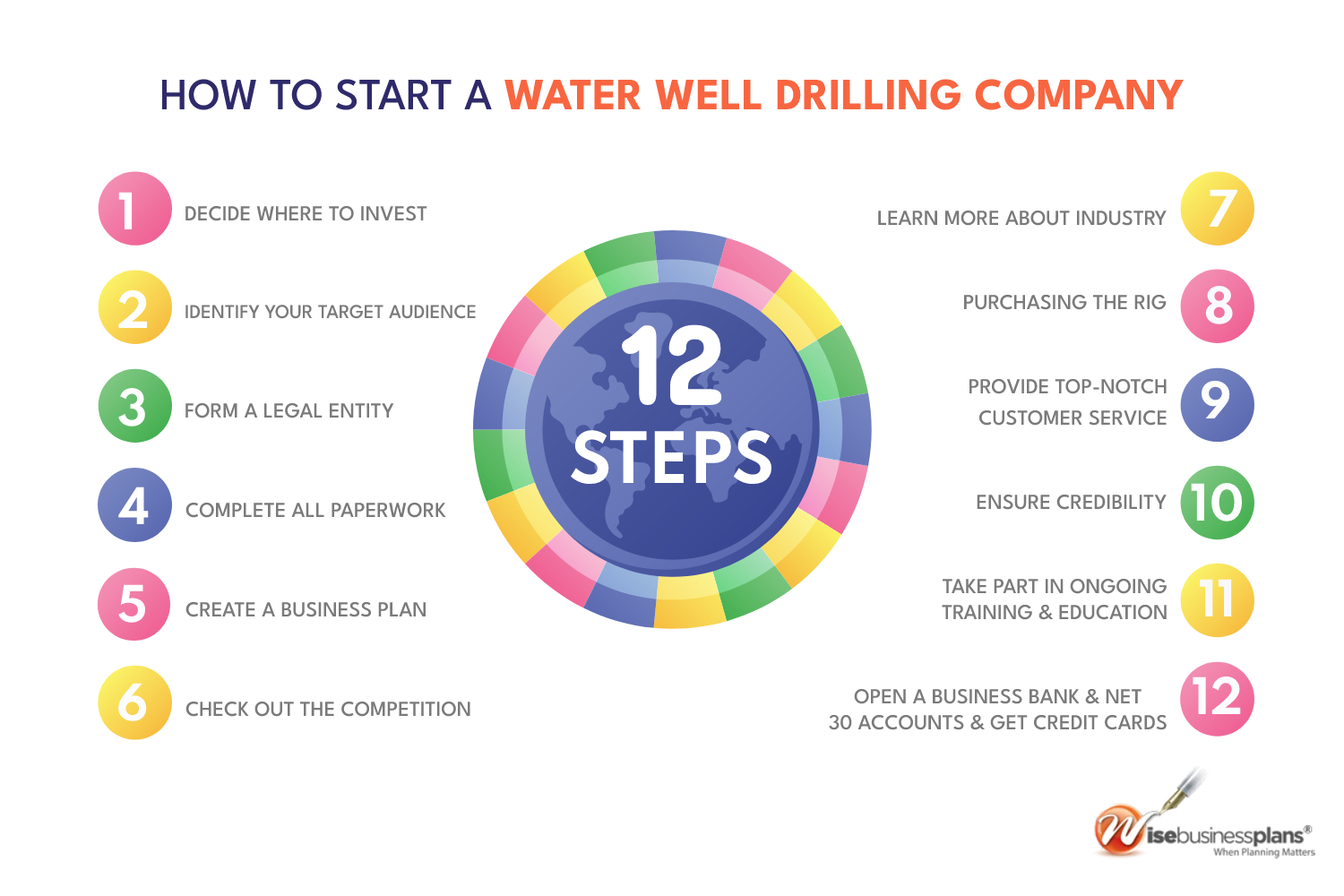 If you live in an area where clean drinking and irrigation water is needed, starting a well-drilling company can be an excellent idea. But it is not as easy as buying a drill and advertising in a phone book. To start, it is important that you are familiar with the applicable regulations. It requires substantial capital to run a modern, well-equipped business.
A reputable well drilling business is noted for its specialized technical skills, sound entrepreneurial methods, and friendly, prompt customer service. In this article, we will discuss some very useful tips and everything you need to know for starting a water well drilling company.
1. Decide Where to Invest
In order to start a water well drilling business, the first thing you need to decide is whether to start a business from scratch or purchase an existing company.
If you acquire an existing water well drilling and service company, you'll be in a better position with lenders and investors than if you tried to start from scratch. But buying a water well drilling and service business also has several competitive advantages, starting with a recognized brand identity.
For new water well drilling and service business owners, buying an established brand can be an effective business strategy. Your business's ability to compete is often based on your brand reputation. Therefore, an acquisition strategy expedites the pace at which your business becomes a competitive threat.
The chances of surviving in business increase greatly if you franchise rather than going it alone. Buying a franchise could be the right decision for you if you are planning on starting your own water well drilling and service business.
2. Identify Your Target Audience
Establish your target audience and communicate with them via direct mail, phone, or print advertising. Bid on large municipal or federal contracts to add stability to your company. Often, well-drilling firms obtain new clients through word-of-mouth referrals, so train your staff to treat each client with respect.
3. Form a Legal Entity
It will be in everyone's interest to shield themselves from any personal liability. An S corporation or a limited liability company (LLC) can be formed.
A Limited Liability Company is a flexible business entity with elements of both a partnership and a corporation. To simplify federal income tax matters, S corporations elect to pass income and losses on to shareholders.
Need to Register a Water Well Drilling Business?
Wisebusinessplans provide you with a wide range of business formation services that make it easy for you to incorporate a business and allow you to focus on other important activities. Our business formation services include
LLC Formation
NonProfit Business Formation
S Corporation Registration
Tax ID Number
You can form your business entity in just 4 Simple Steps with Wisebusinessplans
4. Complete all the Paperwork
Drillers must have all the necessary permits, and licenses, and be up-to-date on the latest state and local codes to operate the business. These include a federal Employer Identification Number and state and local business licenses.
Local permits contain information about the geology of the area for optimal good placement, minimum good depths, and other important considerations.
If you lack the technical background needed to obtain a driller's license, you might consider hiring a certified driller. You should learn the requirements for installing a water well, even if you hire a driller.
Does Your Business Need Water Well Drilling License?
Licenses for businesses can be complex to obtain. A Wisebusinessplan makes it effortless for you to acquire a business license.
Get Your Business Licence Now!
5. Create a Water Well Drilling Business Plan
A first-rate business plan is job one for your startup water well drilling and service business. It is essential to prepare a detailed borehole drilling business plan, listing your resources and liabilities once you have decided what you will do.
You need to include all the projected operating costs in your water well drilling business plans, such as insurance, permits, licenses, salaries, and ongoing expenses.
It can serve as a blueprint for your company. Your business plan will be a valuable tool if you intend to apply for a loan or wish to attract investors. In case you have no prior experience creating business plans, congratulations you have come to the right place.
Do You Need Help in Creating a Water Well Drilling Business Plan?
Here's the good news: you can minimize the time it takes to write a business plan by hiring wise business plan writers who have over a decade of experience writing business plans, spanning over 400 industries.
6. Check Out the Competition
It's important to determine the competition in your area well before setting up a water well drilling and service business. It's important to know what you are going to offer to your customers that gives you an edge over your competition.
7. Learning More About the Industry
Once you've finished assessing the competition, be sure to learn from folks who are already in business. Fortunately, somebody who runs a water well drilling and service business in a different city can be a great learning resource for you, once they realize that you are not going to directly compete with them in their community.
In that case, the business owner may be more than happy to discuss the industry with you. It can take a while to find an entrepreneur who is willing to talk, but it's well worth the effort.
Consult Wisebusinessplans as they have more than 20 years of experience in business consulting and providing their business formation services for 400+ industries across all 50 states in the U.S.
8. Purchasing The Rig
The type of well you install will determine the type of rig you purchase. Hollow stem or mud rotary drilling rigs can be used to install most water wells, although other types are also available.
The cost of an oil rig in the U.S. typically ranges from $18 million to $20 million and reaches around $25 million, but it can be near twice that amount depending on the specific rig purchased.
9. Provide Top-Notch Customer Service
It's not uncommon for water well drilling businesses to be multigenerational family operations with decades of experience. These longtime operators are all known for their exceptional customer service. Offering 24/7 emergency service, knowledgeable and trustworthy advice, and cost-effective options is part of that service.
10. Ensure Credibility
You can create a positive impression of your business among potential customers by creating a professional-looking business website that details your company, the services you provide, and your technical expertise. Participating in social media is a low-cost way to reach new customers and gain word-of-mouth credibility.
11. Take Part in Ongoing Training and Education
A hands-on seminar like the one offered at the Goulds Water Technology Factory School provides information about the latest advancements in residential applications, how to correctly install products, and how to troubleshoot. Taking virtual seminars is another great way for water industry professionals to expand their technical knowledge. Both can assist professionals in getting the CEUs needed for certification.
12. Open a Business Bank and 30 Accounts and Get Credit Cards
Personal asset protection is enhanced when you open specialized business banking and credit accounts. When your personal and professional accounts are mixed, your personal assets (your home, automobile, and other valuables) are vulnerable if your water well drilling company is sued.
Furthermore, learning how to establish business credit may assist you in receiving credit cards and other financial resources in your water well drilling company's name (rather than yours), improved interest rates, greater lines of credit, and more.
Set up a business bank account
Apart from being a requirement when applying for business loans, establishing a business bank account has several benefits.
Separates your personal belongings from your water well drilling company's assets, which is critical for personal asset protection.
Makes tax preparation and accounting simple.
It makes tracking expenses easier and more organized.
Recommended: To discover the greatest bank or credit union, read our Best Banks for Small Business review.
Open net 30 accounts
In order to establish and grow business credit, as well as improve company cash flow, net 30 payment terms are utilized. Businesses purchase products and pay off the whole amount within a 30-day period using a net 30 account.
Net 30 credit vendors are reported to the major business credit bureaus (Dun & Bradstreet, Experian Business, and Equifax Business Credit). This is the way businesses build business credit to qualify for credit cards and other lines of credit.
Recommended: Read our list of the top net 30 vendors guide to start getting business credit or simply open a net 30 account with Wisebusinessplans in seconds.
Get a business credit card
It's exciting to open a business credit card for your firm. A business credit card can assist you to establish credit, safeguard your water well drilling company financially, access rewards (such as cashback), and simplify cash flow. It can also assist you to manage your expenditures.
Recommended: Learn more about the best business cards and banks in our business credit card review.
Water Well Drilling Business Plan Writing Services
Wisebusinessplans offers residential water well drillers and maintenance companies quality water well drilling business plans, written by seasoned professionals who work closely with clients to provide the very best for every business that they serve," said Ferriolo. Here you can review our water well drilling business plans sample to know what a business plan looks like.
Wisebusinessplans, staffed with professional MBA business plan writers, researchers, and financial experts, is a trusted partner for businesses across a broad spectrum of products and services. Our mission is to empower our clients to make the best possible business decisions, boost company performance and facilitate their funding success by laying the groundwork for strong businesses that excite, inspire and retain talented and exceptional employees.
Several of Our Other Major Business Services
Starting a business? With Wisebusinessplans, you will receive a quick and easy 10-step guide to start your own business, as well as assistance in every step along the way from funding to registering or licensing a business entity, branding, and marketing. Following are our main services
Wisebusinessplans offer a net 30 account applications as well. Customers can pay their bills in full for Net-30 accounts after purchasing products for a period of 30 days. Your business finances will also be easier to manage if you use Net 30 accounts. Apply for your net 30 business accounts now
Tags:
business ideas
,
business types
,
Form a Business
,
starting a business