7 Types of Digital Marketing Channels in 2023
Digital Marketing Vs Internet Marketing
What is the difference between digital marketing and internet marketing, Digital marketing, and Internet marketing are remarkably similar, but they are different slightly. Let's look at the definition of these two terms.
Digital Marketing
Digital marketing uses the Internet, mobile devices, social media, search engines, and other digital marketing channels to reach consumers. It uses the Internet to reach consumers attracting customers via email, content marketing, search platforms, social media, and other channels.
Digital marketing is on the rise and includes search result ads, email ads, and promoted tweets – anything that includes marketing with customer feedback or a two-way interaction between the company and customers.
Internet Marketing
Internet marketing differs from digital marketing. Internet marketing is advertising solely on the Internet, whereas digital marketing can occur through mobile devices, on a subway platform, in a video game, or via a smartphone app.
Understanding Digital Marketing Channels
Digital marketing is creating opportunities for B2B marketers to promote their companies on a wide range of digital marketing channels.
Your Target audience can be reached easily by using these digital marketing channels with information about your brand, product, or services. These digital marketing channels allow you to engage with your customer to answer any questions or solve their inquiries.
7 Effective Digital Marketing Channels
Website Marketing
It is the centerpiece of all digital marketing activities and one of the very powerful digital marketing channels. This medium is also needed to clearly and remarkably implement numerous online marketing campaigns to represent a brand, product, and service. SSL certificate is also important on your website.
Pay-Per-Click (PPC) Advertising
Enables marketers to touch Internet users on digital platforms. PPC campaigns can be set up on Google, Bing, LinkedIn, Twitter, Pinterest, or Facebook based on user segments and their demographic characteristics, particular interests, or location.
Content Marketing
To reach prospective customers through the use of content. Content is frequently published on a website and stimulated through social media, email marketing, SEO, or PPC campaigns. Content marketing includes blogs, ebooks, online courses, infographics, podcasts, and webinars.
Email Marketing
One of the most effective digital marketing channels. It is the medium to connect with prospective customers. Digital marketers use email marketing to turn those leads into customers.
Social Media Marketing
The main goal of a social media marketing campaign is brand awareness and social trust. Marketers can use social media marketing to get leads or direct sales.
Affiliate Marketing
One of the oldest forms of marketing. With affiliate marketing, influencers advertise other people's products and get a commission on sales or lead generation.
SMS Messaging
Used by marketers through SMS or text messages to send information about their latest promotions or give willing customers opportunities.
Related: 7 Free Online Marketing Tools For startups
How Digital Marketing is Different from Traditional Marketing
In today's market, it is not only important to utilize different media channels but to also drive a consistent message through each. Many "old school" tactics still have an important role to play in any business marketing plan and can have a big impact on your branding and marketing decisions.
Social media and e-mail marketing are important aspects of any business's online marketing strategy. But what about more traditional marketing activities such as direct mail, trade shows, and trade events? Here's why they matter and what you can do to dust them off and bring them up to date.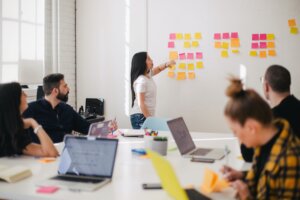 There's no doubt email marketing represents a great way for small businesses to stay in touch with prospects and customers. But email also has its downside; building an in-house list takes time, and only a small percentage of targeted customers open them. Of course, direct mail isn't perfect either.
A direct mail campaign can be slightly expensive, but for small businesses trying to reach a local market, flyers, postcards, letters, and even print newsletters can be effective.
Traditional b2b Marketing Strategies And  Why Traditional Marketing is Still Important
If you are in the B2B arena, trade shows are hard to ignore. In fact, trade shows represent 20 percent of most B2B company's marketing budgets. Why? Trade shows are a big investment for exhibitors and attendees alike, which means the folks who are there are serious about buying and selling.
 According to the Center for Exhibition Industry Research, 72 percent of trade show attendees say these events influence their buying decisions. Don't overlook trade shows when your customers are there searching for you! The best sector for direct mail marketing is the B2B,( business-to-business) sector. B2B generally fares about 60% better than the consumer market on first-time responses.
Another tactic is good old advertising. With planning and persistence, print, online, and mobile advertising are great long-term brand builders. The effects of your flyer or ad consistently being in the same place at the same time every week, such as in the Sunday paper, gives your brand and products a rock-solid, dependable, feel to your customers.
So don't let the "old school" handle stop you and your company from using an updated, modernized version of direct mail marketing, the trade show circuit, or printed advertising to bring in new sales and customers.
Free Email and Digital Marketing :
Develop strong relationships with your customers, and grow your business with iContact's email and social media marketing solution. Built with your needs in mind, iContact's easy-to-use tools are packed with the features your small business needs to thrive. With a staff of knowledgeable marketing advisors and a library of digital marketing resources, iContact can be your personal marketing expert.
Tags:
Business Marketing
,
DIgital Marketing