Businesses that support their local community and fellow citizens are generally more popular, more well known, and achieve a higher level of success, in a shorter time, than those that choose not to do so. As a business owner, you are considered an important part of your city or town, and other residents will take your actions as their example.
And wearing a T-shirt or pin with your logo is generally accepted by most organizers, so while it is certainly not the main reason you choose to be helpful and supportive, it does identify you and your business to those that would like to return support to upstanding local businesses.
What is Community outreach
?
Outreach in the community is the process of offering education, social planning, and support of activities to community residents on a free and open basis. As a small city, outreach is a lot easier, especially through social media and advertising.
Why is Community outreach important
?
In community outreach, people give, contribute, and help those who cannot help themselves. Our community outreach initiatives allow us to influence younger generations to give back to the community. It helps the community grow in a substantial way. Community outreach could relieve a person of a lot of stress.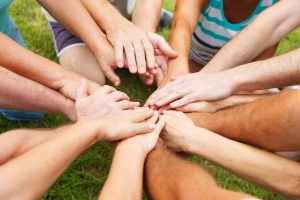 Volunteering Community Outreach Projects: Volunteering to assist with events, such as fun runs, that raise funds for charity is always an appreciated and respected endeavor. Organizers might ask that you serve refreshments, hand out awards, or any number of other tasks. There are many ways to help, and it can be very rewarding.
Here are some simple ways to outreach in the community
Most communities have cleanup or improvement days set aside for the beautification of downtown areas, schools, and parks. Such efforts depend on the generosity of local business owners to get involved and to help others to get involved.
Sharing information in-store and with customers online can be an excellent way to show you care while garnering support for the event. Consider mentioning clean-up days in your online newsletter, if you send one.
Don't forget the role that pets play when considering ways to reach out to your community. Animals are a vital part of people's lives, and numerous organizations can always use the help that you are looking to offer. Whether you're hosting a pet adoption event or giving goods or services to service animal trainers, remembering a man's best friend is a great way to give back.
Senior citizen centers 1nursing homes perform vital community service and are often in need of interesting guest speakers, holiday activities, and someone willing to spend time just visiting with residents.
Do you have a particular musical or artistic talent? Local communities are always in need of prominent citizens to add interest to festivals, concerts, and plays. Even if your talent is not of a professional quality, putting yourself out in support of others shows that you care more about your hometown than your own comfort zone.
There are many, many ways to contribute to making life better for others. As a small business owner, your part can be as large or as small as you desire, but playing an active in your community's life will lead to a more rewarding and fulfilling personal life, which will mean a more rewarding and fulfilling business life, also.