How to Set up a Flea Market Booth | Wise Business Plans
Flea Markets have Exploded in Popularity
Flea markets have exploded in popularity in recent months, with last year's Flea Market Report stating that many owners are seeing between 1,000 and 5,000 shoppers visiting their flea market on any given day.
"Selling wares at a flea market allows vendors the choice to sell their items, at their price, in a high-traffic venue, without the overhead they would incur with a dedicated building space of their own," explained Joseph Ferriolo, Director of Wisebusinessplans. "At Wise, our professionally prepared flea market booth business plan can help flea market owners and swap-meet entrepreneurs meet their upgrade and expansion requirements and help them map their business goals, leading to a more prosperous business future."
How to Start a Flea Market Business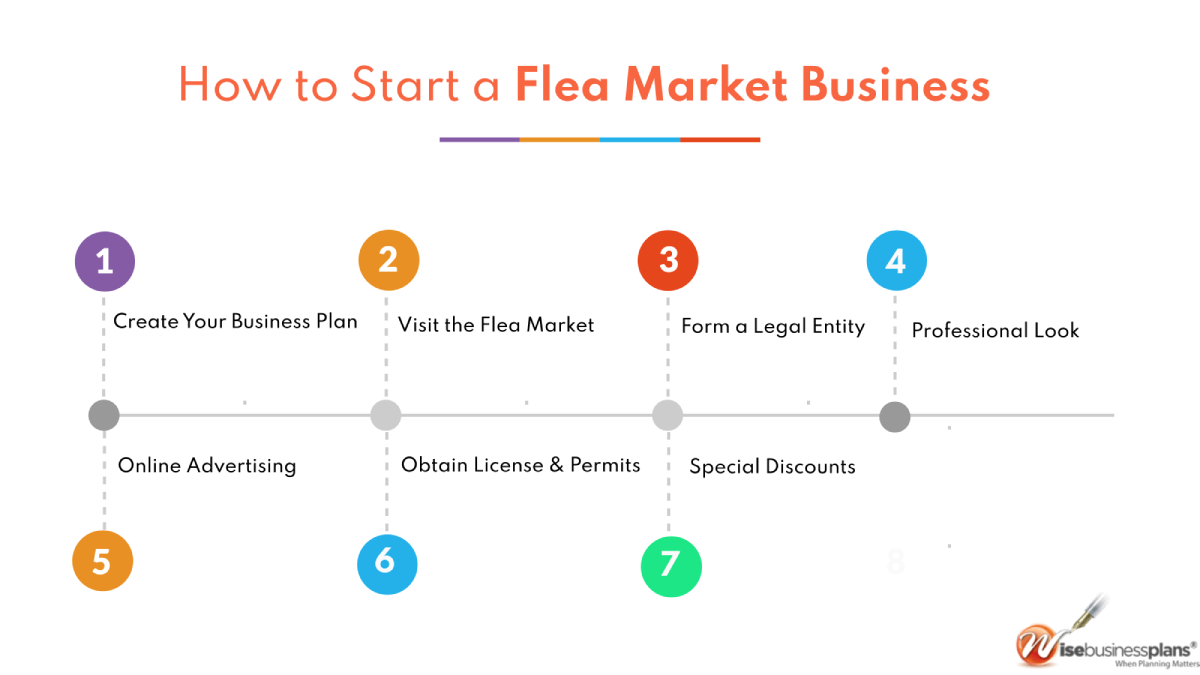 1. Create Your Flea Market Business Plan
For entrepreneurial growth, a well-defined roadmap is essential.
In this way, you can map out all the details of your small business and reveal any unknowns. Several critical points to include:
What are the costs of getting started and maintaining the system?
Who is the target audience?
What is the maximum amount you can charge customers?
Do You Need Help in Creating a Business Plan?
Our clients no longer have to worry about the complexities of writing a professional business plan.
Our MBA-qualified business plan writers have written over 15000+ business plans for over 400 industries in over a decade.
2. Visit the Flea Market
Before reserving a booth, check out flea markets. It is important to know when flea markets operate on weekdays so you can gauge their traffic and decide whether you need to incur labor costs to keep the booth open through slow periods.
If you want to market a different product, talk to other sellers to assure them you are not a rival.
3. Form a Legal Entity
Businesses typically take the form of a sole proprietorship, partnership, limited liability company (LLC), or corporation. In the event of a lawsuit, organizing the flea market as a legitimate business entity protects you from criminal charges.
Legal entities such as an LLC and corporations protect you from being held personally liable.
Need to register a Flea Market Business?
Our registered agents offer you a wide range of business formation services to make it easy for you to incorporate a business and focus on other tasks.
Register your Flea Market Business now with the help of Wisebusinessplans
4. Professional Look
Before displaying the goods, precautions can be taken. Customers may lose faith in your ability to deliver high-quality goods if your booth is messy or resembles the floor of someone's disorganized closet.
Get up early to fold laundry, arrange packaged items, and hang items on shelves.
5. Online Advertising
By taking it seriously, your business will succeed more often. Maintaining an online presence is necessary. You can promote your products and services greatly by using social media and online platforms.
As an example, if you attend different markets every week or month, you can inform your customers through Facebook where you'll be and what new items you'll offer.
6. Obtain License and Permits
You should also check out the permits and licenses you will need to run a flea market and sell food. It is also important to find out what permits or licenses your vendors will need.
In order to operate a flea market business, one must have the necessary permits and licenses. It is possible to encounter hefty fines for not having the necessary licenses and permits, or even have your business shut down.
Do You Need a Flea Market Business License?
Business licenses can be difficult to obtain. A Wisebusinessplans makes it effortless for you to acquire a business license for your Flea Market business.
Wisebusinessplans help you to get your Flea Market Business License
7. Special Discounts
In a flea market, bargaining is the name of the day. You are not required to accept every bid that comes your way, but making room for new products and increasing sales will help boost your business.
If you hang onto products for too long, you will run out of space/resources to buy new products, and you will have invested more money in non-selling inventory.
Check out these simple steps guide to start your flea market business 
Flea Market booth Business Plan for helping Flea Market Owners
When Wisebusinessplans sets out to create the right flea market business plan for a particular client, the company's highly experienced team of professional business plan writers carefully listens and consults with the client to ensure that all information is complete and that the resulting plan will meet the unique ideas and goals of the client.
All Wise flea market booth business plans include in-depth financial planning and are always offered at an affordable price.
"Wisebusinessplans' goal is to see all of our clients have a successful, prosperous business, and we strive to assist our clients in every way possible to achieve that goal," said Ferriolo.
Wisebusinessplans, staffed with professional MBA writers, researchers, and financial experts, is a trusted partner for businesses across a broad spectrum of products and services.
Our mission is to empower our clients to make the best possible business decisions, boost company performance and facilitate their funding success by laying the groundwork for strong businesses that excite, inspire and retain talented and exceptional employees.
Tags:
Business Ideas
,
Business Starting Tips
,
Form a Business