How to Start a Plumbing Business
Summer thunderstorms are expected to bring heavy rain this year that can negatively affect household plumbing, raising the need for qualified plumbers in the US.
Wisebusinessplans is now offering a plumbing business plan and working with plumbing contractors and entrepreneurs to provide in-depth research and business futures data to help plumbing companies obtain operating and expansion capital.
How Much Does a Plumber Make and is it Profitable?
Generally, it's a very profitable business, as the average sales price is upwards of $700k, and the most frequent deal size is $300k.
A master plumber operating a one-person business making $45 per hour can make up to $100,000 in a year.
How Much to Start a Plumbing Business
Since you already have your plumbing license and a car, you should be able to get at least $10,000 capital for your plumbing business.  It's possible to start your plumbing business for less money, and we'll show you how.
How to Start a Plumbing Business
Statistics collected by the Bureau of Labor Statistics indicate that the plumbing industry is growing at a much faster rate than average. Some business owners in the field are nearing retirement age, making this an ideal time to enter the field. In order to start your own business as a plumber, you can take these steps to get started.
Some of the most important factors for running a successful plumbing business are the same for just about any other kind of company.
1. Create a Plumbing Business Plan
The purpose of a business plan is to outline your goals as well as the strategies for achieving them. Your plumbing business won't succeed without a business plan. You do need to take a little time, but the effort is well worth it. Having a detailed plan provides structure, a clear purpose, and a strategy for your new business.
Do You Need a Plumbing Business Plan?
Our clients find it easy to write business plans with us. Our MBA-qualified business plan writers have written more than 15000 business plans for over 400 industries in the last decade.
2. Get Certified for your Plumbing Skills
To become a plumber, you need a strong background in math, science, and technology. In general, you don't need a college degree to enroll in trade schools or certification programs – a high school diploma or GED is good enough. As a result of these vocational training programs, you can gain the necessary skills and set yourself apart from your competition.
3. Invest in the Right Equipment
In order to get your plumbing business off the ground, you will need a few essential tools. But don't let yourself be intimidated or spend your entire capital on glitzy new equipment. Purchase used equipment if you can, and purchase specialty equipment only if you have the license, skills, and customers calling for it.
4. Obtain License and Permits
To get your business officially up and running, you need to comply with state and local laws for operating a business. Each state has different licenses, permits, and requirements, so check with your Secretary of State or licensing board to obtain and file the necessary paperwork.
Do You Need a Business License for a Plumbing Business?
Wisebusinessplans have simplified the process for you to get your plumbing business licenses, tax registrations, and seller's permits in just minutes!
Get Your Business Licence Now!
5. Get Funding for your Plumbing Business
The next thing to consider is resources and capital. There is an initial financial outlay required when starting a business, and it won't be cheap. One of the largest costs of being an independent plumber is investing in a vehicle and equipment. Depending on the type of market you intend to serve, these will have different scopes.
6. Register your Business
Getting your plumbing business registered or incorporated is recommended if you're starting one. Business structures consist of a sole proprietorship, partnership, limited liability company, and corporation. In the event your plumbing business is sued, setting up a legal business entity such as an LLC or corporation protects you from being held personally liable.
7. Marketing your Plumbing Business Online and Offline
There's a good chance your plumbing business won't be the only one in town. Taking a look at your competitors is not a sneaky thing you should do on the down-low; it's an important step and one you shouldn't skip. It is imperative that you learn about their strengths and weaknesses, otherwise, how will you know how to defeat them? You want to find something that will make your business stand out from the crowd.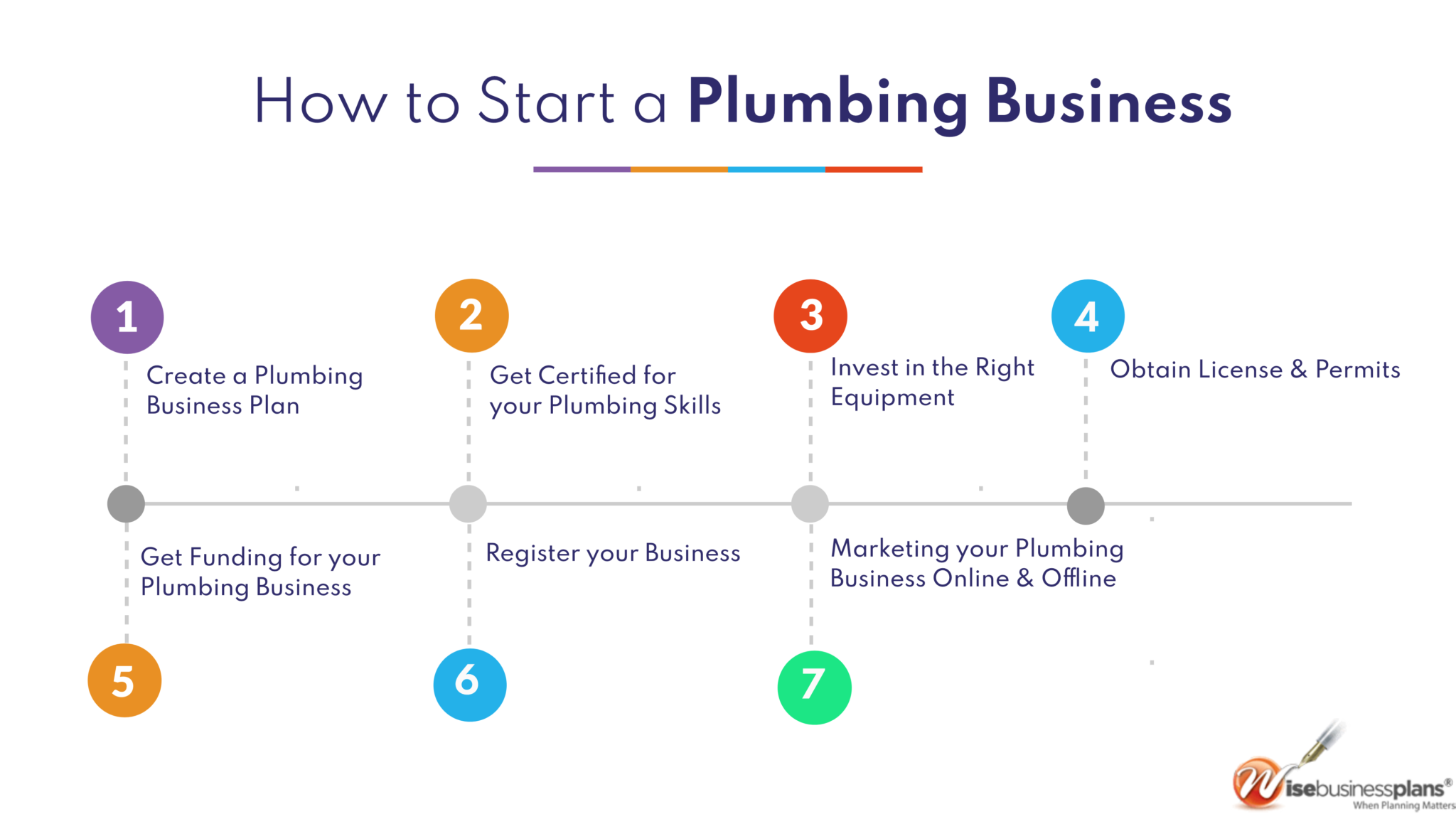 Do You Need to Register a Plumbing Business Entity?
To make incorporating a plumbing business as easy as possible, our registered agents offer a wide range of business formation services.
Register your business entity in minutes with Wisebusinessplans!
A business plan is a first and foremost step in starting a plumbing business plan. Wisebusinessplans will help you to provide the ultimate plumbing business plan to help grow your business in 2021. So, if you're a plumber and wondering about how to start a plumbing business, we've got you covered.
Business Plan for Plumbing Company
None of us wants to deal with a home or business plumbing problem, and getting the help you need, in a hurry, can prevent that problem from becoming an expensive plumbing disaster,
We appreciate the difficult work that plumbers do to help all of us maintain our homes and, at Wise, we offer a high-quality business plan for a plumbing company and the services that go with them, to help our plumbing clients better meet their financial goals and maintain a profitable business."
View our sample business plans gallery page to help you write your own business plan or hire a business plan writer now, call us at 1-800-496-1056.
SBA business loans
Whether business owners are just starting out, applying for a business loan, seeking funding from investors, or leasing a new location, a Wise-free plumbing business plan can help clients stay the course to success.
Staffed with professional MBA writers, researchers, and financial experts, is a trusted partner for businesses across a broad spectrum of products and services. Our mission is to empower our clients to make the best possible business decisions, boost company performance and facilitate their funding success by laying the groundwork for strong businesses that excite, inspire and retain talented and exceptional employees.
Other Major Services for Plumbing Business
Starting a plumbing business? Wisebusinessplans offer you a quick and easy guide to starting your own plumbing business, as well as assistance in every step along the way from funding to registering or licensing a business entity, branding, and marketing. Following are our main services
Wisebusinessplans also offer a net 30 payment terms. A Net-30 account allows you 30 days to pay the bill in full after you have purchased products. Managing your business finances is also easier with Net 30 accounts. Apply for your net 30 business accounts now
Tags:
Business Ideas
,
Business Starting Tips
,
Form a Business