How to Open Your Own Frozen Yogurt Business
Yogurt Shop Business owners and entrepreneurs have seen the popularity of the genre grow in line with the expansion of flavors, toppings, and additional products offered. Now those same yogurt shops are turning to Wisebusinessplans in a bid to increase frozen yogurt business profit and ensure long-term growth while getting ahead of the competition by effective use of the Frozen yogurt factory business plan.
How to Open a Frozen Yogurt Shop?
Wisebusinessplans specializes in helping small businesses and companies present a viable plan to raise capital, define specific business goals, and guide owners in meeting market demands, including the tools needed to manage a thriving business.
Consumers are always looking for the latest thing, and it takes strong analytical skills and in-depth research for businesses to stay on top of current trends, especially in a fun but ferociously competitive industry like frozen yogurt," said Joseph Ferriolo, Director of Wisebusinessplans.
"At Wise, we have a professional team to do the expert research necessary to support and guide small businesses and food entrepreneurs like frozen yogurt shop owners, ensuring that they achieve sustainable success." If you want to start a frozen yogurt business, here are some simple steps
1. Develop a Frozen Yogurt Shop Business Plan
A comprehensive business plan is the foundation of every successful business. An investment plan should have information about the markets in which you want to open stores, a business analysis, and a financial projection, including how much it will cost to start your business, how much it will generate, and when the business will turn a profit.
Do You Need Help in Creating a Frozen Yogurt Business Plan?
Business plan writing has never been easier for our clients. Our professional business plan writers have written more than 15000 business plans for over 400 industries in over a decade.
Let our experienced business plan writers help you get funding
2. Secure Funding
You should be aware that the cost of opening a yogurt shop depends on a variety of factors, including the rental rates, the minimum wage, and local competition. Take out a small business loan to help get your shop off the ground, but keep in mind that you'll have to pay monthly with interest. You might also be able to get capital assistance if you decide to buy a franchise.
Is Getting Funds a Challenge for You?
Wisebusinessplans has raised more than $1 Billion in funds for its clients. Let our experts help you to get the right business funding for your frozen yogurt business every step of the way!
3. Define your Brand with Logo
Branding describes what your business is about as well as how your business is perceived by the public. Your business will stand out from its competitors if you have a strong brand.
4. Get the Necessary Licenses and Permits
When starting a new business, it can be confusing to figure out which licenses and permits you need. It takes time, energy, and paperwork to register each item. It is a criminal offense in some states to conduct business without the proper licensing.
Do You Need a License for Frozen Yogurt Business?
Obtaining a business license can be challenging. Wisebusinessplans make it effortless for you to acquire a frozen yogurt business license.
Let Wisebusinessplans help you to Get Your Frozen Yogurt Business License
5. Choose a Taste and Flavor for Yogart
You should stock yogurt that your customers will love if you decide to go your own way regardless of industry trends. Funkier flavors are currently trending. Unique flavors are popular among frozen yogurt lovers.
6. Register your Business
Every business is registered with the secretary of state in the state where it operates. It is necessary for you to register for a variety of state and federal taxes before you can open for business. Applying for an EIN is the first step to registering for taxes.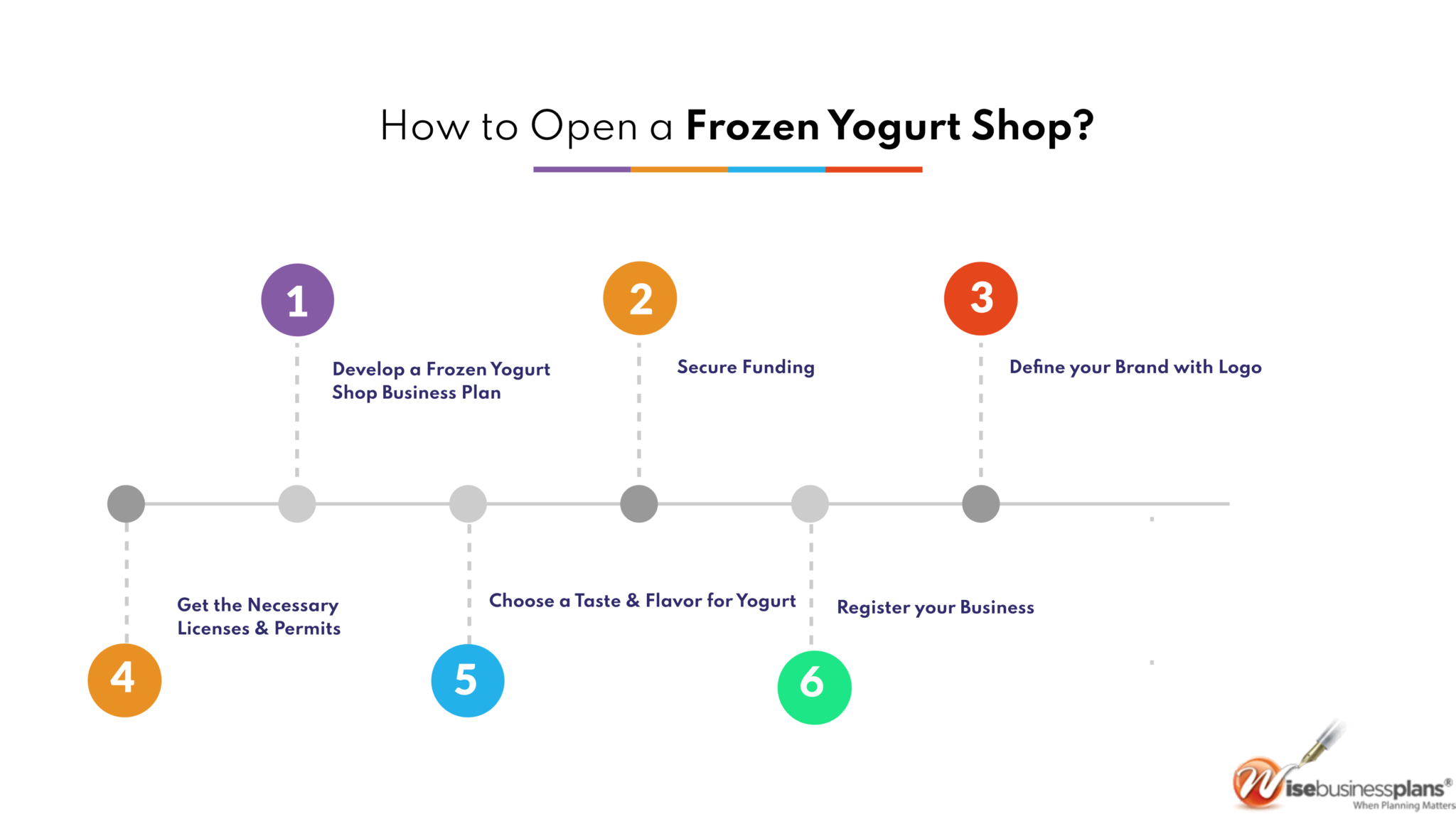 Do You Need to Register a Frozen Yogurt Business?
Our registered agents offer you a wide range of business formation services(LLC, Corporation, and nonprofit business formation) to make it easy for you to incorporate a business and focus on other tasks.
Register your Yogurt Business now with the help of Wisebusinessplans
"Business planning is important enough that we have built our reputation on it, and we work very hard to offer our clients the yogurt factory business plan and services that will allow them to move ahead in a very competitive business world," said Ferriolo.
Wisebusinessplans, staffed with professional MBA business plan writers, researchers, and financial experts, is a trusted partner for businesses across a broad spectrum of frozen yogurt business plans and services. Our mission is to empower our clients to make the best possible business decisions, boost company performance and facilitate their funding success by laying the groundwork for strong businesses that excite, inspire and retain talented and exceptional employees.
Get an idea of how a business plan looks by looking at this simple yogurt business plan sample.
Other Major Business Services for Yogurt Business
Thinking about opening a yogurt business? Wisebusinessplans offer you a quick and easy guide to start your own yogurt business, as well as assistance in every step along the way from funding to registering or licensing a business entity, branding, and marketing. Following are our main services
Wisebusinessplans also offer a net 30 account application. If you buy products on a Net-30 account, you have 30 days after the purchase date to pay the full bill. Having a Net 30 account can also make managing your business finances easier. Apply for your net 30 business accounts now
Tags:
Business Ideas
,
Business Starting Tips
,
Form a Business