How to Write the Marketing Plan in Business Plan?
A marketing plan in business plan is one of the very important sections of a business plan. Marketing is done to spread awareness about your business and its product/service. 
An effective marketing strategy helps you achieve early success. 
Use this article to write an effective marketing plan section in a business plan. 
What is a marketing plan?
A marketing section of a business plan gives you a roadmap to organize, execute and track the progress of your marketing efforts. 
Your marketing plan helps you align your marketing efforts with your business goals. It gives your marketing effort a direction and you can evaluate your efforts at any point.

Types of marketing plan 
A perfect type of marketing plan in business plan will depend on your business, your goals, and how soon you want to achieve them. 
We have outlined some marketing plans that most businesses need to use. Since this is the age of the internet, we have also included online marketing plans and digital marketing plans.
Quarterly or Annual Marketing Plans 
These are your business marketing plans with a timeline. Every business has its quarterly, bi-yearly, and yearly goals. You will use these goals to monitor the effectiveness of your marketing efforts over time.
Paid Marketing Plans 
Paid marketing plans include online advertising, buying billboards, or marketing on vehicles. Pay Per Click marketing and social media marketing for your small business.
Social Media Marketing Plan 
Social media marketing plan for business plan can be done in two ways. You can hire a team and raise awareness about your business by sharing regular updates. 
You can also do paid marketing on social media. You will need to invest in buying ads on that social media platform and pay for a team of social media marketers.
You can also leverage these effective digital marketing channels for your business. 
Content Marketing Plan 
A content marketing plan is about attracting potential customers to your website with the help of SEO. You create value for your potential customer first and then by extension, market your business. It can be offline in the form of free workshops etc or online in the form of guides and resources.
Product Launch Marketing Plan 
A product lunch sales and marketing plan in business plan will help you decide on the marketing tools, tactics, and tracking you will do when launching a new product or service.
You can also hire WiseBusinessPlans Digital Marketing Services to run successful marketing campaigns for your business.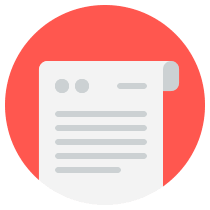 Learning takes time, Market will not wait for it.

Hire a professional business plan writer and get a top-notch, investor-ready business plan for your business idea. 
Marketing Plan vs Marketing Strategy
The difference between a marketing plan and a marketing strategy is simple; a marketing plan is what methods, tools, and tactics you will use for marketing, and a market strategy in business plan is how you will implement your plan.
Learn how to develop an effective marketing strategy with this detailed guide. 
How to Write a Marketing Plan for a Business Plan?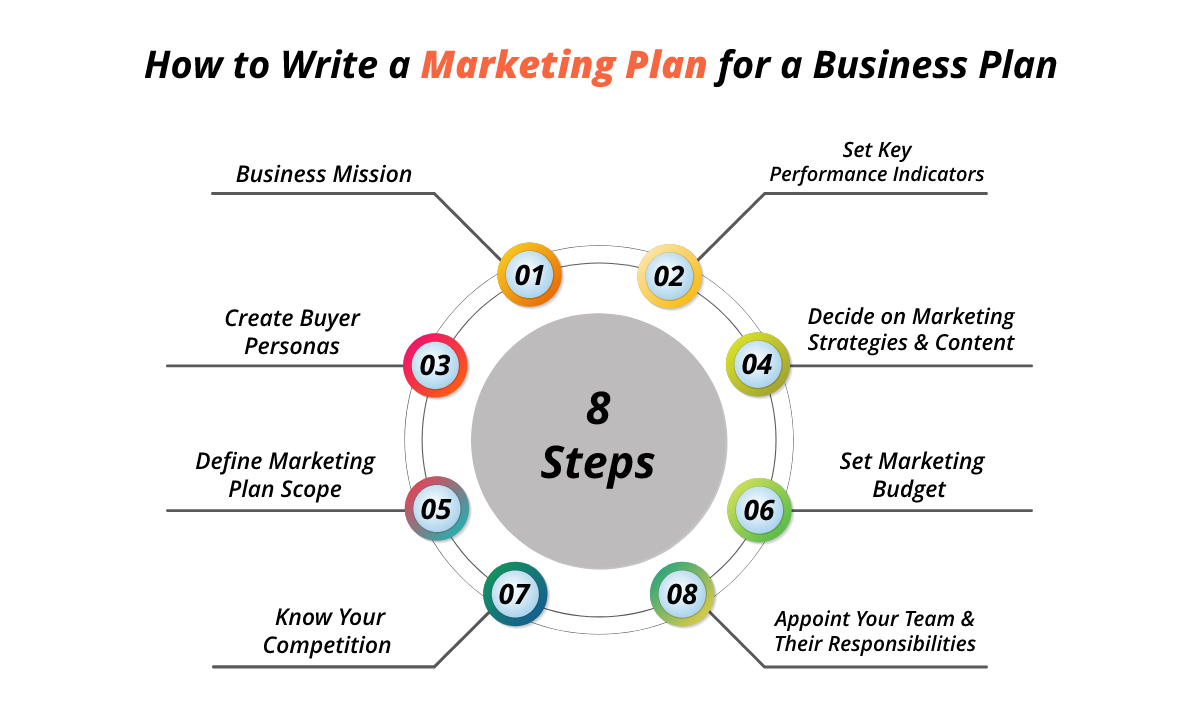 Follow these simple steps to write a marketing plan in business plan.
Business Mission
Write your business mission statement and translate it into the efforts the marketing department will make. 
For example, your business mission is to help people with home gardening. Your marketing department version will be to attract people who want to do home gardening.
Set KPIs
These are performance indicators. These metrics will help you evaluate performance and progress. An example of KPIs for marketing is customer visits to your website, social media page, or brick-and-mortar store.
Create Buyer Personas
A buyer persona is a short description of your average customer. When you have no data, a buyer persona will describe the customer you want to attract.
Decide on Marketing Strategies and Content
Go through the marketing strategies you can use and select the one that will produce the best return on investment for your business. 
Similarly, think about the content type that is attractive to your target audience. For example, video format may attract your audience or you may need to share more about your business on social media to grab their attention.
Define Marketing Plan Scope
Define the scope and limits of your marketing plan. Clearly mention what your marketing team will do and will not do. 
This will help you save time, cost, and effort in wasted resources.
Set Marketing Budget 
You can only spend a set amount on marketing. Set your marketing budget and be creative in that budget to produce the best return. 
Your budget is directly related to your marketing goals. Set your marketing budget in a way that does not hamper marketing efforts. 
Know your Competition 
Knowing and profiling your customer helps you market better. See what are strong spots of competitors' marketing plans, are and how they are attracting audiences to make a plan to compete effectively. 
Appoint your Team & their Responsibilities
Decide on job roles for your team. Set their KPIs, marketing channels they will manage, what content they will create, etc.
Bonus Tip: Here is a step by step guide on how to write a marketing plan executive summary with example and template.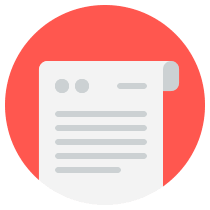 Example of Marketing Plan in Business Plan PDF
See this example of a marketing plan in a business plan to understand how it is done. You can create your marketing plan in the same way.