How To Account For Some Of Your Largest Business Expenses
When starting your business, the excitement of beginning a new journey and the potential for success can quickly overshadow the reality of business ownership. Part of building a successful and sustainable business is creating a strong business plan, including a detailed and thoughtful budget.
If you are writing a business plan for the first time or aren't sure about the actual cost of some of the most necessary elements of your business, starting with extensive research is imperative.
You'll want to take into consideration not only the present needs but the future needs of your business as well. As you plan for growth in the years to come, you will find many opportunities to spend your money on various avenues that promote growth for your company.
As you begin to collect all of the information needed to create your own unique business plan, take special care with the planning for the larger expenditures of business ownership
Essential Expenses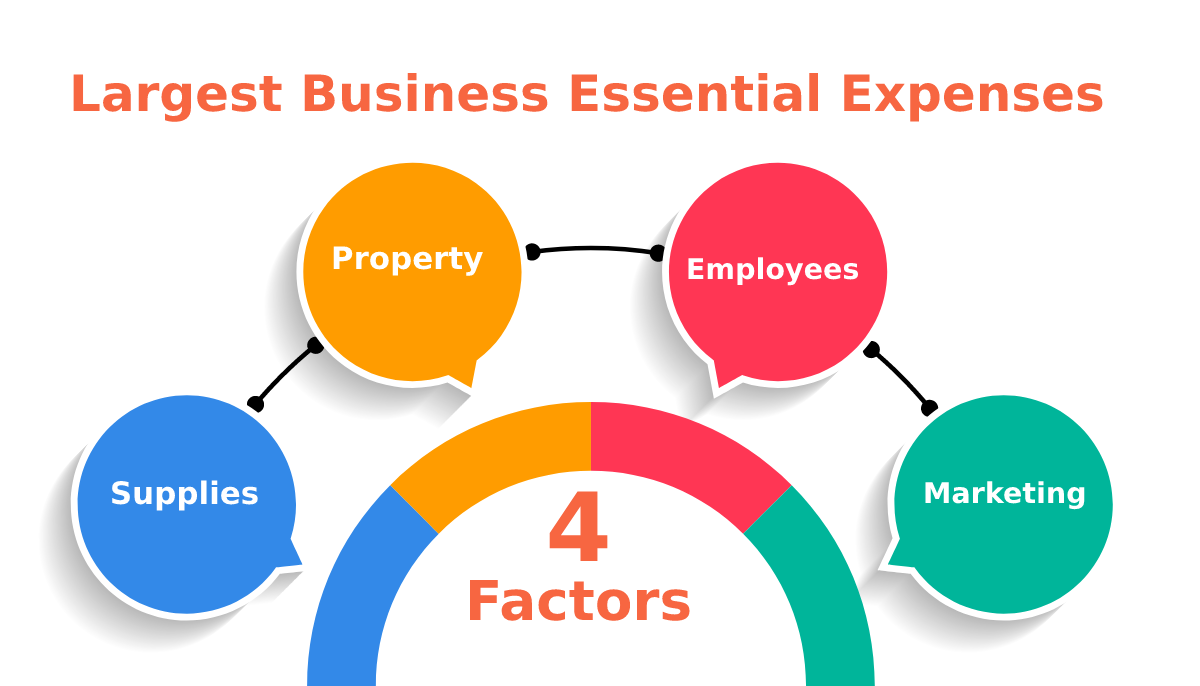 Supplies
If your business is based on product sales, you will need to purchase enough materials to get started. If you will be providing services, you will need to ensure you have the equipment necessary to perform that service.
As a new business owner, you probably already know the exact items needed and have already accounted for them in your business budget.
What you may have neglected to plan for are the smaller office items and incidentals that are essential to daily business functions.
Stationery supplies, computer set-up, and a space to work from are all necessary logistical tools to get your goods and services to your customers.
You will likely need to create a system of office organization as well, to ensure that your most important documents and information are stored in a way that makes them easily accessible to you.
These items tend to be taken for granted or given little thought when budgeting, but they can quickly add up if you aren't anticipating those expenses.
Property
One of the most necessary business purchases you will make is the property in which you house and operate your business.
Whether you choose to purchase or rent a commercial space, you must ensure that you have the capital to not only cover monthly payments but a large down payment or other rental fees that may be associated with the space.
The space you choose to operate out of will obviously depend largely on the type of business you want to run.
If you want to open a restaurant or cafe, you will need to find a space that can accommodate the needs of your business, such as kitchen space, as well as ample space for tables and chairs where your customers can sit and enjoy your offerings.
If you plan to open a retail space, you'll want to find a location that is wide open, giving you the ability to put your products on display.
Similarly, if you want to open a salon business, you will need enough space for your clients and supplies, but depending on the number of clientele, you may be able to rent or purchase a much smaller space to work from.
If you intend to provide a service, especially one that can be accessed online, you may be able to save on paying for business space and instead work from your home.
It's important to take into consideration the immediate needs you will have to depend on your business offerings and have room in your budget to accommodate future needs.
Employees
If you know you will need to hire employees for your business, be prepared to allocate a large portion of your budget to this area. Finding and retaining good employees can be a costly process, but will certainly provide great returns on your investment.
First, you'll need to invest in finding your ideal candidates. From posting on job boards, printing signage to post in your community, or hiring a recruiting service to scout top talent, these options will cost money.
Next, you'll have to spend your time interviewing your potential employees and ensuring they have the qualifications you're looking for. While this may not cost you money, it will cost time, which is equally, if not more, valuable.
Finally, you will hire one or more employees to work for you. You will need to supply your employees with health benefits, salaried or hourly wages, and other desirable employment perks that will attract potential employees to work for your business.
Be prepared to allocate the majority of your budget to this process and payroll for the first few weeks or months your business is in operation.
Marketing
Another costly but worthwhile investment to make in your business is the marketing channels where you promote your business.
No matter which avenue is chosen; traditional marketing, digital marketing, or a combination of the two, you will have to either pay for marketing business to do the work for you or spend money on the tools necessary to create a marketing campaign on your own.
A great option for getting the word out about your business is social media marketing. This gives you the opportunity to not only advertise your products and services locally but nationally as well.
You can certainly do your own social media marketing, but it can cost valuable time. If you find that you don't have enough time to allocate to an effective social media marketing strategy, you may want to consider hiring one or more marketing professionals with experience in the field to do the work for you.
It is a good idea to include a budget for marketing alone, as brand awareness is a huge part of your small business.
If you want to take your marketing efforts a bit further with a full spectrum of marketing options, a full-service marketing agency is a great option for you, but it can come with a hefty price tag.
As you write your business plan and consider how you want your marketing efforts to evolve as your business grows and evolves, keep the overall cost in mind and plan accordingly.
Funding Options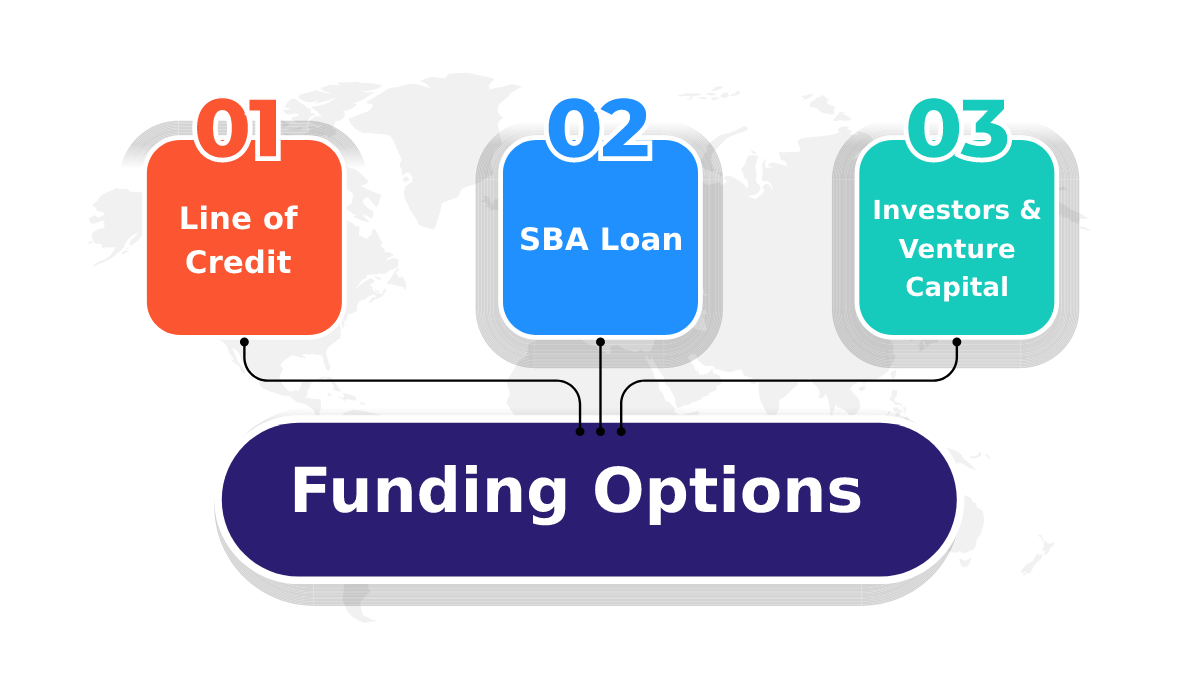 Now that you've determined what areas to allocate the majority of your budget to, you may begin to realize that your existing funds aren't enough to cover everything needed to keep your business running according to plan.
This is often the case for business owners, whether they are just beginning their business journey or have been in operation for years.
Fortunately, there are a variety of options available to you to help you pay for these essential areas of business functions.
Line of Credit
To help stay on top of regularly occurring expenses or incidental business expenses, having access to funds through a flexible business line of credit rather than a fixed loan amount is a much more manageable way to utilize your spending.
You can use as much or as little of the approved loan proceeds, and you will only have to pay fees and repayment on the amount you use, as opposed to the total approved amount you would receive from a standard business loan.
This option also offers long-term assistance that you can draw from so long as you repay what you use for your business.
SBA Loan
If you find that you haven't been in business long enough or haven't yet met other qualifications necessary to receive a business line of credit, an SBA loan may be an appropriate funding option for your business.
A small business administration loan is unique in the benefits that come along with it. Since this type of loan is backed by the government, a portion of the loan can be forgiven by the government in certain circumstances.
There are also protections that come with an SBA loan such as caps on fees and interest, so you can avoid digging yourself into a hole of debt that you can't climb out of.
Investors and Venture Capital
If you aren't yet in a position to take out a loan or line of credit to get your business off the ground, reaching out to potential investors is a great option. These investors could be your friends, family members, people in your network, or even members of local organizations that understand your vision and plan.
Reaching out to well-established businesses or even colleges in your area of business is a solid avenue for finding resources if not funding specifically.
When you make meaningful connections with those who have found success in business, you are sure to gain invaluable knowledge and potentially some capital to work with as well.
Building a business from the ground up is no easy feat- that's why realistic planning and budgeting are essential to the success of your business.
As you put together your business plan, consider some of the often-overlooked areas you should allocate your resources.
From the very basic necessities like office supplies and office space to hiring employees and utilizing marketing materials to help your business grow, all of these helpful resources should be accounted for in your business expense planning.
Tags:
Financial Management