E-2 Visa

Business Plan

Sample
Foreign entrepreneurs interested in starting or buying a business in the United States can apply for the E-2 visa. An applicant must submit a comprehensive business plan detailing their proposal. If you are unfamiliar with the U.S. business environment, creating an effective E-2 visa business plan can be challenging.
Over 45,000 E-2 visas were issued in fiscal year 2019, which indicates an increasing interest in this visa category. The E-2 visa business plan is often sought by foreign entrepreneurs to help them succeed.
A E-2 business plan should give a clear mission statement, a description of the organization's programs and services, a market analysis, a fundraising plan, and a financial plan. In this article, our team will explain what should be included in a E-2 visa business plan. Foreign entrepreneurs can increase their chances of obtaining an E-2 visa and starting a successful business in the United States by taking help from the tips and the sample business plan pdf provided below.
Fill the Form to Download E-2 Visa Business Plan Templates
E-2 Visa Business Plan Sample
To be eligible for an E-2 Visa, it's essential to be proficient in writing a business plan that can guarantee a thriving business. For this reason, our business plan writers have meticulously included all the relevant sections in our E-2 business plan sample, which can serve as a comprehensive guide for you. Let's explore and analyze one such sample.
1. Business Plan Title Page
A business plan title page should include the name of the company, the founder, the address, the telephone number, the email address, and the website of the company. In addition, it should include the date from which the business plan was created.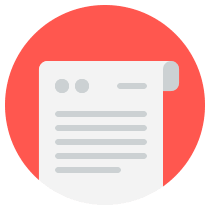 What makes a great cover page for a business plan?
Take a look at our business plan cover page examples to download our free templates and create your own cover page.
Abroad Education Services is a higher education marketing consultant that provides admission advisory to students and marketing services to colleges, universities, and educational institutes in the USA. Mr. John Smith, the E-2 investor, plans to expand the business beyond the current state of operations in three destinations and invest $105,000 as an E-2 treaty investor.
The executive summary sample states that the company generates revenue based on a certain percentage of fee from students enrolled with the education providers. The number of international students applying to colleges in the USA is increasing, and the total number of international students enrolled in US colleges is 1,095,299.
The primary target market for the services offered by Abroad Education Services will be universities, colleges, and academic institutions in the state of California, with a secondary market of high-end individuals seeking advisory services directly from the company.  Marketing will be done through various mediums, and Mr. John Smith, with 12 years of experience, is the President of the company.
Useful Resource: How to write an executive summary for a business plan

US Education industry is projected to grow due to expanding enrollment and improving disposable incomes. The Testing and Educational Support industry provides various educational services, which experienced growth in government funding for education and household income levels. However, according to market research, the industry was hit hard by the COVID-19 pandemic in 2020, and revenue is expected to grow at an annualized rate of 6.0% over the five years to 2022. Nevertheless, profit is expected to fall to 7.0% of industry revenue in 2022, and price competition is expected to intensify as more players enter the industry.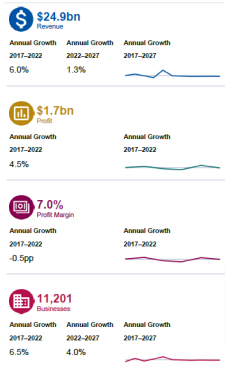 Overall, the industry revenue is forecast to grow at an annualized rate of 1.3% over the five years to 2027, amounting to $26.5 billion, as growth in enrollment in US schools and universities combined with higher levels of disposable income will drive industry growth.

Unlock the Key to Business Success – Discover How Market Research Can Propel Your Business Forward Today!
A competitive analysis is crucial for any business plan. It involves identifying and analyzing your competition, evaluating their strengths and weaknesses, and developing strategies to gain a competitive advantage in the marketplace. These are the main competitors in our industry.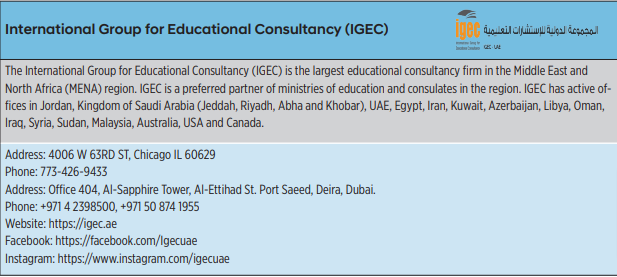 A SWOT analysis is used to evaluate the strengths, weaknesses, opportunities, and threats of a company. It provides insight into the internal and external factors affecting the business, helping to identify areas for improvement and potential risks. By analyzing these factors, businesses can make informed decisions and develop strategies to enhance their competitive advantage.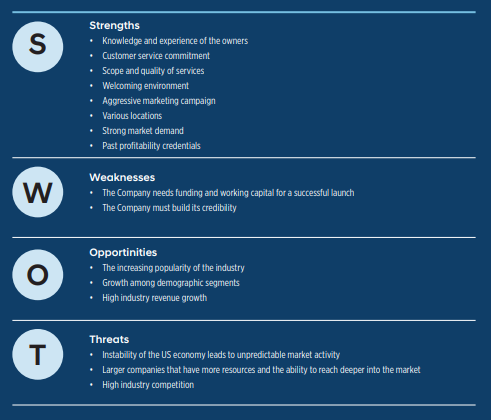 We know that Abroad Education Services will establish brand awareness by promoting its logo and company colors in all marketing materials, fostering word-of-mouth buzz, and building a loyal customer following. The company aims to become a recognized market leader, offering flexible product offerings and a strong customer service model while remaining attuned to the marketplace.
By staying ahead of the competition will require understanding government policies and fast adjustments to changing regulations, having access to a highly skilled workforce, quickly adopting new technology, providing a range of goods/services, and maintaining a good reputation for quality service.
By achieving the objectives and keys to the success of a marketing plan, Abroad Education Services will increase its market share and become a dominant player in the industry.

Proper funds allocation is crucial for a company's success as it helps ensure that resources are used efficiently and effectively towards achieving the company's goals. The process of startup funding typically involves careful analysis and planning to determine the best sources for maximizing returns while minimizing risks.
The total start-up funding required to launch the venture is $105K, with the owner contributing the entire amount from personal funds to establish the brand. The funding allocation is as follows: $13.7K for start-up expenses, $50K for purchasing long-term assets, and $41.3K for working capital, as illustrated in the chart and graph above.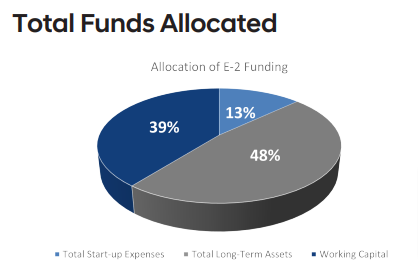 A seasoned management professional, adept at driving growth and efficiency in organizations through insightful process improvements and efficient operational structures. With a proven track record of identifying opportunities and maximizing resources, this growth-minded analyst has consistently contributed towards an organization's strategic objectives.
They have a solid history of streamlining workflows, enhancing operational performance, and implementing best practices, earning recognition for their valuable contributions.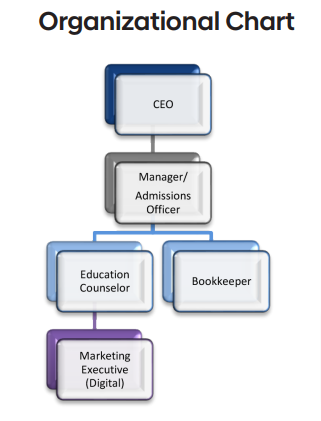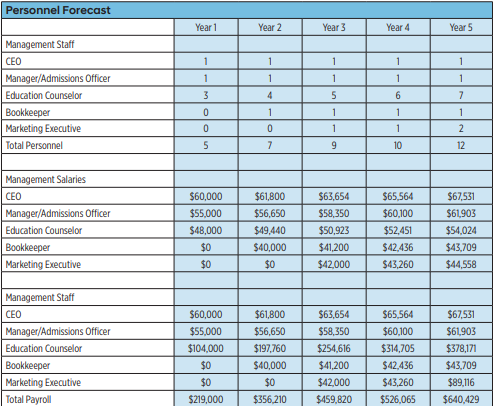 The financial highlights encompass forecasted financial statements that utilize uniform measurement indicators for assessing profitability, leverage, asset turnover, and liquidity. The financial highlights of the company shows:
The revenue forecast showing increase from $10,000 in M1 to $893,000 in Y5
Gross margin remained consistent at 94% of revenue
Operating expenses stayed at $26,000 per month
EBITDA improved from -$29,000 in M1 to $52,000 in Y5
Net profit improved from -$30,000 in M1 to $47,000 in Y5
Net cash flow varied but remained positive overall
Cash balance at the end of Y5 was $16,000.
Explore our collection of authentic sample business plans, completely free of charge, and discover how to craft a professional and polished plan, just like this one. This sample guide will surely help you write your own business plan.
Download E-2 Visa

Business Plan

Sample PDF
We will show you some real-world business plan examples so you may know how to write your own, especially if you are seeking a bank loan or an outside investment and need to use SBA-approved formatting.