How to Start a Dog Park Business
A dog daycare or indoor dog park is an ideal business like a pet hotel for anyone who loves to spend time with dogs, Indoor dog parks and pet daycare facilities in las vegas are now more popular than ever, partly due to clients' inability to utilize outdoor parks in times of inclement weather.
Wise Business Plans is partnering with owners and operators of indoor dog parks in Austin to assist with funding and expansion options through consumer trends tracking and market research that leads to long-term business sustainability.
Turning

Dog Park Ideas into a

Profitable Indoor Dog Park Business
There are different ways to turn a dog park into a business idea. You can charge a fee for using your own park (either indoor or outdoor).
Going with a dog-walking service would be the better decision on the off chance that you are lacking in the capital yet have heaps of time. There are many people who are making enough money doing this.
If you have the desire to start your own private dog park, you will have to purchase or rent a building or a plot of land. This is a great idea if there aren't a lot of places locally where people can bring their dogs. You can also promote it as an indoor dog daycare where people can leave their dogs while they're at work for the day.
How to start a Dog Park Business
If you love spending time with dogs, a dog daycare or a dog park can be the perfect business for you. Dog parks are just like regular recreational parks for people, especially kids, but for dogs to play and have fun. Nearly half of American households have pets, which makes dog parks an attractive option. One of the easiest and least expensive businesses to start is a dog park.
8 Steps to Start a Dog Park Business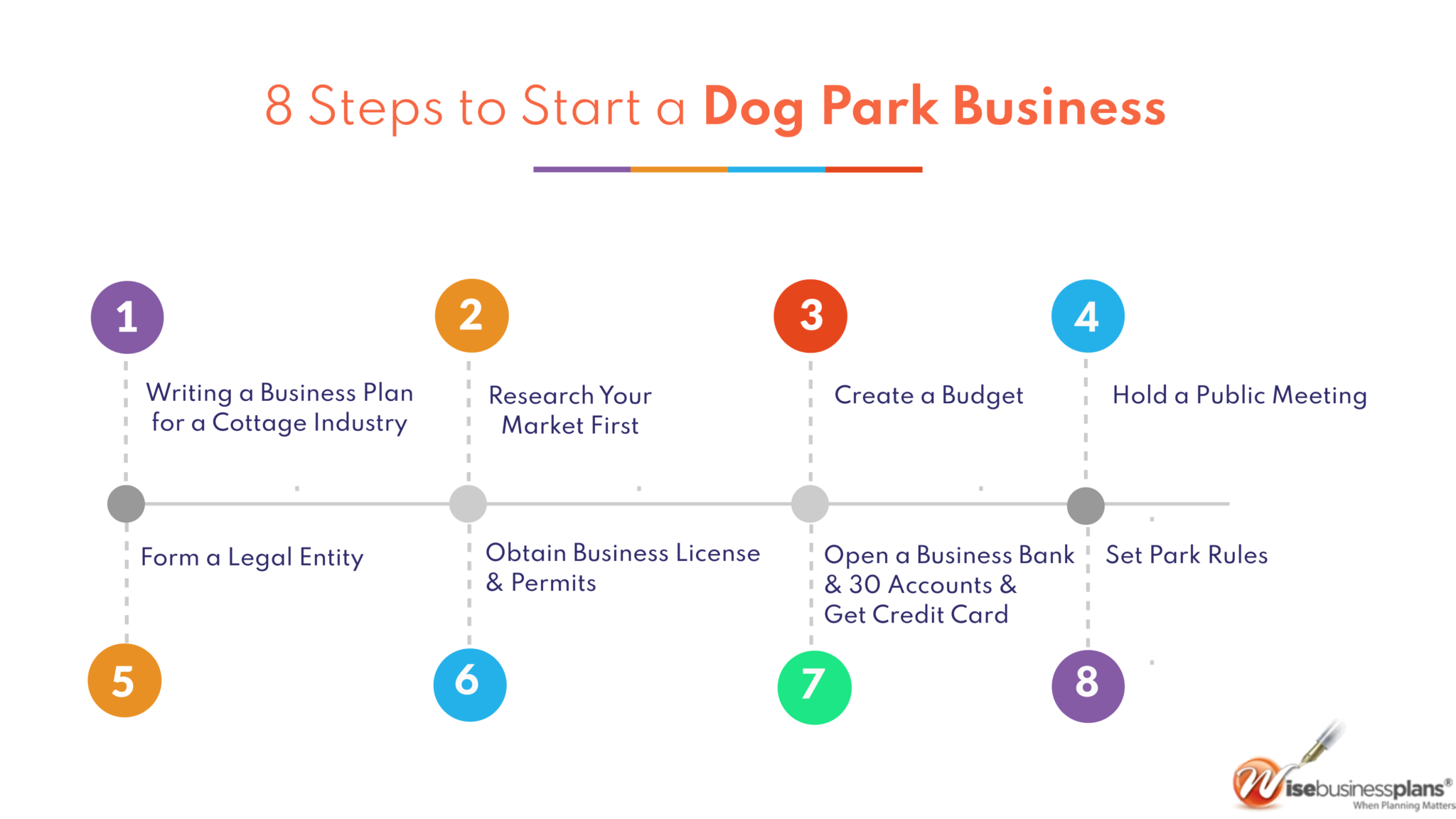 1. Create Your Dog Park Business Plan
A solid business plan is a key to success as an entrepreneur. A business plan will help you plan out your operations. With a business plan, you can run your business more efficiently. With a business plan, you can learn how to start, run, and grow your new business. Business plans are the foundation of any business.
Do You Need Help In Creating a Dog Park Business Plan?
Business plan writing has never been easier for our clients. Our MBA-qualified business plan writers have written more than 15000 business plans for over 400 industries in over a decade.
Hire a Professional Business Plan Writer Now
2. Research Your Market First
You should do your research before starting your business. This includes looking at what other pet services such as dog walkers, daycares, and private parks are charging. Research whether a private dog park would be popular in your area.
3. Create a Budget
Analyze the cost of constructing and maintaining the park, including grass, fences, garbage removal, lawn maintenance, drinking water, field drainage, lighting, benches, and a pooper-scooper station. You will need to decide how you will generate revenue for your budget depending on your situation.
4. Hold a Public Meeting
A larger community meeting will help you reach out to supporters and solicit feedback and ideas. To gather interest and support, speak to other dog owners, dog clubs, veterinarians, and animal control officials.
5. Form a Legal Entity
When your company is registered in the region, you will reap the benefits of being a regional business. The government has agencies that register new businesses like LLC or corporations, while in some areas, people can register online. Make sure you do all that is required to register your business.
Need to Register a Dog Park Business?
We at Wise Business Plans provide you with a wide range of business formation services for incorporating a company in a way that makes the process easy and allows you to stay focused on other important tasks.
Register your Dog Park Business Now with the help of Wise Business Plans
6. Obtain Business License and Permits
You need a license in order to open a dog park due to the implications it can have on the dogs, their owners, you, and the environment. Permits are what allow you to start your business legally. Those who will grant you a license will want to ensure that you can protect every life in the park and not pose any threat to society.
Do you need a License for a Dog Park Business?
Business licenses can be difficult to obtain. A wise business plan makes it effortless for you to acquire a Dog Park business license.
Let Wise Business Plans help you to Get your License for Dog Park Business
7. Open a Business Bank and 30 Accounts and Get Credit Card
Personal asset protection is enhanced when you open specialized business banking and credit accounts. When your personal and professional accounts are mixed, your personal assets (your home, automobile, and other valuables) are vulnerable if your dog park business is sued.
Furthermore, learning how to establish business credit may assist you in receiving credit cards and other financial resources in your dag park company's name (rather than yours), improved interest rates, greater lines of credit, and
more.
Set up a business bank account.
Apart from being a requirement when applying for business loans, establishing a business bank account has several benefits.
Separates your personal belongings from your dog park business's assets, which is critical for personal asset protection.

Makes tax preparation and accounting simple.

It makes tracking expenses easier and more organized.
Recommended: To discover the greatest bank or credit union, read our Best Banks for Small Business review.
Open net 30 accounts
In order to establish and grow business credit, as well as improve company cash flow, net 30 payment terms are utilized. Businesses purchase products and pay off the whole amount within a 30-day period using a net 30 account.
Recommended: Read our list of the top net 30 vendors guide to start getting business credit or simply open your net 30 accounts with wise business plans in seconds.
Get a business credit card
It's exciting to open a business credit card for your dog park business. A business credit card can assist you to establish credit, safeguard your company financially, access rewards (such as cashback), and simplify cash flow. It can also assist you to manage your expenditures.
Recommended: Take a look at our list of the 11 best business credit cards and decide which one is the right fit for you.

8. Set Park Rules
Generally, people don't like rules because of the restrictions and inconveniences they cause, but you need to set them. Your rules will not be intended to show who's the boss, but to ensure safety for people and pets.
Check out these simple and easy steps to start an indoor dog business
What is the Cost to Start a Dog Daycare Business?
The average startup cost to start an indoor dog park usually ranges between $8000 and $20,000 in addition to the expense of renting a property,
Indoor Dog Park Business Plan by Wise Business Plans
"Our pets are an important part of our lives and most of us consider them a member of the family," said Joseph Ferriolo, Director of Wise Business Plans. "Getting pet center owners the quality information and largest indoor dog park business plan that is required to achieve success is one way that Wise makes sure that dog park is coming to Austin and our clients are well prepared for healthy, long-term business life."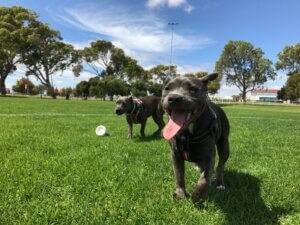 Whether just starting a climate-controlled daycare indoor dog park business, applying for a business loan, or seeking funding from investors and dog lovers, Wise Business Plans can help create a road map for success, with market research and custom financials that are developed for each client's particular company.
Don't miss out to look at this simple dog park business plan sample to get an idea of what a business plan looks like.
Design experts give dog-friendly indoor dog park business plans for Los vegas and Denver, a professional look, including training courses, and each client is entitled to a free revision to ensure that the plan is done right.
Wise Business Plans, staffed with MBA professional business plan writers, researchers, and financial experts, is a trusted partner for businesses across a broad spectrum of products and services. Our mission is to empower our clients to make the best possible business decisions, boost company performance and facilitate their funding success by laying the groundwork for strong businesses that excite, inspire and retain talented and exceptional employees.
Additional Business Services for Dog Park Business
Do you want to start a dog park business? With wisdom business plans, you'll get a quick and easy 10-step guide to starting a dog park business, as well as assistance in every step along the way, from funding to registering or licensing a business entity, branding, and marketing. Following are our main services
Wise business plans also offer a net 30 account application. If you buy products on a Net-30 account, you have 30 days after the purchase date to pay the full bill. Having a Net 30 account can also make managing your business finances easier. Apply for your net 30 business accounts now
Tags:
Business Ideas
,
Business Starting Tips
,
Dog Business
,
Form a Business