How to Start a Cruise Ship Business
HOW TO START A CRUISE LINE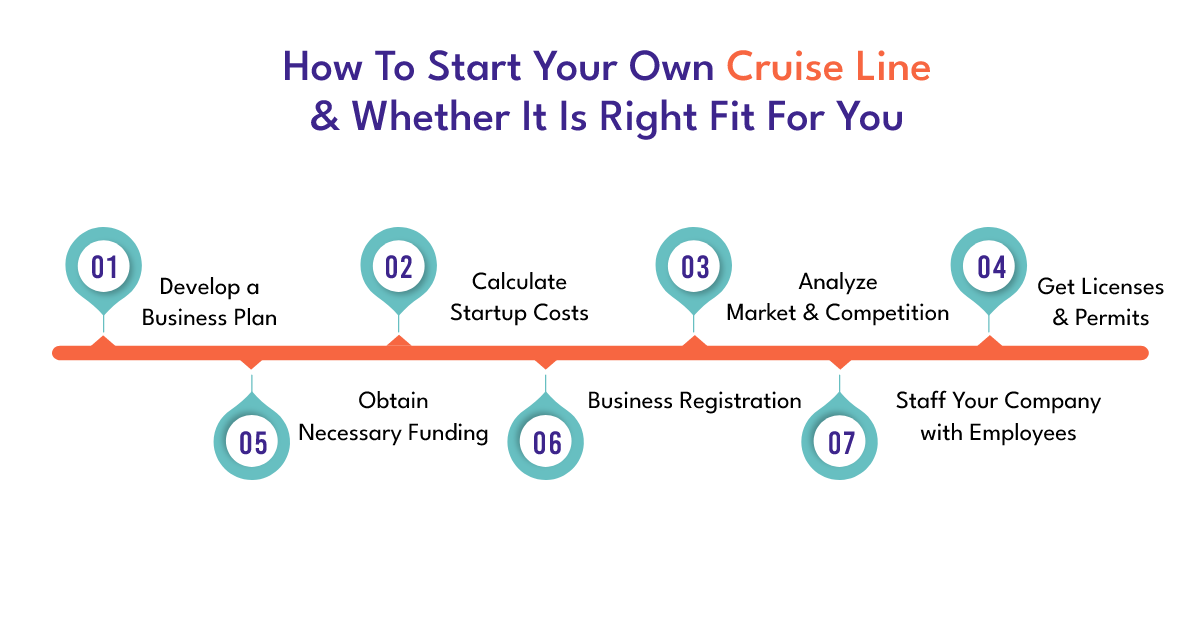 Due to the popularity of Thanksgiving, Christmas, and New Year vacation packages, cruise lines are now seeking to draw additional passengers during other special times of the year with alluring deals such as free amenities, traditional holiday foods, and elaborate decor themed to the particular holiday being celebrated and the wise business team makes Holiday Business Dreams come true.
We will show you how to start your own Cruise Line and whether it is the right fit for you.
1. Develop a Cruise Line Business Plan
Before you approach the bank or look for other sources of financing, you must have a detailed business plan. This is your tool for persuading others to support this project. As part of your business plan, go over every step, including your own experience, your competition, the market, funding needs, and the route you plan to take.
Do You Need Help in Creating a Cruise Ship Business Plan?
Our clients no longer have to worry about the complexities of becoming professional business plan writers. Our MBA-qualified business plan writers have written over 15000+ business plans for over 400 industries in over a decade.
2. Calculate Startup Costs
Buying or building a ship is your primary expense when starting a cruise line. It will depend on the size of the cruise line. One can choose from a fleet of just one or two small boats, one small cruise ship, or even a full-size liner.
3. Analyze the Market and Your Competition
Learn about the cruise industry and your competitors to position your cruise line as a leader in an unfilled niche. As the cruise industry is highly competitive, this is the only way you can be profitable.
4. Obtain the Required Licenses and Permits
In order to operate the business and cruise line, you'll need licenses. There will be different licenses depending on where you are registered and where you go for breaks along your route. It is also necessary to obtain licenses for liquor if you do not intend to cruise in international waters.
Do You Need a License for Cruise Line Business?
Obtaining a business license can be challenging. A wise business plan makes it effortless for you to acquire a Cruise Ship business license.
Let Wise help you to Get your License for Cruise Line Business
5. Obtain the Necessary Funding
Identify the type of financing that will work best for your venture. Venture capitalists, angel investors, partnerships, and crowdfunding are among the sources of financing. If you use your savings to finance your business, it's the easiest way.
Is Getting Funds a Challenge for You?
More than $1 B in funds have been raised by Wise Business Plans for its clients, Let Wise Business Plan's experts help you to get the right business funding for your excavation business every step of the way!
6. Business Registration
Deal with the bureaucracy of starting a cruise ship company. Apply for registration in a foreign country. In addition, cruise ship operators are required to register their ships. In doing so, your company will avoid strict taxation and environmental regulations.
Do You Need to Register a Business Entity?
Our registered agents offer you a wide range of business formation services(From LLC, Corporation, and Nonprofit) to make it easy for you to incorporate a business and focus on other tasks.
Register your Cruise Line Business now with the help of Wise Business Plans
7. Staff Your Company with Employees
Your cruise line will need a variety of crew and employees depending on the size of your ship and the overall operation. For example, you will need crewmen to run the engines and fix anything that breaks on the ship.
"Families choose to take a cruise because these ships offer something for everyone… wholesome entertainment for the children, sports and games for the whole family, and big-name entertainers for adults," said Joseph Ferriolo, Director of Wise Business Plans. "There, of course, is a lot of competition among cruise companies, and pulling in vacationers must include knowledge of the latest market trends and public interests."
Cruise Ship Business Plan By Wise Business Plans
Wise specializes in a custom-tailored cruise ship business plan that encompasses each client's unique requirements. A Cruise ship business plan is created by professional business plan writers who consult with the client and provide valuable knowledge on how best to present ideas and meet the needs of clients just starting out, applying for a business loan, or seeking funding from investors. Every Wise business plan includes a market analysis summary that will help business owners and investors, alike, understand the demographics of the community the client is serving.
Don't miss out to look this simple cruise line business plan sample to get an idea of how a business plan looks like.
"For many people, a cruise is a dream, a once in a lifetime trip and it needs to be planned carefully to get the most out of it. Caring for the life of your business is an ongoing investment in your future and also must be planned very carefully to make it all it can be," said Ferriolo.
Wise, staffed with professional MBA writers, researchers, and financial experts, is a trusted partner for businesses across a broad spectrum of products and services. Our mission is to empower our clients to make the best possible business decisions, boost company performance and facilitate their funding success by laying the groundwork for strong businesses that excite, inspire and retain talented and exceptional employees.
Other Major Business Services for Cruise Ship Business
Starting a cruise ship business? Wise business plans offer you a quick and easy guide to starting your own cruise ship business, as well as assistance in every step along the way from funding to registering or licensing a business entity, branding, and marketing. Following are our main services
Wise business plans also offer a net 30 account application. If you buy products on a Net-30 account, you have 30 days after the purchase date to pay the full bill. Having a Net 30 account can also make managing your business finances easier. Apply for your net 30 business accounts now
Tags:
Business Ideas
,
Business Starting Tips