A Beginner's Guide to Starting a Box Truck Business
If you're interested in knowing how to start a box truck business, you're in luck! There's a lot of detail about box truck business ideas and work available for box truck drivers, and with the right knowledge and resources, you can get your business up and running in no time.

However, starting a business can be intimidating, especially if you're not sure where to start. That's where this guide comes in. In this article, we'll provide an overview of the steps you need to take to start a box truck business, from choosing a business model to getting your first job. 
This guide is suitable for anyone, whether you are a seasoned
business professional or new to the industry. It explains the five most important steps in starting this kind of business. You can use the links to go directly to a specific step.
Box trucks are commercial vehicles used to deliver materials or goods. They are used for both local delivery and long-distance freight transport and include a box-shaped cargo space that is normally accessed by doors.
Box trucks come in a range of sizes, from compact vehicles with a few hundred cubic feet of cargo space to huge trucks with over 1,000 cubic feet of space.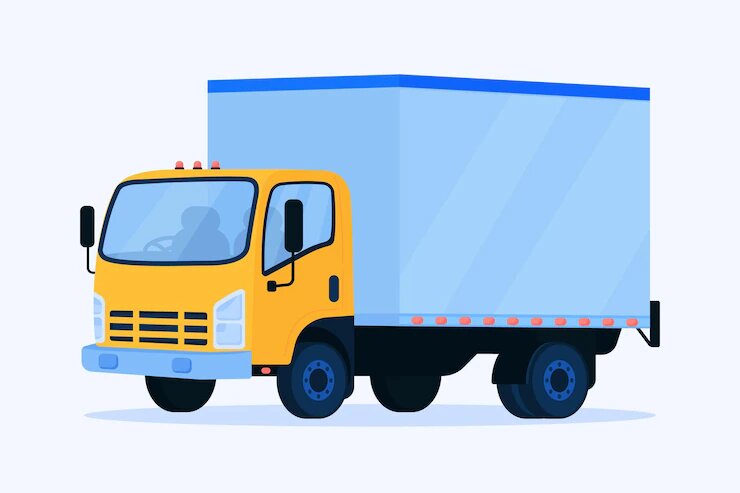 What is a box truck Business?
A company that transports goods for a variety of industries, including retail, manufacturing, construction, Storage, and warehousing services is known as a "box truck business."
All potential requirements to start a box trucking business, including purchasing or leasing box trucks, acquiring the required licences and permissions, and marketing your company to potential clients, are discussed in this article.
What is a box truck business startup costs?
The cost to start a box truck business in the US will depend on various factors, such as the size and type of box truck, required licences and permits, and additional equipment or services needed to start the business.
Examples of potential expenses include the cost of a box truck (purchase or lease), insurance, licences, permits, tools, and marketing and advertising. It is important to properly plan and budget for these initial costs, which can vary significantly.
Here is an estimated startup cost :
| | |
| --- | --- |
| Business name | $200-$250 |
| Licences and permissions | $200-$250 |
| Insurance | $150-$200 |
| Marketing supplies | $200 – $300 |
| Website setup | $1000 – $2000 |
| New Truck (Downpayment)  | $5000 – $10,000 |
| Truck (Used) | Varies |

 
Additional costs include purchasing equipment like a forklift or loading dock. Since all of these expenses quickly mount up, it's crucial to plan your budget carefully and ensure that you have the money available to launch your company.
How much can you potentially earn from the box truck business?
The trucking industry plays a crucial role in the success of many businesses, and it continues to be an important part of the US economy. 
The cost of delivering goods using a box truck can vary significantly depending on the size and value of the load being transported.
Here is an estimate of the potential profit you can make:
| | | | | | |
| --- | --- | --- | --- | --- | --- |
| Scenario | Profit Margin | Load Price | Loads per Week | Annual Revenue | Pre-Tax Profit |
| 1 truck, independent owner | 70% | $200 | 15 | $150,000 | $105,000 |
| Multiple trucks, and drivers | 20% | $200 | 75 | $750,000 | $150,000 |
Small trucking companies (owner-operators) can become Amazon carriers and move Amazon loads thanks to the Amazon Freight Partner programme.
This programme helps small trucking companies haul Amazon loads and offers fast, reliable package delivery to customers. To apply, you must own a small trucking company and be interested in working for Amazon as a carrier.
What are the pros and cons of operating a box truck business?
Starting a box truck business can have many benefits, such as the potential for high income, flexibility in time management and personal goals, and tax advantages. 
However, it also has drawbacks, including limited capacity, increased maintenance expenses, and competition in the market. It is important to carefully consider both the advantages and disadvantages before starting this type of business.
PROS
Low Startup Costs
Multiple Streams of revenue
Lower Operating Costs
Autonomy and Flexibility
CONS
Limited Capacity
Higher Maintenance Costs
Competition due to saturated market
Require High Physical Demands
Current challenges and Trends in the box truck industry
You might find these as challenges as a newbie in  box truck industry 
Shortage of trained drivers: Box truck companies may find it challenging to hire and keep personnel due to the industry's lack of competent drivers.
Advancements in technology: Box truck businesses may need to adjust in order to stay competitive as a result of this trend, which is driving the adoption of electric vehicles and alternative-fuel vehicles. With the adoption of driverless vehicles, sophisticated navigation systems, and telematics, technological improvements are also changing the sector
Complications in Laws: Laws regarding weight, capacity , size and operating hours of trucks make it a challenging business . These may have an effect on how effectively and efficiently a company operates
Trends in Online Shopping: Given that the popularity of online shopping has increased demand for delivery services, one of the main issues is the extensive attention given to e-commerce deliveries.
5 Steps to Start Your Box Truck  Business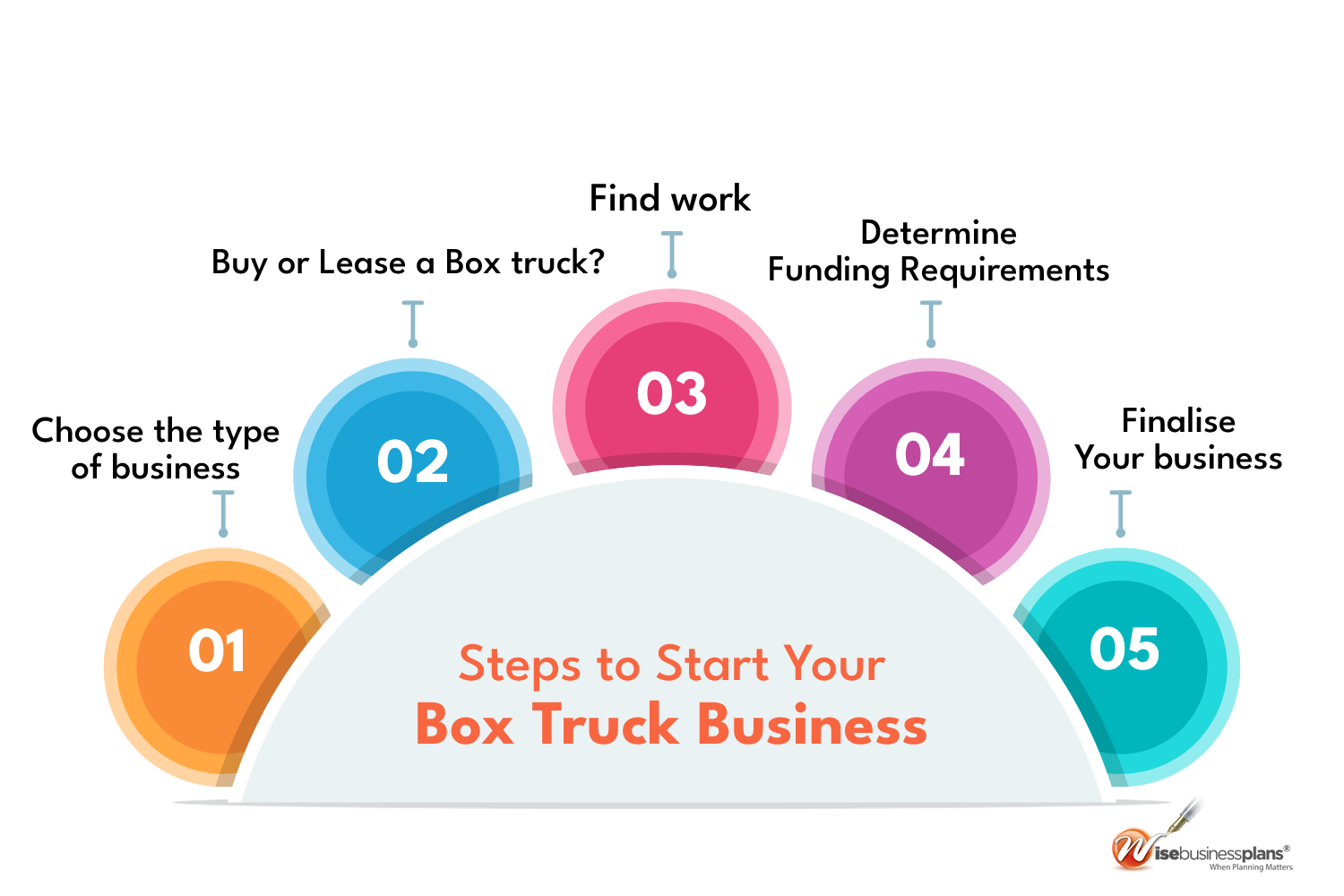 In order to start a box truck business, it is necessary to follow these five steps: 
1. Choose the type of business you want to establish:
Develop a business plan.
Developing a box truck business successfully requires a methodical and organized approach. A thorough box truck business plan that details your objectives, target market, marketing approach, and financial predictions should be written as part of this process.
"A business plan should include details such as pricing information, the demographics of your target market, and any unique products or services you plan to offer.

In addition to a business plan, you will need financial resources to cover the cost of purchasing or renting a box truck, obtaining licenses and permits, and other startup expenses. Depending on the structure of your business, you may need to seek out investors or secure a loan to raise the necessary capital."
Determine the location of your business
The site of your box truck business must be chosen carefully if you want to launch and run it successfully.
 When choosing a location, there are a number of things to take into account, including truck accessibility, enough parking and unloading space, and general safety and security.

Once you have a list of potential locations, it is recommended that you visit each site to see if it meets the criteria required for your company.
Obtain a trademark for your business name
Trademarking your company name is crucial to protecting your brand and preventing other companies from using it. When choosing a name for your business, consider the products or services you offer and any unique features of your business. 
You can also check the availability of a Website address by conducting a domain name search. Make sure to confirm that a name is accessible for trademarking by contacting the US Patent and Trademark Office before choosing it.
Register your business
You will need to choose a business structure before you can register your box truck business. The state where your company is physically located often qualifies as the location, and the type of taxes you must pay will depend on the business structure.
A sole proprietorship, partnership, corporation, or limited liability company are all possibilities.
Complete Your Documents
You can apply online or by mail to the Internal Revenue Service for an Employer Identification Number (EIN), which is used to identify your business for tax purposes. Use your Social Security number if you operate as a sole proprietorship. Additionally, you will be required to pay taxes on your business income.
To transport cargo between states, you may need to get a 'USDOT number', which can be determined using a tool provided by the Federal Motor Carrier Services Administration.
You also need an "MC number" from the FMCSA to operate. This permanent authority requires a $300 fee. You can visit FMCSA's website to acquire  Information about the MC number and registration.
You must complete specific steps in order to start a trucking company, including submitting a BOC-3 form to the FMCSA, signing up for the Unified Carrier Registration programme if you plan to operate across state lines, and getting a CDL if your box truck's gross vehicle weight rating is higher than 26,000 pounds.
To properly file your taxes, it's critical to maintain precise records of your business's revenue and outlays. You must register a bank account to separate your personal funds from your business finances in order to manage your finances for your company. 
Obtain business insurance
There are various types of insurance that are recommended to protect your business.
General liability insurance: It safeguards against allegations of harm or damage brought on by business.
Business property insurance: It covers loss or damage to business space.
Equipment breakdown insurance:  It covers loss or damage of business equipment
Workers' compensation insurance: It provides benefits to employees who got injured during the work.
Property insurance: It covers loss or damages of personal property
Professional liability insurance: It covers omissions and errors made by professionals during their work.
Business interruption insurance: It compensates financial losses brought on by a temporary business closure brought on by a covered incident.
2. Buy or lease a Box truck?
You must decide whether you want to buy, lease, or rent a box truck before launching a box truck business. If you are tight on budget, renting a box truck is a viable alternative, but the cost over time can be high. Although leasing a box truck costs more upfront, it is more economical than renting. 
If you require a box truck for your company but don't want to make a sizable initial financial commitment, you might want to think about renting from a commercial truck rental company like Penske or Enterprise.
The most expensive choice is to purchase a box truck, but you get to keep the vehicle outright. You might require financing from the dealer, a bank, or an SBA programme if you choose to purchase a box truck. Depending on the demands of your business, you might also need to buy a pallet jack and load-securing straps in addition to a box truck.
Get permits and licences
Before starting a box truck business, it is important to research and obtain the necessary licenses and permits. These requirements may vary based on your location and the type of cargo you will be transporting.
To obtain the necessary permits and licences, you may need to complete paperwork, pay fees, and provide supporting documents. It is essential to ensure that your company is operating legally and in compliance with the law.
The Federal Motor Carrier Safety Administration mandates that carriers have documentation demonstrating that their drivers are competent in order to operate on public roadways.
This regulation applies to both owner-operators and drivers with a CDL (commercial driver's licence). For the safety of all drivers, the FMCSA requires carriers to keep track of these certifications.
Trucking Insurance coverage
It's crucial to obtain insurance coverage when starting a box truck business to safeguard your enterprise and stay in compliance with the law. Here are some insurers that may provide coverage for your commercial box trucks:
Your leasing or rental firm might also be able to assist you with insurance. Consider issues like coverage limitations, deductibles, and exclusions when choosing an insurance policy that suits your company's needs.
After choosing a policy, make sure to buy it. To protect your company and make sure you are operating lawfully, you must have adequate insurance coverage. 
Platforms or websites that offer job opportunities
It's critical to choose the type of work you want to accomplish when starting your box truck business. Spot-rate work may pay more per hour, but long-term agreements may offer more security and long-term advantages. Using load boards or getting in touch with freight brokers directly are two methods for locating long-term contracts. 
Another choice is Amazon Relay, but you have to be eligible, which includes having the required DOT and MC numbers, being approved for hire, and having a high safety rating.

Other options include looking into government contracts, which may be particularly practical for minority-owned businesses with MBE designation, or considering using local matching services such as GoShare, and  Dolly.
Performing an internet search for "truck dispatch services" will provide a list of companies that you can potentially work with. 
Build connections with clients and suppliers
Building relationships with customers and suppliers is possible for your box truck business in a number of ways. 

Attend trade shows, become a member of groups for professionals, network online through social media, and give exceptional customer service.
These tactics can assist you in networking with others in your sector, meeting possible customers and suppliers in person, and developing solid business partnerships.
4. Determine your funding requirements.
There are a number of choices to think about when it comes to funding your box truck business.
These include bank loans, loans backed by the Small Business Administration, grants from the government, venture capital, crowdfunding, and self-funding through individual savings or the sale of assets.
Loans that are SBA-guaranteed, with the Small Business Administration serving as the guarantee, might also be beneficial.
Government subsidies and crowdfunding platforms like Indiegogo can help fund startups; however, these options might have conditions or limitations. A new business might not be able to access venture funding because it involves giving up ownership stakes in exchange for money.
Crowdfunding can be an excellent alternative if you have an original concept, but bank and SBA loans are typically the best options for financing a box truck business.
5. Finalise your business
Set up your team
You might need to hire people as your box truck company expands to fill positions such as drivers, dispatchers, general managers, and marketing leaders. Your company's size and needs will determine how many and what kind of positions you require. 
Employers can find candidates by publishing job listings on websites like LinkedIn or other related platforms, or by using more expensive hiring services like Indeed.
A recruitment firm can also help in this regard. You can guarantee the success and expansion of your box truck company by assembling a competent workforce.
Get all software's required
Consider using industry-specific software like ShipWell, to manage responsibilities like marketing, sales, and accounting.
Small businesses can also use web-based accounting tools like Quickbooks. It could be beneficial to engage a professional to assure accuracy if you are unfamiliar with fundamental accounting. Don't forget to keep all of your software updated to make sure that your company is operating effectively.
Get ready all Marketing materials and Advertisement  
Invest in digital marketing and connect your website to social media accounts to raise brand and customer awareness. Make engaging posts on social media sites like Facebook to promote your products. You can create a logo for your business using Canva or hire a professional logo designer on platforms like Fiverr. 
Register your business on sites like Yelp if you depend on local clients.  For your company to develop a strong visual identity, don't forget to have a professional logo and branding materials.
 It is advised to list your business on Google My Business to increase visibility and make it simpler for potential clients to find. When customers search for box truck businesses in your neighborhood on Google, your company will be able to be found there. 
Congratulations on getting your box truck business up and running! If you have followed the steps outlined above, you should be well-prepared to build a successful business.