Food Hall Business

Plan Sample
Fill the Form to Download Food House Business Plan Example
Food halls aren't mall food courts. The food courts in shopping malls focus on large fast-food chains, but food halls include local mini-restaurants, assorted food shops and vendors, and even butcher shops.
Similar to the rise of food trucks in the late 2000s, these halls are becoming more and more popular as customers move away from large fast-food chains to support local eateries. 
Over the next five years, food hall revenues are expected to increase 4.8% annually to $5.5 billion. Business plans are crucial for any business, but especially for food halls. Every market is unique, but we highly recommend following a clear structure.
An effective food hall business plan will maximize your chances of raising capital. You can use this document as a roadmap to help keep your business on track by laying out goals and strategies.
Fill the Form to Download Food House Business Plan Example
Food Hall Business Plan Template
A Food hall business plan template should include the following sections. Let's look at a food hall business plan template and discuss what each section should include.
Food Hall Business Plan Template
Executive Summary
 Business Overview
Market Overview
Target Market
Competitive Analysis
Competitive Advantages
Swot Analysis
Marketing Strategies
Funding Request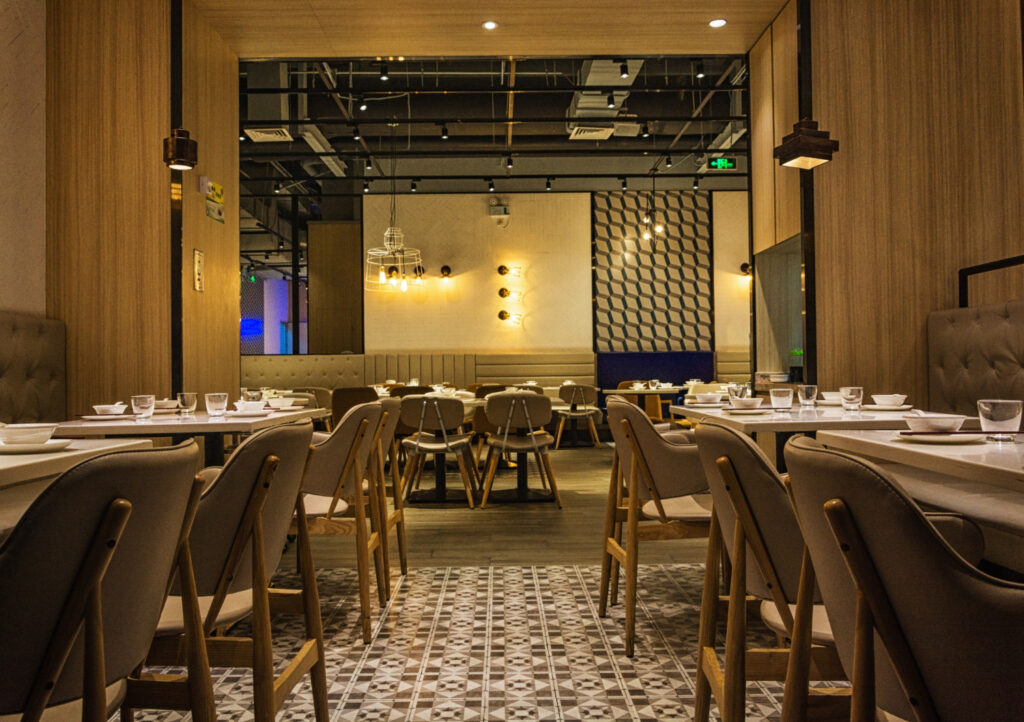 The Terrace Food Hall, LLC in Downtown Springfield, MA will offer spaces to local food and beverage artisans & eateries. 
Sharing allows food businesses to reduce the high upfront costs of opening traditional brick and mortars while still maintaining an individual footprint.
The Terrace Food Hall will feature local eateries and restaurants, while offering cross-meal ordering in shared seating areas.
2. Business Overview
The company will offer food vendors gross rent structures. Rent includes real estate, janitorial service, and maintenance of common areas.
Also, the company will offer shared storage space, a freezer, and refrigerator. Carts in the lanes will also be rented to mobile vendors (such as candles and cell phones).
The Company will have third-party designers and architects on its panel. Tenants are responsible for their store design, architecture, kitchen, equipment, and management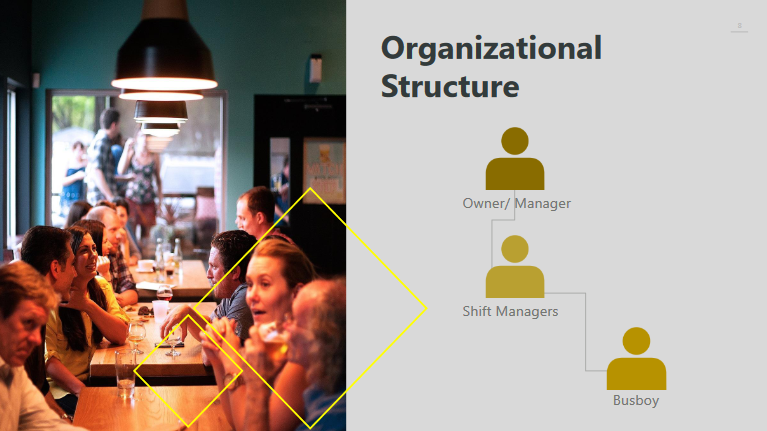 There were 86 active food hall projects in the U.S. at the end of 2017 and 118 at the end of 2018. About 30 new projects have been added annually over the past few years.
Assuming no "rumored" projects, 180 food halls are likely to exist in the U.S. by the end of 2019, although the real number may end up being closer to 190. As we move forward, we anticipate 300 projects by the end of 2020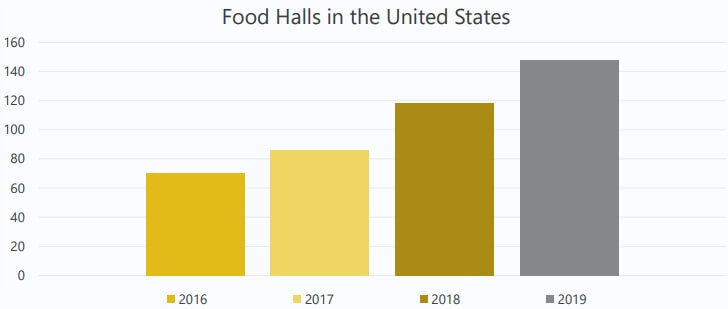 In a mall food court, there is a common seating area surrounded by food vendors. Fast food vendors typically provided mall food as an amenity to shoppers who were at the mall primarily for shopping.
Consequently, The Terrace Food Hall targets local artisans, restaurateurs, and eateries.
In contrast, food mall visitors are Millennials. About 80 million young men and women born in the 1980s and 1990s make up the millennial generation. They are:
Responsible for a huge portion of the quick-serve industry.
Twelve times a month, they visit fast food joints.
Compared to other generations, they spend a lot on food.
They eat out more often because they don't cook.
Creativity and innovation are top priorities for Millennials in fast food restaurants.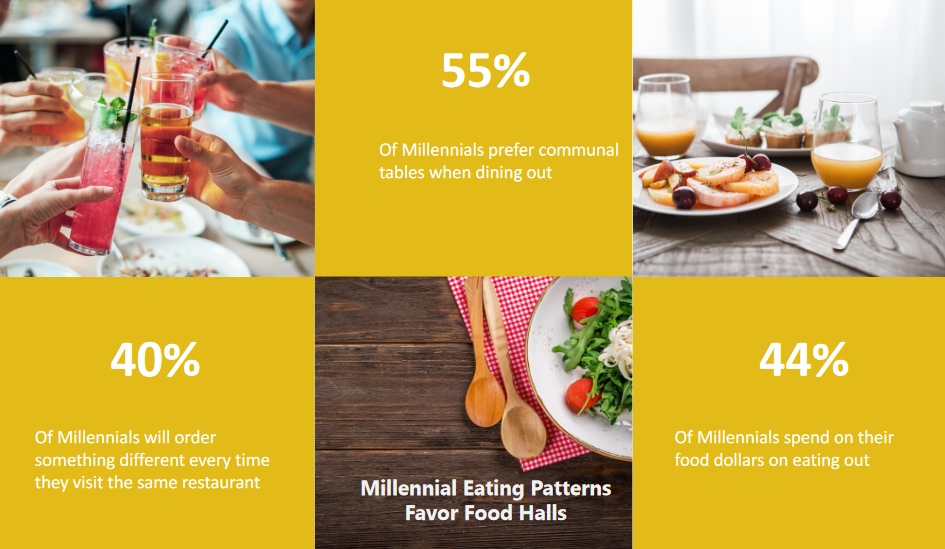 6. Competitive Advantages
The following is a listing of the primary competitive
advantages of the Company upon entering the market.
Owner's experience
Highly-trained staff to ensure unmatched customer service
and experience
Located in the downtown area
Highly visible location with a suitable consumer base in
close proximity
Available 365 days a year
STRENGTHS
Knowledge and experience of the owner
Customer service commitment
No food hall within a 15-mile radius of the
location
Excellent location and visibility
Community oriented
Cultural diversity in offering food
Convenience and value of money
Flexibility for customers desire
to implement their architecture
Available 365 days a yea
WEAKNESSES
The company needs funding and working capital for a successful launch
As a new business, the Company must build its credibility
Fixed cost are unavoidable
Opportunities
Increasing popularity of the
food hall industry
Growth among demographic
segments
Increase in per capita income
Ability to attract event
Threads
Instability of the US economy leads to unpredictable market activity
Larger companies that have more resources and the ability to reach deeper into the market
Social Media
Community engagement is also a driver for Millennials. They expected to be engaged and listened to. The Company will use social media and location-based tools to create and participate in dialogues with Millennials.
The Company will manage its brand on social media sites, such as Facebook, Instagram, and Twitter. By sharing photos of the premises, such as on Instagram as a foodie photo, the Company will direct targeted customers into the food hall.
For more information about market strategies, click here to download the pdf

Projected Income Statement
The Terrace Food Hall, LLC intends to deploy its funding to maximize growth and profitability. In the Income Statement table below, gross margin equals sales minus direct costs. The "bottom line" or profit (as measured before and after interest, taxes, depreciation and amortization) equals gross margin minus operating expenses.

You will learn how to write a plan that looks as elegant and professional as this one with our free real sample business plans.
Click to view the real food store business plan sample. Our experienced MBA business plan writers professionally write each business plan and work with you to develop a winning plan.
Click To View The Real Food Hall Business Plan Example
Download Example of Food Hall

Business Plan

PDF
We will show you some real-world business plan examples so you may know how to write your own, especially if you are seeking a bank loan or an outside investment and need to use SBA-approved formatting.