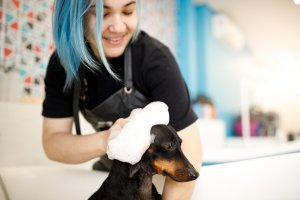 In an ongoing effort to keep up with the latest methods and techniques, U.S. dog training entrepreneurs are currently looking at options to further research and acquire business capital. Wise Business Plans, a leader in the global business planning industry, provide dog training business plan and supports dog training entrepreneurs with in-depth market analysis and consumer trends data to assist dog trainers to remain solvent and meet future profit margins.
"Training in obedience and safety skills will make your dog a better citizen and a more reliable companion," said Joseph Ferriolo, Director of Wise BusinessPlans. "At Wise, we believe in the importance of effective training and have a team of MBA qualified business writers and professional graphic designers who work one-on-one with each client to create the right plan for their unique business."
Wise Business Plans specializes in custom-tailored plans that encompass each client's unique requirements. All plans are created by professional business plan writers who consult with the client and provide valuable knowledge on how best to present ideas and meet the needs of clients just starting out, applying for a business loan, seeking funding from investors, or leasing a new location. Every Wise business plan includes a market analysis summary that will help business owners and investors, alike, understand the demographics of the community the client is serving.
"A well-trained dog is a pleasure and an untrained dog can be a disaster waiting to happen. Having a well-researched business plan can also mean the difference between running a business with an unknown future or having a financially secure company that is a pleasure to own," said Ferriolo.
Wise Business Plans (www.wisebusinessplans.com), staffed with professional MBA writers, researchers, and financial experts, is a trusted partner for businesses across a broad spectrum of products and services. Our mission is to empower our clients to make the best possible business decisions, boost company performance and facilitate their funding success by laying the groundwork for strong businesses that excite, inspire and retain talented and exceptional employees.