Schools, catering entrepreneurs,  and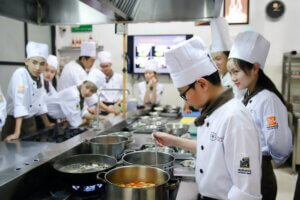 all getting in on the latest trend, cooking classes for children, with many businesses now reporting a need to expand classes and hire additional instructors due to the high level of interest from parents and young people who are looking for the best culinary schools. Long-time global business planning leader, Wise Business Plans, is planning on how to start a culinary school to provide baking classes for kids and currently working with cooking instruction professionals to provide up to date market analysis, trends research, and state of the art culinary business plan in order to meet business viability and profit expectations for such consumer dependent ventures.
"Most children enjoy helping in the kitchen and will readily continue to pursue an interest in cooking if that interest is nurtured and attended to", said Joseph Ferriolo, Director of Wise Business Plans. "A business must also be nurtured and its future growth effectively planned out if it is to be profitable and reach its long-term potential."

Wise Business Plans presents the facts about each client's business in a clearly written, easy-to-follow culinary business plan, crafted by MBA qualified writers, that will provide solid financial projections, clearly emphasize the company's qualifications, define business goals and provide a winning plan to raise capital. Each affordably priced plan includes an option for a free revision, should details change during the creation process.
"Learning to carefully follow the steps in preparing a quality meal is a life lesson that will help children achieve success in other areas of their lives and planning for your company's future is a vital step that every business owner should take to protect the vitality and steady growth that is essential to long-term success," said Ferriolo.
Wise Business Plans, staffed with professional MBA writers, researchers, and financial experts, is a trusted partner for businesses across a broad spectrum of products and services. Our mission is to empower our clients to make the best possible business decisions, boost company performance and facilitate their funding success by laying the groundwork for strong businesses that excite, inspire and retain talented and exceptional employees.