What is Swot Analysis
SWOT stands for Strengths, Weaknesses, Opportunities, and Threats. It's an objective and thorough look into both internal and external aspects of your company.
Known as swot analysis opportunities factors for a given business, project, or personal objective are studied. The idea is to use the analysis to determine what internal and external factors may help or hinder your desired results.
Importance of Swot Analysis For Small Business
A swot analysis opportunity helps measure risks and rewards while identifying obstacles the may stand in the way of your desired objectives. This analysis could lead to strategies for dealing with negative factors while maximizing your company's strengths and opportunities.
The more precise your analysis, the easier it will be to create a swot analysis for small business free for accomplishing your objective. Wise business plans offering swot analysis for small business to owners and entrepreneurs.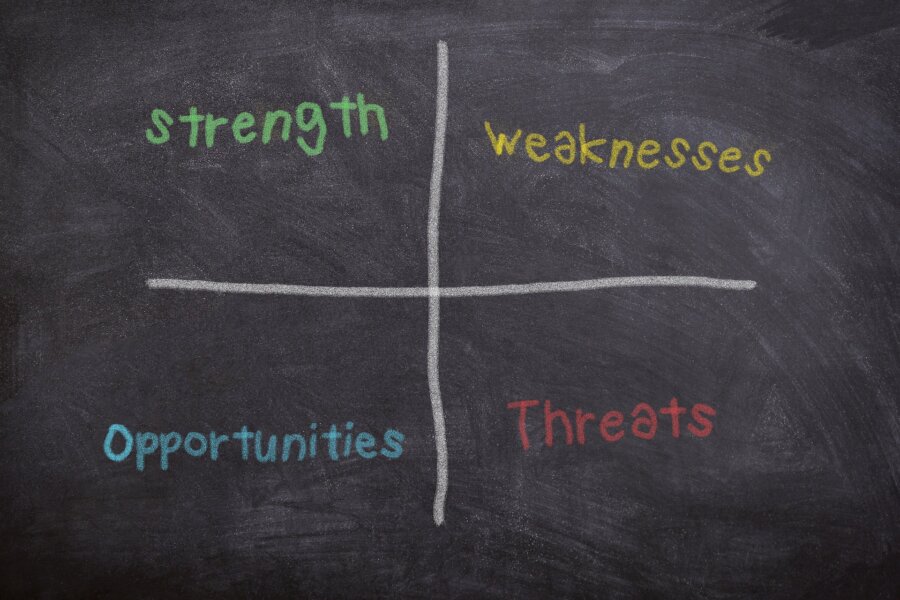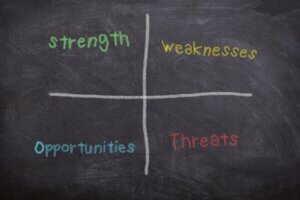 What are the Four Parts of a Swot Analysis?
weaknesses, strengths, opportunities, and threats are the four-part of a swot analysis.
Think of strengths and weaknesses as the internal, controllable aspects of your company.
Strengths comprise factors such as your Unique Selling Proposition (USP) and competitive advantages, while weaknesses include what your business can do better in relation to other competitors in your industry, or even your industry as compared to other industries.
Conversely, opportunities and threats are the external, and therefore less controllable aspects of your business. They require competitive intelligence research and routine monitoring of the dynamics affecting your market. Is your market projected to grow or shrink? What are ways you can mitigate threats?
Weaknesses Strengths Opportunities And Threats
STRENGTHS
What does your company do better than the competition?
What do people outside of your company see as your advantages?
Weaknesses
Which areas could you improve?
What could people outside of your company see as weaknesses?
Opportunities
How do you think you could turn strengths into opportunities?

What are some current favorable market trends?
Threats
What is your competition doing that could potentially harm your reputation?
Which threats do your weaknesses enforce?
Surprisingly, not all businesses conduct this type of analysis–which clearly outlines the difference between surviving businesses and those who lose to stronger competitors in a matter of five years (or less). The competitors have the upper hand thanks to a strategic business plan.
How to do Swot Analysis for a Small Business or a Startup, Does SWOT Analysis Worth It?
It's not only worth it but highly recommended. Many small businesses fall into the trap of believing they "don't have enough material" to put a SWOT analysis for small businesses together. That's false.
it's actually simple enough that any business owner can do it regardless of business goals, business size, or investment. With a little brainstorming and help from team members of various departments (if you've hired them already), you'll be setting tangible goals for the company.
With tangible goals followed by a solid action plan, taking advantage of your business strengths and opportunities becomes less overwhelming. In fact, a SWOT analysis can be used as well for one-off projects (marketing campaigns, for example) to measure their performance and potentially increase sales through strategic thinking.
Case Study: An example of  Swot Analysis:
To make the process even easier, let's take a look at the following SWOT analysis for a marketing company.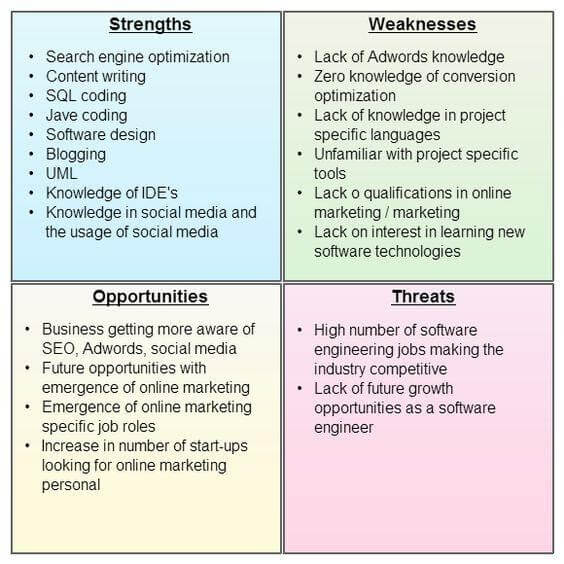 Your business's analysis could have fewer topics, that's completely fine. What would be the next step for this marketing company?
Based on the SWOT Analysis, one strong option would be to create a Growth Strategy. Parts of their growth strategy could be: 
Training team members on Google Adwords and the marketing tools necessary for better workflow. Learning should be exciting and interactive, so as to pique interests.
Skillfully advertising the emergence of online marketing, informing prospects about the time and money economy related to outsourcing.
Building a successful business requires comprehensive swot analysis and forethought. Using a professional swot analysis for small businesses, such as Wise Business Plans, will assist you in setting your goals, defining strategies, and turning your vision into reality.
It may sound complicated, but with the help of some key business analyses, you can make the process much easier for yourself. See the real example of Swot analysis uses in Sample Business plan.
Wise Business Plans can help define the business goals of professionals, and assist clients to present a winning swot analysis for small business to raise capital and meet specific market demands, including the tools needed to manage a thriving business.
Wise Business Plans offers artisans one-of-a-kind, carefully created embroidery business ideas, custom-crafted by MBA qualified writers and graphic designers, and always offered at an affordable price.