How to Find the Right Customer?
The most common methods of gaining new right customers are the word of mouth, online marketing, live events, direct sales, advertising (newspaper and print media, TV, radio). These common tried and true methods are what most businesses use to make sure customers know about their products and services.
While getting customers is important, it's also important to make sure you get the right customers to buy the right products at the right time. Making this happen takes careful planning and there are a few new tools and business processes that can help. Here are a few suggestions that can be the beginning of a new way of choosing the right customer for your company.
How to Identify Your Ideal Customer?  
Social media must be your friend.
It is a powerful communication tool, yet so many of us don't use it properly. One of the most effective ways to use social media is to post, "bottom line up front", content that is important to your audience. Your company's personality is formed in your customer's minds by what you say and do. Don't take it lightly, say what you mean, and mean what you say.
Become an expert Email Marketer.
Your newsletter should not be a way to only throw hard sales pitches to customers. Instead, let your newsletter be educational and information-rich so that the reader, who might be a prospective customer, will want to receive your newsletter. When they are ready to buy the product you are writing about, you'll be one of the first companies they think to buy from.
Do Follow Your Customer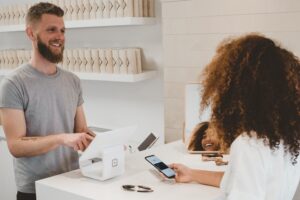 A good business philosophy for choosing customers should also include tactics and strategies such as, following up with customers to know why they bought from you, which can help you identify who your perfect customer is.
Train Your Employee for Treating the Customer with Care
If all your employees are not engaged in helping customers with informed choices, your customers will find uneven service. While you and other managers might be great with customers, your staff in other areas of your company who might engage with customers are giving them another level of service. Try to make sure that the cashier and the stockers have a good understanding of your products and services. You may find your best salesperson there!