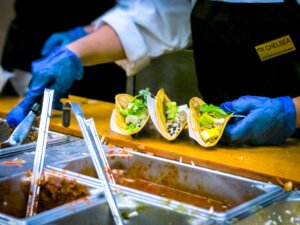 As we enter into 2021, restaurant-goers can choose from more than 600,000 restaurants in the U.S. to celebrate birthdays, anniversaries, and other special occasions this year, and additional eateries are constantly being added to accommodate a public that enjoys having their meals prepared for them. Wise Business Plans offers quality, one-of-a-kind professional business plans, including personal and professional financial planning and consultation, to culinary companies, helping these entrepreneurs secure greater profits and exponentially increase their company's chances for success.
"Eating out is a relaxing and enjoyable way to spend an evening with friends or associates, and restaurateurs are always on the lookout for talented and inventive chefs to present new, appetizing dishes in creative ways," said Joseph Ferriolo, Director of Wise. "We're proud to help the culinary institutes that train these professional chefs to reach their earnings goals and obtain a secure business future by guiding them through the planning process one step at a time."
Culinary School Business Plans:
Wise meets the unique performance needs of culinary education businesses with individualized, custom-designed business plans crafted by MBA-educated writers at an affordable price. And the new web-building and menu creation services provided by Wise can not only help future chefs as they learn but help them get started once they've graduated and are looking to set up shop on their own.
"It takes a lot of confidence to become an innovative chef, much less to teach this sophisticated, technical art to others, and culinary school owners can have that same level of confidence when they put their trust in Wise business Plans," said Ferriolo.
Our Wise Plan Writers:
Wise Business Plans, staffed with professional MBA writers, researchers, and financial experts, is a trusted partner for businesses across a broad spectrum of products and services. Our mission is to empower our clients to make the best possible business decisions, boost company performance and facilitate their funding success by laying the groundwork for strong businesses that excite, inspire and retain talented and exceptional employees.
NOTE: Contact us for a proven written business plan and grow fast.