About Us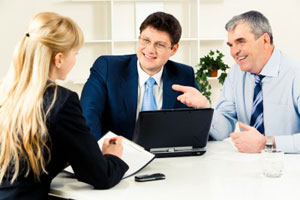 Wise Business Plans was founded with the goal of providing business plan consulting services and business proposal writing services to clients throughout the world.  Staffed with professional MBA writers, researchers, and financial experts, Wise Business Plans has become a trusted partner for businesses across a broad spectrum of products and services.  Our efficient approach to customer service begins at the first point of contact; the Internet.  Wise Business Plans was the first business plan writing firm to offer a full purchase online order form that expedites the business plan writing process.  The online process allows the user to establish a user account and complete all of the preliminary phases as we prepare to offer them a level of unprecedented customer service, consulting services, and professionalism.  Our mission is to empower our client base through the creation of affordable, professional business plans filled with applicable strategies that place them in the best possible position to realize success throughout all phases of their respective business growth cycles.
Things at Wise:
Here at Wise Business Plans, we know planning matters. Having a formal plan in place allows your company to stay on task, receive funding, and prepare for the major milestones for your business. We have developed a process that gives our clients a professional business plan consulting services at an affordable price. In past times, clients had to spend endless amounts of money, time, and research to develop a complete business plan. Now business owners can have an entire team devoted to making the most of their business plan for them.
At Wise Business Plans we take this approach a step further by helping your business build a solid foundation. We have partnered with the top companies in their respective fields to offer our clients much-needed consulting services and writing services. A small business owner is tasked with endless projects to build their company. Wise Business Plans has streamlined this process. You can now find all of these essential business services in one place. This is just another way Wise Business Plans brings value to our clientele.
Mission Statement:
Our mission is to empower our clients to make the best possible business decisions through wise consulting services, boost company performance and facilitate their funding success by laying the groundwork for strong businesses that excite, inspire and retain talented and exceptional employees.
At Wise, we:  
Always put the clients' interests first by delivering on our promise to supply quality guidance, support, and products
Behave in a manner that is professional and respectful of our clients and our work
Demonstrate absolute integrity by producing the highest possible quality of work in a completely confidential business environment
Are committed to producing excellent work in a way that is cost effective, treating our client's resources with the same respect we afford our own
We bring educated, talented professionals together for one purpose: To supports the goal of the client without reservation.